These British Shop Workers Say They're Finding Work During The Coronavirus Lockdown Terrifying
"I'm not one normally to suffer anxiety, but I'm getting extremely anxious before my shifts start. Sometimes to the point that I get the shakes. I am scared."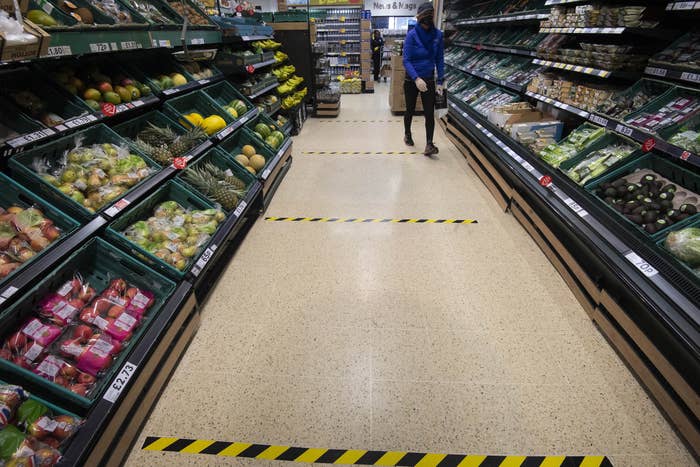 The journalists at BuzzFeed News are proud to bring you trustworthy and relevant reporting about the coronavirus. To help keep this news free, become a member and sign up for our newsletter, Outbreak Today.

As the UK battles with the ongoing coronavirus crisis, a silent army of shop workers are among the frontline workers who are keeping the country going.

With little recognition, they have faced longer shifts, sometimes starting in the middle of the night; abuse from aggressive customers; face-to-face contact without appropriate PPE; and risk to their health from customers who do not observe social distancing rules.
Earlier this month, Tesco said that around 50,000 of its 320,000 UK and Ireland staff were off work — either sick, self-isolating, or shielding — on full pay. Shop staff who come into contact with hundreds of people a day say they feel it is only a matter of time until they contract the virus.

Laura* works in a supermarket in the East Midlands and said she is so scared before her shifts that she sometimes starts shaking.
"I'm not one normally to suffer anxiety, but I'm getting extremely anxious before my shifts start," she said. "Sometimes to the point that I get the shakes. I am scared."
"It is more stressful, as you have to remember to do the social distancing alongside working, trying to keep away from both other staff and customers," she said. "I would say 85 to 90% of customers get it and are compliant. The others are totally not, to both staff and fellow customers."
"I am most scared of losing my family and friends foremost," she added, "I can't imagine them not being around, of them ending their lives early. I also get upset thinking that there are customers — we have a large older customer base — that I may never see again. It's very frightening."
Another supermarket worker based in Yorkshire, Ewan, told BuzzFeed News that his hours had become more antisocial and that he was starting work at 2am to fulfill online orders.
"My hours have completely changed as I normally work on the counters and as they've been closed," he said. "We've been moved around the shop, so I do online orders, so picking items.
"Normally these colleagues go in at 4am and finish at about 8, but we've been going in for 2am and finishing between 8:30 and 10."
Mark is a manager in a discount supermarket in the North East, and he recognises the daily risk that staff are put under.
"On a day-to-day basis, I feel guilty," he said, "feel guilty putting the team in on the tills and to work on pallets when people are walking around them and you just feel sort of unprotected basically, even though you've got the PPE. You just feel a bit left out."
At the start of the shift, he sits staff down to catch up with his team, and he said many are very worried.
"Some of their fears are so genuine," he said. "One of the girls, her husband finished chemotherapy recently, he's got no immune system; one of the lads, he's got MS — he's still working through it."
Mark said his employer has told staff that they can go on furlough if they are concerned about their health, but he said many of them recognise the important role they play during the crisis and want to keep coming to work.
He said that while the company is doing its best, the hardest thing that staff have to deal with is the behaviour of customers — from those who forget to enforce social distancing regulations to those who are downright abusive.
"I think people generally forget sometimes," he said. "We'll be walking around the shop they'll come up to you and say, 'Can you tell us where this is? Excuse me?' And they'll be close to you and you'll step back and they'll say, 'Oh, God, yeah sorry'.
"But then there's some people who seem to revel in the fact that they're meeting up with our friends in the shop. They seem to be all 'look at me, I don't care about it'. I just think — none of your family have had it then, have they? People's responses have been polarised — people are completely not bothered, etc, etc, don't care about all, or they're overly cautious about it."
"We've had some horrible people in," he added. "We stopped people coming in as couples, it's all singles, and we've got a security guard every day, and he's had some horrible abuse, people telling him they hope he gets it, hope he dies from coronavirus — it's upsetting him."
He has also been subjected to abuse himself. "It's sporadic but when it happens it's quite intense," he said, "you're stressed anyway, and when something like that happens it takes your breath away, you're quite shocked by it.
"We're used to shoplifters and things, but abuse like that makes you not want to go back to work sometimes."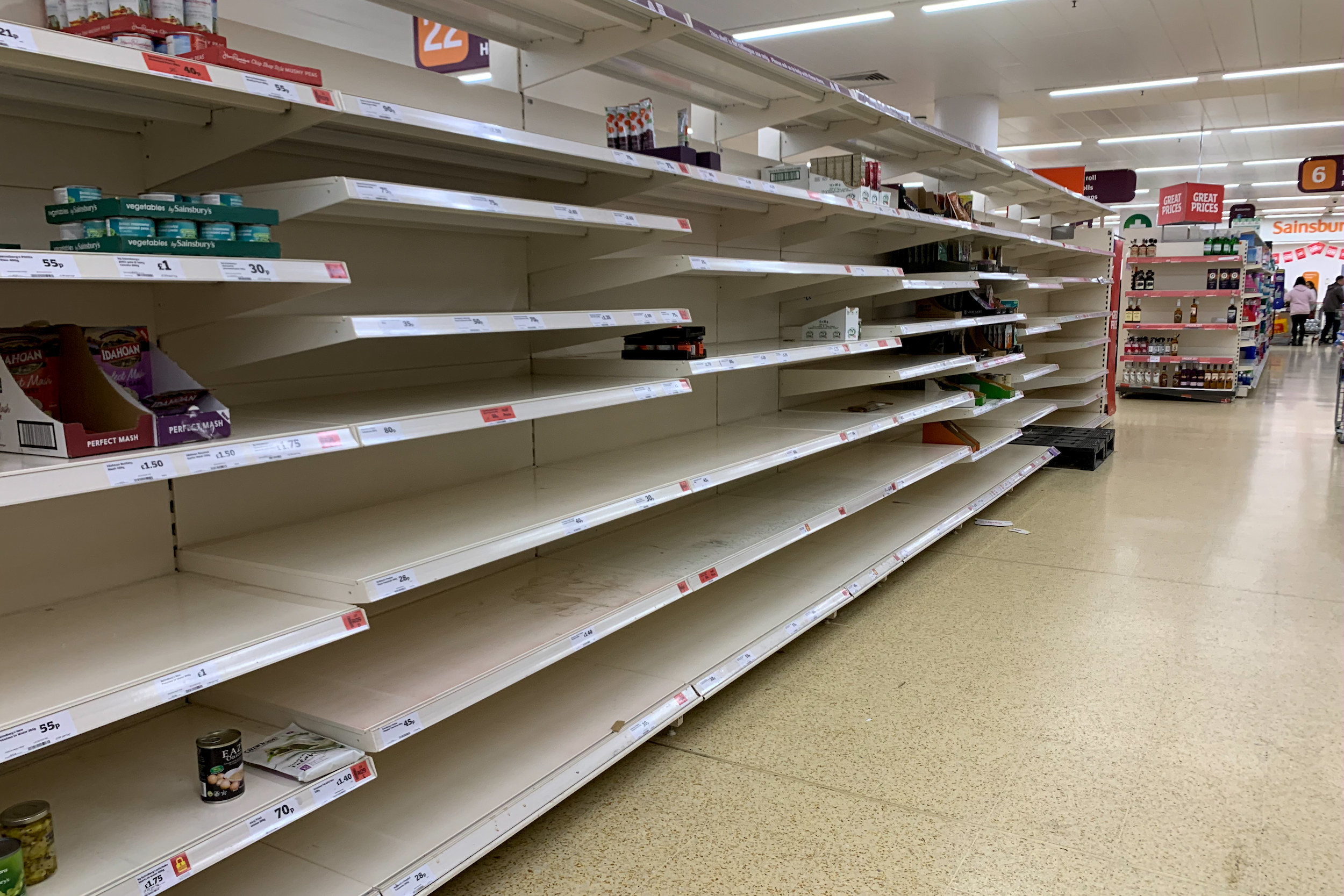 "The abuse of staff is the worst thing," another supermarket worker, who works in the North West, Jenni, told BuzzFeed News. "There are kind and understanding customers, but they're overshadowed by the people who yell at us or speak to us like dirt. People really don't like the social distancing measures that have been introduced. When we try to explain the 'rules' they'll often ignore us completely or swear at us.

"I think people are understandably upset about the situation and they're taking their anger out on us. In some cases, we might be the only people they see that day & therefore the only people they can let their aggression out on.
"I'm trying to remind myself that some of these people might have lost their jobs or loved ones, though I know it's still unfair for them to speak to us like this when we're putting our own health at risk. Thankfully I feel like the managers in our shop are really supportive.
"A customer yelled in my face the other week and I got really defensive and answered her back. In some workplaces, I might have been fired for struggling to keep my cool but I think my bosses know what we're up against and so they're really understanding."
Laura has also experienced abuse at work and witnessed other incidents in the queues for the tills.
She said: "I had one chap who told me I was rude and shouldn't be working there as I kept asking him politely and repeatedly not to move down towards me whilst I was on the till — this was before screens were put in place. He was shouting at me. Afterwards the next customer said how awful he was."
Jenni said she no longer fears catching the virus — this, she says, is inevitable. Instead, her greatest fear when going to work is that an angry customer will turn violent.
"My biggest fear is being shouted at or myself or a colleague being attacked," she said. "Some customers are so aggressive that it can be really intimidating. There was a shift where a huge argument broke out between two customers, and I was so scared that someone could get hurt while trying to calm the customers down that I couldn't stop shaking.
"It's making so many of us dread going into work. One of my colleagues left her checkout, collected her handbag, and went straight home the other day — in the middle of her shift. I quite enjoyed my job before all this and never felt anxious.
"I used to be scared about catching the virus but, I'm not as concerned about it anymore. I feel like it's just a matter of time before I get it, if I haven't had it already. So many customers cough without covering their mouths or invade our personal space that the virus is kind of unavoidable."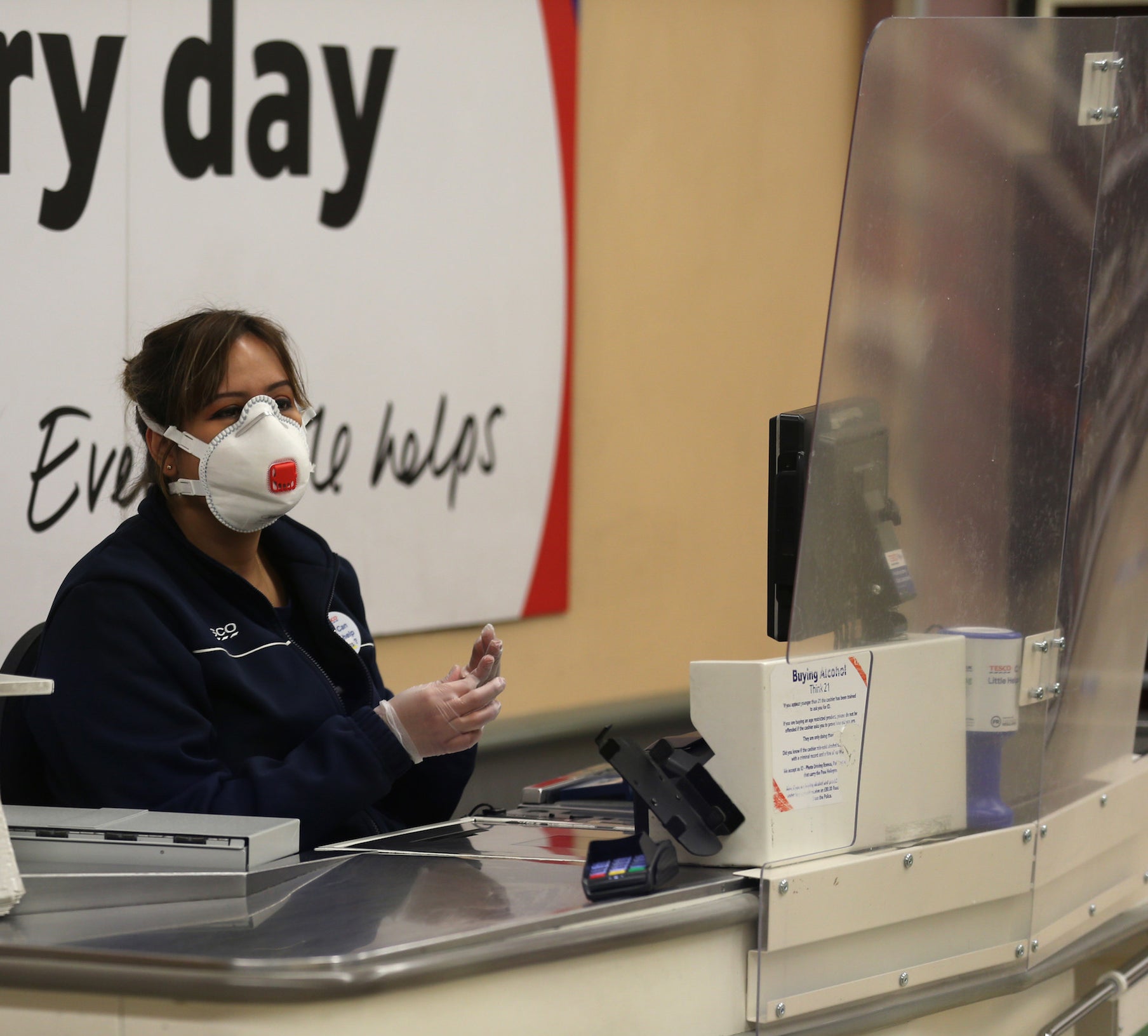 Another challenge facing shop workers is the fact that there is just not enough PPE to go around. With well-documented PPE shortages in hospitals, in community health services, and in residential care settings, shop workers feel that they are at the back of the queue.

Mark told BuzzFeed News that his employer has been "fantastic" and that as well as putting measures in place to ensure social distancing — such as closing every other checkout — it has provided staff with adequate PPE. "They've completely just rammed us full of aprons, gloves, masks, anything we need," he said.
However, the situation is not the same across the board. Other shop workers that BuzzFeed News spoke to said they had some PPE, but not enough — but they also said they were reluctant to ask for more as they did not want to divert supplies away from health workers.
One shop worker said they had even faced abuse from a customer for wearing a protective mask, who said they believe the mask should have gone to a health worker instead, and so had decided to go without one going forward.
Laura said she doesn't always have access to gloves, but she thinks that the supermarket that she works in is "trying to do their best."
"We have visors issued," she said. "It's up to staff if they want to use them. Gloves can be hit and miss, but I understand that the NHS must have priority over us."
"The PPE is a tricky one because we have been provided with some protective equipment and it's all available in the back for us to help ourselves to," Jenni told BuzzFeed News. "The problem is that there simply isn't enough for us to follow the recommended guidelines when it comes to changing gloves frequently, for example.
"If every member of staff went through 10 pairs of gloves a day, we'd run out of them so quickly. Also, so many customers are still paying with cash so within minutes of you putting gloves on, they're potentially contaminated and therefore you're spreading any germs to other customers' shopping. If 99% of customers paid contactless, it'd make things so much easier.
"We get criticised by customers whether we wear gloves or not. I wore a mask the other week and a customer accused me of stealing it from a hospital. I've not worn a mask since then because I don't like the idea of wearing something that is so desperately needed by NHS staff, but it's frustrating because we're at risk too. Each supermarket worker probably comes into close contact with dozens of people with coronavirus each day — whether they have symptoms or not."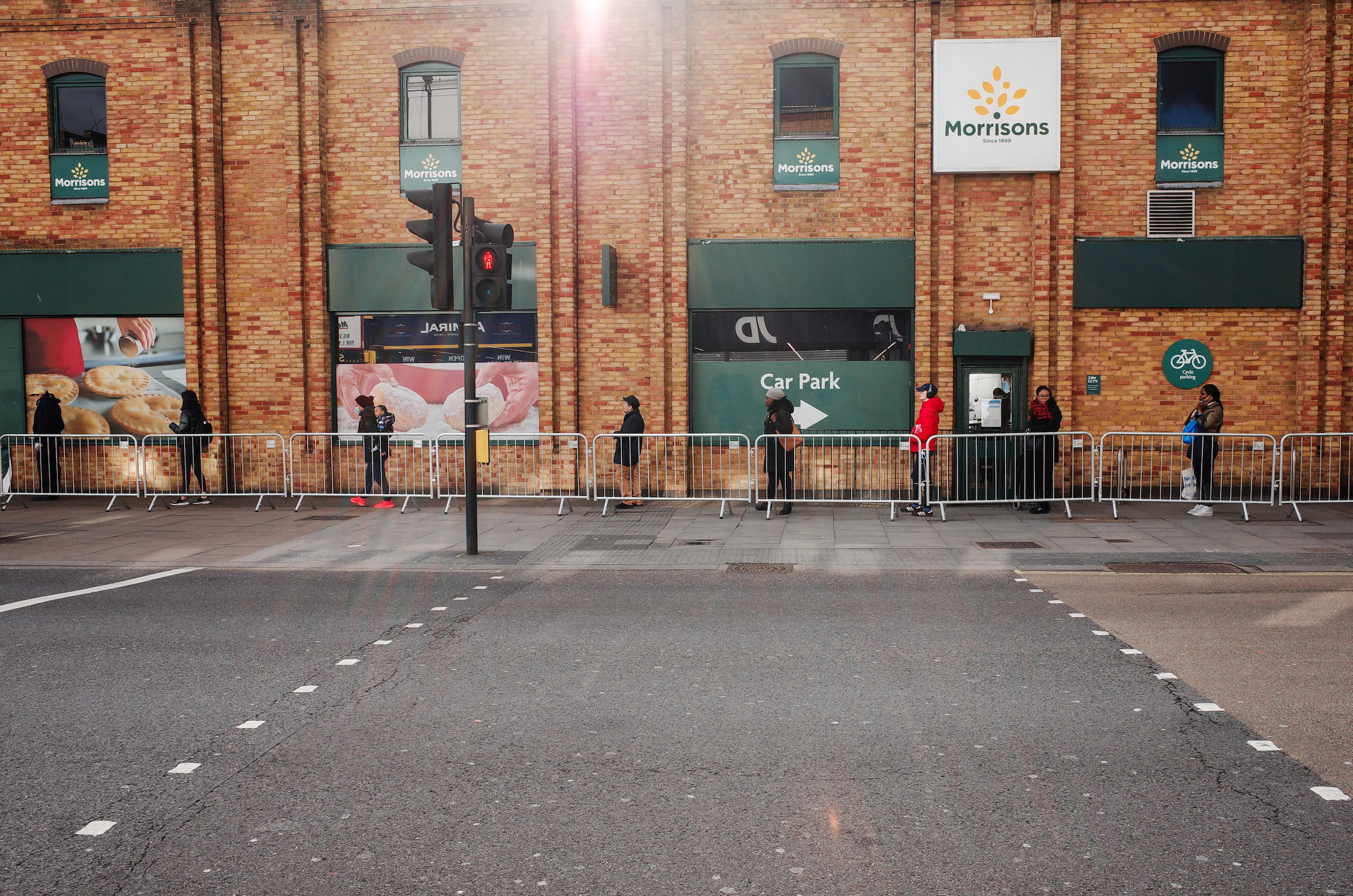 At the beginning of March, before the coronavirus had taken hold in the UK, the British Retail Consortium's annual retail crime survey revealed that incidents of violence and abuse in shops had risen to 424 each day, up 9% from the previous year. This figure is likely to have increased again with the impact of COVID-19 and the implementation of social distancing measures.

The BRC has been lobbying MPs to introduce legislation that would make assaults on retail workers a specific criminal offence — with stiffer penalties for offenders.
Helen Dickinson, chief executive of the British Retail Consortium, said: "Retail staff all across the country have done a heroic job in ensuring we can get the essential items we need.
"Despite carrying out this crucial job in the most challenging circumstances, hardworking staff are still subject to violence and abuse. The BRC is calling for tougher sentences for people who assault retail workers as no one should have to go to work fearing violence or threats."
Trade union Usdaw, which represents shop workers, has received similar concerns from its members as those detailed to BuzzFeed News. It said it has received reports from its members of shoppers putting them at risk by resisting social distancing measures that shops had enforced. Like the shop staff that BuzzFeed News spoke to, Paddy Lillis, Usdaw's general secretary, also said the union's members had also been on the receiving end of abuse from some customers.
"Shopworkers and their colleagues in the retail food supply chain are on the front line of feeding the country during the current crisis," Lillis said. "They are providing an essential service in very difficult circumstances, working long hours in busy stores, facing abuse from customers, and of course concerned they may contract COVID-19.
"The safety of our members is absolutely paramount, but they tell us that some of the shopping public are resisting social distancing measures in stores and can become abusive when asked to queue and maintain a 2-metre gap. Our message to the public is there is no excuse for abusing shop workers, please treat our members with the respect they deserve.
"Shops are the cornerstone of our communities, but they can only operate with staff, who clearly do not have the option to work from home. We continue to work with retailers to improve health and safety for staff, particularly those dealing directly with the public. We also call on customers to stay calm, respect shopworkers, and practise the necessary hygiene measures to help limit the spread of the virus. We all have to work together to get through this crisis."
A Home Office spokesperson said: "It is completely unacceptable for shop workers to experience any form of violence or abusive behaviour. Crimes like these should be reported and investigated by the police.
"We are working closely with the British Retail Consortium and other retailers on how we can best clamp down on this."
A DEFRA spokesperson added: "We recognise the essential service supermarket employees are providing and any threatening or abusive behaviour towards them is completely unacceptable and will not be tolerated.
"Supermarkets have taken measures to ensure social distancing and keep their staff safe during this difficult time."
*Some names have been changed.