The Government Is Offering Self-Employed People Grants Worth 80% Of Their Profits
Rishi Sunak has announced an unprecedented intervention on behalf of the self-employed — but the scheme is unlikely to be ready until June.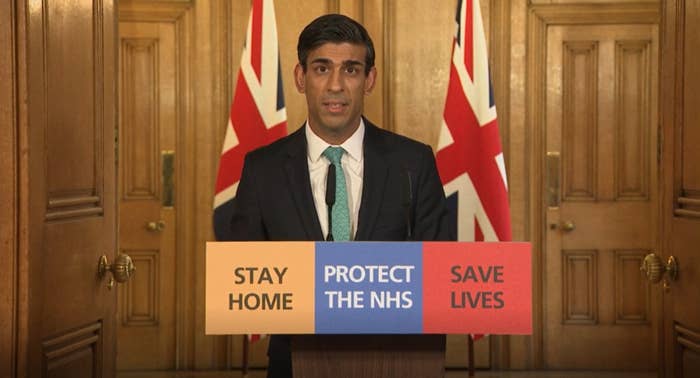 Chancellor Rishi Sunak has said the government will pay self-employed workers 80% of their average monthly profits if they lose their income during the coronavirus crisis.

However, the chancellor faced questions from reporters on Thursday evening, who questioned the length of time it would take for people to receive payment, with the scheme unlikely to be ready until June.
Sunak announced the unprecedented state intervention to help freelancers after facing widespread criticism from trade unions, MPs, and individuals, who said that self-employed people had been left without a safety net.
Last week, people who worked for themselves told BuzzFeed News that they felt they had been left behind by the government, as they had been offered just £94.25 per week in financial support during the coronavirus crisis if they lost their income — compared to salaried workers who would receive 80% of their salary.
Announcing the new help for the self-employed, Sunak said: "You have not been forgotten, we will not let you behind, we all stand together."

The grants, which will be paid in a single installment, will cost the Treasury up to £3 billion per month.
Trade unions welcomed the package, but said that June would be too long to wait for many who work for themselves. Roy Rickhuss, general secretary of Community, said: "Waiting until June will be too long for many of the self-employed who already are struggling to make ends meet.
"As a matter of priority, we urge the government to ensure the systems to deliver the self-employed income support scheme are ready and in place as soon as possible to ensure cash gets into the pockets of freelancers and the self-employed urgently."
"We've looked very hard at the quickest possible way to deliver this," Sunak said, when asked why it would take so long to get the scheme up and running, explaining that the government had had to set up two new schemes — one for self-employed people and one for PAYE employees — and that it needed to allow time for people to complete their tax returns.

In the meantime, he said they would be able to access other state help, including Universal Credit and tax breaks.
The self-employed income support scheme is a taxable grant worth 80% of a self-employed person's average monthly earnings over the last three years, up to £2,500, and will be open to people across the UK for at least three months — or longer if required. Self-employed people will be able to continue working and still receive the grant.
Sunak said the scheme will be "deliverable and fair", and open to anyone with trading profits of up to £50,000. It will only be open to people who make the majority of their income from self-employment and have a valid tax return for 2019.
Those who missed the January deadline will be able to file a return for four weeks from today, so that they are eligible for the scheme. It is estimated that up to 3.8 million people will be eligible to benefit from the scheme.
In order to qualify, applicants must currently be self-employed, must have lost any level of income due to the coronavirus, and must earn more than half their income from self-employment.
Those who operate as a limited company and pay themselves through dividends will not be eligible for the scheme.
For those who have been self-employed for less than three years, Sunak said that payments would be based on their accounts over one or two years — whatever is available. However, he said for the more recently self-employed, "there is really nothing we can do".
"For people who are very recently self-employed we cannot operate a scheme like this," he said, adding that to do so would present a fraud risk.
"The scheme I have announced today is fair, it is targeted at those who need it the most, and crucially, it is deliverable," Sunak said.
Sunak also suggested that taxes for self-employed people, which are typically lower, may be equalised in the future.
"There is currently an inconsistency in contributions between self-employed and employed," he said, "and obviously the actions taken today, which is very significant tens of billions of pounds of support for those who are self-employed, treating them the same way as those who are employed, it just does throw into light that question of inconsistency, and whether that is fair to everybody going forward."