Hospitals In The UK Have Been Told To Treat BAME Staff As Being At A Higher Risk For The Coronavirus
In a letter sent today, NHS England said that based on "emerging UK and international data", employers should "make appropriate arrangements accordingly."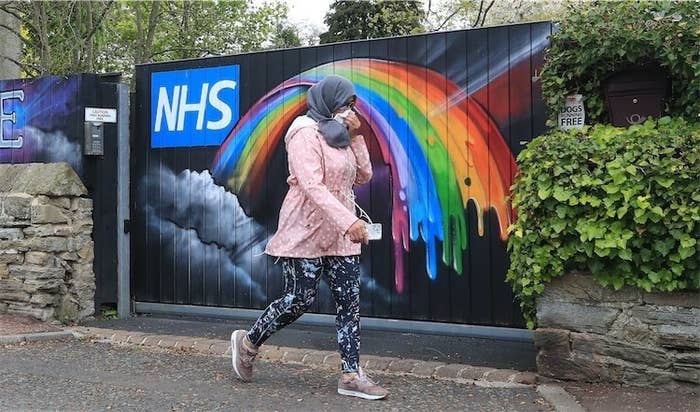 The journalists at BuzzFeed News are proud to bring you trustworthy and relevant reporting about the coronavirus. To help keep this news free, become a member and sign up for our newsletter, Outbreak Today.

NHS England has written to all hospital trust chief executives, GP practices, and providers of community health services, saying that they should treat staff from black, Asian, and ethnic minority backgrounds as being at a higher risk for the coronavirus.

In the letter, which was sent today, the organisation said that based on "emerging UK and international data", employers should "make appropriate arrangements accordingly".
BuzzFeed News has previously spoken to epidemiologists, community leaders, and medical professionals, who said that a range of genetic and cultural factors were likely to be driving higher rates of death among ethnic minority communities.
The government has already begun investigating the issue. "That's something that we're looking at very carefully to try to understand," the government's chief scientific adviser, Patrick Vallance, said when he announced the probe, adding the impact was "particularly noticeable among some of the health care practitioners that we've seen who have unfortunately succumbed as a result of this".
This week, the government confirmed that Professor Kevin Fenton will lead the inquiry. Fenton is Public Health England's national director for health and wellbeing and a visiting professor in epidemiology and public health at University College London.
With more information on exactly how the coronavirus is disproportionately affecting those from different ethnic backgrounds, NHS has told managers to treat the staff from these groups as being more at risk.

Somerset NHS Foundation Trust has already moved to step up protection for BAME members of its workforce by prioritising them for tests and mask fittings.
Trust managers said they had taken the decision "to include BAME colleagues into the vulnerable and at-risk group" in light of the ongoing national inquiry into why people from BAME backgrounds appear to be disproportionately affected by the coronavirus.

Peter Lewis, chief executive of the Trust, said: "We recognise how worrying it is at the moment for our colleagues and we want to provide them with as much support as we can.
"Our BAME colleagues make a significant contribution to our Trust and the care we provide to patients. We are grateful for their ongoing commitment."
The letter from NHS England, which sets out the second phase of the NHS's COVID-19 response, said: "Emerging UK and international data suggest that people from Black, Asian and Minority Ethnic (BAME) backgrounds are also being disproportionately affected by COVID-19.
"Public Health England have been asked by [the Department of Health] to investigate this. In advance of their report and guidance, on a precautionary basis we recommend employers should risk-assess staff at potentially greater risk and make appropriate arrangements accordingly."
Health care managers were also told to expect an increased demand for services in the community.
"We are going to see increased demand for COVID-19 aftercare and support in community health services, primary care, and mental health," the letter said.
It also set out a plan for providing mutual aid with those working in social care, including care homes.