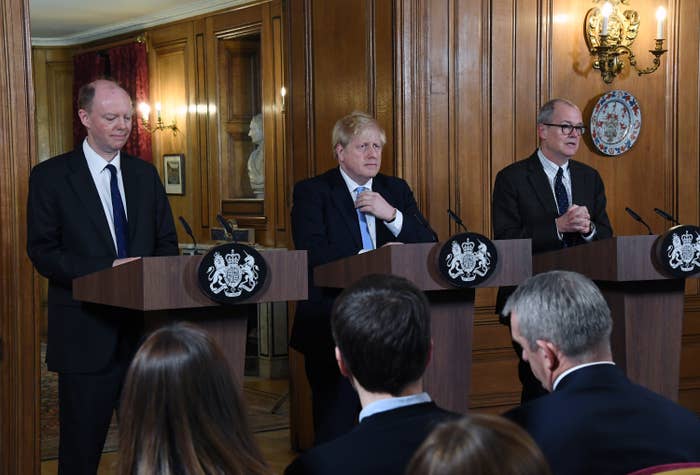 Hospital doctors on the front line of the fight against coronavirus have raised the alarm about the UK government's response to the outbreak, as some Conservative MPs expressed concern over Boris Johnson's decision to hold off on introducing more stringent measures.

Doctors at three different hospitals affected by coronavirus — speaking on condition of anonymity — told BuzzFeed News they had various concerns about the government's approach.
They questioned why Number 10 did not introduce tougher measures to contain the spread of the virus early on, raised fears that the UK is not testing enough potential coronavirus carriers, warned the NHS will face a debilitating shortage of hospital beds when cases peak, and criticised the lack of communication between central government and frontline NHS staff.
Downing Street continues to insist that its decision not to implement stricter guidance to the public, or to formally escalate its response to the "delay" stage, has been guided by scientific and medical advice.
Responding to criticism from the London mayoral candidate Rory Stewart, who has called for schools to be closed and major sporting events to be cancelled, the government's deputy chief medical officer Dr Jenny Harries told BBC Radio 4's Today programme on Tuesday: "I would beg to differ on a scientific basis with Mr Stewart."
The UK had sought a "balanced response, maximising the safety of the public, maximising the effectiveness of the health service, but minimising disruption to people's lives and particularly to the economy and businesses", she argued.
On Monday, chief medical officer Chris Whitty defended the strategy. "It's not just a matter of what you do, it's also a matter of when you do it," he said. "Once you've started these things you will have to continue them through the peak, and that is for a period of time. There is a risk if you go too early, people will understandably get fatigued, and it will be difficult to sustain."
But one hospital doctor told BuzzFeed News they had concerns about the amount of testing so far — and the demands on the NHS when the virus peaks.
"I've been looking after coronavirus patients this week, all incredibly sick, and none had travelled or met criteria to test," they said. "We still aren't testing nontravellers despite cases like these."
According to the doctor, hospital intensive treatment units will be at full capacity within two weeks, and medics will struggle to cope with the increased demand. "If the numbers continue in the same way as in Italy, we will have 2,000 cases next week, 10,000 the week after.
"We will use our entire 'spare capacity' of ITU beds at that point, and our entire ITU capacity the week after that. It sounds like the government isn't moving faster for fear of 'fatiguing' the public with messaging. I think that's a woeful underestimation of the public and hope drastic intervention is coming soon."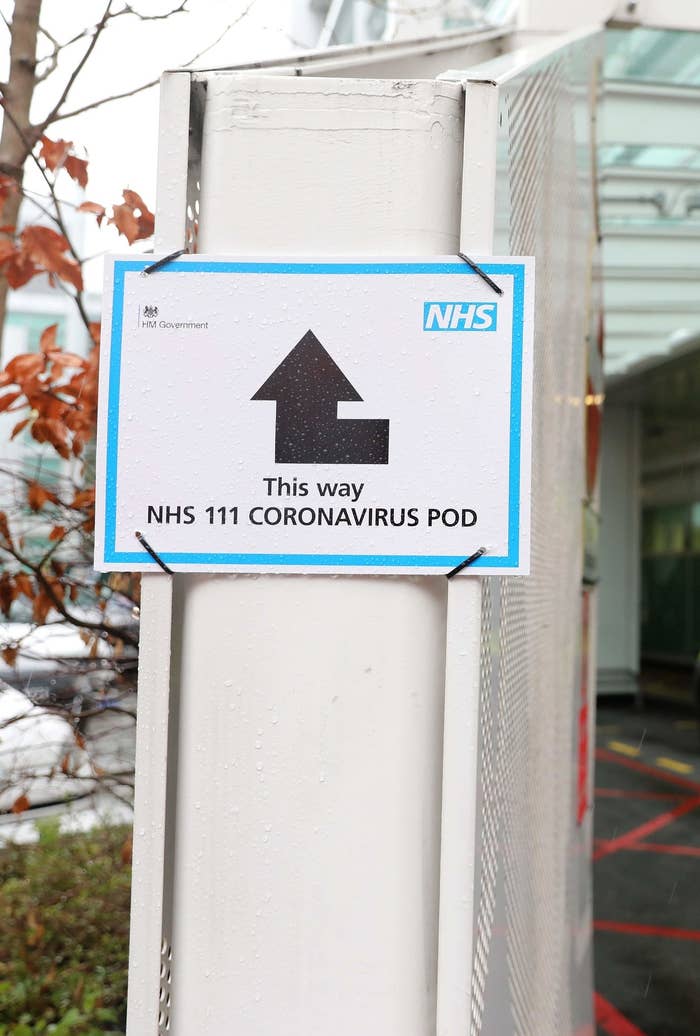 A second doctor who works in a different hospital echoed those concerns, saying that in their view the government should already be taking much greater steps to free up capacity in the NHS.
"I am quite involved in the response," they told BuzzFeed News. "I think we need to move faster, cancel, or delay elective activities, enact measures for social distancing now.
"We are going to expect cases to rise sharply for a month before it starts to level off, and things in Italy look bad. I'm not panicking, but I do think the government needs to move faster."
As NHS staff started to air their concerns, Conservative party unity on the government's decisions over the last week also began to crack. Until now, Tory MPs have not departed from Johnson's position on the crisis.
But in a sign that line may not hold, one Tory MP told BuzzFeed News: "We have made a huge bet that our people have called this right and the rest of Europe has got it wrong," referencing Italy's drastic quarantine measures and Germany's decision to cancel sporting events — while Johnson attended a rugby match at the weekend.
"It may be that they [the chief medical officer and chief scientific adviser] are right, and if we move too soon people become fatigued. But if we end up like Italy in two weeks' time, people will ask questions about what we did or didn't do this week. It is extremely politically perilous."
A second Tory MP agreed with these concerns and said Johnson had "left himself exposed" by the decision not to take harsher measures in the first days of the outbreak.
There are also criticisms within the NHS over the government's communication of its advice. A third doctor told BuzzFeed News that they were less concerned about the government's decision not to step up precautionary measures, but that doctors working to assess and treat suspected coronavirus patients were only finding out about containment strategies at the same time as everybody else — via televised press conferences.
In Monday's press conference, the chief medical officer announced that testing would move beyond the current procedure of only screening those with serious pneumonia. The doctor said that the first they heard of this change in procedure was when it was announced at the press conference.
They told BuzzFeed News: "To be honest the communication has not been great. I seem to get most of my information about it from the news, rather than the hospital. We've not had any direct information given to us, we get the odd email, but no one's sat us down, we've not had a meeting, no one's discussed with us, we've not been given an opportunity to ask questions. I'm getting most of my information in the same way everybody else does."
"My main concern is how the NHS will cope," they added, "given the new advice that was handed out yesterday, that the government are expected to move to a phase where anyone with mild respiratory symptoms has to self-isolate for seven days.
"There's almost no slack in the system, and doctors routinely are under a lot of pressure to work through illnesses because you're letting members of your team down, you're piling pressure onto the doctors that are not unwell, clinics would be cancelled, operations would be cancelled, diagnostic procedures would be cancelled, patients would go without being seen, because if someone's off sick there just aren't the staff to fill these gaps."
They continued: "We'll struggle a lot if we suddenly have a big increase in the number of people off sick and the amount of days they're off sick for. If there are a lot more cases of respiratory illnesses coming in … we don't have the beds for them, it'll be taking longer to treat them if we have to wear protective gear, taking it on and off before each interaction, there'll need to be more training for staff on how to appropriately use all this equipment, so it's just going to take up a lot more clinical time — there'll be more clinical time used per patient, there'll be more patients, and less doctors."
However, they said that in their view, the government was right to carry on as normal for now, and not to cancel planned procedures while hospitals still had the capacity to provide these.
"While the NHS has the capability to be carrying out these planned procedures they should be doing," they said. "These planned procedures, a lot of the time they're planned, but just because they're not emergency procedures doesn't mean they're trivial or not highly important. This is diagnostic procedures to diagnose serious conditions, this is operations to treat serious conditions, and we should be doing everything we can do to carry on providing our normal service."
A Department of Health and Social Care spokesperson said: "We have a world renowned team of clinicians, public health experts and scientists working round the clock to keep this country safe. The Government is taking the right steps at the right time, guided by the best and latest scientific advice.
"As the Chief Medical Officer made clear, it is not just what we do but when we do it that will have the most impact – if further measures are taken too soon, there is a chance the public will become fatigued and not take the necessary action before we reach the peak of the virus."