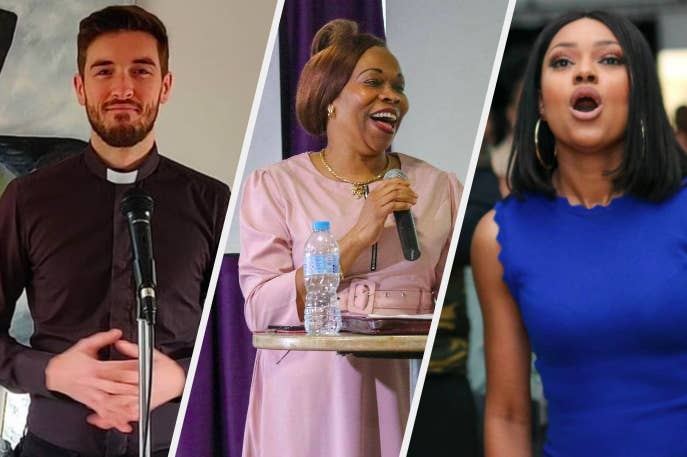 The journalists at BuzzFeed News are proud to bring you trustworthy and relevant reporting about the coronavirus. To help keep this news free, become a member and sign up for our newsletter, Outbreak Today.

This week, churches across the world will mark Easter — but with congregations in lockdown because of the novel coronavirus, it will be a Holy Week like no other.

Like so many other professions, church leaders are turning to the internet to help them out in times of national crisis. BuzzFeed News spoke to leaders from different denominations and from across the UK about how they are adapting — and how the outbreak is testing their faith.
Andy Fitchet, minister of Bridge Street and St Andrew's Methodist churches, Andover, Hampshire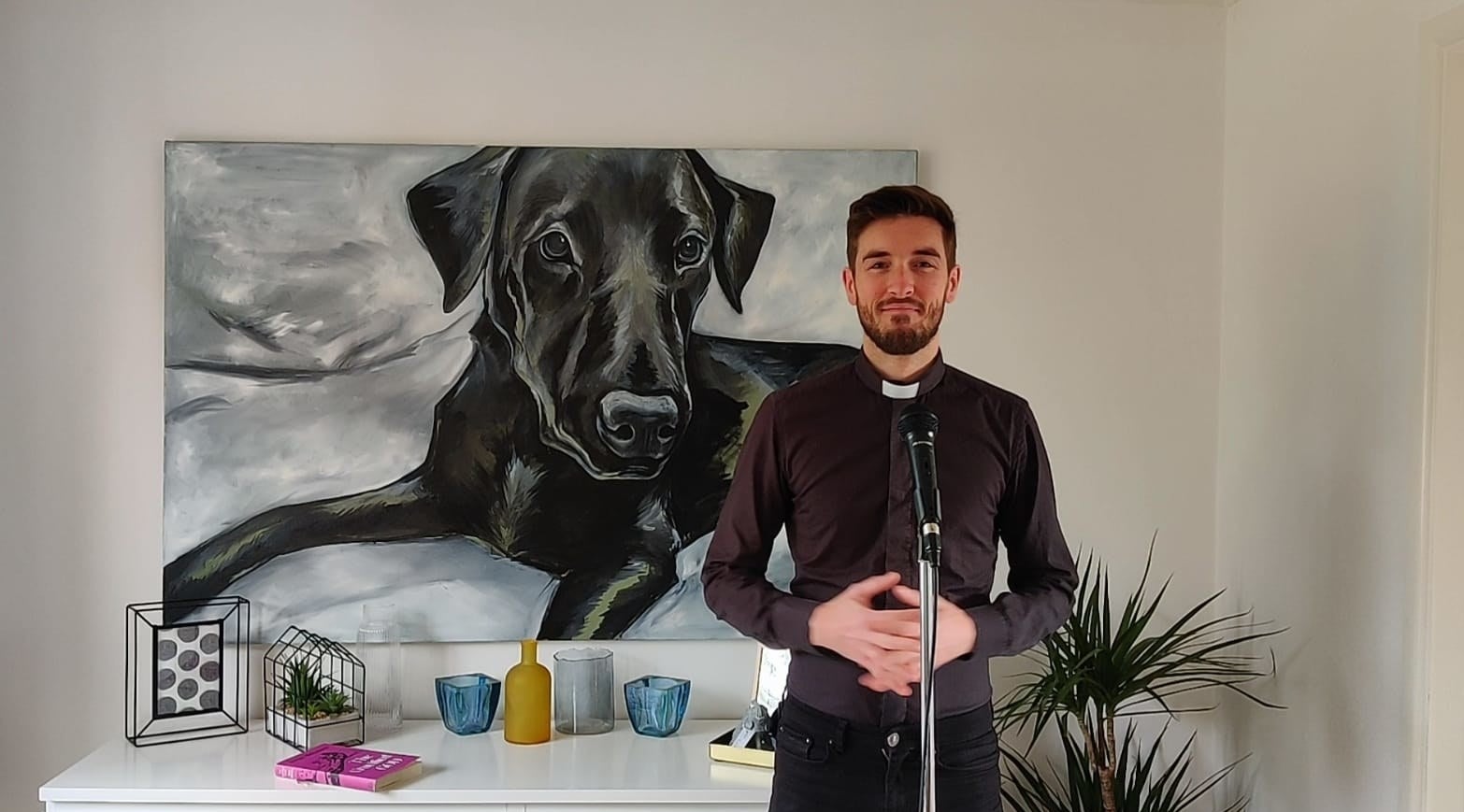 Fitchet said: "For us as Christians, Easter is the most important day, bigger than Christmas. Although Christmas is the cultural focus, for the church, Easter is the big one, Easter is the one where we proclaim that Jesus came back to life, that God came back to life, and so for us, our entire faith is based around that resurrection of Jesus. It's hard to put into words just how important Easter Day is in the Christian year."
While Easter would normally be a big deal — with a joyful service and a breakfast before or a lunch after for the congregation to get together, this year it will be a more scaled-back affair that will take place online.
He went on: "Normally it would be quite a big service, a lot of effort would go into the Easter Sunday service, lots of singing, lots of giving each other hugs, and excitement. It's going to be strange that that can't take place. I will say that in my prerecorded YouTube sermon, but it will be a bit odd saying it to my phone, rather than to the congregation."
He added: "We're going to be doing online services. There will be some Facebook Live stuff from our Facebook page, but I will still write a sermon and preach that, and lead prayers, and do a service, but from my house, because we're not allowed out, and then upload that to YouTube for the congregation to follow along to.
"I had a Zoom call yesterday with 80 other church leaders from different denominations and different church sizes, from churches that were 20 or 30 members to churches that were over 1,000 and looking at how do we do church online — how do you do church in a new way, but also how do you make sure that those in your churches that don't have the internet and aren't plugged in, because churches full of lots of wonderful, wonderful faithful older people who aren't on the internet or don't have the kind of savviness to be able to find their way through these things — how do you do church for them?
"We're looking at phone call sermons, and just trying to create some sort of coherence so everybody in the church gets the same message and we can still maintain some sort of community, but yes, it's tough. I'm busier than I ever have been and having to learn a whole new way of being a minister, a whole new way of doing church. I didn't learn any of this in theological college. When I read theology at Oxford, this was not a module. How to cope with church in a global pandemic — I don't remember studying that!"
This year, Fitchet said, Easter will involve a Zoom service on Maundy Thursday instead of communion, and YouTube sermons to replace church services on Good Friday and Easter Sunday. In normal time, he said, the church lights would go off on Good Friday, and they wouldn't go back on again until Easter Sunday morning, but, he added, "it feels like the lights have already gone off."
"Easter is going to be very interesting," he said, "because Jesus leaves the tomb, but we can't. That's kind of how it feels — that Jesus gets up and walks out of the tomb, but we're stuck in the tomb, we can't follow him.
"We want, as churches, to be happy people all the time, this is a space where we can accept that things aren't always good, and how do we enable people to feel those emotions without feeling overwhelmed by them? It's tricky."
"Particularly this year and focussing on the death of Jesus and things being a bit bleak is probably quite important, talking about a God who identifies with us in the bleakness is probably quite important," he added, explaining that he would be inviting his congregation to spend time on Friday and Saturday reflecting and "just to own your emotions."
After his sermon on Sunday, Fitchet will be spending the day on his own — he bought a reduced leg of lamb in his weekly shop and then realised that his family won't be coming round as planned.
"I thought, Great, I'll get that for Easter Sunday, paid for it, got in the car, and went, Oh, it's just going to be me," he said, "so I'm going to eat an entire leg of lamb by myself. I'll be cooking a lamb roast. I'll probably FaceTime my mum, and my sister, and we'll have a virtual roast dinner.
While the pandemic has not tested his faith, he said "it does leave me with many, many questions." If he could ask God one question, he said, it would be: "What the bloody hell is going on?"
He added: "When we gather together on a Sunday, churches always want to make out things to be joyful and happy, and we need to recognise that things aren't great and aren't happy. So to have a bit of tension within that good news story, and to go actually, God, where are you? What are you doing? How do I find some hope and some strength in amongst all of this? — are the right questions to be asking."

Philomena Ikonagbon, Pastor, Household of Faith Ministry, City of Truth, Kent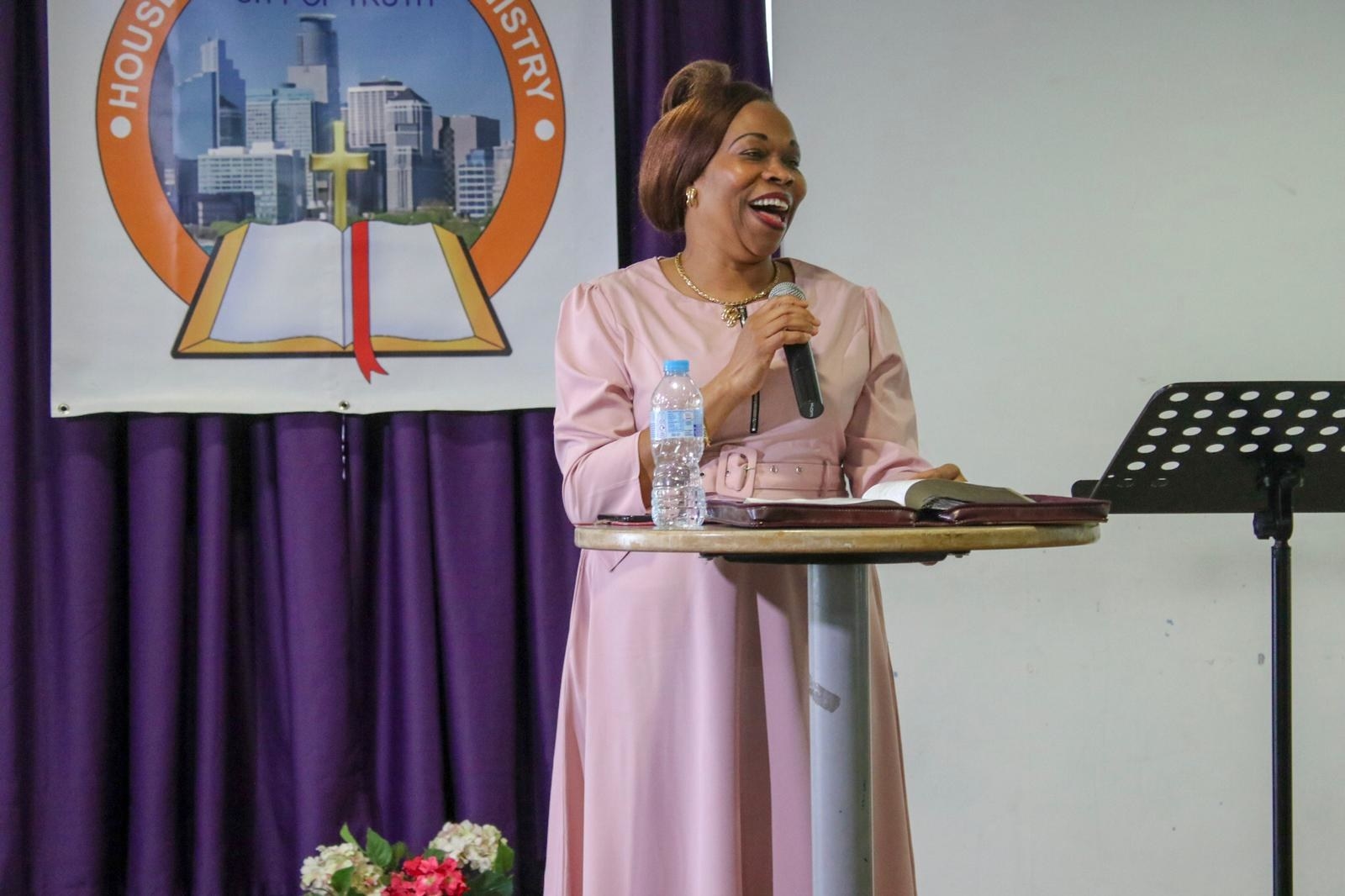 For Pastor Philomena Ikonagbon, the Easter sermon for her congregation in Kent is still taking shape, but she intends for the message to be clear.
"I wouldn't say I can tell you the topic now but all I know is that the message is for the world to understand the reason for Jesus Christ coming. He came to die on the cross for us, he shed his blood for our sins, and he paid the price for us so we don't have to pay the price anymore. We only need to accept that gift of salvation that he has given unto us and once we accept that then we are redeemed," she said.
While Sundays would traditionally end with attendees moving from the church to her home to socialise and share a meal, this time members will be forced to experience the entire celebration from their homes and with their immediate families.
"We as a church have always made it like a family, every time church finishes, a lot of the time people just move to my house and the young people have the opportunity to have a chat outside of church, form friendships and build a bond, we will then have lunch together."
Streaming the service across various platforms isn't an entirely new experience for the church, but the technical element now plays a more prominent role in sharing the gospel and will do so for the Christian holiday.
Ikonagbon said: "We stream online via YouTube Live and Facebook Live, not just our members — we can send it to our friends and loved ones to join us. That is how the church has been so it's not really new for us. The difference now is the social distancing, which means people can no longer come to the house how they normally would do."
During a time of social distancing, the church leader believed that it was critical for people who identified as Christians to offer a message of hope in response to the coronavirus pandemic.
"As believers, I think we should be more hopeful. I think it is a time to explain to people that things may be happening, but God still loves us and cares for us even in times like this," she said.
"We know that God is not a wicked God. I think the message that we ought to pass across is that God is not punishing us because 'oh we've done this, we've done that' that is not the point.
"The fact is, knowing that he is a good father, he is faithful in every way. When evil things happen, God has a way of turning it around to glorify his name. It doesn't matter how bad a situation is — he is able to turn it around."
Father Paddy McCafferty, parish priest of Corpus Christi, Ballymurphy, West Belfast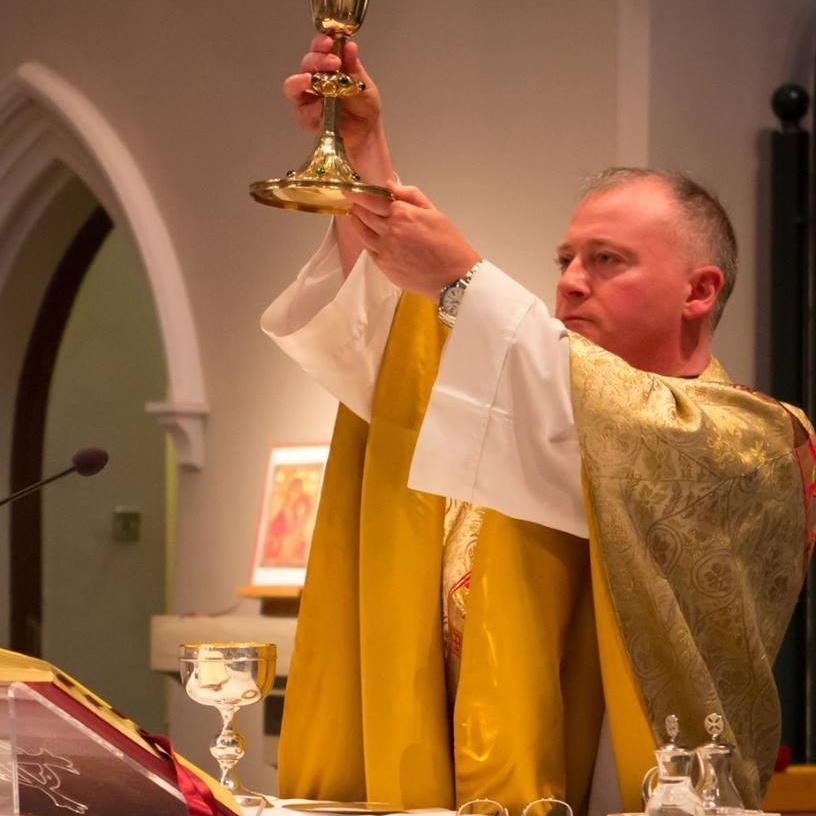 "It is a first. Basically what we will be doing is celebrating the liturgies on our own in the church, no congregation — we can't have anyone in the church."

Easter, McCafferty said, is more important than any other event in the church calendar. "It's central," he told BuzzFeed News. "It's more important than Christmas. If there was no Easter, we wouldn't be celebrating Christmas — Easter is the high point of the year. The three days of Holy Thursday, Good Friday, Holy Saturday, leading into Easter Sunday, are the epicentre of the church's life. Every reason that we have for hope is contained in those days."
There is just one aspect of church that McCafferty is continuing in person — but outside the building, and from a distance of 2 metres from his congregation members.
"One thing I am going to do is be available for confessions," he said. "I'm going to stand outside in the open air, creating a distance, a 2-metre distance, and people if they want to go to confession for Easter they can.
"Confession doesn't need a person being close physically, as long as you can hear them. Apart from that, there's nothing that involves any physical presence, it will all be online, and me on my own."

One of the most challenging things, he said, is conducting funerals during this time — requiem Masses in the church and wakes afterwards are not taking place, making it much harder for families saying goodbye to their loved ones.
"Funerals are particularly difficult because you can't as you would normally comfort the family," he said. "You can't do that, with physical distance and so on. I find that very painful, when you go to the cemetery to say the prayers and you can't actually do what you would normally do. You would in some way reach out to the people who are bereaved — you can't even do that at the moment."
Like many other priests around the country and around the world, McCafferty will be turning to the internet to reach his congregation.
"We have a webcam in the church so our liturgies of Holy Week will be livestreamed," he said, "but it will just me on my own in the church, as has been now for the last number of weeks anyway, for daily Mass... It's just me on my own in the church livestreaming to the people.
"There are a lot of people watching actually, quite a lot are getting in touch — they're finding comfort in the Mass and in the prayers. So basically that's all we can do.
"We're fortunate in having a webcam, and our services are always livestreamed anyway, for the sick and housebound, but particularly during Holy Week, particularly this pandemic, our webcam is really proving invaluable... It's certainly come into its own in the last number of weeks."
While many of his congregation were not previously online, and he said are "finding it very difficult that they can't be present in the church," the coronavirus outbreak has meant that they are connecting to the internet for the first time.
"A lot of our older people their families have set them up with access — have got them tablets and things that they can follow and set it up for them," he said. "A lot of older people who wouldn't normally be savvy as regards to internet technology, they're getting online. We also use Facebook Live and things like that from time to time."
However, despite the challenges of the current situation, McCafferty said that his Easter Sunday sermon will still preach a message of hope.
"I believe that God is present in this situation and will bring us through it, and that His purpose will unfold," he said. "I think this in its own way is creating a closeness among people, even if they can't be physically close, there is a spiritual closeness that is coming among people.

"In a unique way, I think we will participate in the sufferings of Christ, in a unique way, Holy Week 2020."
Michael Adoasi, Bishop, Triumphant Global Ministries (TGM), London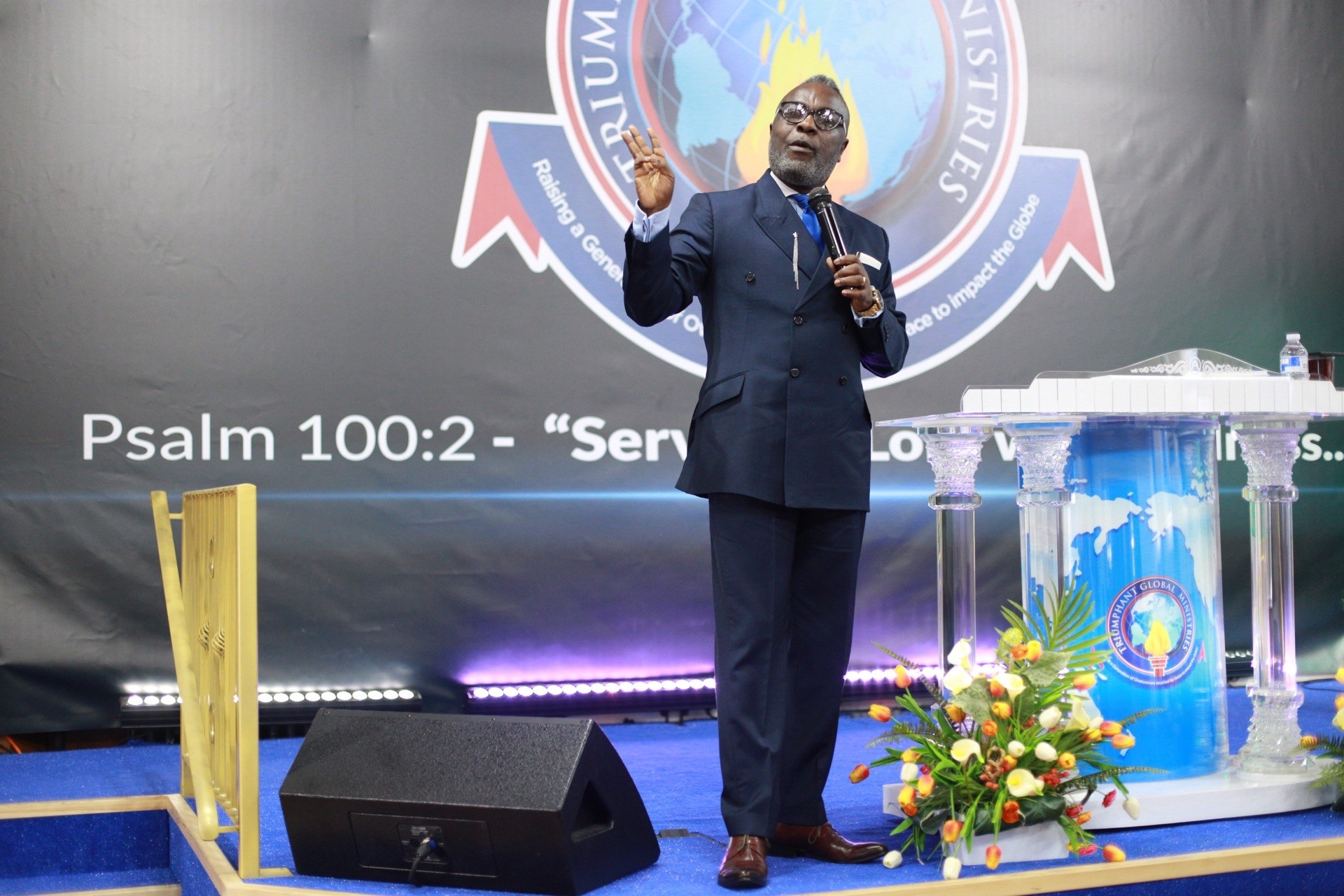 For Bishop Adoasi, a typically praise- and worship-filled service complete with an 11-person choir and 200 worshippers dressed in their Sunday best clothing will be a much quieter affair this year.
"All of our services have now gone online, streamed via Facebook Live with only two people: the person sharing the word and the person livestreaming physically in attendance. It's sad that we can't see each other as a big part of our fellowship is the community aspect, but we have set up a lot of meetings and hangouts on zoom to recreate that aspect online as best we can."
The Croydon-based church with a largely West African congregation would traditionally anticipate welcoming new and old faces for its Easter service — a standout in its calendar, but this year, the church will be navigating technical challenges and hoping to create an atmosphere of worship from a distance.
"We will persist with online services streamed via Facebook Live. It's the safest way of doing it. We will try to be creative in how we curate the atmosphere online," shared Adoasi.
"We have used Zoom and conference calls for meetings and prayer meetings. Anything done on the internet is going to be based on the strength of the internet that people have. We have struggled at times with lags. It's hard, especially for children's services."
Despite the technical difficulties, the church leader believes that the season of Easter and current affairs offers Christians a moment to look inwards regarding their faith and look outwards to those in need of support, especially during this period.
He said: "The Bible is full of stories of pandemics, wars, oppression and out of those periods we see the greatest examples of faith. For many, we hope it is a wake-up call to take their faith more seriously and a lesson of how to apply your faith in the toughest situations.
"Most world leaders have called for days or weeks of prayer. Although the world is becoming more and more secular, in times of crisis people always seek those they see and spiritual leaders. It is our place to stand in the gap and keep praying for people. We must also take our responsibility for our community seriously too, supporting those in need. We are working on a way to safely get food and baby supplies to those in need in our local community."
Mother Kate Harrison, vicar, St Mark's Hamilton Terrace, London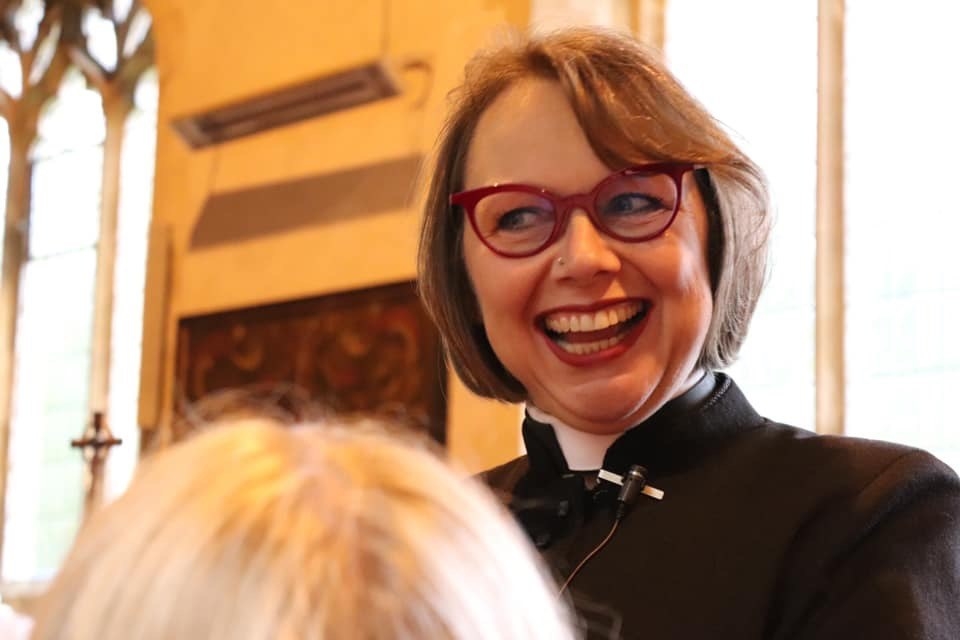 "It is going to be really strange," she said. "We do the full lighting the fire, the candle, and then champagne after the service, a big party, so it's going to be really odd."
Easter is normally a big deal at St Mark's, she said, but this year it will be different.
"I actually think it's a bigger deal than Christmas, it is huge, absolutely major, major celebration, and this whole buildup to it is so dramatic as well, with going through Lent and then you've got this intense period of Holy Week…before this big celebration on Sunday. That's all going to be very different this year."
Normally in Holy Week, she would lead a church service every day — but this year they will be streamed daily instead. Instead of the usual Eucharists, she said the services will be more reflective "looking at the journey of Holy Week, putting ourselves in that position, fictionalising eye-witness accounts to get an inside view into those emotions."
"We'll still be doing our watch service on Maundy Thursday evening, I'll be streaming a Eucharist for that, and the sacrament will be put onto what we call the Altar of repose, which is set out to be a flower-filled garden for the night, and I'll be doing readings periodically for people to dip into on Facebook if they like."
She added: "On Sunday morning it's going to be really different. We'd normally light the big Paschal candle, which is the candle that's blessed and lit on Easter day from the first fire of Easter, and we as a church reaffirm our baptism vows, and that candle would then be lit at every service throughout the Easter period, and then it's lit at every christening and funeral during the year.
"Instead of having the big Paschal candle lit, I'm going to ask my congregation to light candles that they've got at home, and then when we finally manage to all get back together in the church building, to bring those candles in that they lit at home on Easter day, and then we will light the Paschal candle together."
Her sermon on Sunday will be less joyful — but, she said, she thinks the unique circumstances will give people an opportunity to reflect on the first Easter.
"It will," she said, "purely because we won't all be together, we won't all be sharing that joy. We've got a great choral tradition at St Mark's, we've got a beautiful Mass setting, and we've got extra brass instruments proclaiming the glory in the services. And it's all very loud and joyful, so yes, that's going to be missing, so it will be less joyful. It will be more as if we're still partly in this period of waiting.
"But this year, I think actually it's going to be a bit more like the first Easter. The first Easter wasn't met with a great big shout of joy that 'Jesus is risen' — it was actually a few people finding out the news in different places… It will make us reflect more on the first people to receive the resurrection news."
As a family of five, they will still celebrate Easter together, Harrison said — "we've got a bottle of Tattinger waiting, so that will definitely be opened" — but she said the current crisis has heightened her awareness of others who may be feeling more alone.
She said: "We would normally have family and friends around for Easter, my mum lives nearly 200 miles, and she'd normally be with us for Easter, obviously that's not going to happen this time. I know that we're not the only people who are going to be missing family, and that is a big thing. That's a real sadness.
"That's also one of the things about this lockdown in general. I'm becoming more and more conscious of the people in my area and in my congregation who are feeling lonely in this time, and if it's a time they'd normally be gathering with family and friends, that loneliness is going to be ever harder."
The current pandemic has tested Harrison's faith — but she said she continues to be hopeful.
"It has, it really has," she said. "I believe in an all-powerful God, so what on earth is going on here? But I have seen God working. I have seen God working in the most surprising of places, the most surprising of people. When you're queueing to get into the supermarket you see God in the smile of the person who's in front of you, who just sort of turns round, and says, 'This is all a bit crap, isn't it?'
"There are so many things that are wrong with this world that we are responsible for. You hear all these things about pollution's going down in places. I've noticed in the discussions that I've had with family and friends online, we're all thinking can we support local businesses, local shops, how can we be changing what we're doing ethically? And I think some of that is going to stick at the end of all this."
Apostle Tobi and Pastor Nicola Arayomi, Light London Church, London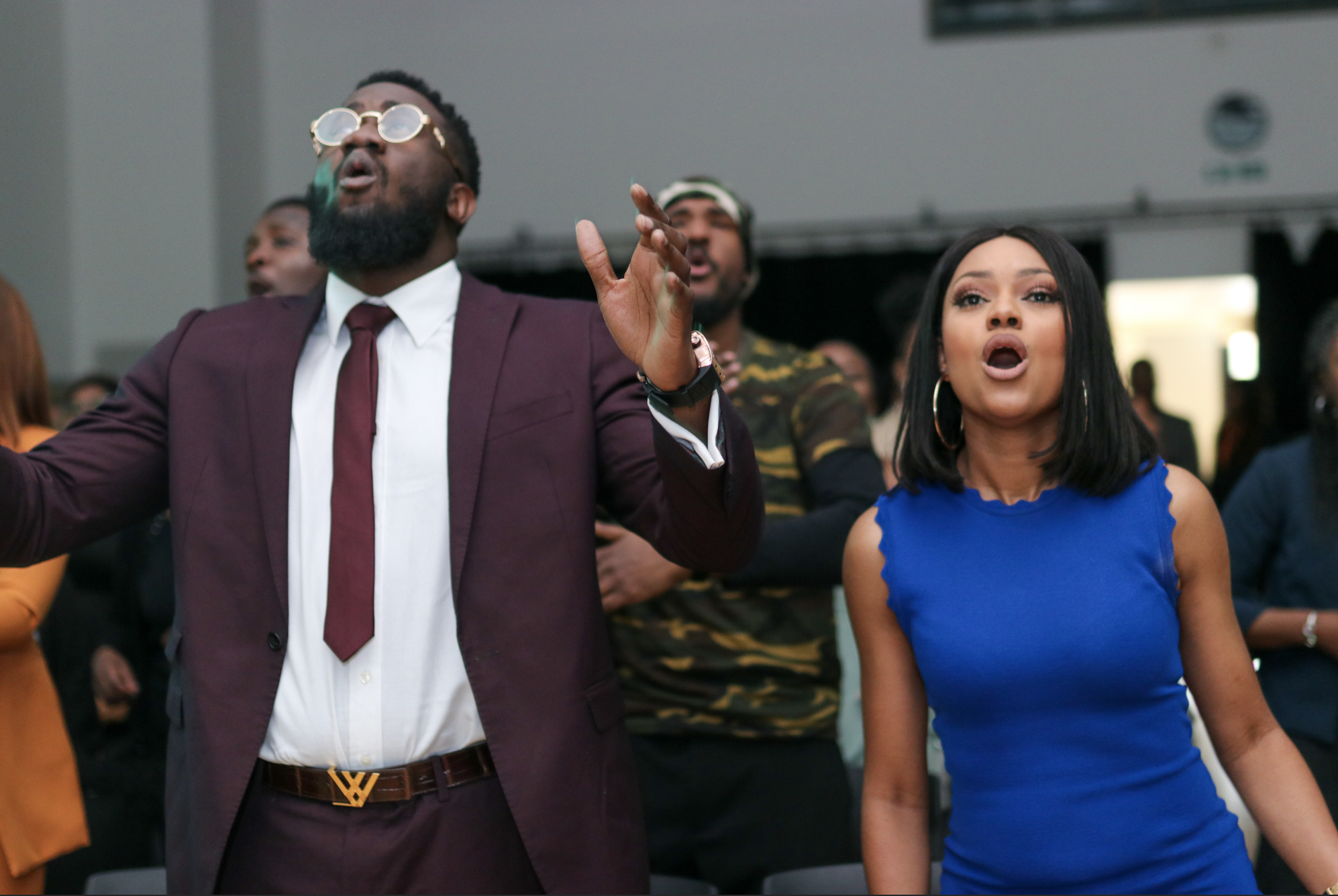 Husband and wife Tobi and Nicola Arayomi head up East London church Light London, which would have opened its doors this weekend to nearly 400 attendees to observe Easter Sunday.
Instead, the church said it plans on "having a good time as usual, celebrating the resurrection of Jesus Christ, but this time, online."
Describing the church experience as a "kinaesthetic" one, complete with hi-fives and hugs, the inability to embrace members had been difficult but going online has proved lucrative for the church which says that its reach is bigger than ever.
"One positive outcome is that we have recognised the power of online communities. We have launched a new thing called "cyber church" and have been streaming on YouTube, which has opened up the church to a much wider audience of up to 5,000 people," said the couple in a statement.
"The online experience has been giving people a good taster of what church can be, particularly people who wouldn't normally attend, due to perhaps things like, fear of being judged, not fitting in or preconceived notions of what church is all about."
As the current global pandemic continues to create divides through communities, the church leaders point to scripture as a reference for guidance.
They said: "A pandemic is not new to God. There are several instances throughout the bible whereby plagues, famines, and pestilence have occurred. There are scriptures that straighten our faith and give us hope such as Psalm 91, where it states the pestilence will not come near us.
"There are also scriptures that highlight that some of the practices we are being encouraged to do, such as quarantine, is not new to people of faith. Quarantine and social distancing is present in the book of Leviticus 13:3, for example.
"All throughout scripture, we can see that bad things happen and good things happen, we live in a broken world. However, the beauty of this life is that darkness makes light shine brighter — this has been a big test of faith and of courage. We are doing our best to be light and illuminate in such a dark situation."
To address the challenge of meeting the spiritual needs of their large community, the pair have risen to the task by encouraging fellow leaders in the church to pursue individual relationships with members, "through online forums, and of course, regular phone calls and messages."
Father Frankie Mulgrew, priest at St James and All Souls, Salford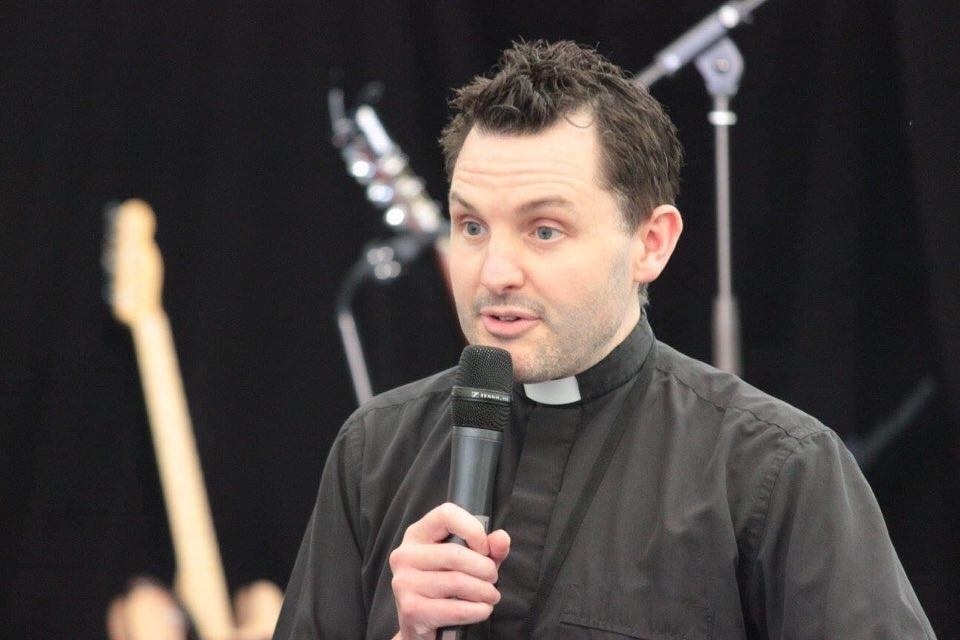 Easter is a big deal for Mulgrew too. "It is massive really," he said. "It's basically the reason why I'm a priest. We pin all our hopes on the resurrection week. It's massive, it's our biggest day, it's more important than Christmas really… It's massive really, hence why we're streaming it."

His services will be broadcast from the church on Periscope. "It's a strange one really," he said, "because obviously we're used to a congregation. I'm at St James at Salford shopping precinct, in the heartland of Salford…and on a Sunday is packed, Jesus is a big hit at Salford shopping precinct. Normally I come out to a packed congregation, so it's totally bizarre to come out, and it's just your iPad, your iPhone, but I know since the start of the streaming, our numbers have doubled."
The online services, he said, have added a bit of pressure, but the positive feedback he gets from people also gives him a boost during a difficult time.
"It's a bit like pentecostal church," he said. "People get involved — they give you comments, especially your parents! I think I'd better work harder in these homilies. They give you feedback! There's a bit of pressure on you, but I had a parishioner ring me up last night just to say thank you and he liked the sermon. There's lovely comments as well from emails — people just getting in touch."
On Good Friday the service will be more — as is typical — sombre: "it will be very much around coronavirus," he said, "I'm going to make links with regards to that, the sacrifice of Good Friday, great love is knowing that they'd lay down their life for anyone."
However, on Easter Sunday it will be hopeful. "I think it's really important to speak about a message of hope," he said, "especially in these days — the darkest hour is before the dawn.
"Certainly as a person of faith, that genuinely what I believe, it's about holding onto the hope, holding on to that we're loved, and we are cherished, and that we're never alone — especially for those that find themselves in very vulnerable situations during this time, those that have maybe contracted it.
"It's trying to get across those messages, and actually, I get across those messages because I think it's about God's hope and God's love, and God never leaving us really. I think it's really important to get those messages across."
Mulgrew — a former comedian — is also working with Ten Ten theatre company to draw up resources for families to use at home, and has been recording video messages.
"That's been loads of fun," he said, "I thought I could try and put props in it, come up with different ideas, and obviously get a serious message across but do it in a lighthearted way, and try and put a few jokes in here and there."
Mulgrew says he will miss his family, on Easter Sunday, which will be tough for him on the day. "In so far as eating a lot of chocolate," he said, "that won't change, and maybe a glass or two of white wine, that won't change either. But you know what? [Being alone] will be gutting; that will be heart-wrenching.
"My family's been doing what a lot of families have been doing, ringing round, doing the whole over the internet stuff, and you know what? You get people's undivided attention…and maybe that might be something that we learn from all this actually, how we value friends and family."
He said that he is also making sure to look out for older and more vulnerable members of the church community, who may also be feeling alone.
During the tough times, he said he draws support from the people in his congregation that he is helping — and also from his faith. Walking into the church and seeing the sanctuary lamp flickering was a moment that reinforced this, he said: "It really spoke to me in a profound way when I walked in because I went to this pitch-black, dark church, and all I could see was this light flickering. And for me, it just spoke volumes that no matter how dark it gets, there's always hope, there's always light — that's what my faith informs me."
"I think trials do come in life and faith," he added. "They do come and go, I think it can make faith stronger… It's trusting in the hope, and having one or two toilet rolls helps as well."
Emmanuel Akinfenwa, Pastor, City Worship, London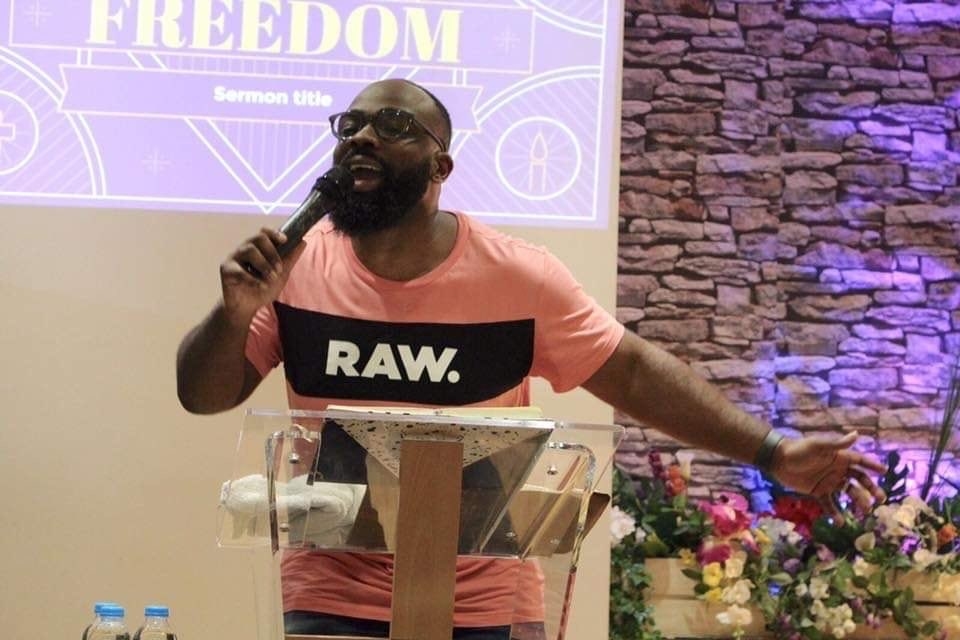 City Worship is a small London church formed a year and a half ago with 30 members led by senior pastor Emmanuel Akinfenwa. The community who usually meet weekly have experienced a major hurdle after losing their temporary church building as a result of the lockdown.
Akinfenwa told BuzzFeed News: "The venues we use for Sunday service are closed till the end of June and they cannot say what will happen after that, meaning we may potentially have to find a new space post lockdown."
Despite the setback, Akinfenwa shared how going digital has benefited the church and will play a role in delivering its Easter message.
"Our scope of reach has widened online since weekly livestreams started and has even brought the church family together. Testing times like this bring people much closer because of the uncertainties with life, work, family, mental wellbeing," explained the church leader.
The congregation has been responsive to the government's instruction and replaced physical meetings with services online and this Easter weekend will include livestreams on Good Friday and Easter Sunday.
"We will be having a few livestreams this weekend encouraging people through these challenging times but also reminding and sharing the message of the Gospel. Firstly, that Jesus is the greatest expression of God's love, that's the message in the famous scripture John 3:16. And secondly, that Jesus lived, died, and rose again so that we can live in Him and for Him, basically meaning we are in union with Him."
To observe Easter Monday, the church anticipates taking the conversation to social media to conduct an Instagram live and welcome Christians looking for answers.
"On Mondays, since the lockdown, we have collaborated with some other ministries to do Instagram Live to answer questions on common topics that relate to Christians. We will most likely be doing the same Bank Holiday Monday."
The social interaction includes taking prayer requests for sick friends and family and answering difficult questions such as "How can I keep the faith during times like this?" and "Is coronavirus a curse?" a query routinely raised by some Christians.
"Two scriptures that come to mind are Isaiah 60:1–2: 'Arise, shine, for your light has come, and the glory of the Lord rises upon you. For behold, darkness covers the earth, and thick darkness is over the peoples; but the Lord will rise upon you, and His glory will appear over you'; and Romans 8:28: 'And we know that God causes everything to work together for the good of those who love God and are called according to his purpose for them.
"In the first scripture, what stands out for me is though there is darkness in the form of disease, sickness, injustice, violence, inequality and the unending evils we see. God's light will still shine and permeate love, joy, peace, and hope. And God will use the arts, entertainment, the media, education, technology, fashion, relationships and so much more to reveal this.
"For the second scripture it gives every Christian the hope that whatever they go through, good, bad or ugly, God will work things together for His good and ultimately make your life a living example of God's grace and love to all."