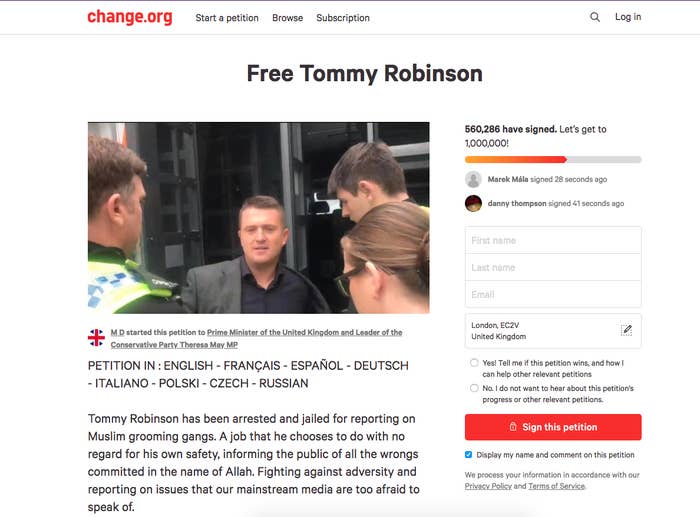 Change.org is facing demands from anti-racism campaigners to remove a petition calling for far-right activist Tommy Robinson to be released from prison because it contains major factual inaccuracies and hate speech which could breach the site's own's rules.
The petition has gone mega-viral since it was launched seven days ago, with more than half a million people adding their names to calls for Robinson to be freed from prison.
Anti-fascism campaigners have called on the organisation to take the petition down, saying that it is "making money from hate". But in a statement Change.org said it had "determined that the text of the petition did not violate those policies".

More than half a million people have signed the petition calling for Robinson to be freed from prison, which wrongly claims he was "arrested and jailed for reporting on Muslim grooming gangs."
Robinson was jailed for contempt of court after broadcasting live on Facebook outside Leeds Crown Court, where a trial was ongoing. He was already subject to a suspended sentence after being convicted of contempt relating to a rape trial in Canterbury last year.
The petition claims that Robinson, whose legal name is Stephen Yaxley-Lennon, was "reporting on issues that our mainstream media are too afraid to speak of". In fact, reporting restrictions to ensure a fair trial meant that news organisations were limited in what they could report while the trial was ongoing.
Change.org's own terms and conditions, which prevent hate speech on the site, state: "We're fans of free speech, but we don't allow hate speech. Hate speech is typically the advocacy of beliefs or practices that attack or malign an entire class of people based on characteristics such as their age, color, disability, ethnic origin, gender identity, nationality, national origin, race, religion, sex, sexual orientation, medical condition, or veteran status."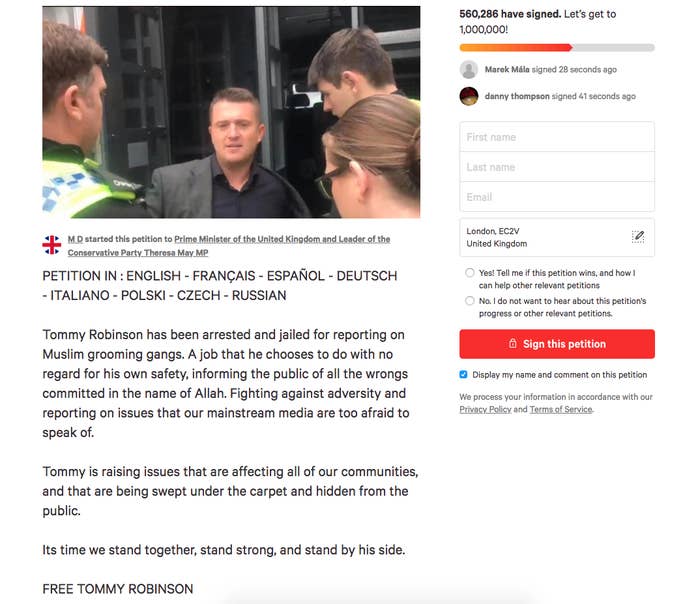 A line in the petition, set up by someone identified only as "MD", says that Robinson is "informing the public of all the wrongs committed in the name of Allah".

After signing the petition, website visitors are then encouraged to sign other petitions, some of which users have paid Change.org to promote. Change.org would not say how much income had been generated from the petition.
Promoted petitions work in the same way as sponsored tweets, or promoted Facebook posts, in that supporters can pay for them to be displayed to other visitors to the website.
The option to pay to promote the Robinson petition appears to have been turned off, yet it still had more than 560,000 signatures by lunchtime on Friday.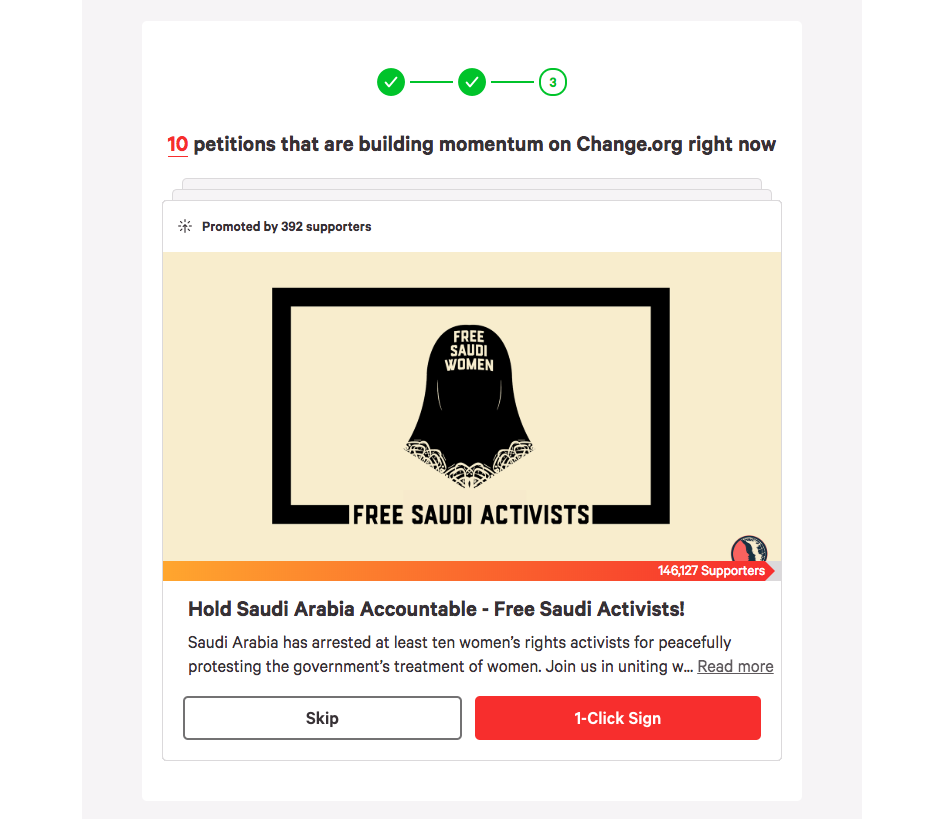 Nick Ryan from counter-racism advocacy group Hope Not Hate told BuzzFeed News that he objected to the population petition site potentially "making money from hate".
He said: "So let's get this straight. Tommy Robinson [Stephen Yaxley-Lennon] was not arrested for 'reporting on Muslim grooming gangs'. He was arrested and jailed because he broke the law. He is not a journalist. In fact, he has threatened journalists.
"The risk of derailing a major criminal trial is something our courts take extremely seriously, and this was 'Robinson's' second such offence - he was already under suspended sentence for doing the same around a court case in Canterbury last year.
"Thus there is no connection to 'free speech' here, something that Lennon/Robinson and others in the anti-Muslim movement try and subvert and abuse to allow themselves to promote hatred. So the petition is promoting a lie."
He added: "Second, is Change making money from this petition, by offering sponsored petitions after people sign it? And how comfortable are they doing that, given their own terms and conditions which state that they don't allow hate speech?
"Isn't Change making money from hate here? And regardless of that, how comfortable are they hosting a petition which supports someone with such a long history of violence, criminal convictions, extremism and thuggery?"
Ryan said he understands from campaigners that Change.org could have made thousands of pounds off the back of people being directed to promoted petitions.
A spokesperson for Change.org said: "We have Community Guidelines and policies to address misuse and a team dedicated to reviewing complaints from the community – we did review this petition and determined that the text of the petition did not violate those policies.
"Change.org is an open platform, which means that every petition that you see has been started by people in the community – it's very likely that people will find petitions with which they disagree, as the platform is a place for a variety of debate. As with any issue, we have seen multiple petitions, with varying views started by the public in regard to this story."
BuzzFeed News asked why the petition did not appear on the Change.org homepage despite generating high numbers of signatures.
The spokesperson said: "The algorithm that determines what appears on the front page is not based on the number of signatures a petition has. It is determined by a number of factors and the petitions that feature on this page change regularly."