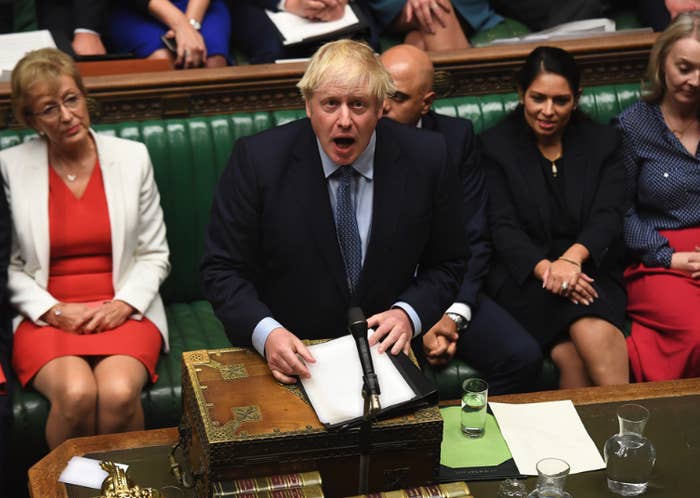 Boris Johnson received widespread condemnation from across the House of Commons on Wednesday night and was accused of putting politicians' lives in danger, after he claimed that delivering Brexit was "the best way to honour the memory" of the murdered MP Jo Cox.

Amid furious scenes in parliament — with some MPs walking out of the chamber in protest and others left in tears — the prime minister shocked the Commons by responding to a plea from Labour MP Paula Sherriff to moderate his language in the wake of death threats to politicians by saying "humbug".
In astonishing exchanges across the House, Sherriff told Johnson: "We stand here under the shield of our departed friend with many of us in this place subject to death threats and abuse every single day.
"And let me tell the prime minister that they often quote his words — "Surrender Act", "betrayal", "traitor" — and I for one am sick of it. We must moderate our language and it has to come from the prime minister first."
To cries of "shame" from opposition MPs, Johnson replied: "I have never heard such humbug in all my life."
Several Labour MPs left the Commons chamber in protest at Johnson's description of legislation passed by MPs aimed at preventing a no-deal Brexit as a "Surrender Act". Despite the criticism the prime minister doubled down on his language by calling it the "Capitulation Act" and the "Humiliation Act".

In an emotive intervention, Labour's Tracy Brabin, who took over as MP for Batley and Spen after Cox was killed a week before the EU referendum, asked Johnson: "As the woman who has taken over the seat left by our dear friend Jo Cox, can I ask him, in all honesty, as a human being, please, please will he going forward moderate his language so we will all feel secure going about our jobs."

The PM replied that "the best way to honour the memory of Jo Cox and indeed the best way to bring this country together would be, I think, to get Brexit done". Cox campaigned vocally for Remain before she was shot and stabbed to death by a far-right terrorist in the final days of the referendum campaign.
Johnson's words were condemned by Cox's husband Brendan on Twitter:
In response to another question from the Labour MP Anna McMorrin about the abuse politicians were receiving on social media, Johnson warned that it would not stop until Brexit was delivered. If McMorrin thought "that storm on Twitter is going to abate, she's got another thing coming", the PM said.

Johnson was also criticised by Conservative MP Jeremy Lefroy, who said: "With freedom of speech comes responsibility, and sometimes that responsibility means not saying what one might like to say — words like surrender, betrayal, treason".
Liberal Democrat leader Jo Swinson said: "The prime minister tonight proved he is totally unfit for office. To suggest the best way to honour Jo Cox, an MP who was murdered for what she believed in, was to pass his Brexit deal was sickening."
As the debate raged in the Commons, BuzzFeed News spoke to several MPs who expressed their horror at the prime minister's language.

Sherriff revealed the level of abuse she and other colleagues have received in recent months: "I've had swastikas left outside my office. And I know now as a result of that, I might not be able to go home this weekend, stay in my own house. We've had MPs have to move addresses, stay in hotels, there's a lot that goes on that we don't necessarily talk about."
Alison McGovern, a close friend of Cox, said: "It is devastating that our prime minister cannot realise the consequences of his words. They have real life effect. This isn't a game, and he should listen when people express grief and distress at what he says."
Earlier this year, BuzzFeed News revealed the specialist police unit set up to investigate crimes against MPs has received 558 complaints since its inception and has seen a huge increase in reports in the last 12 months.

Scottish National Party MP Alison Thewliss called for Johnson to resign, saying his behaviour was: "Absolutely despicable. And what makes it worse is it's deliberate. He's doing this deliberately to wind people up, to get people out on the streets. It's irresponsible and it's dangerous, and it's got to stop. He's got to go."
Labour's Rosie Duffield said: "He is inciting violence, implying to [women] MPs repeatedly that if we vote his way, we will all be safe. His answer to Anna McMorrin sounded like an outright threat. I had written a question about Kent but when he upset so many of my colleagues, I felt compelled to call him out. This is what real privilege looks like."
Redcar MP Anna Turley told BuzzFeed News the PM was using "the language of fascism".
"You could see, even after he was asked to moderate his language, even after he was told how it was making everybody feel, he kept using it. He was being deliberately provocative, he was deliberately, he knew exactly what he was doing, he was goading us with it, and that's what's absolutely unforgivable.
"This is the language of fascism. That sounds over the top but it's true, it's the language of othering, it's the language of turning people against people, it's divisive and it's toxic and he knows that," she said.
Jess Phillips, the Labour MP for Birmingham Yardley, said: "Boris Johnson has decided that the way to win is the only way he knows how... not with intelligence and strategy but with playground name calling and inflammatory language. Unlike him I don't have a security detail so I hope he knows that dangerous language leads to death threats. I doubt he cares."

McMorrin told BuzzFeed News: "I'm shocked and disgusted by his behaviour. I couldn't believe he was so irresponsible and divisive. I didn't ask him what I was originally going to ask as I was so angry and upset and was in tears. But this is not a game. And we need a prime minister to act like one and not threaten MPs, particularly female MPs, when he doesn't like what they say."

"It means my mother receives a threat to her safety, it means my partner receives a death threat," said independent MP Anna Soubry.
Brabin added: "Sadly he showed little contrition and suggesting the way to respect Jo was to get Brexit done was astounding in its lack of sensitivity. She campaigned for remain and was a generous-spirited and passionate defender of democracy. Deeply upsetting for MPs who knew and loved her and lack of understanding about the way language incites action."
Sherriff said: "It's the Dominic Cummings, Steve Bannon playbook. I feel like I've got a duty to call this out. I was sat there tonight... and I thought I can just sit here and say nothing or I can think 'no, let's call him out on it'. As MPs we have that responsibility."