Boris Johnson Finally Visited Flood-Hit South Yorkshire And It Didn't Go Well
"I'm not very happy about talking to you, so if you don't mind I'll just mope on with what I'm doing."
Boris Johnson has visited South Yorkshire, six days after the region was hit by flooding.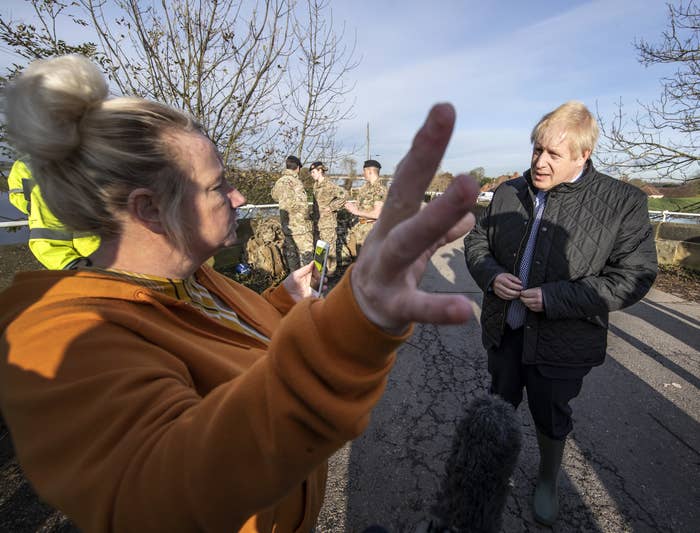 Judging by the succession of clips that appeared on social media, locals were not happy that the prime minister waited almost a week to visit the area, where people had suffered severe damage to their homes and livelihoods.
He tried to ask residents affected by the floods in Stainforth, near Doncaster, what help he could offer — but many were not keen to speak to him.
One woman snubbed the PM completely, saying: "I'm not very happy about talking to you, so if you don't mind I'll just mope on with what I'm doing."

He was then heckled by others who shouted: "You've took your time, Boris, haven't you?" and "Where've you been?"
And when the prime minister asked another man whether he could do anything to help, he was met with a polite but firm "No, thank you."
Things didn't get much better when he sat down with a group of residents.
They took him to task over his failure to declare a national emergency. The prime minister only called an emergency Cobra meeting on Tuesday, hours after he was criticised by Labour leader Jeremy Corbyn for not doing so.
"It's took you over five days. You should have been there Saturday morning having a meeting, making sure those people get the help and support, and I'm sorry your [funding] announcements yesterday was a pittance," one resident told him.
Another criticised Johnson for saying that the situation was "not an emergency".
Speaking last week in Derbyshire, the PM said: "At the moment, touch wood, this is not looking like something that we need to escalate to the level of a national emergency, but we certainly stand by ready to help small businesses in any way that we can."
When Johnson said the government would provide funding for residents hit by flooding, one woman asked why Doncaster had not received the money the prime minister promised back in July to give to struggling towns to help boost their communities.

"Is that a promise though, Boris?" she said. "Because you promised us months ago that you were going to give our community £25 million to make these communities better..." she said. "We're still waiting for it, Boris. ... Are you just sat here now? Is that a lie again?"
Johnson was left looking pretty uncomfortable as another man said: "Broken promises. That's all it is."
Johnson told residents in Doncaster that he had "come up immediately to Matlock in Derbyshire" to see what could be done to help.
The prime minister did visit Matlock on Friday, which was where, of course, staffers in a local Specsavers watched the prime minister struggle with a mop.
Last night, the government announced that an extra 100 UK armed forces personnel would be deployed to South Yorkshire. The prime minister also promised funding for local councils to help those affected by the floods to the tune of £500 per eligible household with up to £2,500 available for small to medium-sized businesses that are not covered by insurance.

Speaking after the Cobra meeting, Johnson said it was "essential that our communities have the support they need to recover".