Behind The Scenes At One Of The Most Pointless Debates In Recent British Political History
In the spin room, journalists were struggling to work out what anyone had actually learned from the debate.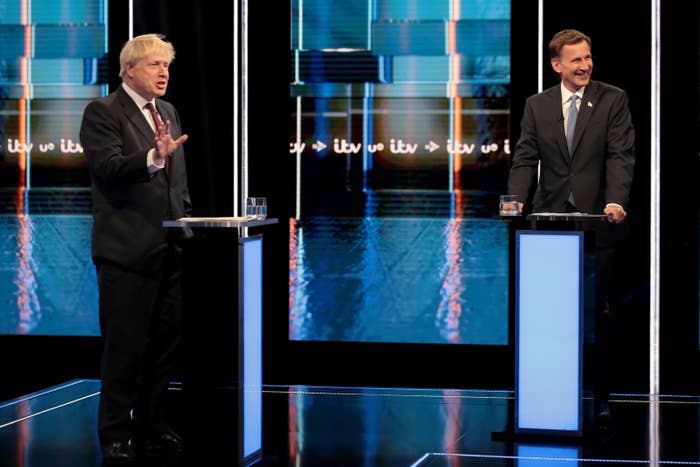 Boris Johnson finally went head to head with leadership rival Jeremy Hunt in a live televised showdown, but with the timing of the debate, and Johnson the runaway favourite, it's unlikely many hearts or minds were changed.

While Hunt delivered a strong performance, pinning Johnson in the corner on several occasions, he was unable to deliver a knockout blow that would significantly narrow Johnson's lead — particularly given that many ballot papers have already been posted back.
And in a spin room largely devoid of spinners, journalists watched from an adjacent room as the candidates went head to head at ITV Studios in Salford.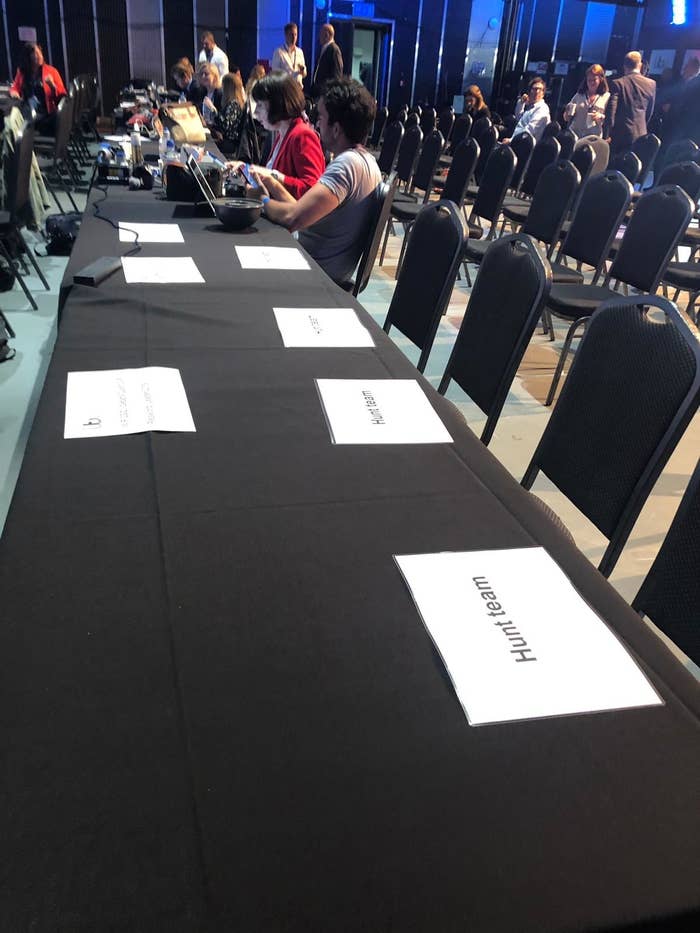 With the contest Johnson's to lose, there was some surprise at the level of blue-on-blue attack, as the candidates engaged in some not-very-prime-ministerial squabbling, with Johnson at one point reduced to shouting over both his rival and host Julie Etchingham for over a minute.

Johnson's team had apparently got wind of the fact that Hunt intended to go on the attack, and wanted to make sure that the favourite didn't suffer. Blue-on-blue attacks, they said, were "not something we want to see".
Yet they were inevitable — failure to answer a direct question was Hunt's main attack line — and Johnson blustered his way through almost every topic, from Heathrow expansion to proroguing Parliament, keeping the British ambassador in Washington, and resigning if he failed to deliver Brexit by Oct. 31.
However, the spinners had a counterargument for any of the assembled hacks who were planning to report their man hadn't given straight answers. Johnson had pledged to leave by Oct. 31. Hunt had said he wouldn't make a promise he couldn't keep.
For Team Boris, it was Hunt who had dodged the only question that really mattered. The whole framing of the leadership election, a spokesperson said, "is that question about Brexit and when we leave, and that's the question he couldn't answer."
The spokesperson pointed to the audience applause for Johnson's commitment to leave on Oct. 31, saying: "They know what matters."

"Everything else is bluster and noise," they added, apparently without irony.
And while Johnson was asked difficult questions, many were the same questions he had been asked before, and so their man was able to give the same well-rehearsed answers. For instance, he was again questioned about his role in Nazanin Zaghari-Ratcliffe's continued imprisonment in Iran, and again, he foisted the blame onto the Iranian regime.

The closest he came to a sticky moment was in his refusal to confirm whether Kim Darroch would be kept in his post under his premiership — a line that's likely to be sold in coming days as a sensible attempt to defuse a row, rather than falling in line behind Donald Trump.
Even his most glaring gaffes passed with little comment.
The situation certainly didn't call for a full-blooded PR operation. The journalists weren't even approached during the break — instead, Team Boris casually sauntered over to them at the end, to be met by a grateful chant of "Spin! Spin! Spin!"
And while they had little work to do, there was even less effort on display from Hunt's team, who were nowhere to be seen — perhaps because they know as well as anyone else in the room that tonight was likely to change little.
The only thing anyone learned on his side was that his birthday is on Nov. 1 — the day after Britain is due to leave the EU.
He delivered many of his well-worn soundbites, but the line that really drew groans in the spin room was his claim that he "used to be an entrepreneur" — which we've heard many, many times before.

All of which left journalists disgruntled...
...and struggling to work out what the hell they could write.

Hunt drew the biggest laugh of the evening when asked which quality he most admired in his rival and said, "his ability to answer the question" by putting a smile on your face and making you forget what the question was. A quality, he suggested, that was good for a politician, but in digging the knife in, maybe not so great for a prime minister.

It seems all but confirmed that we're soon going to find out if he's right.