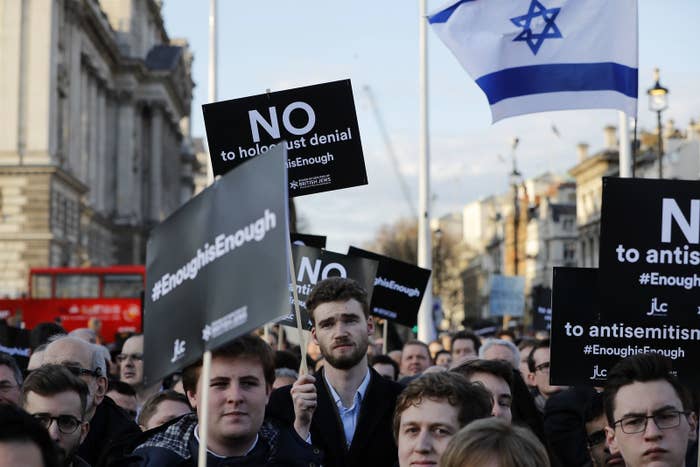 At least 10 sitting councillors or candidates contesting seats for Labour at local elections in May have been reported to the party over anti-Semitism, BuzzFeed News can reveal.
A dossier of around 150 complaints submitted to Labour's compliance unit, shared with BuzzFeed News, contains at least three sitting councillors and at least two candidates who will be appearing on the ballot paper for Labour in May.
These reports come on top of at least half a dozen more previously documented cases of Labour councillors who have been reported to the party over allegations of anti-Semitism, but have been allowed to retake the Labour whip.
Earlier this month, Alan Bull, who was due to contest a seat on Peterborough City Council, was suspended from the party – meaning he cannot contest the election for Labour – over Facebook posts he shared that claimed the Holocaust was a hoax.
On Thursday, March 29, BuzzFeed News revealed that his nomination had been proposed by Ed Murphy, the leader of the Labour group on Peterborough Council, who had seen the Facebook posts.
On Wednesday night, the head of Labour's disputes panel, Christine Shawcroft, resigned her position after an email she sent defending Bull was leaked. Shawcroft has accused the press of being misleading. She said in a Facebook post: "This whole row has been stirred up to attack Jeremy." She later resigned from Labour's National Executive Committee, and was replaced by Eddie Izzard.
However, BuzzFeed News can reveal that Bull is not the only candidate in May's election who has previously been reported to the party over anti-Semitism claims.
The dossier of reports was compiled by Labour Against Antisemitism, a group of volunteers who prepare reports on members who have been flagged as anti-Semitic and submit them to Labour's head office.
It includes a report on Dipu Ahad, a Newcastle councillor who will stand again this spring. Screenshots of Ahad's Facebook page show him saying he voted against a planning application for a Marks & Spencer store "on principal" – the shop has been accused of being "a historic supporter of zionism".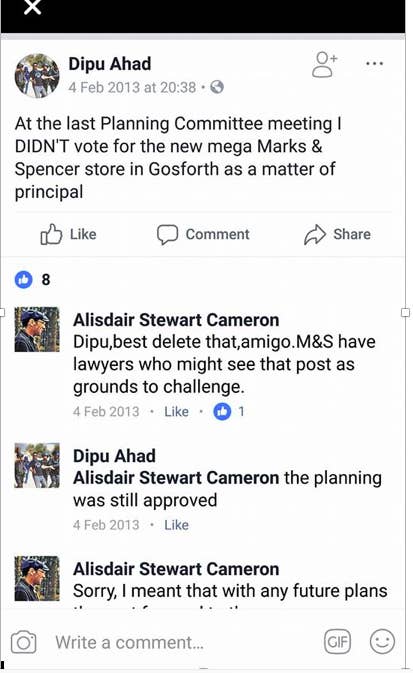 Ahad also liked posts referring to Zionists controlling the media and countries being in debt to "Rothschilds".
He told BuzzFeed News via email: "Ever since I got elected in 2007 I have a history of working tirelessly in bringing all the various communities in Newcastle together.
"As to your focus of my relations with the Jewish community let me state the following: 1. I am on record to have condemned anti-Semitism throughout my history. 2. I have had the opportunity to visit Auschwitz in 2012 and my views are public in this regard. 3. I was the chair of the Holocaust Memorial Day in Newcastle."
He went on: "It is possible there will be Muslim councillors and members of Labour Party who will view the need to justify our innocence as McCarthyism.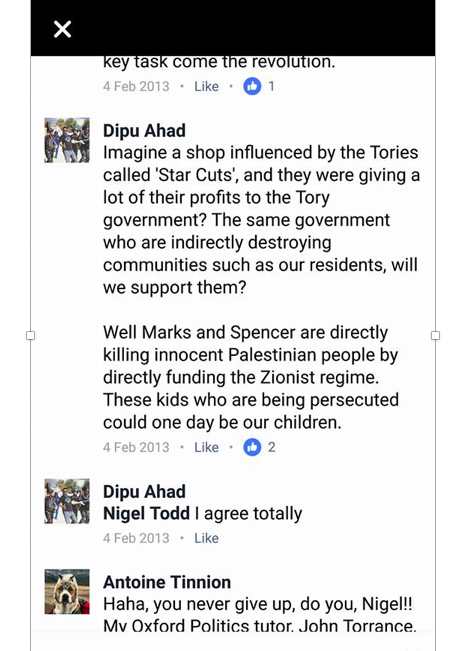 "While there is a continued need to find prejudice and xenophobia in our country I believe your approach will alienate those very people who should be part of the team to eradicate these evils.
"Sincere, anti-racist campaigners look for positives in people and build coalitions rather than invest resources searching for spurious connection from decades ago to condemn them.
"I shall continue to fight bigotry and racism in all its forms from public office or private life."
Charley Allen, a candidate in Crouch End, north London, and a columnist for the pro-Corbyn Morning Star has also allegedly been reported to the Labour Party over his repeated defence of the use of the word "Zio" – a racial slur. His name also appears in the dossier compiled by Labour Against Antisemitism.

Allen was suspended but was reinstated after he said he wouldn't repeat the use of the word, though he has carried on using it, Jewish members of the volunteer group in Haringey claim.
Allen told BuzzFeed News: "I dispute that I have ever used that offensive term (any more than you have done in your question to me), and it's not true to say that this was the reason for my suspension (there was never any investigation).
"i am Jewish and believe all Jewish people should be able to discuss what we consider to be antisemitic or not."
BuzzFeed News asked Allen why he was suspended, if not for use of the slur.
In response, he said: "I was never actually given an official reason. I was told that I'd been suspended pending an investigation, but this investigation never happened and I was unsuspended a few weeks later (after the Labour leadership contest was over).
"My unsuspension letter stated: 'You were suspended following posts you allegedly wrote on Twitter. Your comments may cause offence to some Party members.' I suspect that, like thousands of other members, I was suspended to stop me voting in the leadership election."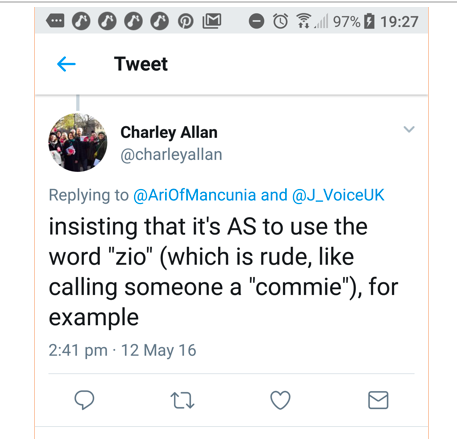 Allen added: "As I said before, I have never used that offensive word to describe or refer to anybody - but I believe all Jews should have the right to discuss whether they think something is antisemitic or not."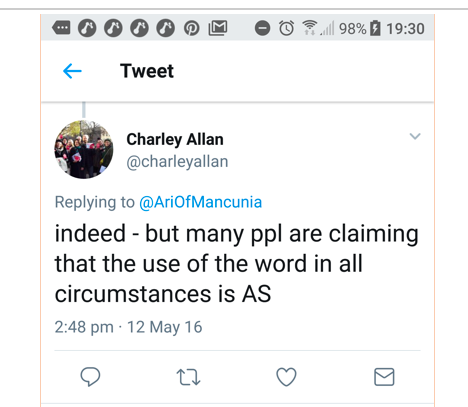 Two Jewish councillors in the borough, Natan Doron and Joe Goldberg, have said they have faced repeated anti-Semitism from local members, including sitting councillors.
Goldberg told BuzzFeed News that he has submitted several complaints to the local party when incidents have happened, but that no action has been taken against the alleged perpetrators. Allen is not one of the councillors he has named.
He says that he received a written warning when two of the councillors he complained against said he had intimidated them.
Both Doron and Goldberg will not be running for reelection in the elections in May. Charley Allen has been selected to fight for Doron's seat.
"This isn't just about the internal party," Goldberg told BuzzFeed News, calling for Labour to take decisive action to stamp out anti-Semitism. "This stuff seeps into society and becomes acceptable."
Goldberg said the onus was on Jeremy Corbyn to call out anti-Semites who had aligned themselves with the Labour leader, and to make it clear they were not acting in his name.
Pam Bromley, a sitting councillor in Rossendale, Lancashire, has also been reported to the Labour Party. On Facebook, she shared what she described as an "anti-Rothschild meme". In the aftermath of the Manchester bomb, Bromley claimed that Theresa May had deployed troops in an attempt to gain an electoral advantage, writing: "The Manchester atrocity is just a handy excuse to attempt to squash Corbyn's growing support."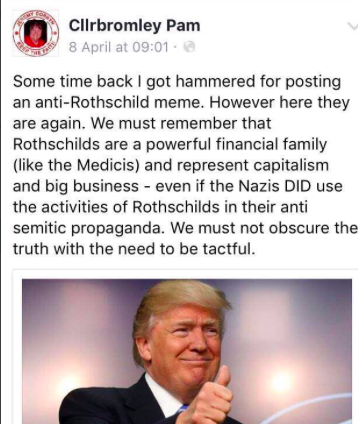 In an email, Bromley said: "I am not prepared to cease from criticising the rabid right wing Israeli government for their inhumane and cruel treatment of the Palestinian people. This is in no way a criticism of their Jewishness which as far as I am concerned is irrelevant. Whilst personally I have not come across anti semitism either in my own life or in the Labour Party I cannot swear it doesn't exist at all and if it does occur it is totally unacceptable."
She added: "However the campaign being waged by the present lobby is designed to attack Corbyn and the Labour Party in an attempt to stop them winning the next election.

"I completely support Corbyn and the Manifesto and therefore there is every reason why I should be a Councillor. I hope this makes my position clear - I don't see how I can be any clearer - and I do not receive [sic] any more nonsensical emails from you. Thank you.

The Labour party has also several times during Jeremy Corbyn's leadership reinstated councillors who were suspended for making anti-Semitic posts on social media. These include Ilyas Aziz, a councillor in Nottingham who was suspended in May 2016 after posts he made on Facebook two years earlier emerged. Later that year his suspension was lifted, and he remains a sitting councillor.

Aziz did not respond to a request for comment from BuzzFeed News, but at the time he denied his posts were anti-Semitic, telling the BBC: "The thing you have got to try and appreciate is that if a particular government - whether it's the Israeli government, whether it's the British government - if the government is actually doing something wrong they should be criticised.
"But not the population itself, it's got nothing to do with them, it's got nothing to do with the religion."
Suffolk councillor Luke Cresswell was reported to the party over allegations of anti-Semitism. He was suspended once but reinstated, with no apparent further action taken against him the second time. In August he successfully contested the Sudbury South Council by-election for Labour.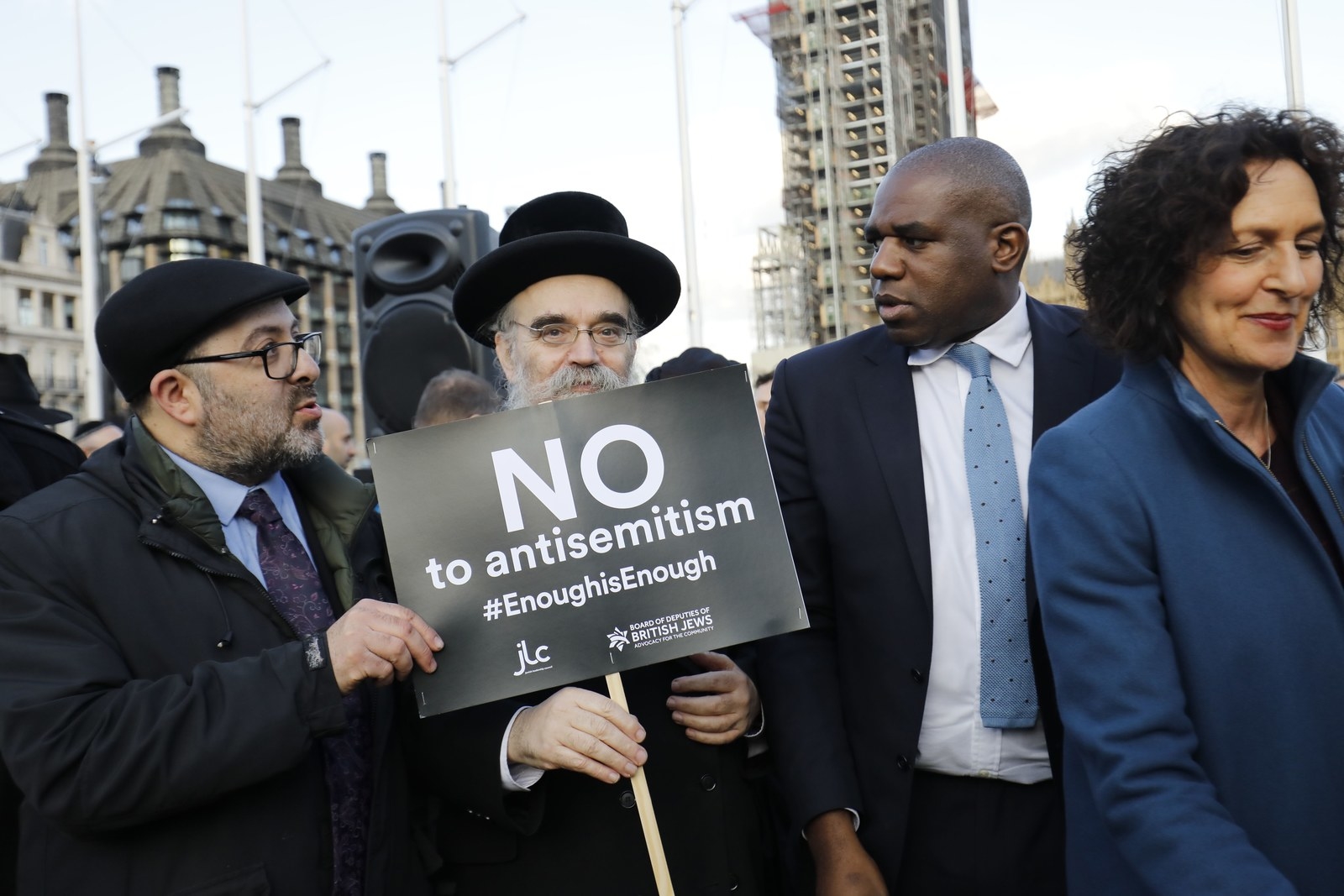 Cresswell told BuzzFeed News: "In June 2016, my membership of the Labour Party was suspended after I was accused of making anti-Semitic comments. The party investigated and decided to lift my suspension. The accusations were then sent to my employer, the local authorities I was a member of and the police, who by law, must pass hate crimes on to the Crown Prosecution Service. All these organisations investigated the accusations. All of them cleared me.

"Yet I continue to be stalked, harassed and be called anti-Semitic. Why is this? It's quite simple really; I continue to criticise the Israeli government and its illegal occupation of Palestinian land. I refuse to back down. I have received death threats and abuse on a regular basis, but I refuse to abandon the Palestinian cause.
"Most of the accusations of anti-Semitism aimed at Labour Party members are false. They are an attempt to shut down the debate on Gaza and to silence criticism of Israeli policy. Those on the right of the party and those outside of the party are throwing the accusations around to undermine the leadership, destabilise the party and personally gain from the consequences. The very suggestion that Jeremy Corbyn is racist is as insulting as it is ludicrous. The man has dedicated his life to fighting racism."
And in Chesterfield, councillor Andrew Slack was suspended but then reinstated after he shared an anti-Semitic meme containing several racist tropes, including a Star of David in the United Nations flag and a hook-nosed man with blood on his mouth.
At the time Slack apologised, in a statement to political website Guido Fawkes, saying: "I wish to apologise for an offensive post which I shared for a short time without properly reading one content, especially anyone of the Jewish faith."
He added: "I also apologise to my Labour Party colleagues and point out that it had no connection with any organisation which I am a member. I support Palestinians in occupied Gaza but am in no way opposed to Jewish people."
He did not respond to a request for comment from BuzzFeed News.
Three other councillors, Shah Hussain, from Burnley in Lancashire; Salim Mulla, from Blackburn, also in Lancashire; and Miqdad Al-Nuaimi, from Newport in Wales, were also readmitted after being suspended over anti-Semitic posts on social media.
Hussain told BuzzFeed News: "I posted those back when there were skirmishes between Israeli forces in Gaza, I made a stupid mistake, comparing Jewish people in Germany to people in Palestine. I was trying to give an analogy but not trying to compare what happened –- what happened in Germany was wrong, what's happening with Palestinian people is wrong too.
"I'm not anti-Semitic, I'm critical of the Israeli government, I'm not critical of Jewish people. We should be able to criticise the Israeli government without being anti-Semitic. I'm in favour of a two-party state in order to achieve peace in the Middle East."
Mulla did not respond to a request for comment from BuzzFeed News, but at the time of his reinstatement, he told the Lancashire Telegraph: "I am absolutely delighted to be back in the Labour Party.
"I have never been anti-Semitic and have many friends who are Jewish from working with the Inter-Faith Forum.
"I have led the Holocaust Memorial Day on the steps of Blackburn Town Hall many times. It is welcome that the Labour Party has investigated these claims and cleared me.
"In my career, I have always been prepared to criticise people who do the wrong thing and have criticised the government in India and Pakistan over their treatment of Christians.
"My social media posts were solely concerns about the treatment of Palestinians by the Israeli government and not about the Jewish people as a whole."
At the time he was suspended, Al-Nuaimi insisted he was not anti-Semitic and said he supported a two-state solution to the Israeli-Palestinian conflict.
He said: "Well, I am absolutely flabbergasted and amazed that actually the suggestion is being made that I am suspended. [As] of now I have not had anything formal to say that that is the case."
Al-Nuaimi, who was born in Iraq, added: "How can I be anti-Semitic when I myself am Semitic?
"I think it's a sad day that any criticism of Israeli government is equated with anti-Semitism and racism," he said.
Labour MP Wes Streeting, who has been vocal in calling for more decisive action from the party on anti-Semitism, said he has received the worst abuse of his parliamentary career this week.
"The volume as well as the content is appalling," he told BuzzFeed News. "Since Jeremy Corbyn issued his statement acknowledging the problem and promising a militant fightback many of his supporters haven't got the message, abusing Labour MPs who have had the courage to call it out. We need more decisive action from the Labour Party and the NEC."
"I think the Labour Party cannot knowingly field candidates in May who have been perpetrating anti-Semitism, whether on social media or in meetings," Streeting added in relation to the dossier. "It's totally unacceptable. Jeremy Corbyn has promised the most militant fight against anti-Semitism in our party, and fielding candidates who have perpetrated anti-Semitism would fly in the face of that commitment he's made."
He added: "In the case of sitting councillors, it's important that they are suspended and that the Labour whip is withdrawn, and that they are investigated and appropriate action is taken. There can be no excuse for anti-Semitism in the Labour Party – if we're serious about zero tolerance, we need to practice zero tolerance."
Euan Philipps, spokesperson for Labour Against Antisemitism, told BuzzFeed News: "This is appalling. The councillors and candidates on this list have proven recent histories of antisemitism and should have been expelled. Indeed, many have previously been reported by Labour Against Antisemitism to Labour's compliance unit.
"Instead, they have not only been readmitted to the party but allowed to stand as Labour candidates and then sit as Labour councillors. It is a tacit endorsement by the Labour Party of a level of racial hatred not seen since the 1930s.
"This requires a full and independent investigation, and any employee of the Labour Party involved in this needs to be dismissed. The councillors named need to be immediately expelled. Actions are required: words are not enough."
A Labour Party spokesperson said: "The Labour Party is committed to challenging and campaigning against antisemitism in all its forms.
"All complaints of antisemitism are taken extremely seriously. These are fully investigated in line with our rules and procedures and any appropriate disciplinary action is taken. We do not comment on individual cases."