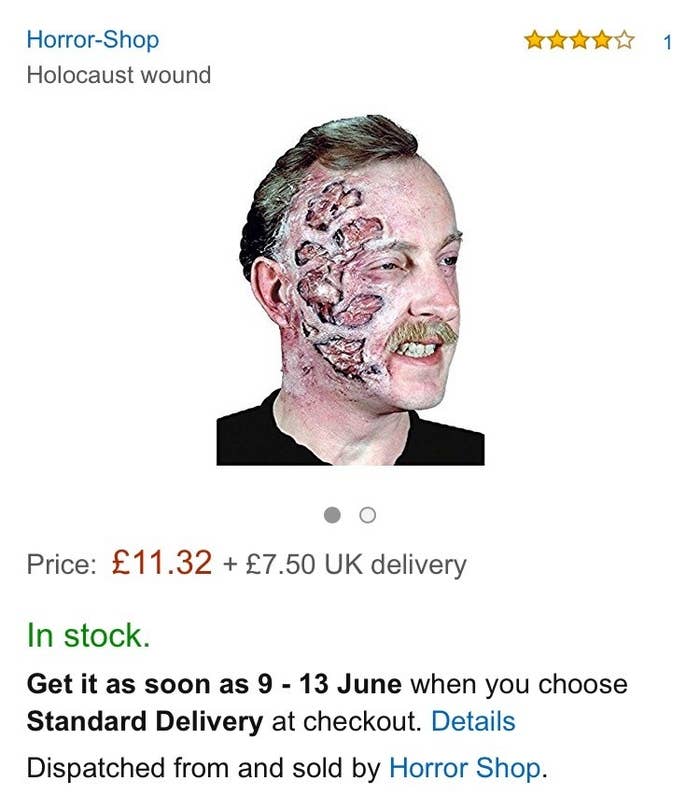 Amazon has removed a fancy dress "Holocaust wound" from sale after receiving a series of complaints, including from the Auschwitz Museum in Poland.

The product was listed on Amazon's marketplace by a seller called Horror-Shop, which was offering the latex "wound" for sale for almost £20, including delivery.
A spokesman for the Auschwitz Museum called the fancy dress item "inappropriate, disturbing, and disrespectful to the memory of the victims of the Holocaust".

The product description on Amazon read: "Holocaust wound. Derbe burn for half his face as latex application. 3D Burn! Acid attack, Krasser sunburn or wound a burnt offering to be burst blisters over half his face."

The text appears to have been translated from German - "derbe" translates as "rough" in English, while "krasser" means "stark".
The Auschwitz Museum, a memorial and education museum on the site of the former Nazi concentration camp, tweeted a link to the product on Monday, bringing it to the attention of Amazon.
As a result, the website received a barage of complaints and has now withdrawn the item from sale.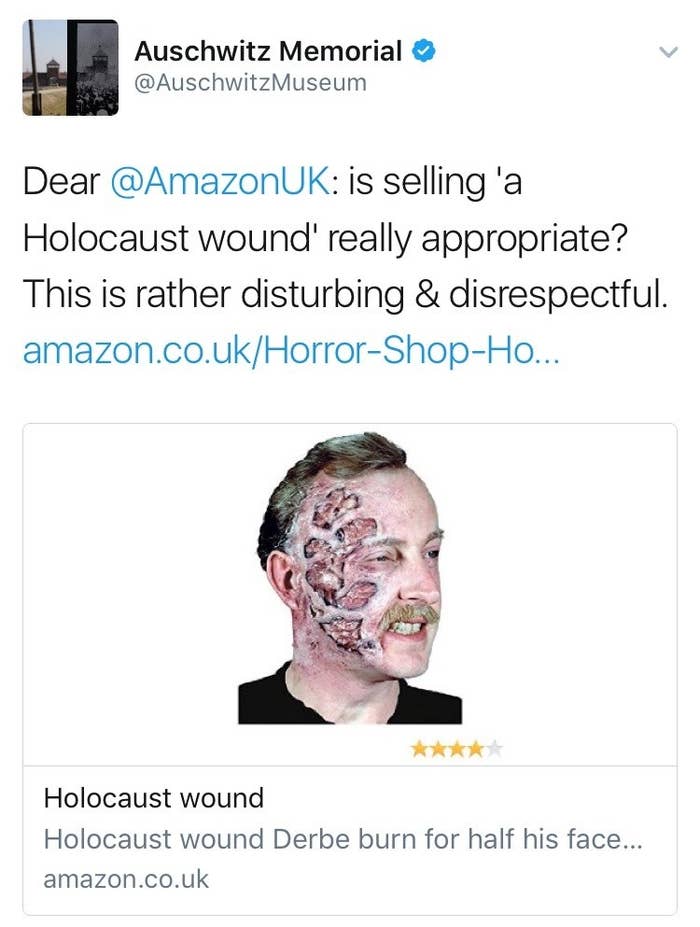 An Amazon spokesman refused to confirm to BuzzFeed News how long the product had been on sale for, how many of the items had been sold through the site, and how many complaints had been received about the latex "wound".
He said only: "The item in question is not for sale on the website."

Among those tweeting about the item were Jim Gangel, who said: "Amazon please remove this or I will cancel my prime subscription."

And Colin Pierce, who said: "Shocking and disgraceful. Will never use Amazon again."
Pawel Sawicki, a press officer for the Auschwitz Memorial told BuzzFeed News: "We were not the only one who reacted in this case. We rather noticed complaints of others and joined them.
"However it's good that the item was removed from the stock. Selling such objects is at least inappropriate, disturbing and disrespectful to the memory of the victims of the Holocaust."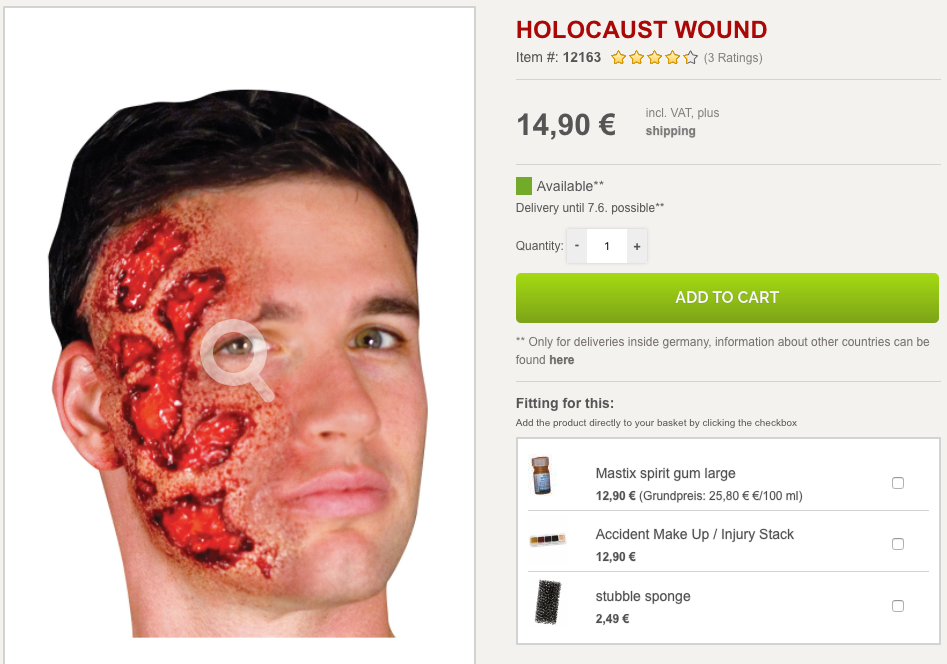 Although the latex "wound" has been removed from sale by Amazon, it is still available on another website, Horror-Shop.com, which is based Germany.

BuzzFeed News contacted Horror-Shop to ask for a response to the Auschwitz Museum's comments, and to confirm whether the website is linked to the Amazon account of the same name, before publication on Tuesday.
UPDATE
Vincent Halbig, from Horror-Shop, later told BuzzFeed News on Thursday, that the name was a result of poor translation.
"The mask is a "burn victim mask" and the translation went wrong," he said. "We're selling 27,000 products on Amazon and we have Google translate it for us, so this is an unfortunate accident. After we saw the reactions on Twitter, we changed the description."