A Facebook account that shares pictures and stories linked to policing has faced heavy criticism for sharing an "upskirt" photograph of two women being arrested.

The UK Cop Humour page, which also has a website and a Twitter account, has almost a quarter of a million followers on Facebook, many of whom are police officers. According to its own Facebook page, UK Cop Humour reaches ten million people per week across all platforms.
Its corresponding Twitter account is a finalist in this year's Police Tweet Awards and was named the Best Community Partnership Account at the same awards in 2016. The organisers said they will be taking into account content shared on Facebook when judging the 2017 awards.
According to the site's Facebook page, its mission is "to remind everyone that the police are the public and the public are the police and break down any barriers that exist, where possible, through humour and positivity."
But this week it came under fire for sharing a picture – apparently taken in South Wales by a member of the public – of two women bent forwards over a police car.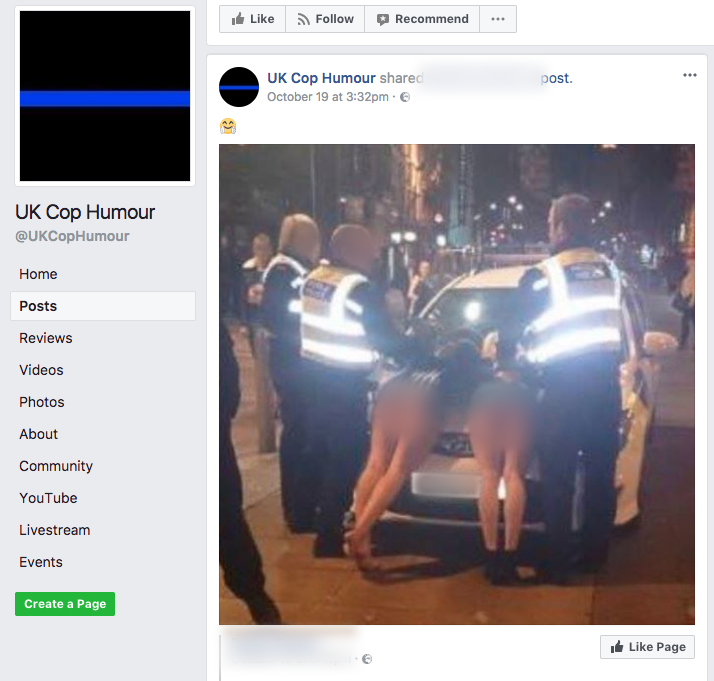 The picture, which was originally posted by another satire page, was liked more than 2,000 times after it was shared by UK Cop Humour, and a flurry of comments posted by followers of the page criticised the women's choice of clothing or referred to them in derogatory terms, using words such as "slags". Some of those commenting appeared to be serving police officers.

When several commenters flagged the post as inappropriate, UK Cop Humour responded by saying: "If people don't like the post, they'd do well to complain to the page that actually wrote it.
"No, we don't need you to point out that we shared it. We know. We shared it. We had the ability to step outside the box and see that a passerby took this pic, it's harmless, and the accompanying write up was funny.
"If it upsets you that much you are, of course, welcome to unfollow the page. No harm done."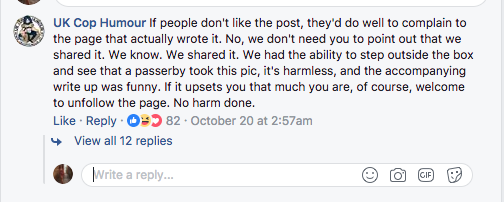 However, after being contacted by BuzzFeed News, the post has since been taken down, and a spokesperson said there had been "no intent to cause offence."
The post was reported to Facebook by Durham University law lecturer Professor Aoife O'Donoghue after she saw an in-law share it on Facebook. She said Facebook had refused to take the original post down.
O'Donoghue told BuzzFeed News: "It showed up on my feed, and when I saw it I was quite shocked. I was taken aback. I went and looked and the picture had shocked me but the comments were just unbelievable."

She said she commented on the post saying it was inappropriate, but in response received comments telling her she had no sense of humour.
Explaining why it was particularly problematic that the picture was posted from an account linked to policing, she said that if officers were seen to laugh at pictures such as this it would discourage victims of image-based sexual abuse – such as so called "revenge porn" – and other sexual offences from coming forward.
She told BuzzFeed News: "It's not a crime that is easily prosecuted. That commonplace humiliation of women and those comments are so obviously the reason why women don't go to the police when these things happen to them.
"It randomly showed up on my feed and if something had happened to me and I was thinking of going to the police I wouldn't go. All the myths [around sexual violence], all of them were on display, all the reasons around low rape prosecutions – they were slags, they were wearing short skirts.
"All the work that's been done, all the people who think things have changed – they haven't. Clearly nothing has changed if they don't see anything wrong with having a naked photo of women and laughing at their humiliation.
"And Facebook takes down pictures of breastfeeding but they left this up, said it wasn't a problem. It made me angry and said at the same time."
After Facebook was contacted by BuzzFeed News, the image was removed from the site. BuzzFeed News understands the fact it was not immediately removed when O'Donoghue complained was a mistake.
O'Donoghue sent the post to her colleague Professor Clare McGlynn, an expert in image-based sexual abuse, who also criticised the page for sharing the photograph.

McGlynn told BuzzFeed News: "The image itself shows two women taken with their underwear showing in a compromising and uncomfortable position. They would not have consented to having that image taken and shared, and it's certainly not something that we should be using for humour.
"Very recent reports show that for image based sexual abuse very few cases are getting through to prosecution, conviction. People are reporting to police but very few cases are being taken forward. Women are going to be more reluctant to take this to police because the police are not likely to take this seriously – and they may be right in some cases.
"And to say that there's no harm done completely ignores the women in this particular case - as if they're treating those women as piece of meat, social media fodder. There is harm done to those women and they're completely ignoring those women."
McGlynn has also said a specific offence is needed to deal with "upskirt" photos, which are criminalised in Scotland, but not in England and Wales.
She told BuzzFeed News: "The government needs to take urgent action to clearly criminalise upskirting. It is shocking that it is not already a sexual offence, and reform is straightforward – we can easily follow the example of Scotland which introduced a law in 2010. It is difficult to understand why the government is dragging its feet on this issue."
The Police Tweet Awards said that it would take the complaints into account when judging this year's awards.

A spokesperson said: "The finalists for the 2017 awards are nominated by members of the public. The winner of each of the 16 categories will be decided by the Police Awards panel.
"They take into account a number of factors when making their choice including content from other social media channels such as Facebook." Winners will be announced next month.
A spokesperson for UK Cop Humour told BuzzFeed News said the people who had posted the image were prepared to apologise to anyone who had been offended by it.
They said: "The photo I can see that you refer to was initially shared on another Facebook page and was cross posted to ours simply for the fact it was linked to an arrest.
"Please note that we are not linked to the police in any way. The team consists of members of the public who are keen to show their pro-police views.
"I wasn't aware of any complaints before now but shall speak to admins and review the comments. We have no issue with removing posts if they cause offence as that's clearly not the intent of the page. Hopefully anyone who's a fan would be well aware of this as we take a very proud view of being a close community.
"I can assure you that there would have been no intent to cause offence whatsoever – given that there was certainly no sexual angle given and no-one was identified. Please do encourage anyone who took offence to get in touch so we can offer any apology as necessary."
The Police Federation declined to comment when BuzzFeed News raised the fact that police officers had appeared to have left derogatory comments on the post.