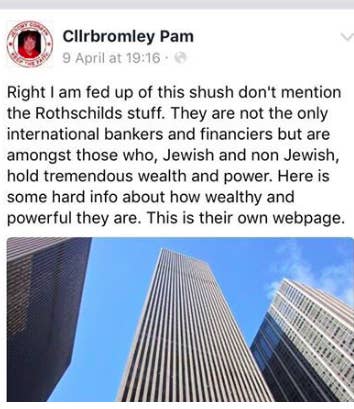 A Labour councillor who was reported to the Labour Party over allegedly anti-Semitic Facebook posts has now been suspended pending investigation, BuzzFeed News has learned.

On Monday, BuzzFeed News revealed that Pam Bromley, a sitting councillor in Rossendale, Lancashire, was one of 10 councillors or candidates who has been reported to the Labour Party.
On Facebook, she shared what she described as an "anti-Rothschild meme", and a link to a conspiracy theory website.
In the aftermath of the Manchester bomb, Bromley posted on Facebook that Theresa May had deployed troops in an attempt to win votes in the general election, writing: "The Manchester atrocity is just a handy excuse to attempt to squash Corbyn's growing support."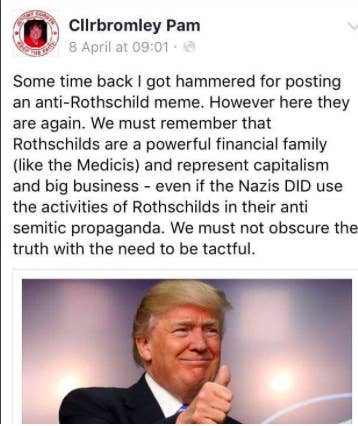 The Labour Party initially said it would not comment on individual cases, but on Thursday a spokesperson confirmed Bromley had been suspended.

When BuzzFeed News approached Bromley ahead of publishing Monday's story, she said: "I am not prepared to cease from criticising the rabid right-wing Israeli government for their inhumane and cruel treatment of the Palestinian people. This is in no way a criticism of their Jewishness, which as far as I am concerned is irrelevant.
"Whilst personally I have not come across anti-Semitism either in my own life or in the Labour Party, I cannot swear it doesn't exist at all, and if it does occur, it is totally unacceptable. However, the campaign being waged by the present lobby is designed to attack Corbyn and the Labour Party in an attempt to stop them winning the next election.
"I completely support Corbyn and the Manifesto and therefore there is every reason why I should be a Councillor. I hope this makes my position clear – I don't see how I can be any clearer – and I do not receive any more nonsensical emails from you."
On Thursday, a Labour Party spokesperson said: "The Labour Party is committed to challenging and campaigning against anti-Semitism in all its forms.

"All complaints of anti-Semitism are taken extremely seriously. These are fully investigated in line with our rules and procedures and any appropriate disciplinary action is taken. We do not comment on individual cases."

Yesterday, Jewish leaders from the Board of Deputies and the Jewish Leadership Council agreed to meet Labour leader Jeremy Corbyn to discuss efforts to tackle anti-Semitism in the Party.
Bromley has been approached for further comment.