Hello, we're Ada and Hanifah, and we're here today to talk to you about moisturising.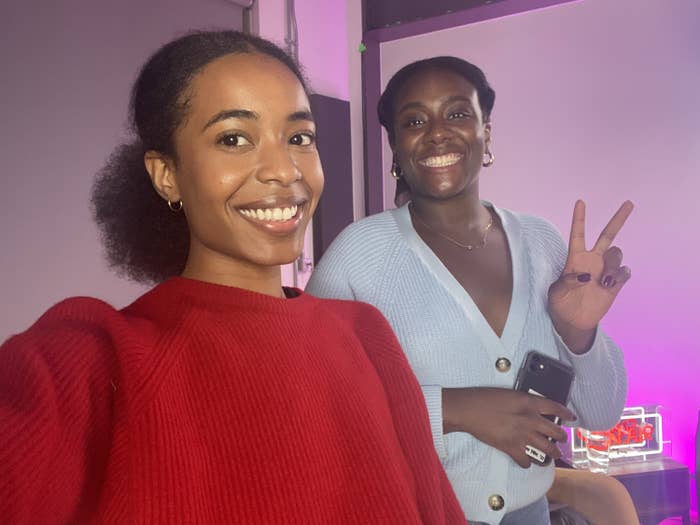 If you're anything like us, you may have had the dreaded experience of being out and about, living your best life, and then looking down and suddenly realising that your skin is ashy.
And in the times we're living in, this happens more often than we'd like to admit.
Aversion to dry skin is something we both relate to, but what about you?
Hanifah: Dry-feeling skin isn't ideal obviously. But if I'm being honest – if my skin didn't show me how dry it is, I'd moisturise WAY less.
Ada: Sorry, but both are horrendous, do I have to decide? Looking dry makes me look crusty, almost like I haven't showered, but feeling dry isn't great as well. Dry skin almost makes me not want to wear clothes.

Ada: I moisturise twice in the morning – I feel like one time isn't enough. I also use two different products to keep my body on its toes.
Hanifah: I moisturise before bed, and most mornings after my shower. I say most, but I really mean some. I'm always in a rush to get ready, and moisturising is the thing that gets bumped off my list if I'm running late.

Ada: My face skincare routine is religious. It's muscle memory at this point, I always surprise myself coming home drunk and still making it to the bathroom to do a full routine before crashing to sleep. Just five simple steps and I'm done.
Hanifah: I only have two steps in my face routine, but I never skip it. While I'd love to say it's the same case for my body, it really depends on my schedule for the day. It takes a while for my skin to absorb the moisture before I put my clothes on – time I don't always have.
Hanifah: I try to – it's a necessity due of my erratic routine, because there's nothing more annoying being out of the house for the day and noticing you have a dry ankle.
Ada: I do carry hand cream when I remember, which has now reminded me to buy a new bottle because I've run out.
Hanifah: During lockdown, I developed a long skincare routine, and I was as soft as a peach. But since things have started opening up, it's reverted back to before, just with more post-sanitiser hand cream.
Ada: My moisturising habits have changed because my general maintenance has changed from not leaving the house – your skin doesn't dry out so much when you're sat at home all day.

Ada: I lick my dry hand spots or use my lip balm.
Hanifah: Don't judge me, but I'll take a little detour to the nearest store and use a tester.