These days, with so many of us living in rented and shared homes, our bedrooms are sometimes the only real space that we can call our own. So naturally, this is where we spend a lot of quality time — we relax, sleep, cry, Netflix-binge in there, but the only things most of us really change are our bedsheets. Bedrooms are such important places, so why do we let them stagnate? Rearranging bedroom furniture shouldn't be reserved for makeover shows and bored children — it should be as common as spring cleaning.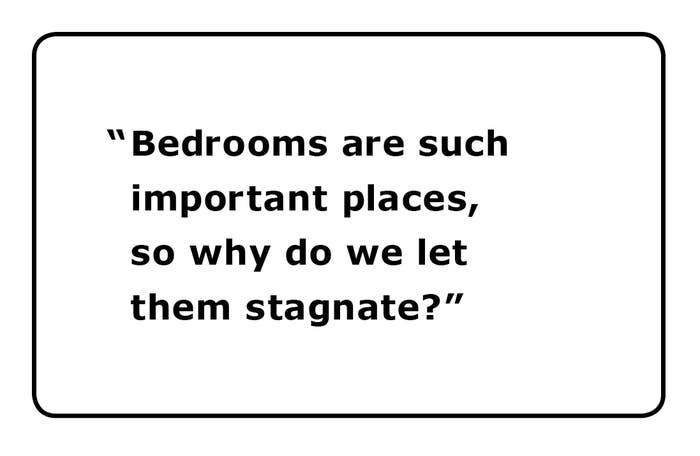 For as long as I can remember, whenever there's been a change in my life, I've felt the overpowering urge to transform my bedroom. If you're anything like me, you've probably had that pressing feeling where you want to spice up your life but you have no idea how. Well, before you dye your hair a crazy colour or spend all your savings on a flight to Vegas, I suggest you try rearranging your furniture.

Thanks to reality TV, you might be under the impression that to revitalise a space you have to dig into your savings and hire an interior designer. Well, I've given my bedroom countless makeovers, and all it's taken is a little bit of planning, a lot of furniture pushing, and not a single shopping trip. Yes, on the surface, the idea of shifting your furniture around your room may seem like a bit of a pointless hassle, but in the grand scheme of things, rearranging your bedroom takes relatively little effort and will actually change your life.

Anything from feeling a bit stagnant, to a change in season, to a breakup can be the perfect reason to rearrange your room. My most recent "life event" was getting a new job, and before I started, reshuffling my room was a necessary ceremony. Changing the layout of a room acts like a way to bookmark life — it's the real-life equivalent of a makeover montage in a movie. The immediate sense of accomplishment is unrivalled, and once the novelty of waking up in a brand-new, hotel-like room wears off, you're left with an updated space that reflects your current mindset.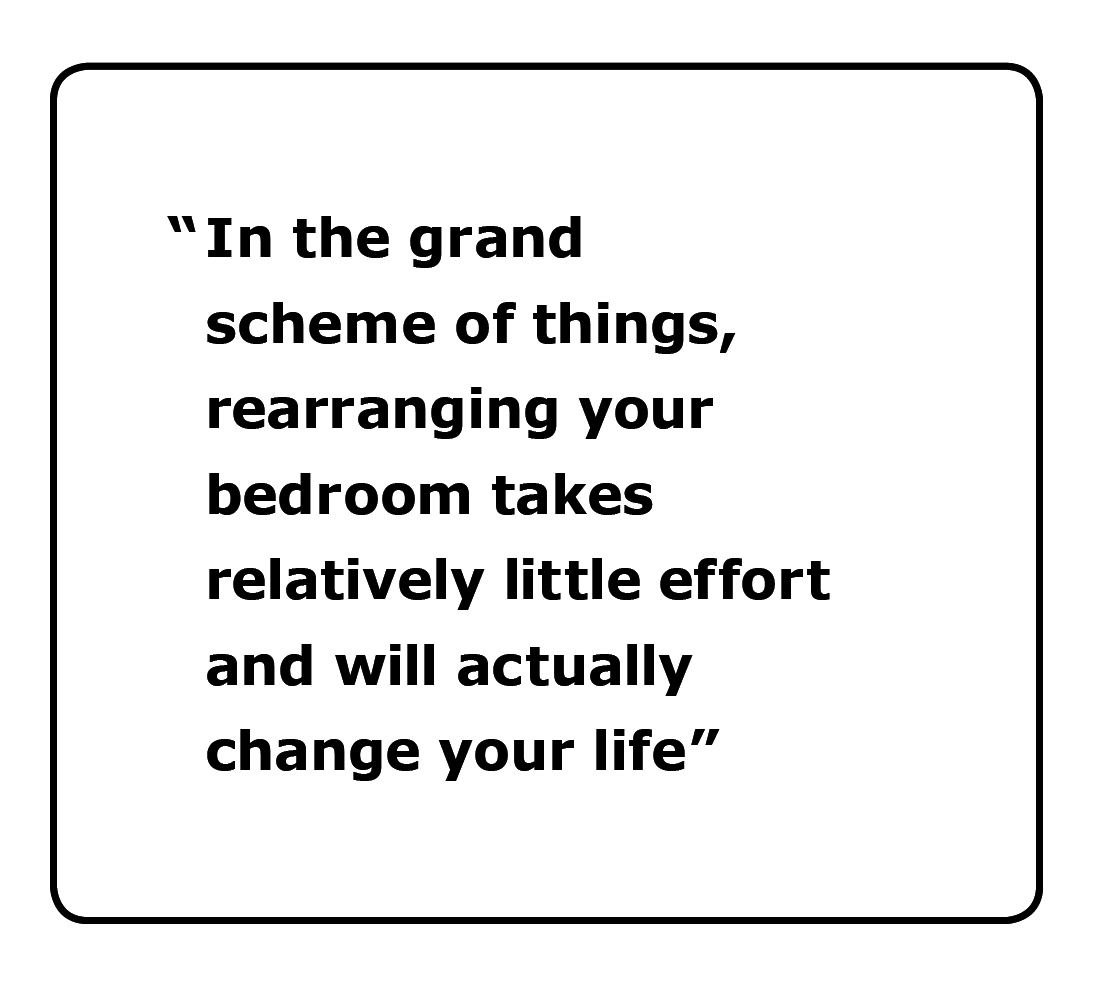 I'm not going to lie: The whole process isn't totally hassle-free. I've lost count of the times when I've literally been trapped in a prison of furniture, slightly regretting my choices, while being too far into the job to go back. But what can I say — you haven't really lived until you've sat on your bedroom floor and mentally prepared yourself to drag a six-foot wardrobe across your room. That may not sound so great, but let me tell you, the results are empowering. There's no greater feeling than relaxing in a new and improved space that you alone can take credit for.

Each time I move my bed, my wardrobe, and the other pieces of furniture that live in my room, I'm honestly shocked at how it manages to morph into a totally different space. Even though everything's the same, it somehow feels fresh and new. And unlike other kinds of makeovers, since you technically haven't changed anything, you're left with a comforting sense of familiarity.


It's also a great way to learn about yourself and find out what you should prioritise when it comes to day-to-day living. For instance, I've learned that I get the most relaxing night's sleep when my bed is pushed against the wall, and I know all the best lighting spots in my room. With life being so busy, we sometimes fall into the trap of just settling on our surroundings even when they're not that practical or relaxing, and rearranging your furniture is the perfect way to tailor your room to your personal needs, which makes life so much easier in the long run.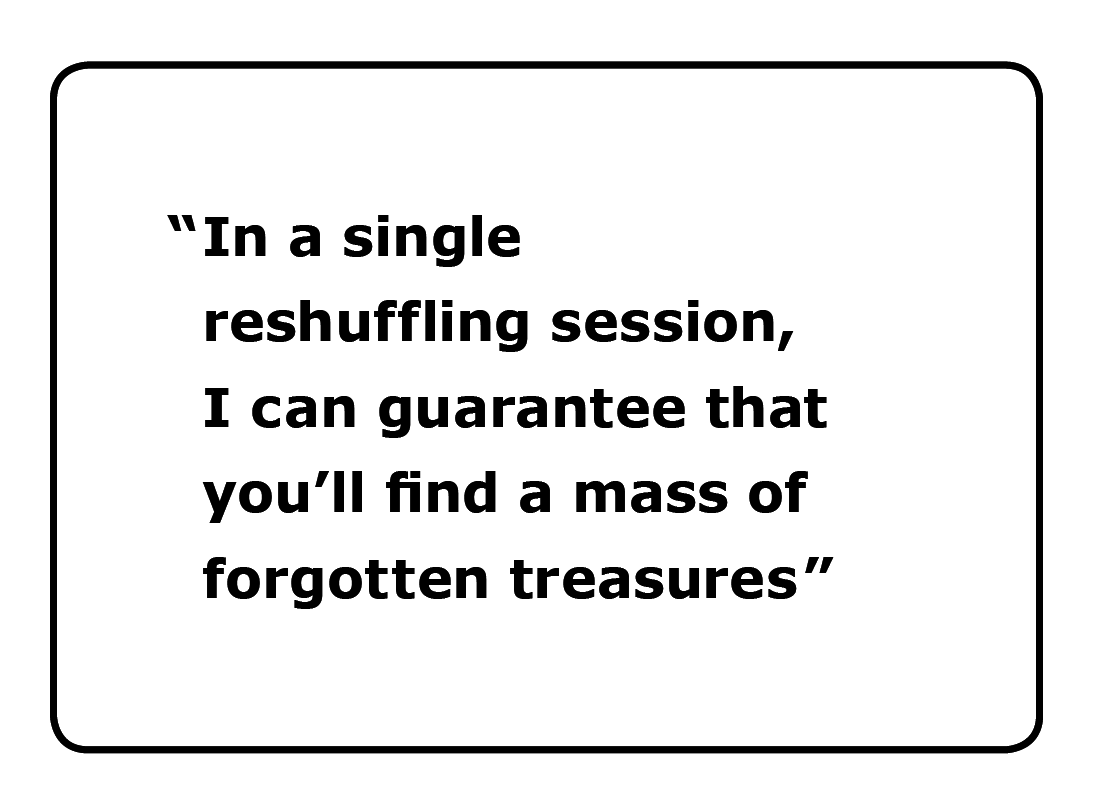 And in a single reshuffling session, I can guarantee that you'll find a mass of forgotten treasures, be they childhood toys, old clothes, or just little reminders of the past. If you're feeling a bit miserable, uncovering all these abandoned memories will definitely cheer you up. It's a process that's as therapeutic as it is practical, costs literally nothing, and is one of those rare acts of self-care that you'll continue to feel the benefits of for ages afterwards.