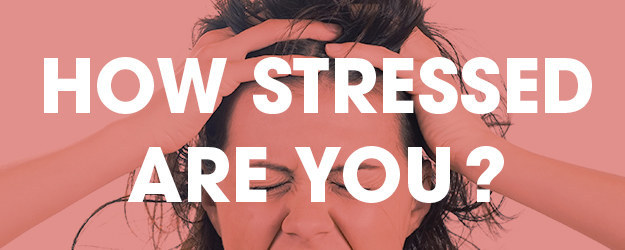 You're literally the busiest person you know.

So busy that you didn't have time to shower this morning.

You have inexplicably sweaty palms.

Your relationship with your parents is on the rocks.

So is your relationship with the rest of your family.

Hell! Your relationship with everyone is on the rocks.

Do you think you're sick?

YOU DEFINITELY DON'T HAVE TIME TO GET SICK RIGHT NOW.

Are you currently working under a deadline?

Is this quiz stressing you out?

Do you feel there are literally not enough hours in the day to get your work done?

Getting ready takes you forever.

You're never really sure if you turned the stove off before you left.

Or left the phone off the hook.

You just can't handle super-dramatic TV shows like "Breaking Bad."

Because your life is already like SOO dramatic! Right?

You CANNOT deal with people who are bad at making plans.

You like to be in control.

But no matter how much control you have, things always seem to get OUT of control.

And then suddenly YOU'RE out of control.

And don't even get you started on flakes!

Is this quiz still stressing you out?

You think techno music is the absolute worst.

And you — no lie — have zero time for dubstep.

You have trouble sleeping.

And you sometimes inexplicably wake up in a cold sweat.

You can't remember the last time you took a vacation.

It's been so long that you don't even know what vacation means anymore.

You mistakenly give out your work address instead of your own because you spend more time there than at home.

Your social life is hanging by a thread.

You feel exactly like Andy Sachs in "The Devil Wears Prada."

Who? You don't have time for movies. You're too busy!

The only "alone" time you get these days is in the bathroom.

The only thing that makes you feel better is food.

You're going to eat your little heart out as soon as you get home.

Home? No time for that! There's still work to be done!
De-stress, relax, and stay cool with Hanes X-TEMP® apparel.
It's designed to respond to your body temperature to help keep you cool.