Ah, the holidays. That blissful time of year when nights usually reserved for nothing suddenly become filled with so much something that there's hardly time to brush your teeth before the next event begins (you make time, though!). As the days get shorter, the nights become more and more booked until, suddenly, you're headed to your office's Christmas party one night, "holiday" drinks with friends you don't really need to see the next, and festive house parties all weekend. You're expected to show up with side dishes, to contribute to the cheer, and to look cute as a damn holiday button at every moment.

It's really a lot. I'm tired.
I'm tired all year round tbh, but I'm especially tired during these trying times known as the months of November and December. It's during these months, as the weather gets cold and the darkness creeps in, that my always-tired personality starts to really go for the gold. What better time to hibernate, to do what feels so true and right? Why should I ignore my instincts, the ones that tell me to burrow deep in my couch cushions and stay there until at least Groundhog Day?

In years past, I've pushed down my deepest desires and shown up for the holidays, as an aging millennial should. But this year, for the first time, I decided to face my fears and own my truth. I decided to honor the season the way it deserves to be honored. Not with social engagements and pretty drinks and small talk — no, no. With sweaters.
Lots and lots of sweaters.
Before my Week of Sweaters could begin, I headed to my mecca (aka H&M) to pick my dates. Dating is hard in the real world, but in sweater world, dating is actually blissful. Not to take this very weird analogy too far, but there are actually TOO many options. (OK, I'll stop...) Seriously though, I took about 20 sweaters into the dressing room with me and wanted to own them all. What a dream!

In the end, I settled on a perfect assortment: some seriously oversized and cozy ones, some pretty long ones in red and green, and a great sparkly gold one that's like New Year's Eve in fabric form, minus all the disappointment. Nailed it. I was ready for my big week.

Things began with a real bang when I woke up exhausted on Monday morning. But how, I thought to myself. How is it already time to get up. It was, though, because the world laughs in the face of comfort, and I dragged myself out of bed to start the dumb day. It was cold, and I couldn't even begin to imagine picking some kind of outfit. And then I remembered the sweaters.

It was with deep relief that I grabbed a sweater from my beloved collection and pulled it over my head. I was dressed. It was done! I looked put-together and work-ready, but I felt like I was wearing my bed. And I ALWAYS wish I were wearing my bed.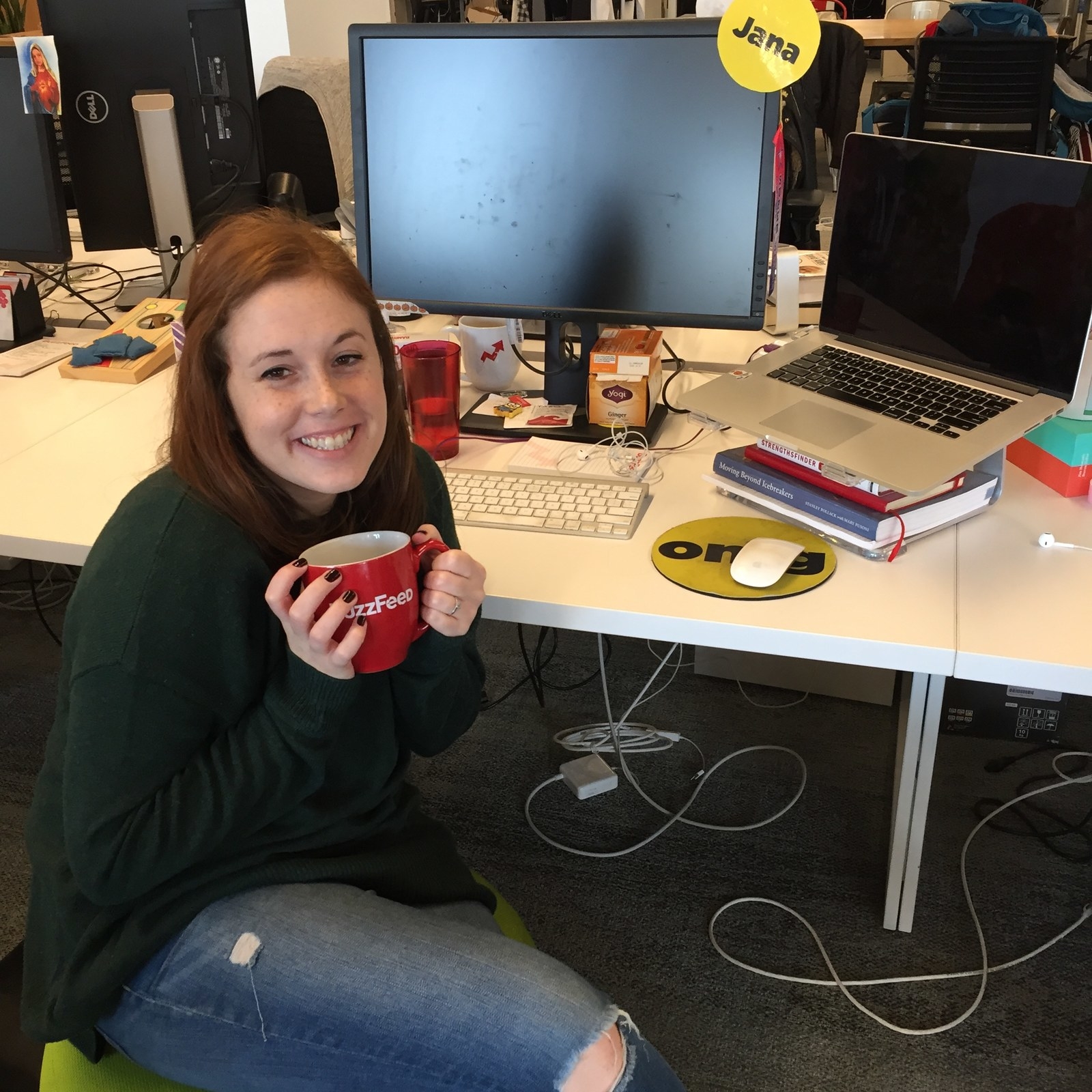 After a snuggly day at work, I checked my calendar, and there it was: the first event I'd be skipping in favor of some quality sweater time. I felt my heart soar as I wrote a quick "Can't make it, sorry!" email to a friend of a friend (she'd invited me to a holiday-themed improv show. Really, don't judge me. Look me in the eye and tell me you'd go. You can't!). And just like that, I was free.

At home, I made some hot cocoa, lay on the couch, watched hours and hours of TV, and took selfies. So many selfies. I felt deeply and purely…good. You know? Do it, have this night, and I promise you you'll know.
On Tuesday morning, I woke up refreshed for the first time in months. Are sweaters…the cure to all ills? Do sweaters contain energy? Is consuming sweaters every day an important part of a healthy, well-balanced diet? I don't have a PhD, or let's face it, even a master's, but I say yes.
Not wanting to wait all day to feel the euphoria of canceling plans, I got a jumpstart and canceled them well before lunch. Sorry, group dinner, you're on your own! In a sweater, I am superwoman.
On my free Tuesday night, I played my favorite music and organized my bookshelf by color while wearing my excellent, excellent sweater. And what did I drink while I did it? PEPPERMINT TEA, BITCHES. Oh god, I'm sorry, I'm getting drunk on the power of the sweaters. I did drink peppermint tea, though. It was lovely.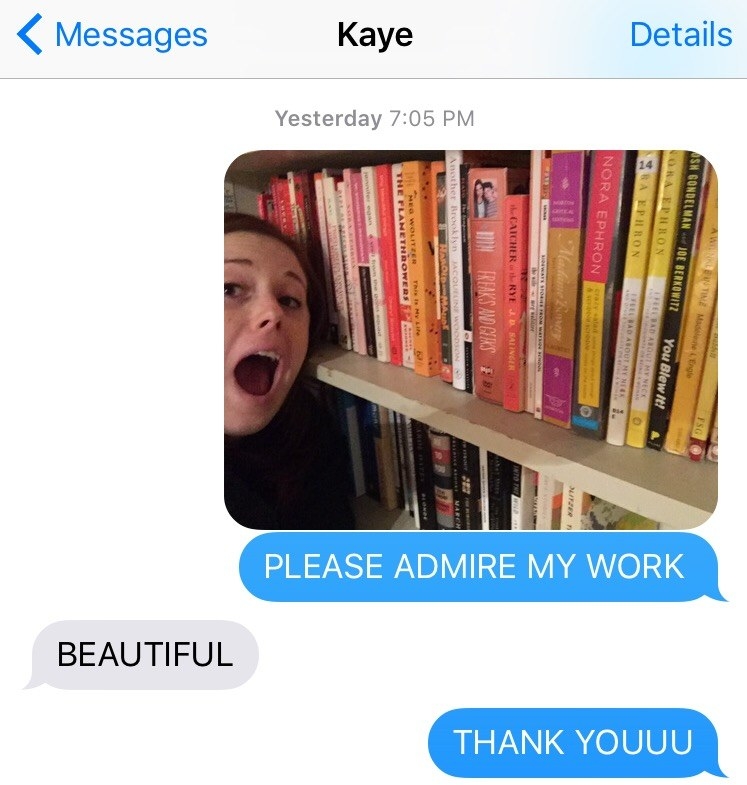 Hump day doesn't even feel like hump day (ugh, sorry for saying hump day…three times) when you're in a serious relationship with a soft garment. I waltzed through life, knowing what awaited me at home: a self-made mani and a binge-watching session. You know what DIDN'T await me? Meeting friends for expensive drinks and then taking the subway home for a million years. Because this week is about me — and my sweaters.
By Thursday, I started to feel like I might be able to live my whole life in sweaters, never once altering my outfit but simply rotating through colorful, fashionable, big, soft piles of love until my dying day. I had stopped making excuses for missing events and started admitting the real truth: I had a hot date with my sweaters

It always feels good to make it to Friday, but usually it feels desperately good, like you've been reaching for something all week and you finally have it; you can relax your body and slide, stress-free at last, into the weekend. This time, I woke up on Friday morning and instead of relief I felt calm. Pure comfort. I was a new woman, one who didn't stress but simply lived.

It had seemed silly on Monday — how can someone really date their wardrobe? — but now that it was almost over, I better understood the mission I'd taken on. During the busiest time of year, I had agreed to take time for myself. Now that I'd done it, I saw how powerful sweaters — and the comfort and self-care they represent — can be.
I wore my sparkliest one on Friday. After all, I'd earned it! I'd spent a week getting to know what it means to live in permanent holiday snuggle mode, and I wanted to savor that feeling.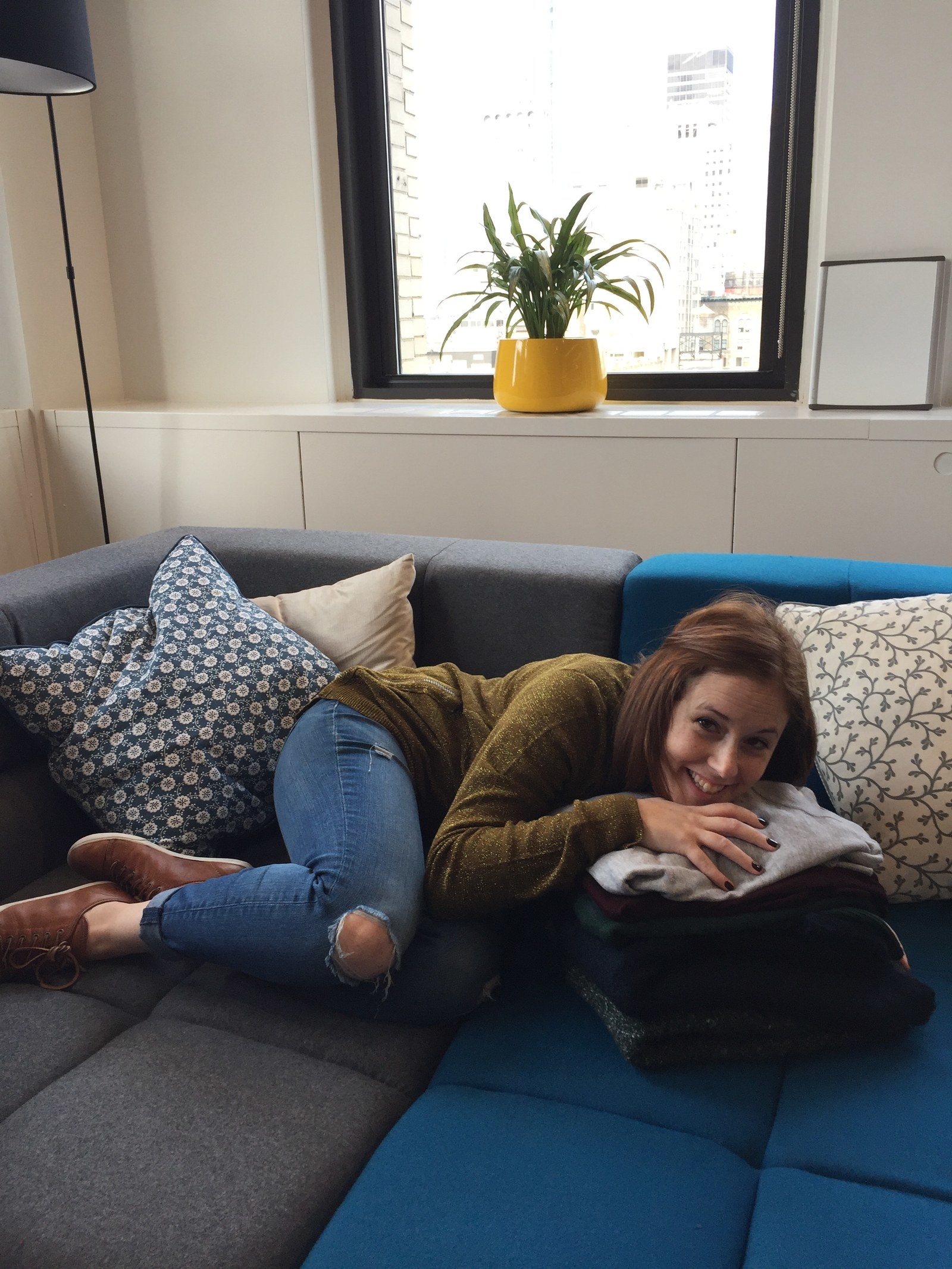 What I want to impart to you, dear reader, is that the holidays sure can be hectic. But they should be cozy, too. This holiday season, embrace the cozy!
Let's wear sweaters together — and rejoice.
Photo by Sarah Stone and Design by Tyler Naugle / © BuzzFeed 2016
Find your perfect sweaters at H&M.
Shop the sweaters!