Ice Cream Stuffed Banana Bread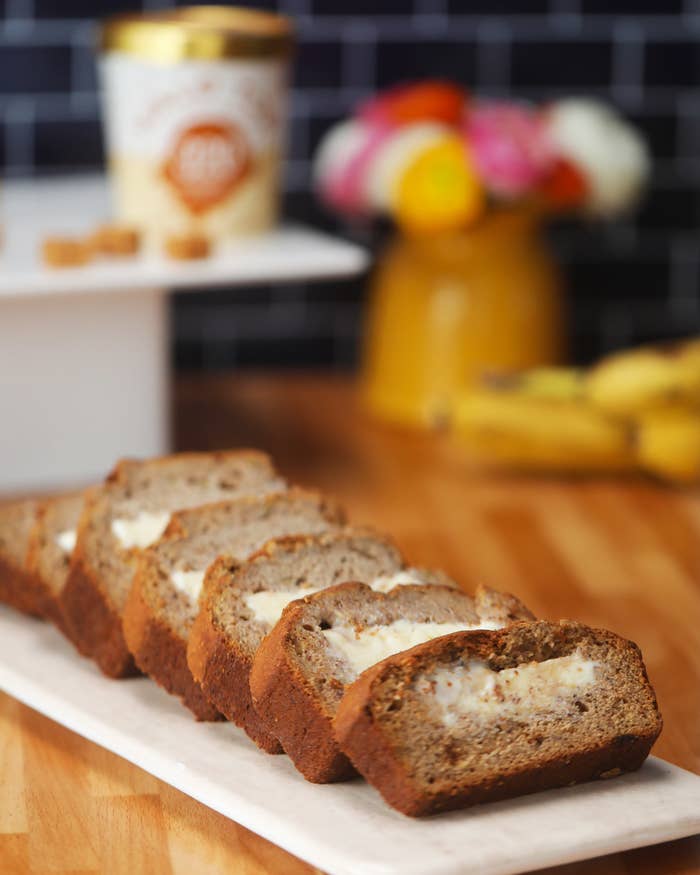 INGREDIENTS:
2 cups flour
¾ cup brown sugar, packed
1 teaspoon baking soda
1 teaspoon salt
1 teaspoon cinnamon
3 bananas, mashed
¼ cup sour cream
2 eggs
6 tablespoons butter, melted
2 teaspoons vanilla extract
1 pint Halo Top Sea Salt Caramel
PREPARATION:
1. Preheat oven to 350ºF.
2. In a medium bowl, mix together the flour, brown sugar, baking soda, salt, cinnamon, and cardamom.
3. In another bowl, whisk together the bananas, sour cream, eggs, melted butter, and vanilla until smooth. Fold the dry ingredients into the wet ones and mix until all the dry streaks are gone.
4. Spray a loaf pan with cooking spray. Pour the batter into the pan. Bake for 45–50 minutes, until a toothpick inserted into the loaf comes out clean.
5. Let cool for 10 minutes, then remove the loaf from the pan and let it cool completely.
6. Once cool, cut out the center of the loaf, leaving a 1-inch board along the bottom and along each side. Set aside the lid of the loaf for later. Fill the rectangular hole with Halo Top Sea Salt Caramel ice cream, using the back of a spoon to press it down and fill all the nooks and crannies.
7. Take the loaf lid and trim off the extra banana bread from the bottom so that the lid will fit back on top of the ice cream.
8. Freeze the loaf overnight. Take the loaf out of freezer and place it in the fridge for 30 minutes before slicing. Serve and enjoy!