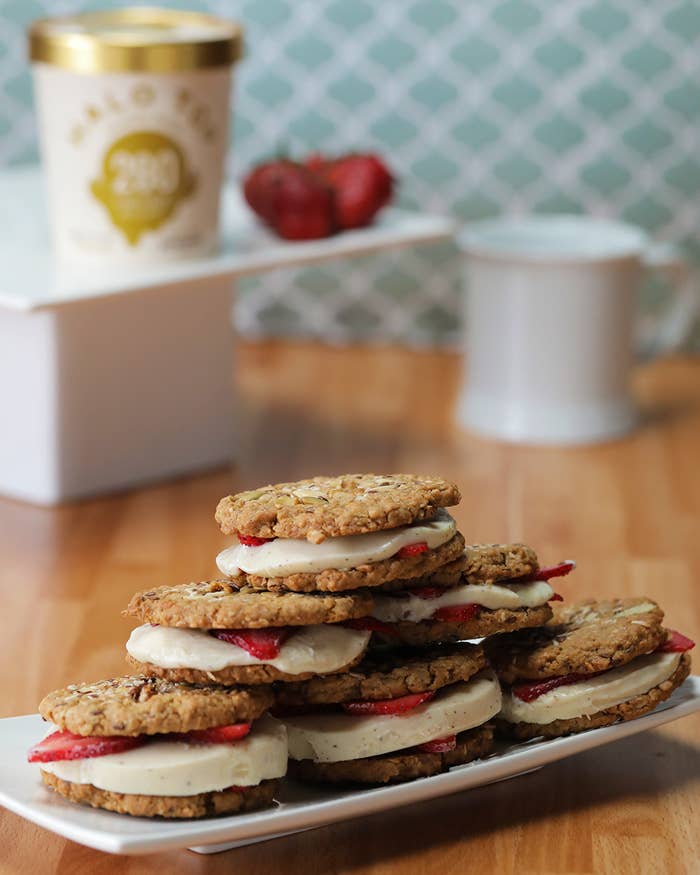 Serving size: 12 sandwiches
Ingredients
1¼ cups unsalted butter, softened

1 cup brown sugar

½ cup granulated sugar

1 large egg, at room temperature

2 teaspoons pure vanilla extract

1 tablespoon dark molasses

1½ cups all-purpose flour

1 teaspoon baking soda

½ teaspoon salt

1 teaspoon ground cinnamon

¼ teaspoon ground cloves

3 cups instant or quick oats

⅓ cup pecans, chopped

⅓ cup walnuts, chopped

¼ cup almonds, chopped

¼ cup sunflower seeds

¼ cup flax seeds

¼ cup pepitas

⅛ cup shredded coconut
2 pints Halo Top Vanilla Bean ice cream
Strawberries
Preparation
Preheat oven to 375°F. Line a large baking sheet with parchment paper.

Using a handheld or stand mixer (with the paddle attachment), cream the butter and sugars on medium-high until creamy, about 1–2 minutes. Beat in the egg, vanilla, and molasses. Set aside.

In a separate bowl, whisk the flour, baking soda, salt, cinnamon, cloves, and instant oats.

In another bowl, combine the nuts and seeds, stirring to combine.

Slowly add the dry ingredients to wet ingredients with the mixer on low. Once combined, add ⅔ of the nuts and seed mixture, reserving the final third for garnish. Mix to combine.

Drop 2 tablespoons of dough per cookie onto the baking sheet. Cookies will spread in the oven, so make sure they are about 3 inches apart.

Sprinkle some of the nut and seed mixture over each cookie, then use your palm to slightly flatten the cookies — not too wide since they'll spread in the oven.

Bake for 8–10 minutes or until cookies are golden around the edges. Allow to rest on the baking sheet for a few minutes and then transfer to wire racks.

While the cookies cool, thinly slice your strawberries lengthwise. You will need 8 thin slices of strawberries per sandwich.

Flip the cooled cookies over and place 4 strawberries on each cookie, pointing in different directions like a compass.

Working quickly, cut a hole in the bottom of the pint of Halo Top and push the frozen-solid pint out onto a cutting board. Slice into ½-inch rounds.

Layer the sandwiches as follows: cookie, layer of strawberries, slice of Halo Top, another layer of strawberries, and a second cookie. Immediately wrap in plastic and place in the freezer to harden.

After about 2 hours, cookies will be frozen enough for the strawberries to remain in place. Enjoy!