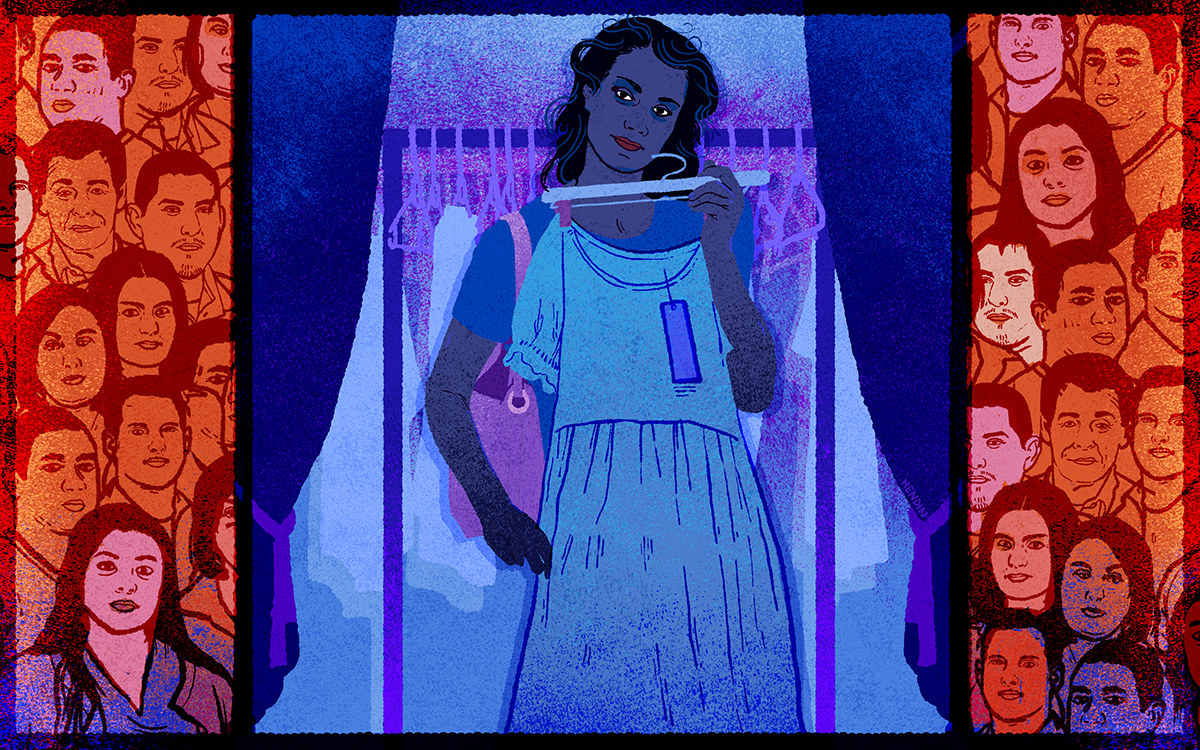 I often go shopping with my mother – it is our silent pact, our bonding act. We flitter through flagship Topshop, and try on our sartorial spoils, side-by-side in fitting rooms.
In the 1990s, when fitting rooms were communal, they were terrifying. But my mother would usher me in, assuring me "We're all the same", as she hung up her items and undressed as though in her bedroom. Sometimes, even now, she summons me to share the space with her, as though I'm still her little object to help and scrutinise. But I yearn for a room of my own.

To me, fitting rooms are singular booths of solitary scrutiny. They have become a place of solace, and a measure to be mastered – especially at times of torment.

I am over six hours early to conduct a 5pm interview for a feature I never want to write. I put on yesterday's clothes: black dress, black cardigan, scuffed, white tennis pumps.

I stuff a brown canvas backpack with expensive, metropolitan objects, and then smooth my hands over my shrinking legs once more. Before leaving, I contemplate fuel. The heady cocktail of chronic anxiety and depression has dampened my appetite. In almost-protest, I measure one cup of porridge to 1½ cups of water, heat in the microwave for 2.5 mins, and eat in 7 minutes.
After faffing forever, I plug in my headphones, and exit.
It's weird how we wipe out the world while we're walking.
I listen to around six songs on loop when in transit. Today, I settle for David Bowie's "Up the Hill Backwards":
The vacuum created / by the arrival of freedom/ And the possibilities it seems to offer / It's got nothing to do with you / if one can grasp it / It's got nothing to do with you / if one can grasp it...
I repeatedly rewind the last minute.
Bowie died seven months ago.
The No. 94 arrives, stopping near Holland Park Station.
I queue.
Walking past the bus driver, I peer at the darkening staircase, and float upwards on to the mostly vacant deck. I sit in the front seat with my hands in my lap. There are a couple of passengers upstairs with me. Their eyes impale the back of my head as we drift through white paint, through sandstone, and through red brick. Through union-jacked boutiques, council flats disguised as "courts", and columned buildings disguised as "offices". Docile tones and widescreen windows reveal Queensway, Lancaster Gate, Hyde Park Street. I slip deeper into my daydream of driving along the Golden Gate Bridge as the widescreen changes channel.
I alight from the bus at Marble Arch Station, and into the midday air. Scanning the distant stone walls, I, in a trance, cross over to the bustling side entrance of Primark. As a darkly dressed security guard watches over modestly priced sportswear, I swallow plastic air.

Oxford Street, with all its sweeping pomp, is bookended by two ostentatiously large Primark superstores. Within these stony bookends are ridiculously large video screens showing clips of sweatshop-adorned millennials with rigid smiles and Magic 8 Ball pupils galloping in front of a sky blue background. Considering how much Primark scrimps on mass advertising, its in-store video is the retail equivalent of a penis enlargement.

After dodging this multimedia wonder via the side entrance, I bend double to pick up a tatty grey shopping basket. Aimless on the ground floor, I stockpile five jumpsuits, a faded camouflage jacket, and several dresses of varying sizes into the circular net. With a dry mouth, I home in on the fitting rooms located at the back near the flannel and the undergarments. In front is a girl with assertive hair, and a "What Kate Did" black canvas bag. She iPhones and chews gum simultaneously. Her basket holds similar choices to mine. Gaudy leopard print. I bet she's got a bullet bra, I think. I have one too. Satin.
My iPhone says it is 13:12 or 13:27 or 13:42. I am going to conduct an interview for a feature I never want to write. The girl with assertive hair goes in, I am next.
To master the art of fitting room solace – which has taken a lifetime of depression to perfect – the following is needed: 1) The inconspicuous clothing item(s): Anything that requires fit, pose, and contemplation time. Jeans and intricately buttoned catsuits will suffice. 2) Frivolity affordance – for maximum effect, you must calculate how much you're willing to squander on a year-long wardrobe resident. 3) Monosyllabic interaction and simulated arrogance – play the numerically spoken debutante. 4) Seclusion time intuition – estimate the probable time to try on your inconspicuous clothing item and instead bask in ambient lighting and sacrifice your impending doom.
It's just a suggestion but you get the gist.
I choose my limited eight items, leaving (tossing) the overspill (rejects) in the taken (snatched) basket.
"I'll be back to try them on," I inform the migrant sales assistant.
"Please keep the hangers on," she replies.
I spot a room exposing slivers of mirrors at the blackened row's end. I draw the curtain across, and breathe in the dead skin of a thousand women. Alone at last. Scrapes of silver hooks, zzzzrups of zips, and the groans and hushed tones of compliant females orientate me. I commence to shed then contort into a multitude of unsuitable skins. I casually fit into leopard.
I pose and I am quiet.
I ponder queueing.
I am persistently queuing.
The plump cashier laughs with a suited man as I creep towards her till. I heave my basket, now amassed with pleather pumps, till point tealights, and Native American trinket foolery, on to her transaction patch. I purchase clandestine comfort for under 15 pounds and exit the labyrinth. I somehow end up putting on the leopardskin jumpsuit in a tiny toilet cubicle at the flagship M&S across the street. Choosing vast, low-cost stores enforces anonymity, I think to myself as I walk past gold doorsteps with humans carrying branded yellow bags. I feel barefooted and feral as my new shoes invite the weather. I am a mess among a mass. I keep walking down Oxford Street, blindly passing a boarded-up BHS, silently singing the same six songs.

At H&M, on the corner of Regent and Oxford, I shape-shift into a spendthrift on her lunch break. I shuffle around the ground floor, picking up and putting down top, after skirt, after jeans, after hat, after ring, after scarf, rinse, and repeat. I escalate higher and higher, passing more visual walls of retail penis enlargements featuring asexual models, a floor of black, another floor of nonentities. I lose the ability to navigate myself in so much white space.

On the third (or was it fourth?) floor, my eyes meet a sign: "Fitting Rooms". Grabbing an item of comfort currency – a pair of flared light blue jeans – I make a beeline for the sign. The fitting room gatekeeper – an unremarkable brunette with an assumed fashion degree – provides me with my freedom pass of plastic after I mutter, "one". H&M's fitting rooms scream low-rent boutique, with plush carpets and silver-ringed double curtains. I branch off to the left row of chambers to avoid the mother-daughter coalition that trespass to the right. Once again, the end beckons with black cloaks of isolation. Crushing the curtains together, I hang the jeans. I notice that the small frosted window to the right is facing a brick wall. The air smells feebly of over-the-counter eau de toilette and packaged cotton. I see three versions of myself. Within this pacific pandemonium, I smudge scarlet lipstick across my lips and cheeks, investigate my skin and hair, and secure a piece of black rope to my neck. My ears prick up. Footsteps. I shove the evidence into my backpack, and eye up the blurred window. The jeans remain hung.
Discarding the denim to the desiccated gatekeeper, I weave my way out into the world, to conduct a 5pm interview for a feature I never want to write.