1.
A mini retro-inspired Bluetooth speaker for your desk, vanity, or counter if you're a ~nostalgia~ buff. Now you can lean waaaay into the '60s and '70s while you're listening to your favorite album or talking to your BFF on the phone.
2.
An adjustable stick-figure floor lamp that's a life-size version of those fun little wooden mannequins you used to play with when you were a kid. You'll get a kick out of moving this guy into different poses every day, and he promises to be the best, lowest-maintenance roommate you've ever had.
Promising review: "So silly and fun! This was one of those silly purchases where I saw it and just...HAD to have it. This little lamp brings a smile to our faces every day, we love it. We like to dress it up for holidays, which is quite fun. All in all, if you love whimsical design, this lamp is for you." —S
Get it from Amazon for $92.86+ (available in five colors).
3.
A night-light projector for making the ceiling of your room feel like the center of the galaxy, and honestly, what's cooler than that?
4.
A paw-shaped chair cushion, because being softly cradled in a kitty paw is pretty much the dream (and any cat lover's happy place).
Promising review: "I freaking LOVE this paw cushion! This paw cushion absolutely saves my butt. It's not super thick or as filled as you might hope. But I read reviews and was prepared for that. A little extra padding would be great but even without it this cushion is soft and comfy! It's still worth every dime. It's perfect if you have one of those hanging indoor/outdoor rope chairs, too! This cushion is soft and cute and comfortable. Buy yourself this thing. You deserve it." —mandarabbit
Get it from Amazon for $28.99+ (available in two sizes and nine colors). 
Reviewers recommend using a hot glue gun if you want the butterflies to have some extra adhesive power.
Promising review: "Amazing! Just the thing I wanted! Really easy to put it on the wall. The size variations and different designs are really nice. Good product to decorate your place. Highly recommend!" —Arundhuti Dey
Get a set of 48 from Amazon for $6.99+ (available in 10 colors and in packs of 72).

7.
A 3D-printed floating coffee sculpture that's the *perfect* decor for coffee lovers. You can even customize it according to how you take your cup o' beans — with lots of cream, a little cream, or black! BRB, off to tell everyone I know about these.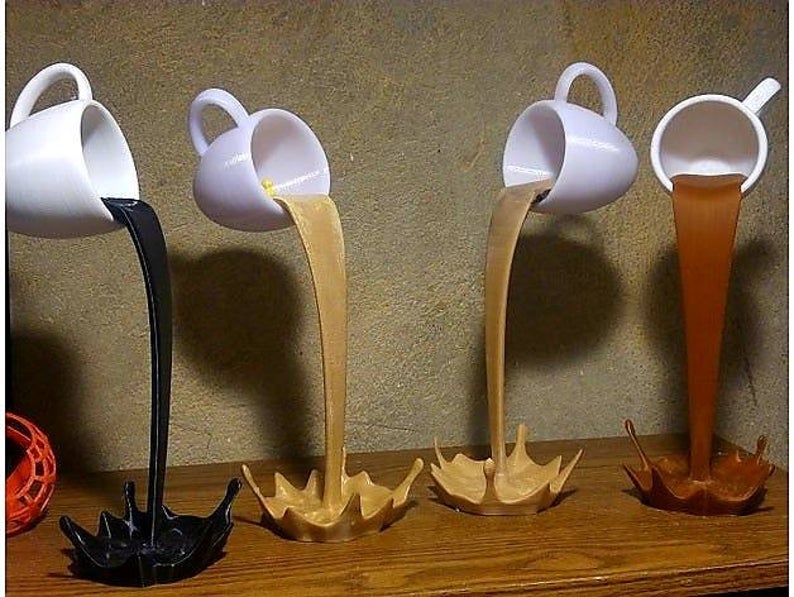 Promising reviews: "Absolutely loved it!!! I'll be buying many more to give as gifts! The perfect touch for any kitchen!" —Donna Nelson
"It looks SO COOL! I love it. Unique and fun." —ris6588
Inceptualize 3D is a family-owned, Atlanta-based small business that makes creative 3D-printed home goods.
Get it from Inceptualize 3D on Etsy for $30 (available in three colors).
8.
A stunning handmade moon phase garland for lovers of astrological horoscopes, celestial astronomy, or ~both~.
9.
A essential oil diffuser so you can get all the soothing benefits of a diffuser (or hydrating benefits if you opt to use water) in a handblown glass design that is, simply, so jaw-droppingly pretty that one reviewer describes it looking like "a thousand little stars with a firework effect." (!!)
If you're not allowed to use essential oils, it's still a great way to add some moisture to an otherwise dry room, *and* it provides a lovely light show! It's also BPA-free.
Promising review: "This thing is gorgeous. I love how it changes colors or you can set it to your favorite color. The vapor that rises from it smells amazing and looks so cool, like smoke rising from it. It looks like a thousand little stars with a firework effect. Photos do this no justice at all. There is no noise to it and it's super simple to use. You just take off the top and add water then add a few drops of scent into it. For it being the size of an average vase the scent fills a very large room. It looks way more expensive that what it's sold for, and it's so relaxing and calming. It's absolutely hypnotic watching the colors fade into each other. It will bring life to any room." —Poisonivey
Get it from Amazon for $35.97+ (available in 12 styles, including two sizes and an option with a remote).
10.
An upright spiral fruit basket to add some whimsical contemporary art to your kitchen! Reviewers love watching their fruit shift further down the spiral as they use up their produce, so you'll be extra incentivized to eat all your fresh fruits. 
Plus, it keeps your fruit separate so if one begins to rot, it won't spread to the other fruit.
Note: If you're planning on using the spiral basket for small fruit, like lemons or limes, use the 12-inch size. If you want to use it for larger fruit like apples or oranges, get the 18-inch size basket.
Promising review: "Love, love, love!! This is the coolest fruit holder. It's very well made and sturdy. Not cheap or flimsy at all. Everyone who comes over compliments it." —Laura
Get it from Amazon for $28.34+ (available in two sizes).
11.
A downright elegant velvet accent chair with a flower petal-back design, gold metal legs, and a padded seat to majorly ~perk up~ your space.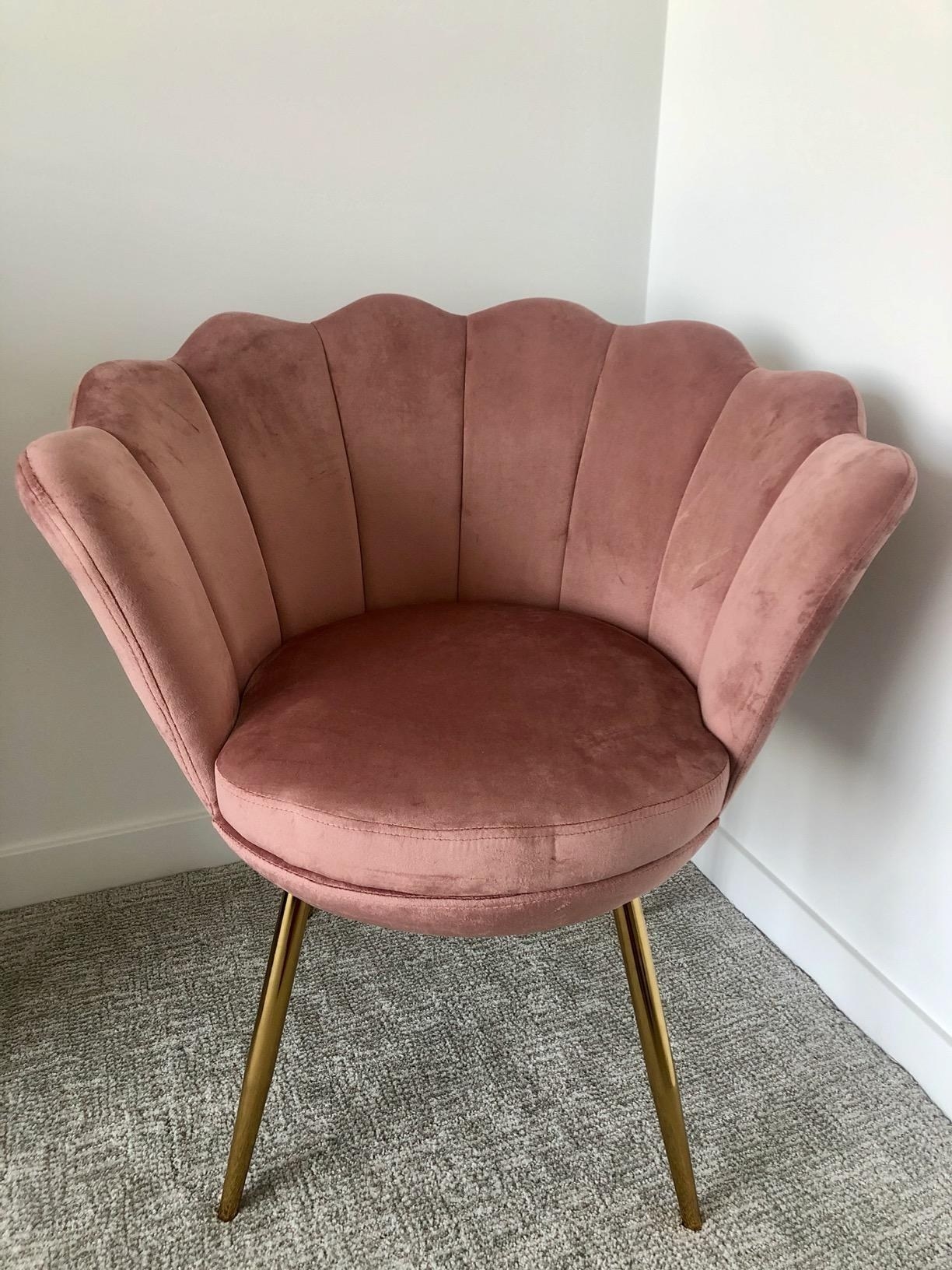 12.
A vintage-inspired strawberry vase that'll take the cake for the most adorable vase in your abode, stat.
PS: You can also use it to store cooking or desk supplies!
Promising review: "Oh my god I am obsessed with this. This is literally my favorite purchase I've made on Amazon. When I got it I was so excited. The paint is very vibrant and pretty and it's a lot bigger than I thought. I'm in love with this vase and I think you will be too. You need to get this." —Jemma
Get it from Amazon for $26.95.
13.
A geometric hippo candy dish to DELIGHT every last one of your sweet-toothed guests and inject endless dino-lovin' joy into your household. Just imagine this thing filled with Hershey's kisses. 😭 BTW, you can also use it to store your keys and wallet, desk supplies, or even skincare!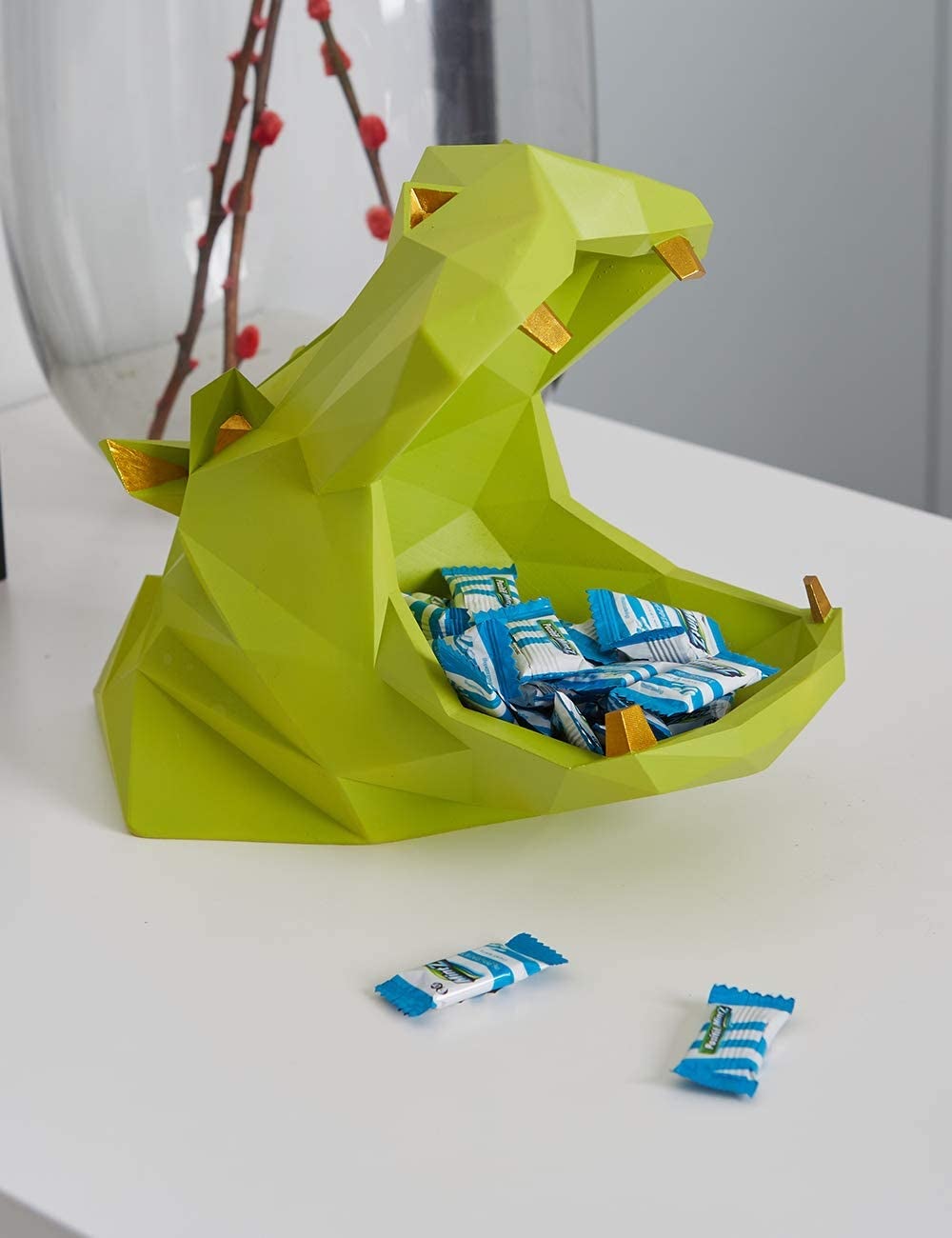 Promising review: "So cute. Totally in love with it! Makes me smile every time I walk past it." —Danielle chaput
Get it from Amazon for $43.18 (available in three colors). 
14.
A luminous iridescent acrylic mini shelf with six different levels for an uber-cool, holographic way to store eyeglasses, skincare, makeup, nail polish, crafts paints, mini figurines, tattoo ink, and more! I'm getting one for myself to store lip balms, pens, sticky notes, and other *tchotchkes.*
Promising review: "I cannot describe in any language the unearthly squeals of joy my twins made when we opened this package. It's even prettier in person. There is an excellent amount of shelves for your money. We've put the shelves up opposite a wall with two windows that gets the most sun. Their room now looks like it's in the middle of the Northern Lights aurora borealis. It's surreal! Thank you for making me the "coolest mom ever." I'm sure next year when they turn 13 I'll just be embarrassing so I'll hold onto this as long as I can. ROTFL." —Customer
Get it from Amazon for $34.99 (also available in six other styles).
15.
A personalized album cover plaque so you can keep your nearest and dearest moments with you in a unique, fun way that honors just how special they are.
To create, send in a high resolution photo (reviewers recommend brightening the photo before) and the song you'd like to have "playing" on the screen.
Promising reviews: "It's super cute and I'm so in love with it. Totally worth it!!" —Sign in with Apple user

"Great quality and super adorable! Would highly recommend to anyone looking!" —Claire
Pix Arts Co. is a small business based in Los Angeles that specializes in custom home decor and puzzles. 
Get it from Pix Arts Co. on Etsy for $9.52+ (available in three sizes, two-packs, and a vinyl design).