1.
A 3-in-1 foldable magnetic wireless charger that powers your iPhone, AirPods, and Apple Watch all at the same time, saving space in your luggage and keeping your bag as light as possible. Regular chargers are deceptively heavy, and every ounce counts when you're trying to get your bulky bag into the overhead bin without your shoulder dislocating!
Check out a TikTok of the foldable 3-in-1 charger in action. 

Promising review: "I'm a flight attendant, so I'm constantly on the look out for items that will make my travel days easier, but most importantly, LIGHTER. This by far has been the best investment. My phone, watch, and earbuds are all Apple and all work seamlessly with this product. The magnets are a slower charge then a normal charger, but being able to carry ONE item to charge three pieces of technology at once, is PRICELESS. It's super easy to throw in my bag when I'm packing up and mindlessly easy to set up when I get to my layover. I would come back and buy this 10 times over again if I could!" —Lissette Nunez
Get it from Amazon for $39.99+ (available in nine colors). 
2.
A sturdy, lightweight eight-compartment pill organizer to consolidate your medications and just-in-case medicines so when heartburn or a killer headache strikes, you won't realize you accidentally left those meds at home...paving the way for a very uncomfortable vacation.
Promising review: "Flight attendant–approved! These pill containers are simply amazing! The latch and seal on them is very secure due to its rubber gasket around the inside. I put my daily medications in each of the six smaller compartments on one side and then use the larger two containers for vitamins and supplements. I keep this in my tote bag for work and I am not concerned at all about it opening. I can't tell you how many times some of the other pill boxes I used have opened up, tossing prescription medications into the smallest corners of my bag. Well-designed and well-executed!" —Christina S.
Get it from Amazon for $6.97 (available in three colors).
3.
A comfy, ergonomic Trtl neck pillow that won't take up any extra space in your bag like those big, puffy travel pillows do. It's scientifically proven (!) to prevent stiff necks and sore shoulders, so you can actually rest comfortably while you're sleeping upright, and it also doubles as a scarf. (Because good GRIEF, planes are COLD!)
It also easily attaches to backpacks and luggage handles (see the photo on the right), weighs less than half a pound, and is machine-washable!
Promising review: "This is the best travel pillow ever. As a flight attendant, I travel all the time. This makes getting stuck in a middle seat palatable. I've used this in cars, planes, trains, etc; it's great. In fact my sister was so jealous on our last trip to Italy that she kept trying to steal it off me. Ordered her one for Christmas." —Amazon Customer
Get it from Amazon for $59.99 (available in four colors).

4.
A luggage drink caddy with two roomy pockets so you can keep your coffee (aka the magic elixir that keeps this show on the road) upright and securely attached to your wheeled luggage. It also has a pocket for your phone, wallet, or whatever else you need to take off your hands while you navigate the chaos that is the airport.
Reviewers say it's ideal for a suitcase that can roll on four wheels! If you have a suitcase that has to tilt while it rolls, just be careful if the drinks are open at the top.

Promising reviews: "This cup holder is perfect! It helps me a lot! Last time I took a plane with a suitcase and a cup of coffee, when it's my turn to check my passport and ticket, the coffee cup fell to the ground and coffee sprinkled. It was a nightmare! This time I bought this cup holder, and it did do me a favor! I don't have to worry about where my cup and phone are! I can free my hands to do other things. I love it so much! Hope you love it too." —Philip
"Great tool to keep your hands free. I'm a flight attendant and I love this, especially the [hook and loop fastened] 'quick detachment.' It's the best! I had one before that just stretched over the handle and it was a PAIN! This one is great. There's room for two large drinks and a slim pocket for phone or wallet. Many people see it and ask where I got my clever little caddy!" —Debra G
Get it from Amazon for $15.99 (available in 31 colors and other styles).
5.
A TSA-friendly toiletries set because discovering your conditioner leaked all over the clothes you brought might be the worst feeling ever (and if that's not, realizing you now only have sticky clothing to wear might be). Plus, this set will make sure TSA doesn't break your heart by throwing away your favorite (and expensive!) moisturizer because it's over 3.4 ounces.
The set includes a zippered bag, four soft silicone bottles with leakproof caps, three compact jars, and two toothbrush caps.
BuzzFeed Shopping editor Elizabeth Lilly owns and loves this set. She writes: "I've used this set on more than five trips and and for trips when I don't require body wash or shampoo (like to visit my parents) I use the extra room in the bag to shove in all my beauty products and daily contacts. Plus! It comes with labels that stay on the containers really well despite my thoroughly washing these containers between trips. I bought this set in spring 2019 and have, admittedly, lost a container or two. But the ones that I've held onto over dozens of trips have all held up well!"
Promising review: "If it wasn't for me forgetting them in the hotels, I wouldn't have to buy more. This is my third set and I love these things! I'm a flight attendant and these are easy to fill, use, and pack!" —Raena Hill
Get it from Amazon for $12.99+ (available in 13 variations).
6.
A lightweight, compact, and high-speed Anker portable charger so you don't touchdown in a new country with a dead phone because you were playing too much Stardew Valley on the flight. I'm willing to bet that a functioning phone might be...useful...while navigating local transport and a foreign language.
This highly rated slim option holds about 2.25 charges for iPhone 12, 1.6 charges for Galaxy S20, and 1.2 charges for iPad Mini 5 and comes with a Micro USB cable (to charge the charger) and a travel pouch.
Promising review: "Very handy! I'm a flight attendant and travel a lot. This has come in handy on the airplane and in the airport. Perfect size and lightweight." —Rae
Get it from Amazon for $21.99+ (available in two colors).

7.
A simple luggage strap to hold essentials like your personal item, jacket, travel item, and more to make moving through the airport a little easier (and gentler on your body). Even better, it frees up your hands so you can hold onto your little one, or like, another cup of coffee.
Promising review: "Definitely what I needed for my luggage as a flight attendant. Very heavy duty and perfect for me. Works great with my extra luggage and lunch bag to hang on my suitcase. Thank you so much. Will definitely buy again." —Mary
Get it from Amazon for $8.49+ (available in six colors and in packs of two).

8.
A carry-on friendly travel Gillette razor so you can keep up with your personal care routine (if you do choose to shave!) without sacrificing space or quality — because TBH, trying to use just a literal razor head with no handle will not get the job done (speaking from regrettable experience).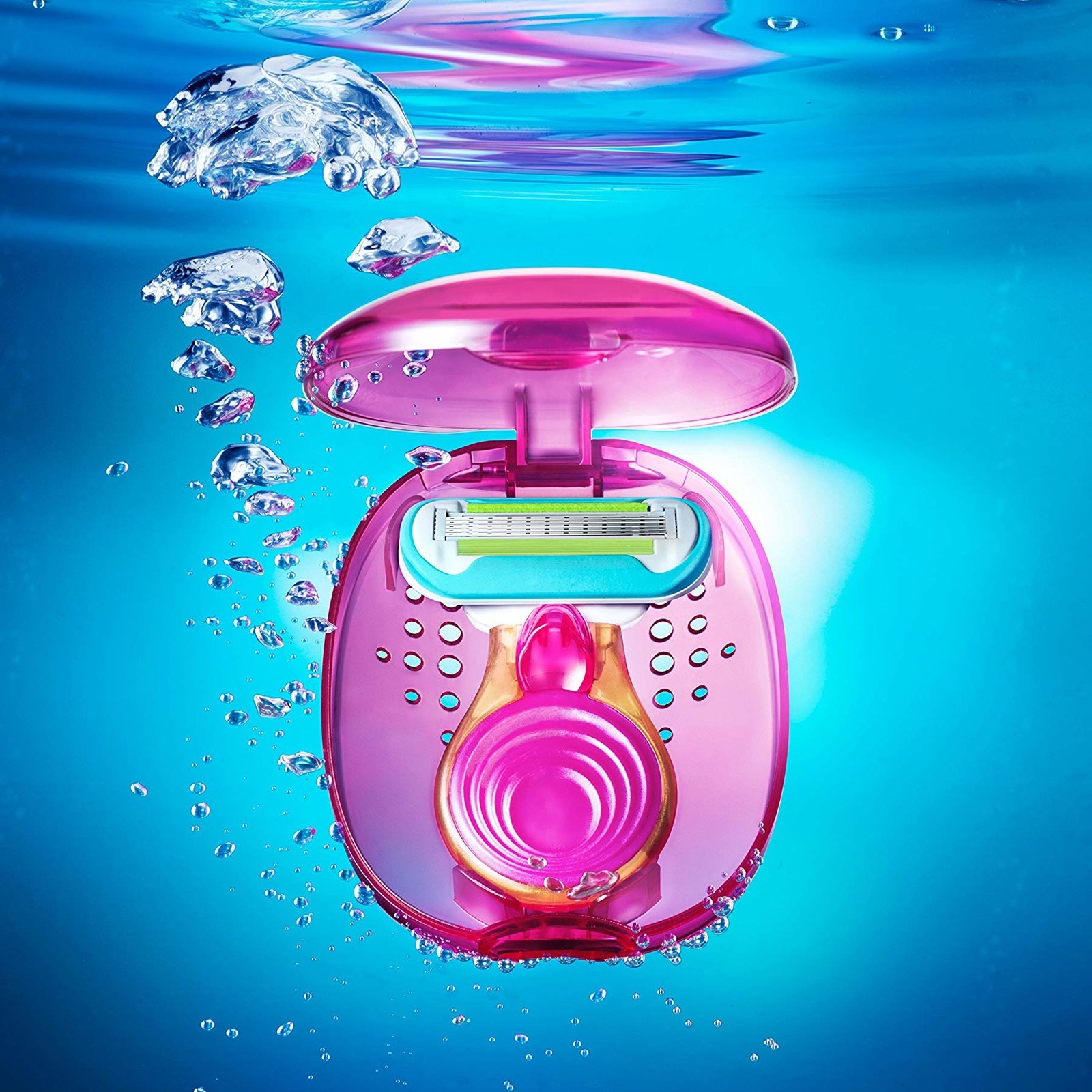 It comes with one handle and one blade refill!
Promising reviews: "I am a flight attendant, and space is limited in my bag. This is a great product for your travel bag." —Caitlin Hemphill
"I got this for a vacation and it was great! The little carrying container is awesome, and keeps you from having a weird, loose razor floating around in your suitcase. Plus, the heads are the same as a regular-sized razor, so you can keep using it when that one is worn out!" —Tegan H
Get it from Amazon for $9.99.
9.
An Apple AirTag tracker tile you can attach to your luggage so if the airport claims they lost your bag (and thus every bit of comfort you brought), you can just track its location in the encrypted Find Me app on your phone. Doesn't get much easier than that.
When an item's misplaced, the app will make the attached AirTag beep until it's found. You can also attach it to your wallet, keys, pets, and more.

Promising review: "These are definitely worth the money. I put one in my flight attendant bag when ever I have to check it. I put one on my dog and the other on my keys. I was very impressed and surprised by how easy they were to set up. I would definitely invest in these if you have a child. There are keychains you can put them in and put them on their backpacks. 10/10 from me for these!" —Micky D
Get a pack of four from Amazon for $89.
10.
A popular, versatile off-the-shoulder jumpsuit comfy enough for the plane and sightseeing, and stylish enough for dinner and drinks.
Prime members: You can try before you buy!
Promising reviews: "It is a favorite among our flight attendant group when we are traveling. We call ourselves the sisterhood of the traveling jumpsuit! I absolutely love it, it's comfortable, inexpensive, easy one piece, dress up or dress down. I add a belt and it's perfect! I am planning to purchase more colors!" —Floridagirl0611
Get it from Amazon for $27.99+ (available in sizes S–3X and 36 colors/patterns). 
11.
A portable door lock you can attach to any door, whether at a hotel, Airbnb, or your own home, for some extra security and peace of mind. It's easy to install and won't do any harm to the door. 
Promising review: "My best guy friend bought this for me and I love it. I'm a flight attendant and am in hotels 4–5 nights a week. Sometimes the 'locks' just don't feel sturdy enough. This device gives me an extra layer of security and allows me to sleep at night. I keep it in my flight bag." —Emilia Duren

Get it from Amazon for $14.99 (also available in packs of two and four).
12.
An electronics organizer because it's not an exaggeration to say that we're all swimming in cables and chargers at this point. This'll let you and your fam grab what you need to keep your devices going without having to tear your suitcase apart (and possibly causing an adult temper tantrum in the process).
Promising review: "I am a flight attendant and I LOVE this organizer! I keep my iPad, passport, cords, paperwork, and hand sanitizer in here. It keeps me organized! Definitely recommend to anyone who travels and needs to keep organized." —amazonislife
Get it from Amazon for $18.99+ (available in four colors and two sizes).
13.
A resealable travel-size pack of antibacterial wipes to easily sanitize anything with just a quick wipe-down.