1.
A sweet bubble tea pencil holder who is just goin' about trying its best, just like you. It pops up into a case for your stationery when you want to take it on the go, and retracts into a standing holder when you need easy access to your pens at your desk. Love!
Promising review: "Adds the perfect touch of whimsy to my workspace! I absolutely love this pen case! It's cute with plenty of space for my pens, highlighters, lotion, earbuds, and lip balm. The fact that it zips is another big plus because I can toss it into my work bag and nothing falls out. I have gotten several compliments at work! I don't have a designated workspace, so I travel with all my work necessities, and this keeps everything I need for immediate use in one small space." —Kindryll

Get it from Amazon for $7.99+ (available in five colors).
2.
A darling mini desk vacuum that'll have your back as it quickly and quietly suctions up all the little stuff you happen to spill on your desk — cookie crumbs, bits of chips, eraser shavings, little pieces of paper, and, if you're me, SURELY more.
It runs on two AA batteries and is slightly larger than an average computer mouse.
Promising reviews: "Works like a charm! So far I've used it on cracker crumbs, dust, and eraser bits. It has little brushes on the bottom and sucks everything up in seconds. To empty it you just pop the bottom off and dump it out. Some of the smaller crumbs can get stuck but a little brush or something would get them right out. The sound it makes is just a little louder than a small fan. I love it so much, can't stop admiring it on my desk." —Dee
"The best silly purchase ever honestly. I thought it would be useful but I had no idea it'd be as useful as it actually is. Suction is great, it's adorable..just get one! You won't regret it." —Alexis
Get it from Amazon for $10.78+ (available in four styles). PS: The mini cow vacuum version is also to die for!
3.
A pack of cat sticky note tabs for you to bookmark important pages and tasks — all with the adoring smiles of these kitties staring up at you. You are now coworkers!
4.
A caterpillar cord organizer who is a VERY good boy and whose personal mission is to keep 👏 those 👏 cables 👏 organized! 👏 
Promising review: "He is perfect and pure and good and has never done anything wrong in his whole life. Somehow at least like 53 times cuter in person??? Also does a great job holding all my cables because of course he does. 10/10 would buy this good good boy again." —Jennii
Get it from Amazon for $9.99.
5.
An adorable yet sturdy cat sticky note dispenser to keep you company at your desk, make you smile when you're stressed or tired, and oh yeah — make sure your sticky notes are neat and organized, too! Reviewers also say it's weighty enough to use as a paperweight. A legend and an icon.
It comes with a 45-sheet pad of pink sticky notes to get you started!
Promising reviews: "So adorable. This is the cutest little sticky note holder and it works perfectly! It makes me smile everyday at my desk." —Danelle B.
"If you're a cat lover, this dispenser is a must-have! It's cute, sturdy and works great! It even came with a stack of post its! I love it!" —Nancy Landa
Get it from Amazon for $8.68.
6.
A hilarious little screaming goat — give him a press, and he'll let out a bleaaaaaty scream that's guaranteed to be, simply, a very good time. *Cue Taylor Swift's "I Knew You Were Trouble" (Goat Remix)*
It comes with the infamous goat and a small book with fun facts about goats. The goat is 3 inches tall and comes with a battery already inside.
Promising review: "I spend about 90% of my day silently screaming at the computer because, well, welcome to customer service. Since this little goat arrived, I no longer look like I am practicing for my appearance on Jerry Springer. I just push the little goat. He screams (but not in a disruptive way). I smile. I am no longer annoyed." —Gab
Get it from Amazon for $7.77.
7.
Some dreamy planner notepads that are so gosh dang adorable they'll actually help you with motivation and productivity — and are pretty much guaranteed to make you smile at your desk approximately 100 times more often.

It would be an understatement to say that I'm obsessed with this shop. I am head over heels entranced with this shop. Their lo-fi, nostalgic style brightens up my workspace so much and really helps encourage me to stay organized – because I love looking at and using their stationery! I also just appreciate the sense of whimsy and fun that their products add to what can otherwise be stressful work days or daunting tasks; the graphics on their planner pads help me stay more positive, and more on top of my work in general. TL;DR: These are a ray of sunshine that any desk worker or organizing buff would be incomplete without. They also make incredible gifts!
Promising review: "Everything I ordered from this store came as displayed and even better. They are super cute and you can tell the shop puts a lot of love into it. will definitely be purchasing from here again." —Amanda galasso
Unicorn Eclipse is a Wisconsin-based stationery business operated by two Hmong-American sisters, who design all of their amazingly nostalgic, lo-fi aesthetic desk supplies themselves!

Get the dark pink planner pad and the light pink planner pad from Unicorn Eclipse on Etsy or from Unicorn Eclipse for $12. (PS: check out their dreamy $5 sticky notes, too!)
8.
A hilarious magnetic AirPod holder shaped like a ~confidently~ posing kitty who'll hold your earbuds up triumphantly while making sassy, saucy eye contact with you.
Promising review: "Awesome product. These are great! So fun and a great decoration for your desk. Magnets work great!" —Amazon Customer
Get it from Amazon for $7.99+ (available in two colors).
9.
An adorable glasses display stand so you can keep your reading or blue light glasses secure in the trusty hands of a *very enthused* animal helper.
Promising review: "Cutest way to store your glasses. I don't like storing my glasses in their case — I like to be able to just reach for them. But they are also unsafe when they are just sitting on my desk. This little koala solves my problem! He holds my glasses securely and does it in the cutest way possible. Now I can sit at my desk, grab my glasses, and get to work with a smile on my face. And at the end of the day, I just leave them with my Koala for safe keeping. Seriously, just get one. I haven't lost my glasses once since I got this." —Bianca
Get it from Amazon for $13.99+ (available in 11 animal styles).
11.
A 12-pack of cute, smooth-writing smiling cat gel pens to give you some easy serotonin every time you take notes or jot something down.
Note that they all write in black ink!
Promising reviews: "Cute pens, initially bought them as a gift for a friend who loves cats but everyone in the office loved them and had to buy two more packs." —Courtney
"Adorable and functional, and were exactly as described. Looked and worked perfect, and wrote smoothly. Very cute addition to the office/desktop area, especially if you want a cute/kawaii theme!" —Ashley
Get a pack of six from Amazon for $7.99 (also available in a 12-pack).
12.
A sweet kawaii-aesthetic stationery holder for you to fill with pens, erasers, note tabs, and other miscellaneous little office supplies that are currently cluttering up your desk. This is the perfect adorable upgrade your desk never knew it needed.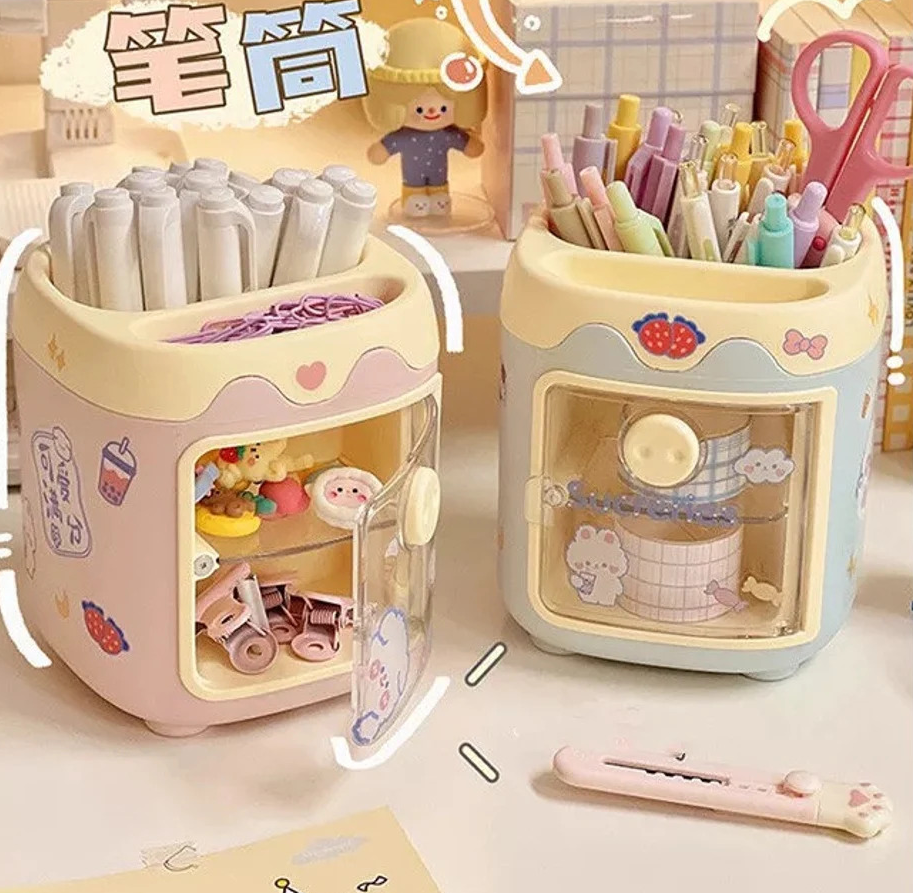 Promising review: "It's deep and wide, and it hold about 20-ish pens. I'm very impressed with the quality so far, and the storage door fits kneaded erasers perfectly." —Noodle Spears

Your Guide Outlet is a Rhode Island-based small biz that sells adorable kawaii office supplies, from storage containers to pens, binders, notepads, and more.
Get it from Your Guide Outlet on Etsy for $11.99 (available in three colors).
13.
Or an elephant-shaped organizer that'll doubles as your new desk pet and as storage for your pens, scissors, highlighters, and more. It also has a little stand at the front for holding your phone (or for storing your glasses)!
Promising review: "As sturdy as an elephant! I didn't know I would have to put it together but it was quick and easy and came with two screws to secure it. It was larger than I expected but it has plenty of room to hold my pens/highlighters as well as thumb drives, staple remover, scissors and binder clips. Sturdy enough to also hold my phone. It is too cute and the design is very pretty." —Danielle Alves
Get it from Amazon for $9.99+ (available in three patterns).
14.
Some succulent patterned folders to add some pretty greenery to your office space without needing to worry about taking care of any *actual* plants.