1.
A pair of patented colorblind color-correcting glasses that may just knock the socks off your colorblind loved one. It has advanced correcting coating on its lenses to help folks with severe red-green colorblindness see the colors they've never had access to — which is truly nothing short of life-changing.

There are other color-correcting glasses available for folks with moderate and strong red-green colorblindness, as well as different forms of colorblindness like blue-yellow. The product page has graphics to help with lens selection!
Promising reviews: "I got these as a gift for my girlfriend and for the first time in her life she got to see red and green and all the shades in between. She has severe deuteranopia and these glasses work!! She was speechless and began to cry when she first put them on. She said she had no idea the world was so colorful and now she doesn't want to take the glasses off. This is the best gift I ever gave anyone. I don't do reviews often but these glasses are awesome. Our only issue with them is they are a little big for her face and they are not the most stylish. Thank you Pilestone!!" —Matt S.
"These had the best reviews competitively for price/value/quality. My dad has been colorblind his entire life. We got these for him for Father's Day and he LOVES them. He has been having the best time wearing them everywhere! These are definitely most effective outside in his opinion, but do work for certain things he's looking at inside. He is VERY excited to take a trip up to the Northeast this fall and see real 'fall colors' that 'everyone has always been talking about' (his words lol). Definitely a great purchase and I highly recommend." —Katie
Get them from Amazon for $119.

2.
A towel warmer to recreate the bliss of taking toasty linens out of the dryer and burrowing in them after every shower or bath they take. It'll be heaven on those cold mornings when the last thing anyone wants to do is turn off the warm water and step into the freezing world behind the shower curtain.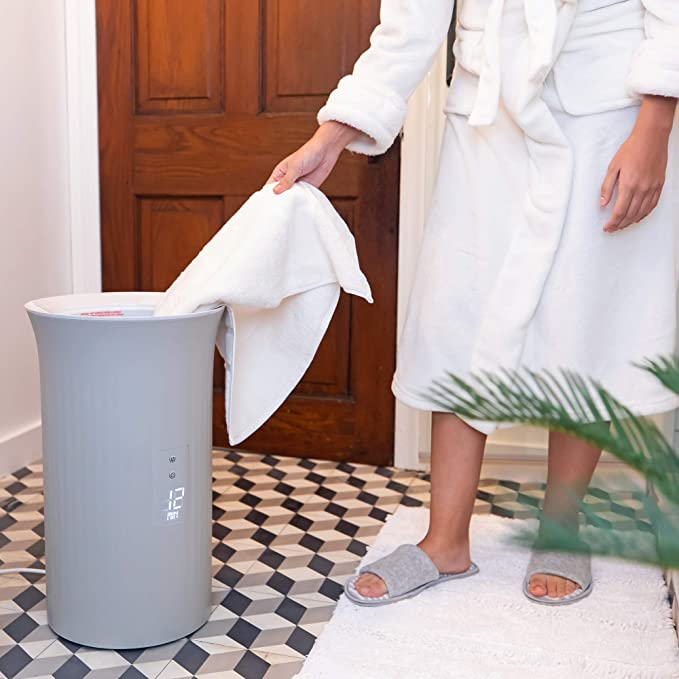 It fits about two towels (or even a towel and a robe or other fabric items) and has a 15-minute adjustable timer.
Promising review: "I bought one for myself, then bought several others as presents because it's so nice. It's fairly small and easy to find space for even in a small bathroom but is also big enough to hold two large towels at a time. There are a few small things to watch for: occasionally the on button takes a bit of finagling to work; it takes about eight minutes to hit 'maximum' towel warmth; if the lid is askew/not fully on the towel loses a lot of heat; there's a bit of a plastic odor that goes away after the first few uses. But if you're aware of those things, it's super luxurious and worth every penny, having a super-warm towel waiting for you counters all the misery of having to leave the shower in the winter. It also makes a great present, it's the kind of luxury item people don't normally think to get for themselves but makes life so much better. Anybody who says you can't buy happiness obviously hasn't bought a towel warmer." —Heather
Get it from Amazon for $139.99.
3.
An ingenious pair of gardening gloves with claws at the end to make digging into soil approximately *checks calculator* one thousand times easier for them than using their bare hands or regular gloves.
Promising reviews: "I bought these gloves for my mom and she absolutely loves them. She has told several people about them and has said how easy its been picking up leaves, weeds, or flowers while gardening." —Jacqueline Landsaw
"These are a game-changer for gardening and the most brilliant invention ever! I love that the thumb doesn't have a claw because I can still keep these on and pull off dead leaves. It also makes removing the plant from its planter to put in the ground easier with no thumb claw. The plastic tips are comfortable and easy to maneuver. They make digging a breeze. These pointy tips also help in pulling off dead leaves/limbs from thicker plants/bushes. My claws have yet to show signs of separation between the hard plastic tips and the rubbery fabric of the glove. So I'd absolutely say the durability surpasses most expectations. I absolutely love these gloves so much that I may even use them for doing dishes. Those claws could so easily scrape off that gunk that's shellacked on to the dishes your teenager has stashed in their room. " —Shopaddict
Get it from Amazon for $6.36+ (available in two colors and as a pack of two).
4.
Filipinta Beauty's cocktail-inspired lip gloss trio so gorgeous and unique that it's sure to become one of their favorites, stat. Their pink strawberry daiquiri shade has little strawberries in the tube (!!); their piña colada is a heart-stopping sheer, shimmery gold; and their rum shade is the *perfect* brown gloss. PS: the glosses are a collab with fellow Filipino-owned small biz Kasama, whose (equally gift-worthy) small-batch golden rum is nothing short of a delight.
5.
A glare-free, waterproof Kindle Paperwhite whose ability to hold *literally* thousands of books without any added weight or bulk will change the game for your fave bookworm. They can take it on the go without ever having to choose between multiple books, which even physical book–loving readers will love. 
The Kindle also may be even easier on their eyes, with adjustable text sizing, fonts, and layouts, plus a warm light setting so their eyes never hurt from reading (and their circadian rhythm won't get thrown off before bed). Its charge lasts weeks (plural!), and since it's waterproof, they can take it in the bathtub or pool.
As a previously longtime skeptic of e-reading, I finally decided to buy a Kindle — and it has, no exaggeration, revolutionized my life. I love mine for so many reasons — it's truly helped me incorporate my love of reading into my often hectic life, and all my titles literally live inside of this half-pound wonder gadget, so I can switch between books super easily. I only wish I hadn't waited so long to take the plunge.  BTW, I'm also obsessed with the Libby app, which allows you to check out e-books from your local library on your Kindle!
Promising review: "By far, the best Kindle e-book reader! Our family has had many of the Kindle readers over the years starting with the first edition. This one with the larger reading screen, whiter clearer imaging, and a great deal faster is just lovely! I have purchased two as gifts, one for my wife, and I'm still with the 6-inch previous model Paperwhite, hoping someone gives me of these soon! In my opinion, this is truly a Paperwhite that feels like a good book and reads far better than any soft cover novel could offer." —Kindle Customer
Get it from Amazon for $139.99+ (available in three colors, with or without lockscreen ads, an 8GB or 16GB version, and with 3 free months of Kindle Unlimited).

6.
A hilarious little screaming goat — give him a press, and he'll let out a bleaaaaaty scream that's guaranteed to be both cathartic and, simply, a very good time. 
It comes with the infamous goat and a small book with fun facts about goats. The goat is 3 inches tall and comes with a battery already inside.
Promising reviews: "I got this for my husband as a last-minute Christmas gift and it is absolutely perfect! The scream is hilarious and it makes us (and the kids) giggle whenever the button gets pushed. It's small and can fit on your desk or nightstand. And it comes with a little book about goats. Excellent product!" —Kristan A.
"I spend about 90% of my day silently screaming at the computer because, well, welcome to customer service. Since this little goat arrived, I no longer look like I am practicing for my appearance on Jerry Springer. I just push the little goat. He screams (but not in a disruptive way). I smile. I am no longer annoyed." —Gab

Get it from Amazon for $9.95.

7.
A reusable smart-notebook that'll change the life of loved ones who are students, writers, list-makers, artists, or office workers (the list goes on). It allows them to scan their used pages so their writing will be saved forever on their device. Then they can clear their pages and start again! 
They'll save money from not buying tons of different notebooks, and eco-conscious folks will love helping the environment by using a sustainable tech option instead of paper. Each notebook comes with a microfiber cloth and one black Pilot FriXion erasable pen — though you could include a pack of colored erasable pens with your gift.

Promising review: "I love this notebook. It was gifted to me and I immediately bought it as a gift for two other people. It is so easy to use and has every feature you need! If you're like me and prefer to handwrite your notes and want an easy way to transfer them to a digital form, this is for you. I use this for work and school. Great to use for online math homework. It has the capability to text search your handwritten notes so everything I save is easy to find. You can send PDFs to almost anything — email, Dropbox, Google Drive, text, iCloud, etc. (The app is free and very intuitive). Plus, this means I don't have to buy new notebooks anymore because I can reuse every page in my Rocketbook (of which there are more than enough to take notes through a whole class or meeting without running out of space). So, not only do I save money, I also save a TON of paper." —Madison MacLeod
Get it from Amazon for $16.49+ (available in executive and letter sizes, which have 36 and 32 pages respectively, and in 16 colors).

8.
A durable, soft portable hammock so they can hang out in the sunshine, breathe in the fresh air, and live their best life whether in their backyard or camping. Drink, book, or second person optional — or even their pup!
It supports up to 400 pounds and comes with two nine-foot hanging straps and two carabiners.
Promising review: "The best hammock EVER! It comes with a stuff sack that is EASY to stuff it into, and which doubles as a drink holder when the hammock is in use. It also comes with strong straps. I received it as a gift, I use it at home in my yard, and camping — it is the single best gift I've ever received. Just bought 2 to give as a wedding present. Wise Owl is *excellent* quality, and it comes in so many color combinations to match your personality. Terrific value, quality, and just doggone fun!" —kk

Get it from Amazon for $39.95+ (available in two sizes and in 15 colors).

9.
The *iconic* 10-inch ceramic, non-stick Always Pan, which seasoned and reluctant cooks alike will adore. It takes the place of eight (!) pieces of traditional cookware, meaning it's deep enough to boil and shallow enough to sauté — plus steam, strain, fry, braise, and sear. It even has a built-in spoon rest. Gimme...please.
BuzzFeed Shopping writer Taylor Steele has the Always Pan and loves it. She writes: "The Always Pan has made being in the kitchen feel like less of a chore. Having one pan that can do everything means I don't have to second-guess every cooking decision I make. I can boil and prepare pasta in it. And I can roast Brussels sprouts. And I can make the perfect fried egg. And I can steam dumplings. The best part is that everything slides so seamlessly out of the pan and onto the plate, which also makes clean up super fast and easy. Both the amateur cook and the more seasoned chef will enjoy creating fan favorites and new recipes in the Always Pan!"
Even more BuzzFeeders LOVE this! Check out our full Always Pan review.
Get it from Our Place for $145 (available in four colors).
10.
A thoughtful cozy, sweet heatable stuffed animal that's lightly lavender-scented and weighted, which both younger and older folks will love for helping calm anxiety, providing comfort, and aiding in more restful sleep. ❤️  They can use it for both heat and cold therapy! I'm not *not* obsessed with mine.
I was gifted one of these last year and just love it. Because it's slightly weighted, it has a similar effect for me as a weighted blanket; when I hold it, the heft feels soothing and relaxes me. It is also just the cutest thing (mine is a cow 😭). The lavender scent is faint enough not to be overly fragrant and provides a little bit of extra care and love. Highly recommend as a personal treat or a gift for a loved one! It's one of my favorite gifts I've received. 
Promising reviews: "Like a warm, comforting hug. I bought this elephant for my mom who has been ill and has dementia. When I received this product my mom had been having a REALLY bad day: screaming, trying to get out of bed, etc. I immediately warmed him up in the microwave and gave it to my mom. Almost immediately my mom calmed down enough to ask if this toy was for her. When I replied 'yes' she cried, nuzzled it, and fell asleep. What a blessing this product is already for my mom...it's brought her some peace and comfort. It holds the warmth for a long time and is well weighted. So thankful for this product." —Amazon Customer
"Love this product. Perfect gift idea for teenagers/adults who deal with a lot of stress or anxiety as well as for kids. Because of the heating beads inside it, the animal is weighted, which adds an extra comforting, calming element to the product. The elephant is so soft and smells divine. I would recommend this gift to anyone." —Meg

Get them from Amazon: the elephant for $24.99, the dog for $21.04, and the cow for $28 (also available in other animal options for $13.65+).
11.
A reviewer-beloved Roomba robotic vacuum to handle their least favorite chore so they can lie down and watch some TV instead (or do literally anything else besides vacuuming, lol). It even has a sensor to detect places with more dirt that need extra cleaning action. Pet owners will be especially grateful. 
It can also connect to Alexa, so they can use voice control to tell it what to do. 
Promising review: "OK people...I refused this little vacuum for years. Thought it would never be able to do a good job...if anything. I was so WRONG!! LOVE this little vac and want one for every room! It happily works its way around the room, and does a great job getting every last bit. Picks up sand and pet hair like no other. Strong suction, and actually holds quite a bit of dirt in its holder. I do wish it had a "full" light — but I empty it after every use. I'd give it 10 stars if I were able. This is one of the best gifts my husband has given me! Can't wait until another holiday comes along...I could use another for upstairs!!" —Carol
Get it from Amazon for $249.99.
12.
Some dreamy LED cloud lights if they love curating their perfect ~aesthetic~ or if their space simply needs more beautifying. Stunning in a bedroom, living room, movie-watching area, or even as night lights (!), these "floating" clouds will make them feel like they're in the midst of magic.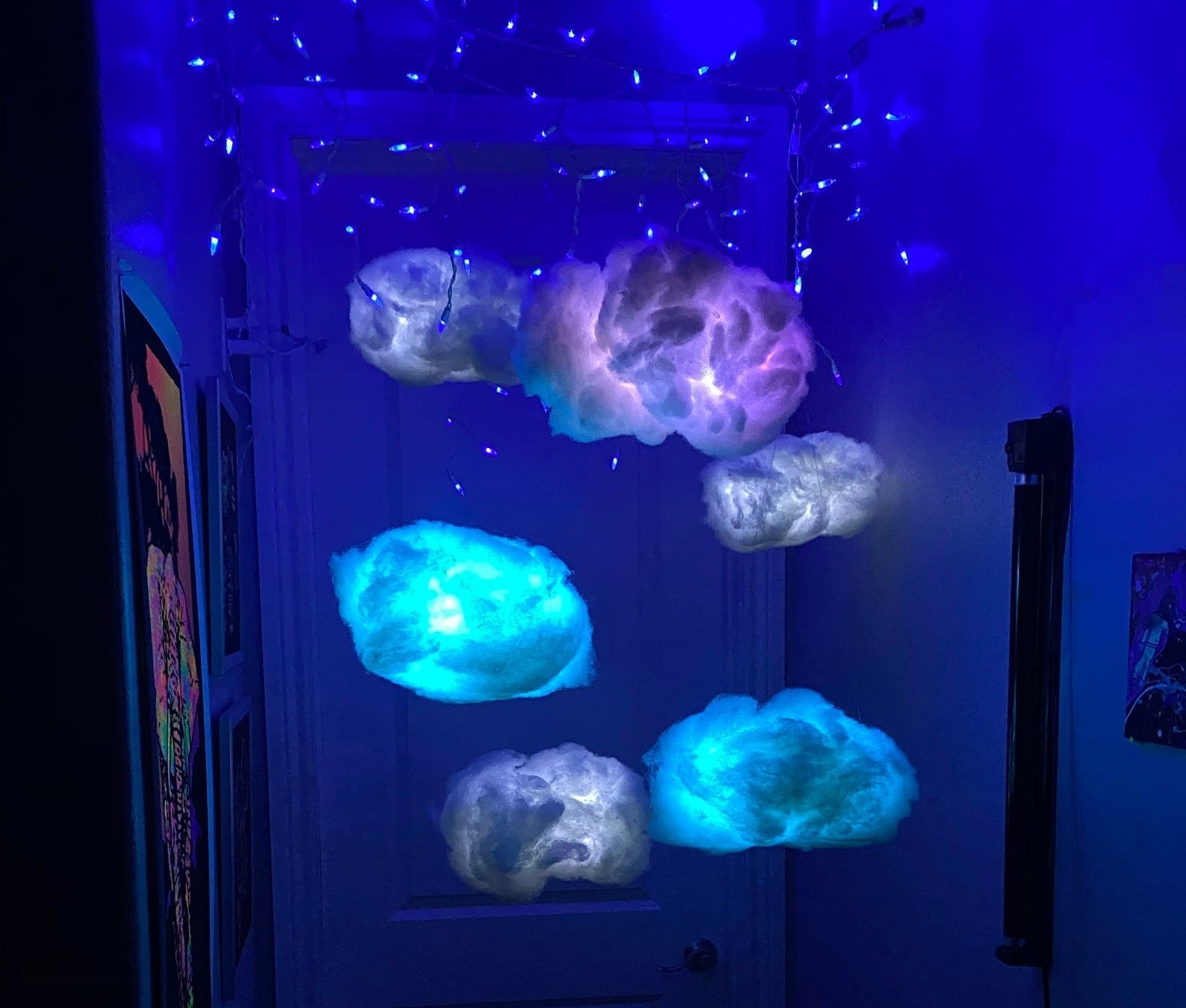 Dream Vibe Creations / Etsy
Plus, they're battery-operated so there are no ugly cords they'll need to hide (bless). The clouds have eight light settings (fade, flash, dim, etc.).

Promising reviews: "I ordered this as a gift for my nephew and he LOVES it. It doesn't take up much space and it's super easy to use." —Crystal Perea
"Absolutely wonderful and just what I was looking for. Fantastic craftsmanship, quick shipping, and just awesome looking decor. Thank you immensely, you're amazing!" —D Gilmore
Dream Vibe Creations is a Texas-based small biz that specializes in novelty whimsical cloud lights. The owner, Bobby, began making the cloud lights after his journey of being diagnosed with a rare disease, undergoing a transplant, and spending months recovering at home, in the hopes of bringing smiles to folks' faces and a bit of whimsy and magic to their homes.
Get it from Dream Vibe Creations on Etsy for $46.75+ (available in two color options).
13.
A compact eight-in-one air fryer so they can have all the crispy food they want, from chicken wings to veggies and baked goods, without the oil regularly needed for frying. TBH, it really is as amazing as it sounds.
All I can say is I finally caved and got an air fryer, and it has changed my life. Trust me, it's worth every penny.
Promising reviews: "My son loves his homemade french fries. This was a gift so he could make them using less oil. He really likes it and said he uses it every day. Fries come out crispy with much less oil. Can't comment on frozen; my son always makes them fresh with unpeeled Yukon gold potatoes." —MRF1962
"We LOVE our new air fryer. We have made fried Twinkies and Oreos, steak, fries, tacos, veggies, bacon, French toast, chicken wings, and so many other things in it. The meat comes out crispy and juicy. Cooking time is cut in half or more. Such a convenient appliance." —Georgia McBride 
Get it from Amazon for $72.16.