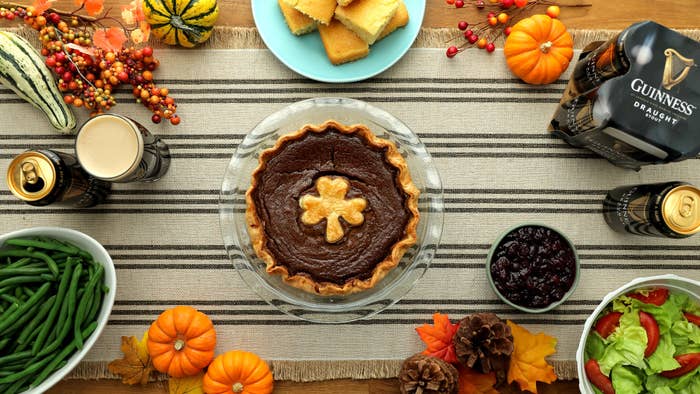 Ingredients
Crust
1 & 3⁄4 cups all-purpose flour
1 teaspoon sugar
1 teaspoon kosher salt
11 tablespoons cold unsalted butter, cut into cubes
6 tablespoons ice water
Filling
3⁄4 cup sugar
1 teaspoon kosher salt
1 & 1⁄2 teaspoons cinnamon
1 teaspoon ground ginger
1⁄2 teaspoon ground nutmeg
1⁄4 teaspoon ground cloves
2 eggs
1 & 3⁄4 cups pumpkin puree
3⁄4 cup Guinness
1 whisked egg, for brushing
Preperation
1. Crust: Place flour, sugar, and salt in a food processor. Pulse a few times to combine. Add cubed butter and pulse until butter is broken down into small pieces. Transfer mixture to a bowl. Sprinkle ice water over the ingredients and stir to combine. Mixture will be slightly crumbly but still hold together when squeezed. If needed, add another tablespoon of water.
2. Dump dough onto a piece of plastic wrap and use the wrap to gather it all together into a disk. Wrap and refrigerate for at least an hour (and up to 24 hours).
3. Unwrap dough. Cut off a quarter of it and set aside. Roll out the rest of the dough on a floured surface to create a circle approximately 12 inches in diameter. Trim edges with a knife to make an even circle. Wrap crust around the rolling pin and unroll onto a pie dish. Nestle crust into the dish and crimp the edges. Place in refrigerator.
4. Roll out the reserved pie dough and cut out a shamrock shape using a cookie cutter. Cover and refrigerate until ready to use.
5. Preheat oven to 425F (400F for convection).
6. Filling: Whisk together sugar, kosher salt, and spices in a bowl. Whisk in eggs and pumpkin puree. Whisk in Guinness. Pour filling into chilled crust. Brush crust with whisked egg.
7. Bake for 15 minutes. Remove pie and lower the heat to 350oF (325oF for convection). Brush shamrock with egg and place in the center of the pie. Return to oven and bake for another 45–50 minutes, or until filling is set.
8. Remove from oven and let cool completely. Slice and serve with freshly whipped cream.
**Note: Crust does not need to be much higher than the filling (filling settles).