Guinness-Glazed Bacon-Wrapped Pork Tenderloin
Turn your holiday parties up a notch with this Guinness-glazed, bacon-wrapped tenderloin!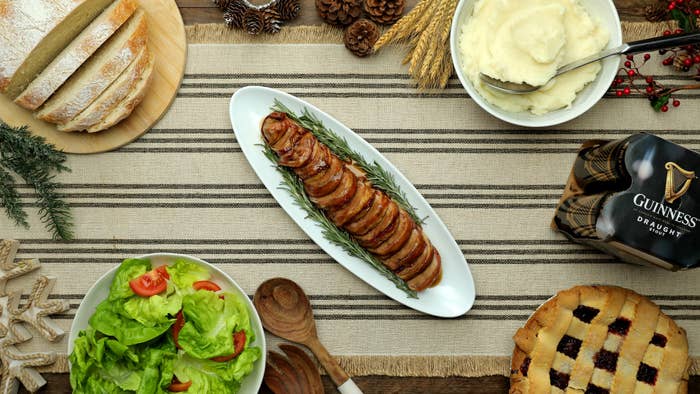 Ingredients
1 (approximately 1 & 1⁄2 pounds) boneless pork tenderloin Kosher salt, for seasoning pork
1 pound bacon
3⁄4 cup Guinness Draught Stout
1⁄2 cup brown sugar
1 & 1⁄2 teaspoons apple cider vinegar
1 & 1⁄2 teaspoons Dijon mustard
1 teaspoon Worcestershire sauce
1⁄2 teaspoon kosher salt
1⁄4 teaspoon garlic powder
1⁄8 teaspoon cayenne
Rosemary sprigs, for garnish
Preparation
1. Preheat oven to 375oF.
2. Season the pork tenderloin all over with kosher salt. Wrap the entire loin in bacon, slightly overlapping each slice of bacon. Secure each piece of bacon with a toothpick in the side of the loin.
3. Place pork on a cooling rack on top of a sheet tray. Cover with foil and roast for 30 minutes.
4. Uncover and roast for another 20 minutes.
5. Combine Guinness Draught Stout, brown sugar, apple cider vinegar, Dijon mustard, Worcestershire sauce, kosher salt, garlic powder, and cayenne in a small pot over medium-high heat. Bring to a simmer and cook mixture down until reduced and syrup-y.
6. Remove pork from oven, pull out the toothpicks, and brush all over with the Guinness glaze. Return pork to the oven for 8–10 minutes.
7. Let rest for at least 10 minutes before slicing and serving. Garnish serving platter with rosemary sprigs.