Jamie Oliver Posted A Paella Recipe And Spanish People Think It's TOTAL BULLSHIT
Chorizo in paella? Wars have started over less.
Spanish Twitter is in uproar after Jamie Oliver posted a paella recipe that gets the national dish completely wrong.
According to purists, there are strict rules as to which ingredients should go in a paella — and chorizo is NOT one of them.
Tasty though the dish Jamie Oliver has created may be, it's fundamentally not a paella.
His recipe also instructs people to stir while cooking – which Spanish people say is something you should never do.
Understandably, people are upset.
They wonder how British people would feel if the boot was on the other foot.
Some have attempted to teach Oliver the error of his ways.
Some, at least, have seen the funny side.
Others have taken a more hardline approach.
"I shit on your ancestors."
"Go fuck yourself."
"Degenerate bastard."
It's basically caused a full-on international incident.
In addition, Twitter user Margaret Castor has launched a Change.org petition calling for an end to people putting chorizo in paella.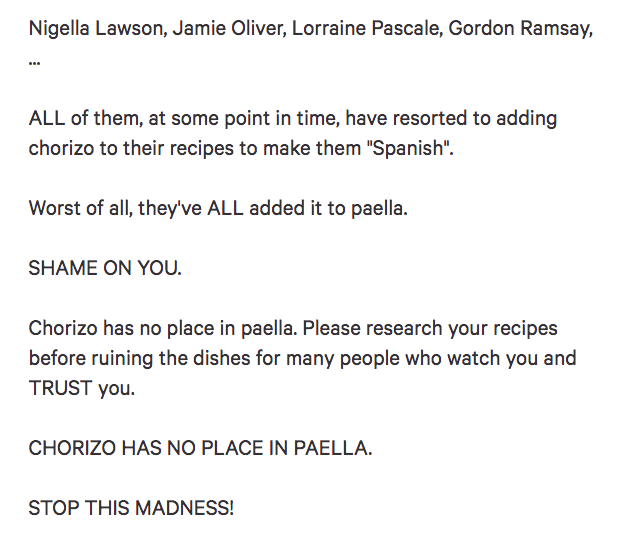 Let this be a lesson to you, Jamie. The Spanish people have spoken. Mess with paella at your peril.