One-Pot Spinach Chicken Pasta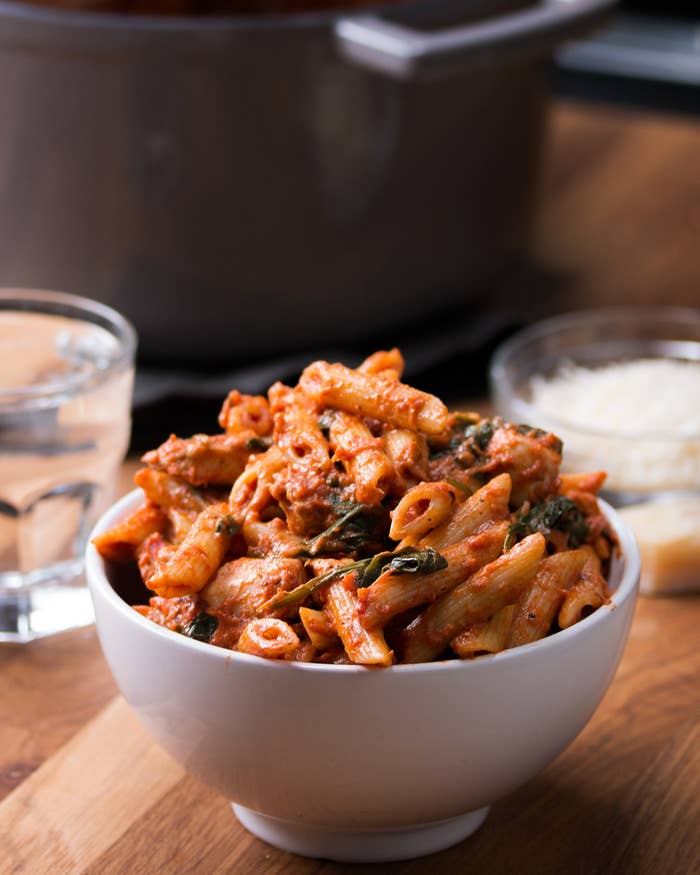 INGREDIENTS
Servings: 3-4
4 tablespoons olive oil
3 tablespoons salt
1 pound penne pasta
3 cloves garlic, chopped
2 chicken breasts, cubed
1 tablespoon pepper
1 28-ounce can crushed tomatoes
½ teaspoon red chili flakes
½ cup heavy cream
5 ounces spinach
½ cup parmesan cheese
Garnish
Additional parmesan cheese
PREPARATION
1. Boil water in a large pot over high heat.
2. Add 2 tablespoons of salt to water and add pasta.
3. Cook pasta until almost al dente, or for 1-2 minutes less than the recommended cook time.
4. Drain pasta and set aside.
5. Heat 2 tablespoons olive oil in a large pot on medium heat. Add chicken, salt, and pepper. Brown chicken, making sure to cook through. Set chicken aside.
6. Add 2 tablespoon olive oil, garlic, and red chili flakes into the pot and stir.
7. Add crushed tomatoes, stirring for a few minutes.
8. Add cream, stirring until incorporated.
9. Add spinach and stir until the spinach cooks down and incorporates.
10. Add chicken, pasta, and parmesan, stirring until pasta is evenly coated.
11. Garnish with more parmesan cheese and serve!