Have A Refreshing Summer Treat With This Watermelon Dessert "Pizza"
With no added sugar!
by
,
Watermelon Dessert "Pizza"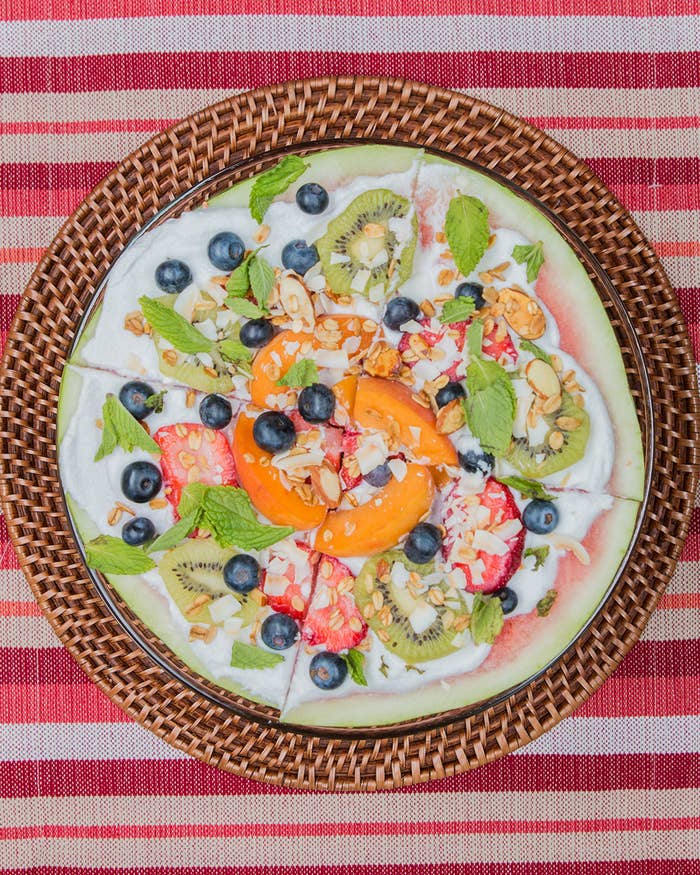 INGREDIENTS
Watermelon
Coconut Cream (whipped)
Strawberries
Kiwis
Apricots
Blueberries
Coconut Flakes
Granola
Mint
PREPARATION
1. Cut a ripe watermelon into round discs about 1-2 inches thick.
2. Scoop 8 ounces of coconut cream into a bowl.
3. Use a mixer to whip the cream until it reaches a soft consistency.
4. Cut 2-3 strawberries into thin slices.
5. Cut 1-2 kiwis into thin slices.
6. Cut 1 apricot into thin slices.
7. Spread the mixed coconut cream around the top of the watermelon disc.
8. Place the cut strawberries, kiwis and apricot slices on top of the coconut cream.
9. Add in blueberries, coconut flakes and granola.
10. Sprinkle a few sprigs of mint across the top the dessert.
11. Enjoy!