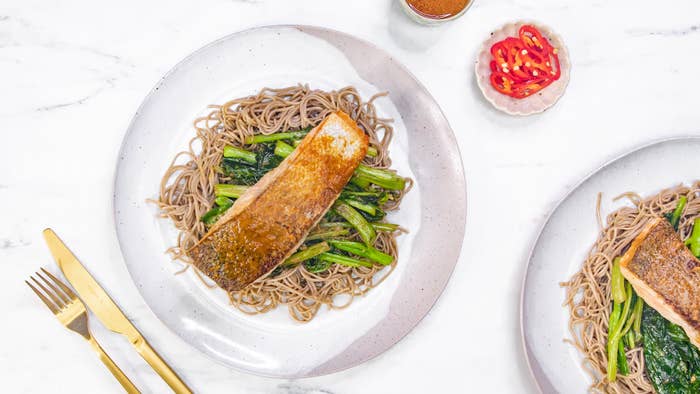 Ingredients:
2 Tasmanian Atlantic salmon fillets (approximately 260g each)
1 bunch Chinese broccoli, sliced into 5cm pieces
180g soba noodles
1 garlic clove, minced
1 tsp ginger, grated
2 tbsp white miso paste
1 tbsp soy sauce
1 tsp sesame oil
5 tbsp water
1 tbsp olive oil
1 tbsp sesame seeds
To garnish
1 red chilli, finely sliced
Method:
STEP 1: Begin by filling a pot with water and bring to a boil. Next, add the Soba Noodles and cook for four minutes, or until al dente. Drain the soba noodles in a colander and run under cold water for a minute to cool, then set aside.
STEP 2: In a small bowl, whisk the garlic, ginger, miso, soy, sesame oil and water, until well combined.
STEP 3: Place a pan over medium heat and add the olive oil. Next, add the Tasmanian salmon fillets, skin side down. Allow Tasmanian Atlantic salmon to cook for four minutes, or until golden brown and crispy underneath.
STEP 4: Flip salmon fillets, and add the stems of your Chinese broccoli — the stems will take longer to cook than the leaves.
STEP 5: Cook the Tasmanian Atlantic salmon and Chinese broccoli stems for two minutes, then add the Chinese broccoli leaves, and half of the sauce. Cook for another minute until Tasmanian Atlantic salmon is just cooked and the leaves have wilted. Turn off the heat and set the pan to the side.
STEP 6: To serve, place a serving of soba noodles on each plate, then top with sautéed Chinese broccoli, and Tasmanian Atlantic salmon. Drizzle with the remaining sauce, then garnish with sliced red chilli.
STEP 9: ENJOY!