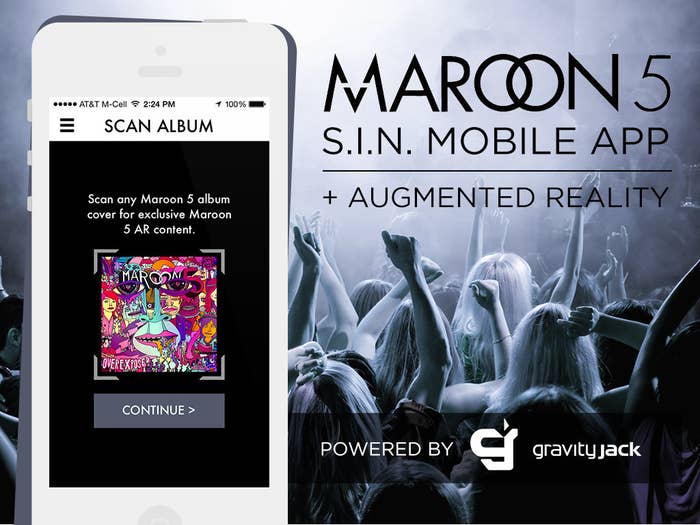 Hot off the launch of their new album V, Maroon 5 has announced the release of the official Maroon 5 - S.I.N. app for iPhone. The media-packed app is available for free download in Apple's App Store, and gives fans of Maroon 5 and members of the band's S.I.N. fan club access to tour dates, insider information, band news and a wide range of exclusive content, thanks to an explosive new technology called augmented reality.
Developed by Washington state-based creative software agency, Gravity Jack, the app allows users to scan images from the band's entire library of album art and select images, posters and more. When they do, fans instantly unlock and stream music videos, Maroon 5 audio and other behind-the-scenes content from virtually any mobile device in the world. This multimedia content appears seamlessly, appearing to hover into the real world space surrounding the user.
The app will be fueled with fresh content (reportedly including the addition of augmented reality features for V's album art), through frequent updates, directly from the band and management. It's about as up close and personal as fans of the world's hottest band can get.
In addition to buzz from fans, the release becomes arguably the largest implementation of augmented reality by the entertainment industry, to date. With names like Google and Qualcomm investing in the technology, it is expected that augmented reality will continue to redefine the consumer experience of marketing and consumer engagement in a wide range of industries, moving forward.
"More and more people are adapting to mobile devices each year, and it's become a very effective channel to connect with the Maroon 5 fan community and to keep them updated on Maroon 5. Gravity Jack's Augmented Reality feature allows us to deliver special content to the fans in a unique and engaging manner," says Freddie Morris, Digital Manager at Career Artist Management.
Other influential brands who have teamed with Gravity Jack Augmented Reality include Kraft Foods, TaylorMade, Coca-Cola and more.
"At Gravity Jack, we seek to provide each project with tools that they've never experienced before – that really unlock a future world of potential, when it comes to engagement and providing real, relevant content to fans, consumers and users," states Luke Richey, Founder and CEO of Gravity Jack. "To be able to do this with Maroon 5 and their team has been truly fun, and we can't wait to see the impact this will have."
Ryan Darbonne, the company's Director of Marketing agreed.
"We've seen the unique and authentic engagement that AR offers, and that value alone is unprecedented -- but to see it unlock an entire new dimension in entertainment and the way fans experience and support artists they care about is truly exciting. We saw fan interaction changed forever, through social media and, now with augmented reality, are raising the bar again."
Fans of Maroon 5 can download the free Maroon 5 S.I.N. app, today in Apple's App Store.