Not that I'm complaining. Fall is my favorite time for baking, and I couldn't wait to kick off the season. Instead of spending hours scrolling (my usual approach), I decided to start at the top — with TikTok's most popular pumpkin recipe at the moment: In Bloom Bakery's Pumpkin Cheesecake Cookies.
So far, these cookies have racked up more than 1.2M views and thousands of comments — and it's easy to see why:
The chewy crinkled cookies almost looked too good to be true, with their sparkling sugar coating and creamy cheesecake filling. To help me pull them off, I chatted with the video's creator, Ginny Dyer, to get all her tips and tricks.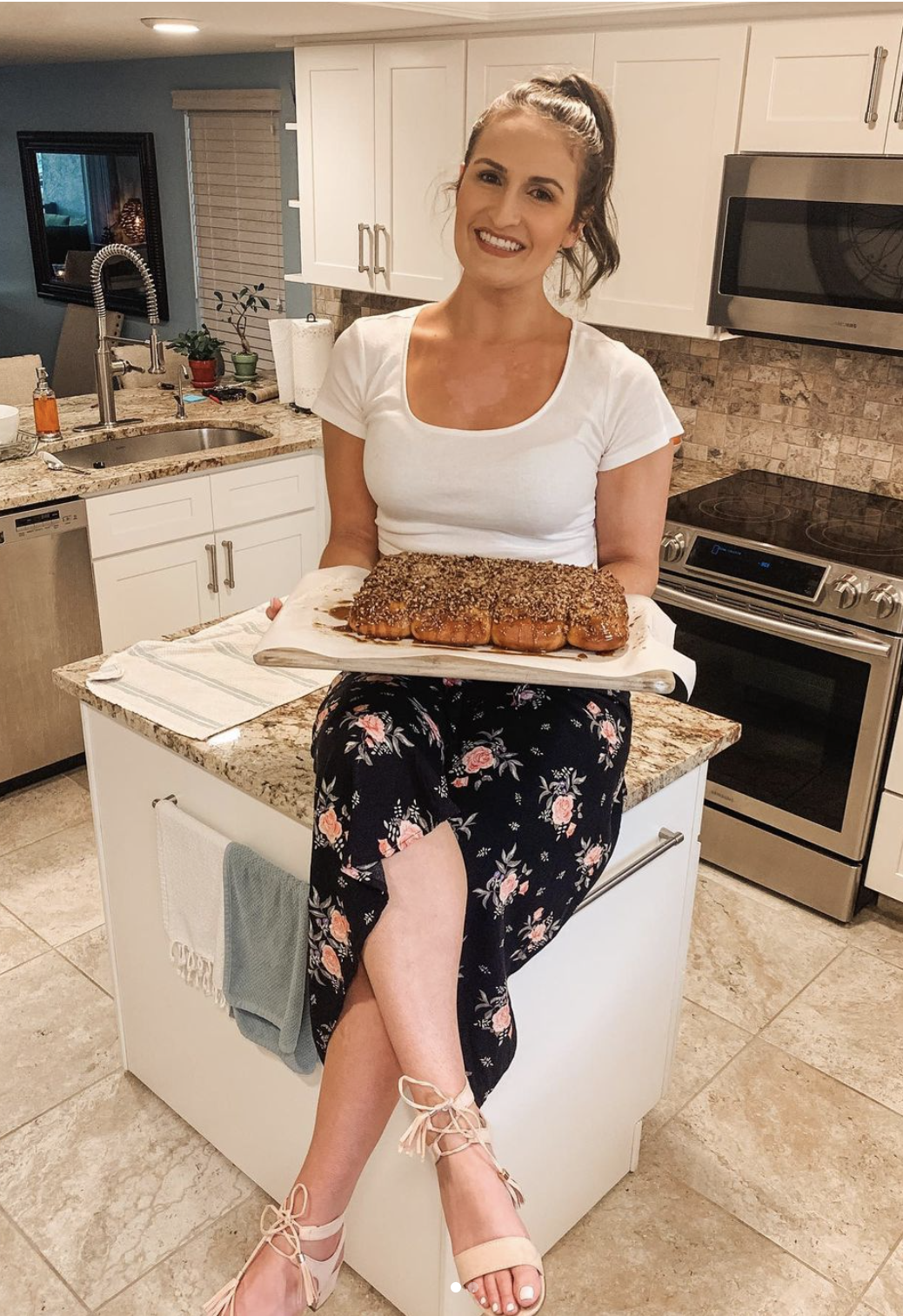 Ginny says the cookies are adapted from her chewy pumpkin cookies that she shared last fall. "I thought it would be so delicious to add a cream cheese filling to them to make them even better," she told BuzzFeed.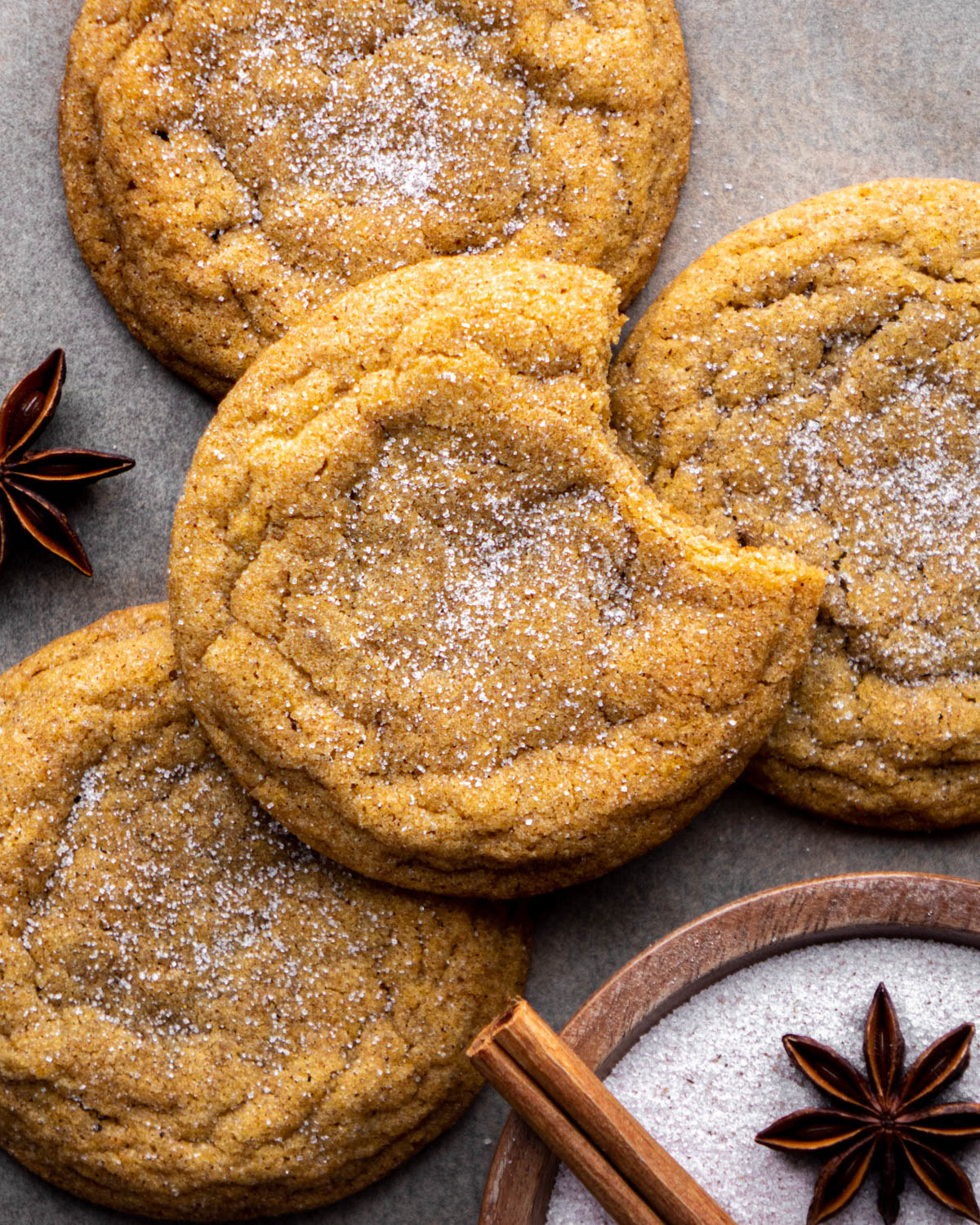 The secret to both versions? Drying out the pumpkin puree, which Ginny says ensures they bake up chewy, not cakey. The process is simple — simply pat it dry several times with paper towels — but the payoff is huge.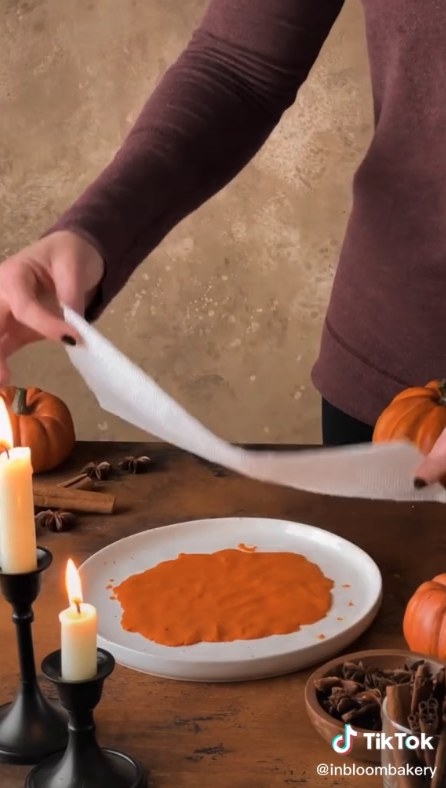 As a recipe developer myself, I've baked a lot of pumpkin desserts — but I've never used this technique, so of course, I was intrigued. And I had high hopes, considering the popularity of the recipe.
So, I decided to make them for myself. And here, I'll walk you through how I made them, based on Ginny's recipe.
The recipe is broken into three parts: the cream cheese filling, the spiced sugar, and the pumpkin cookies. We'll start with the filling, which was even easier than I anticipated because you don't even have to wait for the cream cheese to soften. Just grab it cold from the fridge and beat with granulated sugar and vanilla until fluffy.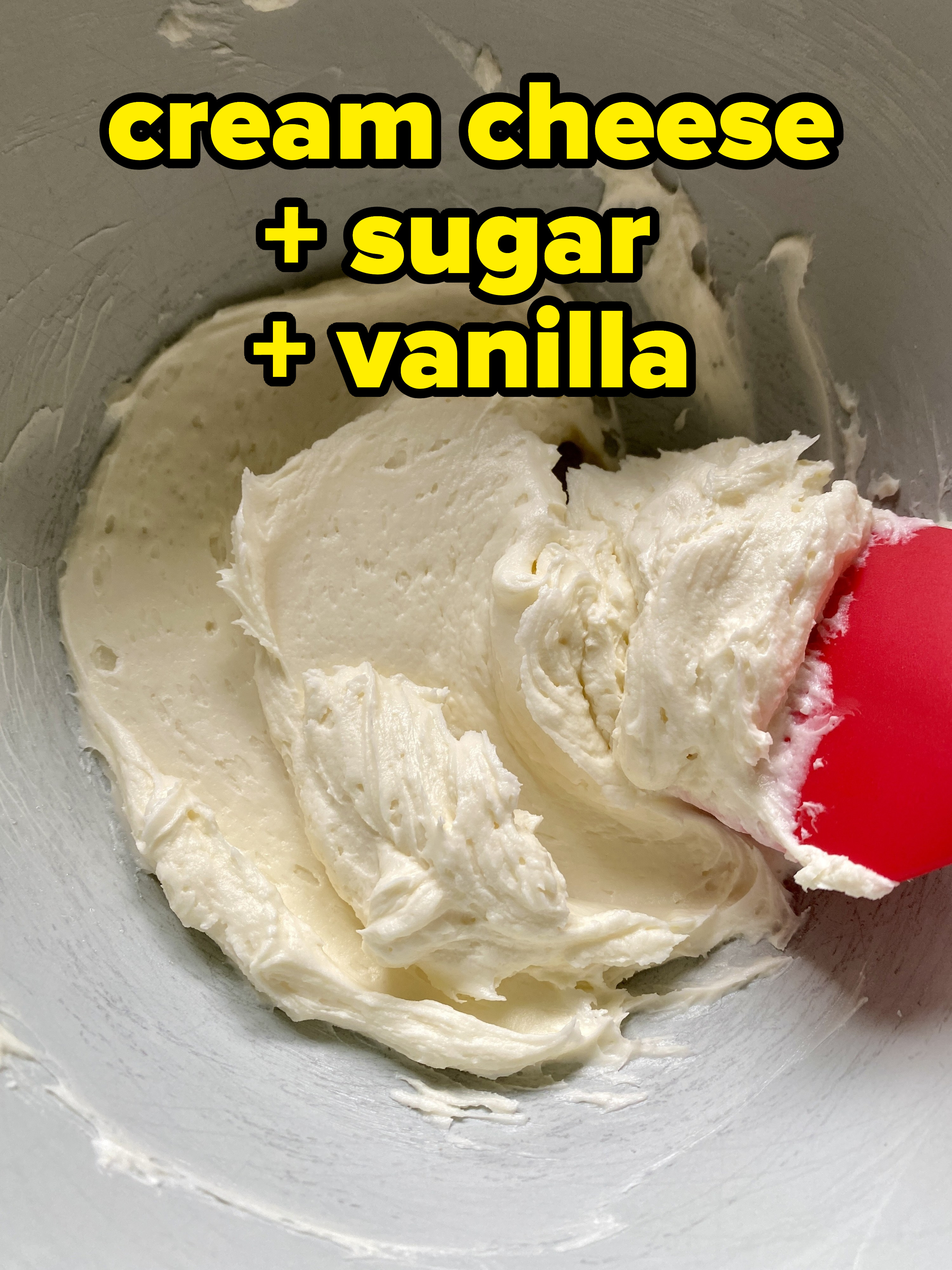 Then, divide the mixture into scoops — I made about 16. (Ginny says you'll have some left over, but I used it all. No one ever complained about too much cheesecake filling.) You'll place the scoops on a small parchment-lined baking sheet and freeze until solid. If you don't have a small baking sheet (or it won't fit in your freezer), you could just use a plate.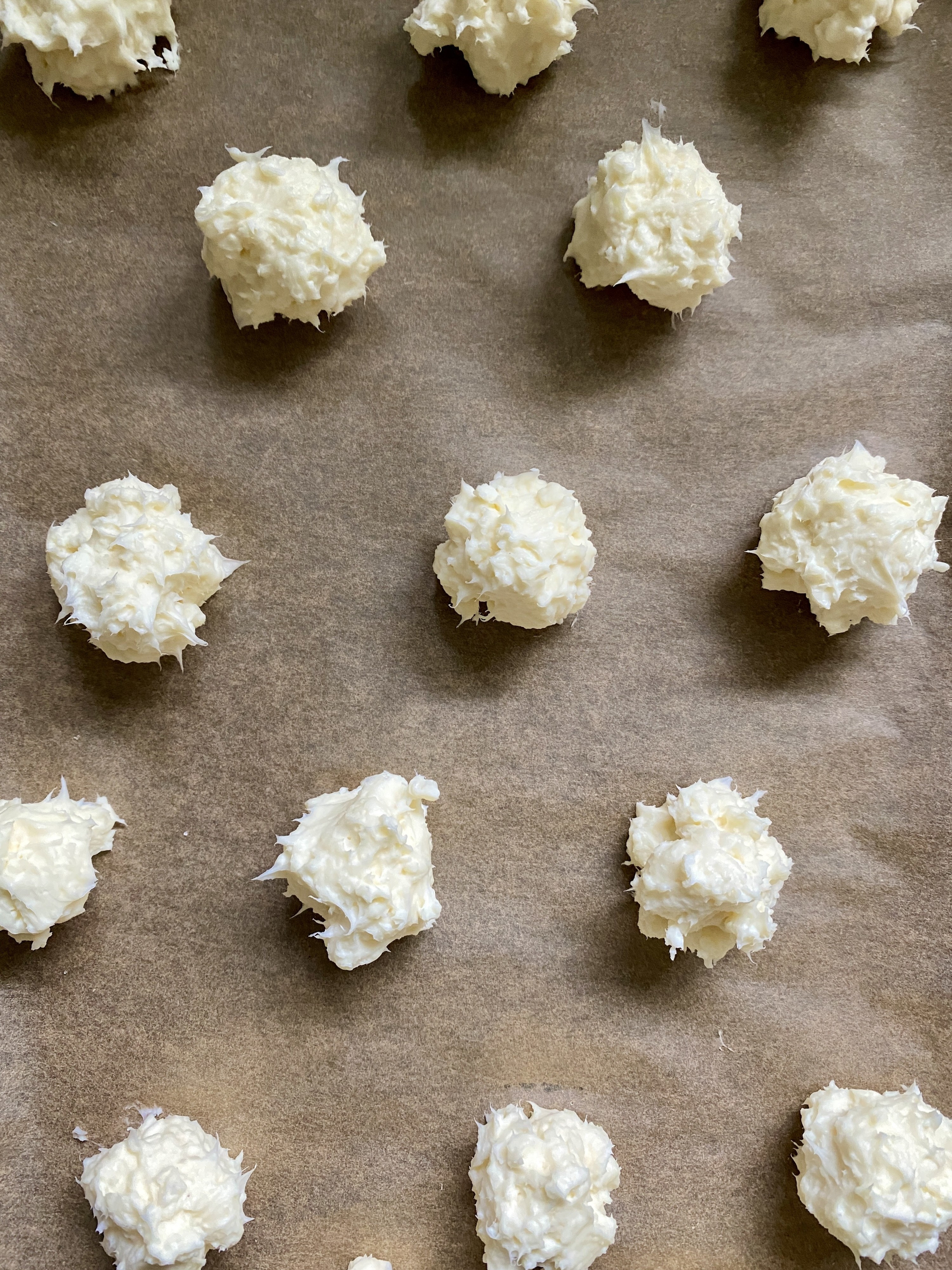 Next comes the sugar, which is a simple mix of granulated sugar and pumpkin pie spice. Why aren't we putting this on every fall dessert?!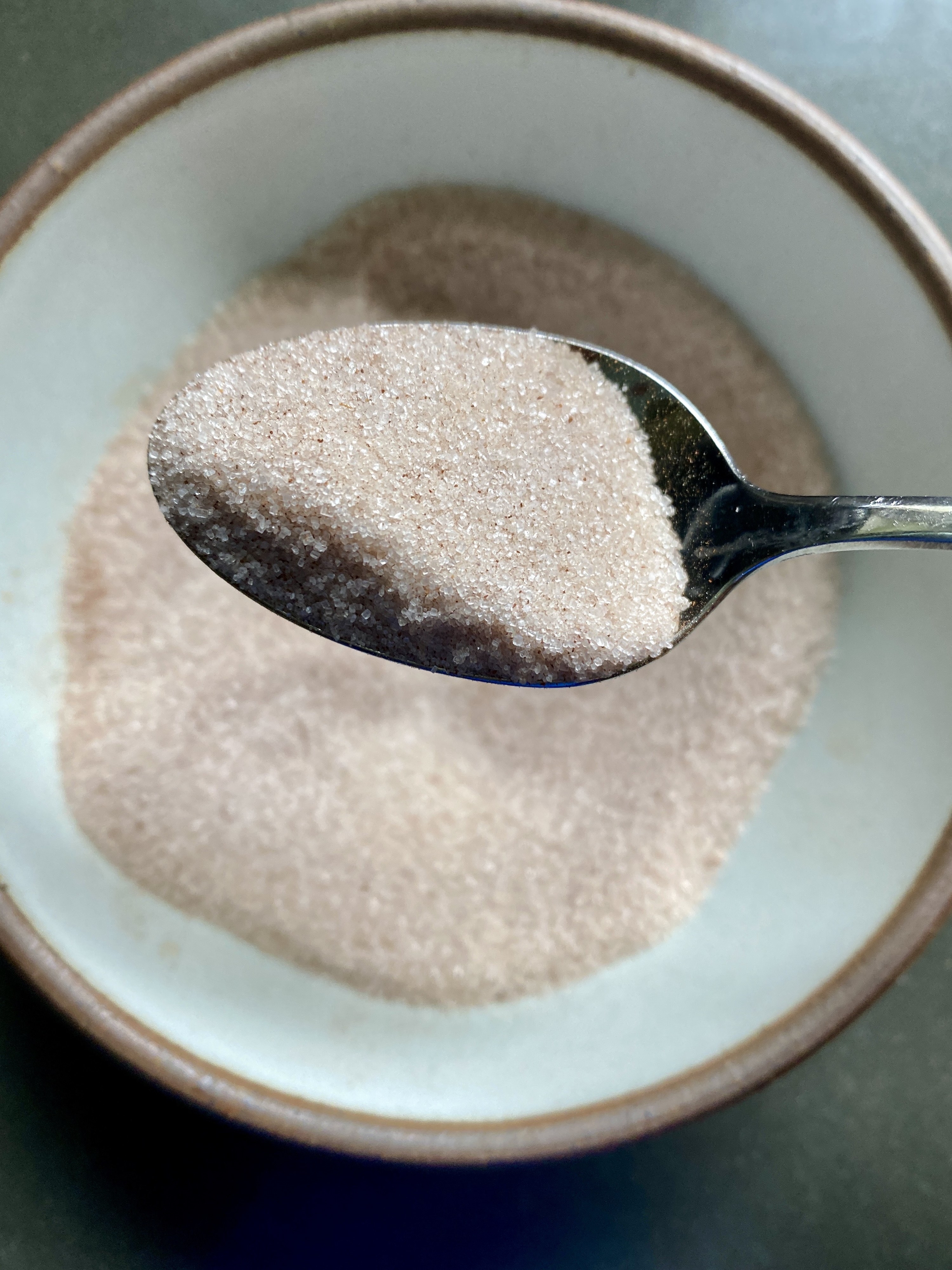 And now, for the cookies! To dry the pumpkin (Ginny recommends Libby's), you'll spread it out onto a plate and press on it with paper towels. Repeat several times until there's hardly any liquid left.
For reference, here's the pumpkin before I pressed it versus after I pressed it:
Whisk together the dry ingredients (Ginny strongly recommends weighing the flour), and set aside. In a separate bowl, beat together the softened butter, brown sugar, egg yolks, and vanilla. Then, add the dried pumpkin. You should have about 1/4 cup, which is half as much as you started with.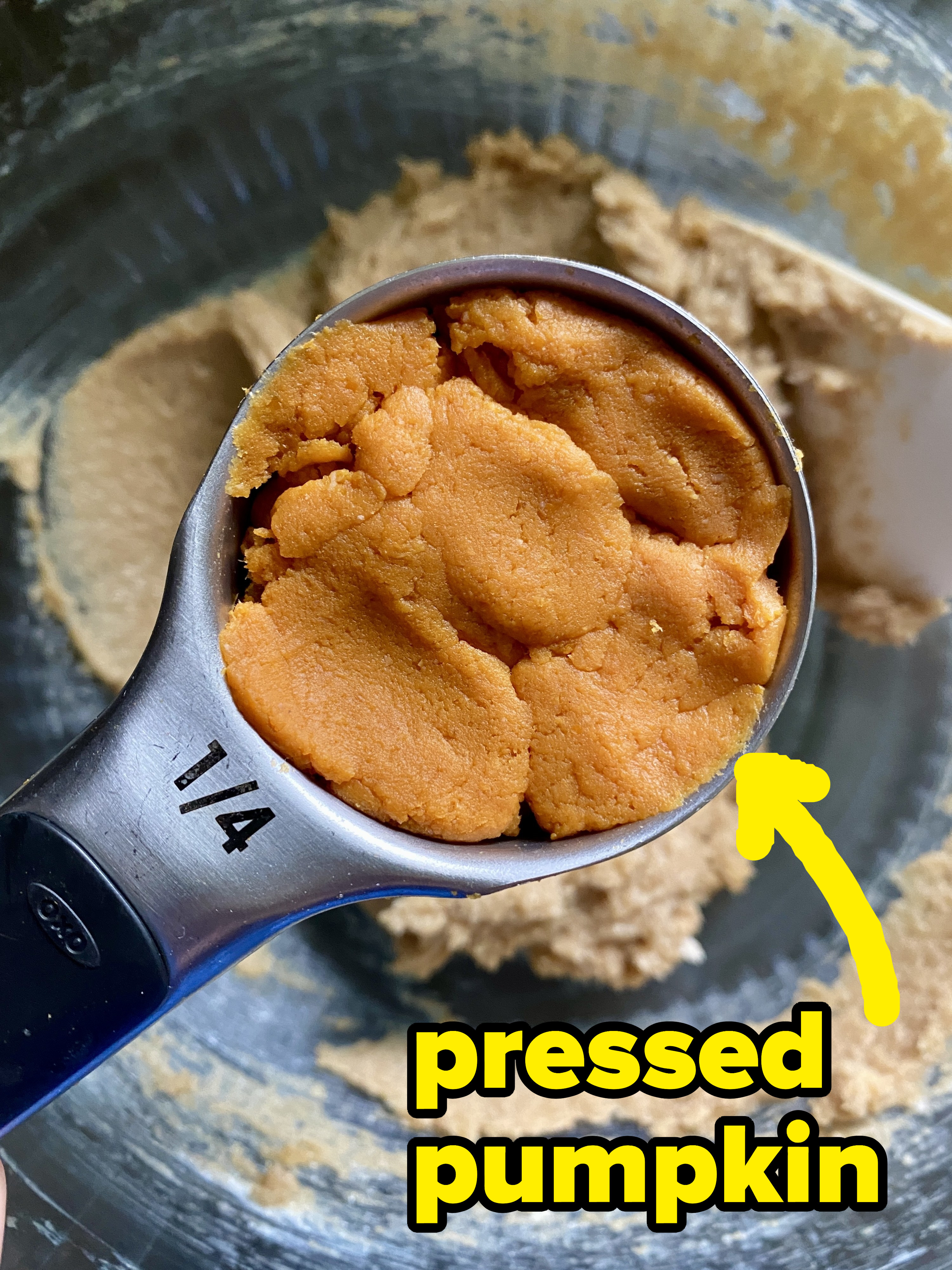 Then, slowly mix in the dry ingredients. The dough will look super crumbly, but keep mixing! It will soon come together into a soft, flexible dough that's easy to work with.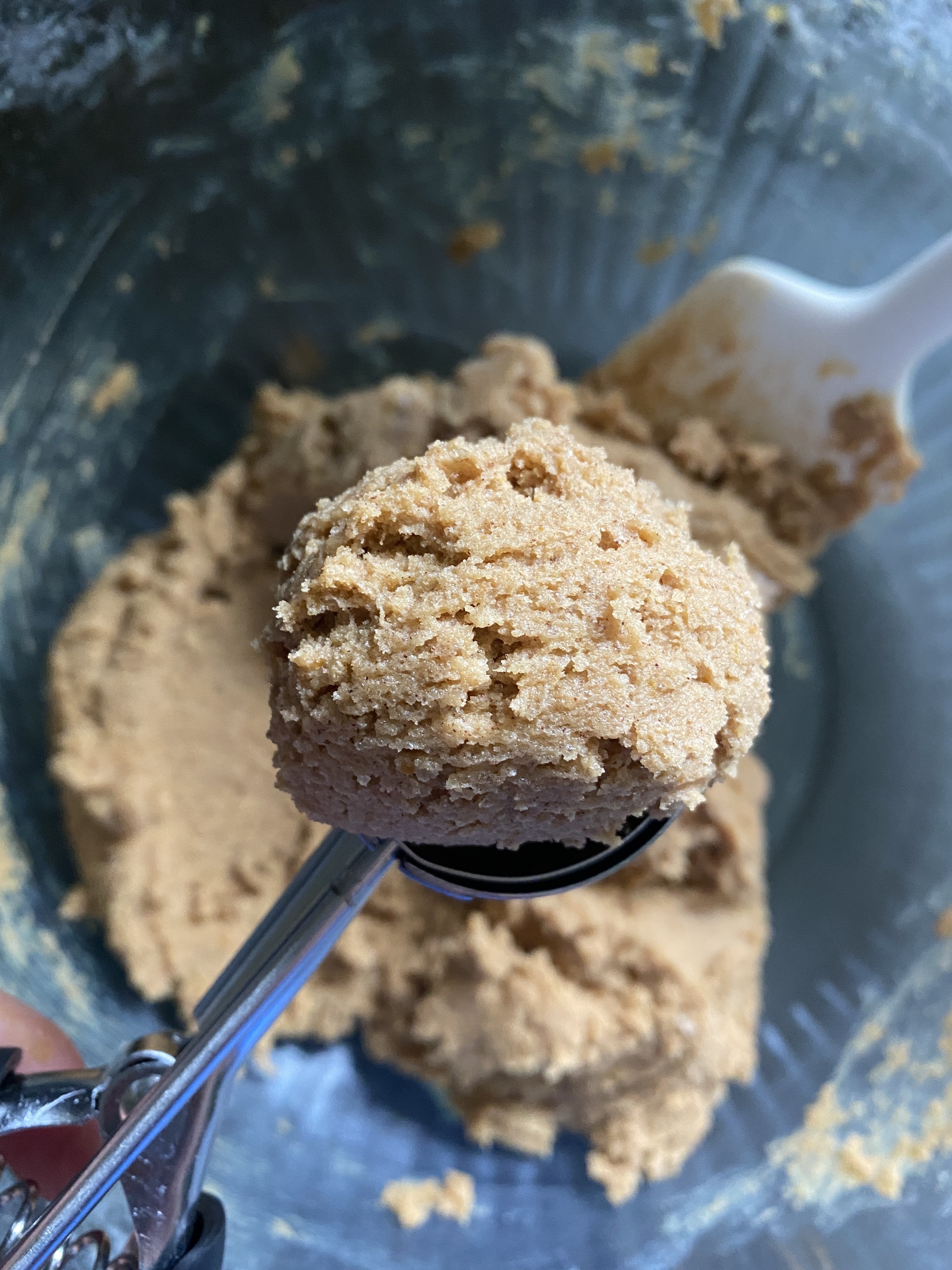 This next part's fun — working with six cookies at a time, scoop the dough into 2-tablespoon portions, roll into balls, then slightly flatten. Place a frozen cheesecake ball in the center, then wrap it in the cookie dough and roll again.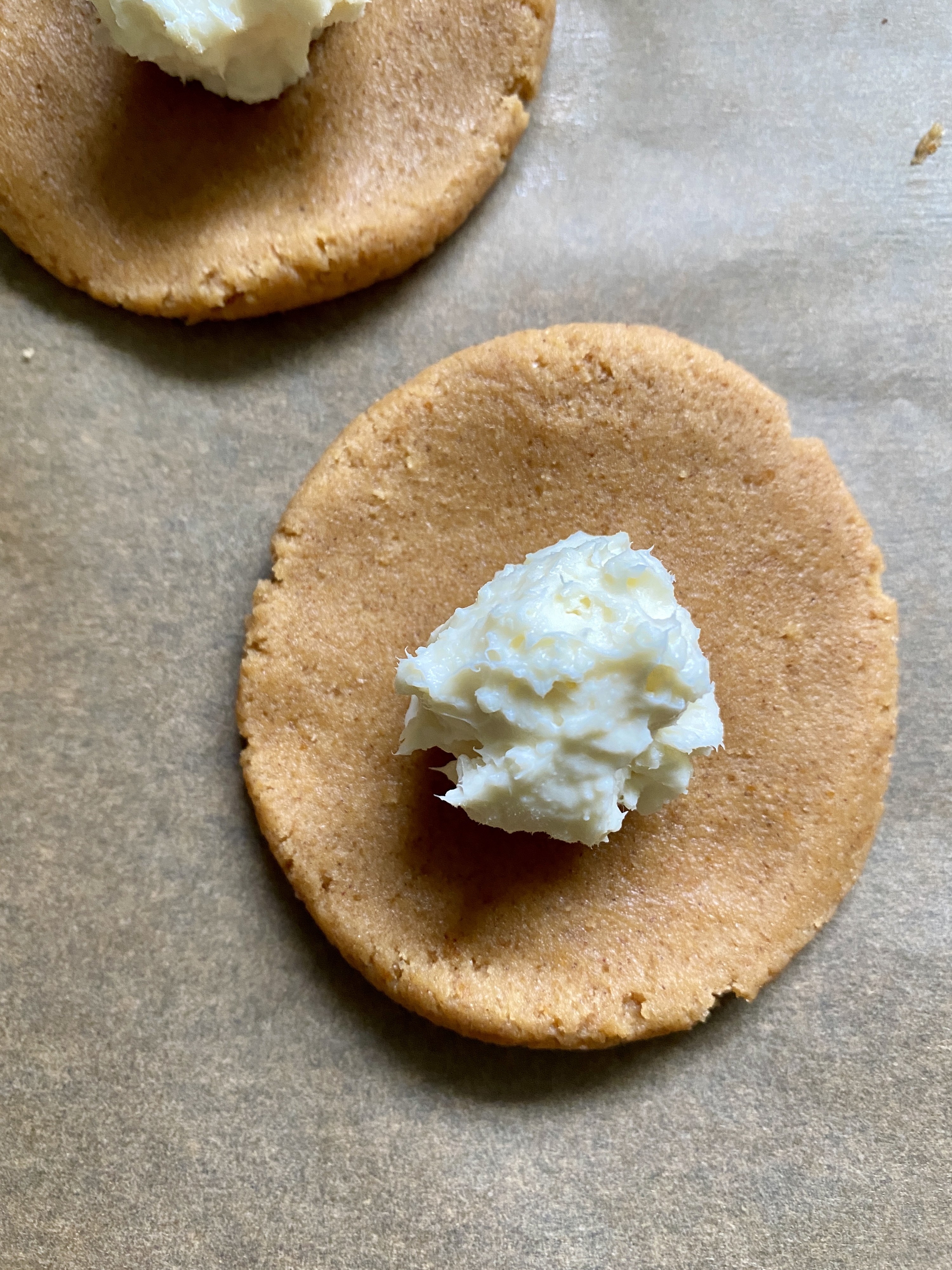 Roll the balls in the pumpkin spice sugar. Be generous!!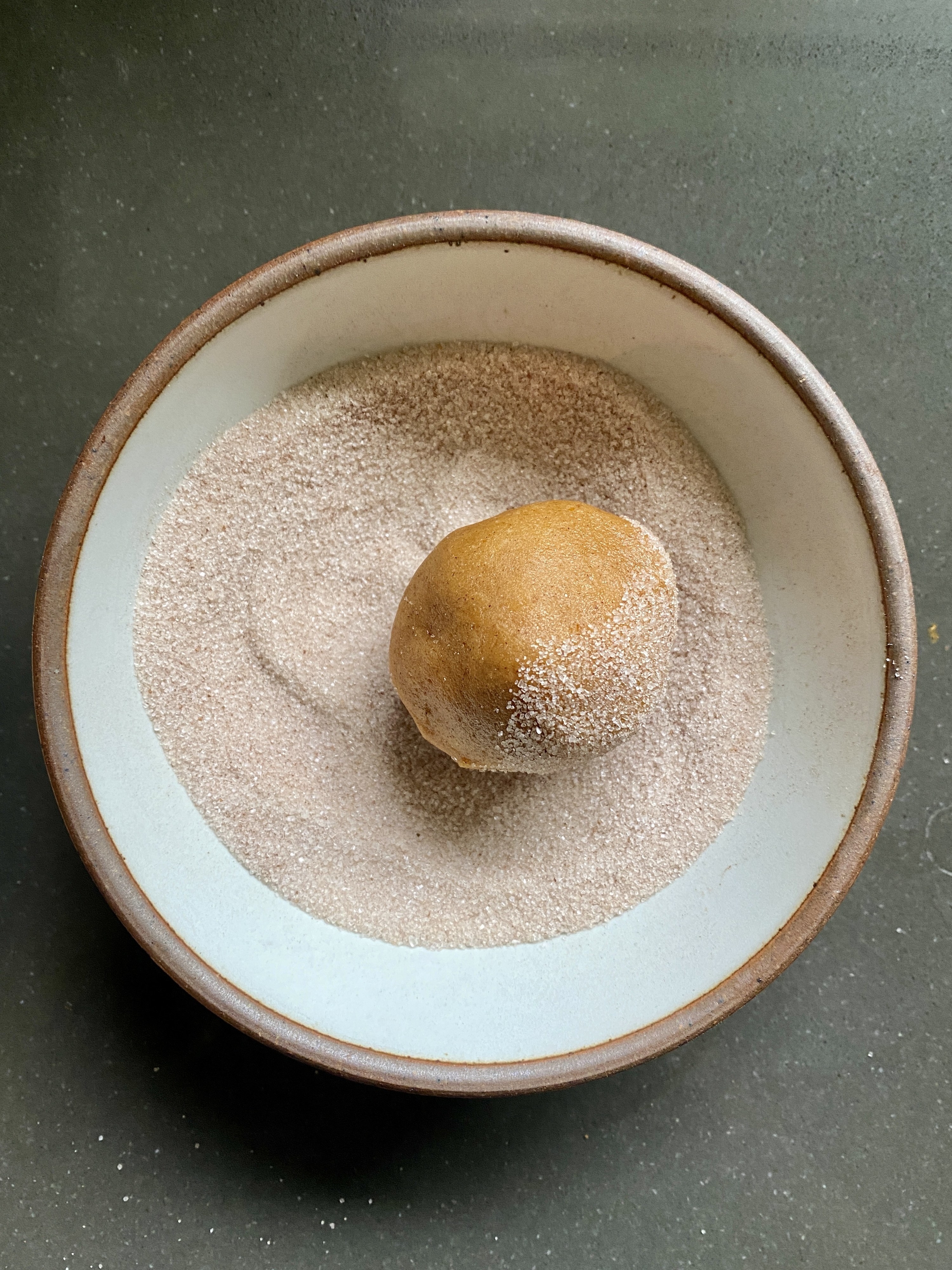 Bake 12 to 13 minutes, or until golden around the edges. If your cookies don't spread as much as you were hoping (a complaint made by a few TikTok commenters), you can press them lightly with a spatula to get them nicely flat and crinkled.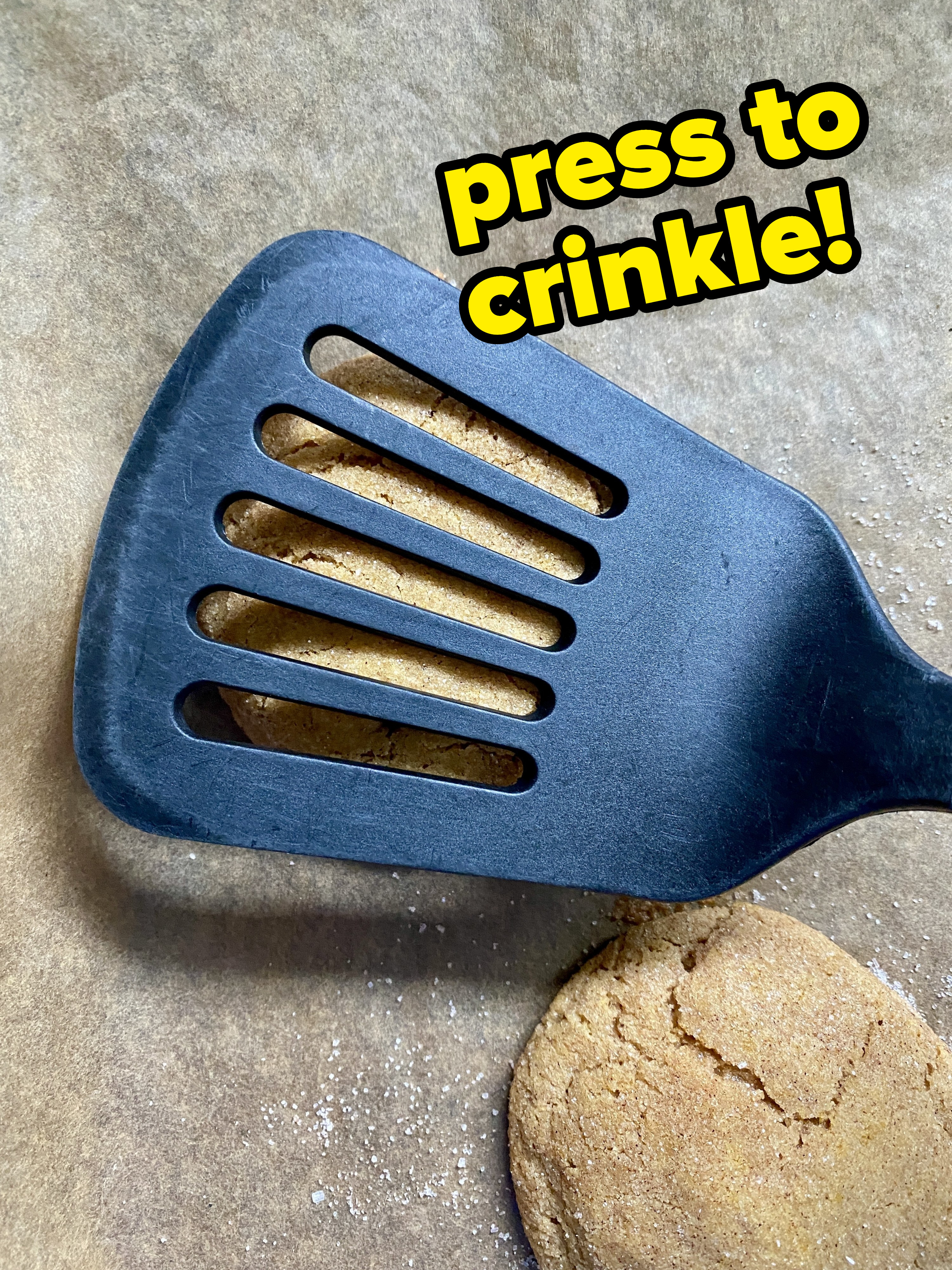 Now, unfortunately, you need to walk away before digging in. "[You'll want to] let the cookies cool completely before enjoying so the cheesecake center has a chance to set," Ginny says.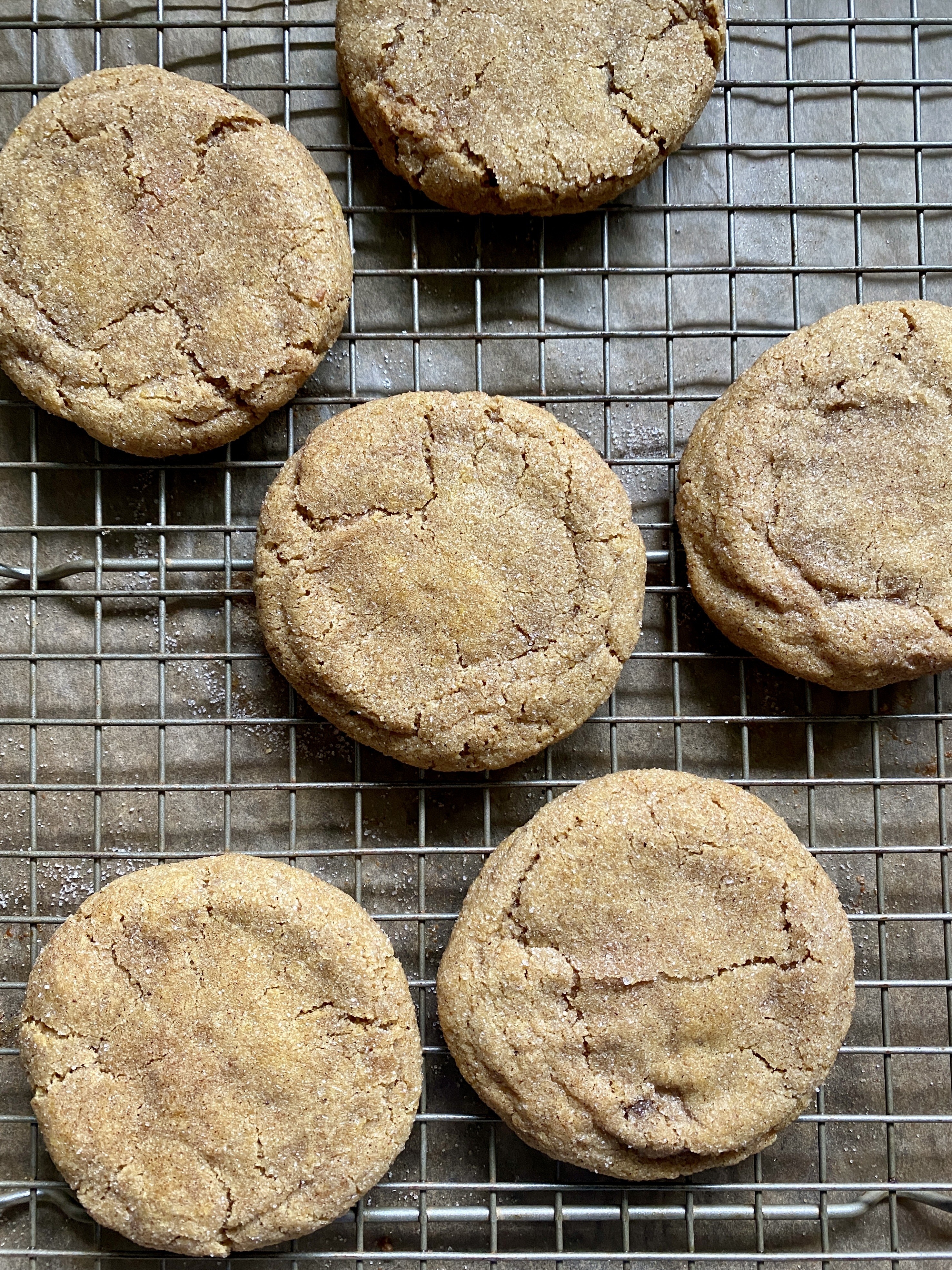 Once I finally took a bite, I was BLOWN AWAY. They're like the best part of a snickerdoodle, a molasses cookie, and a pumpkin cookie rolled into one — with a surprise cheesecake center that takes them over the top. I've never seen my fiancé (who doesn't even have a sweet tooth) eat so many cookies in one sitting.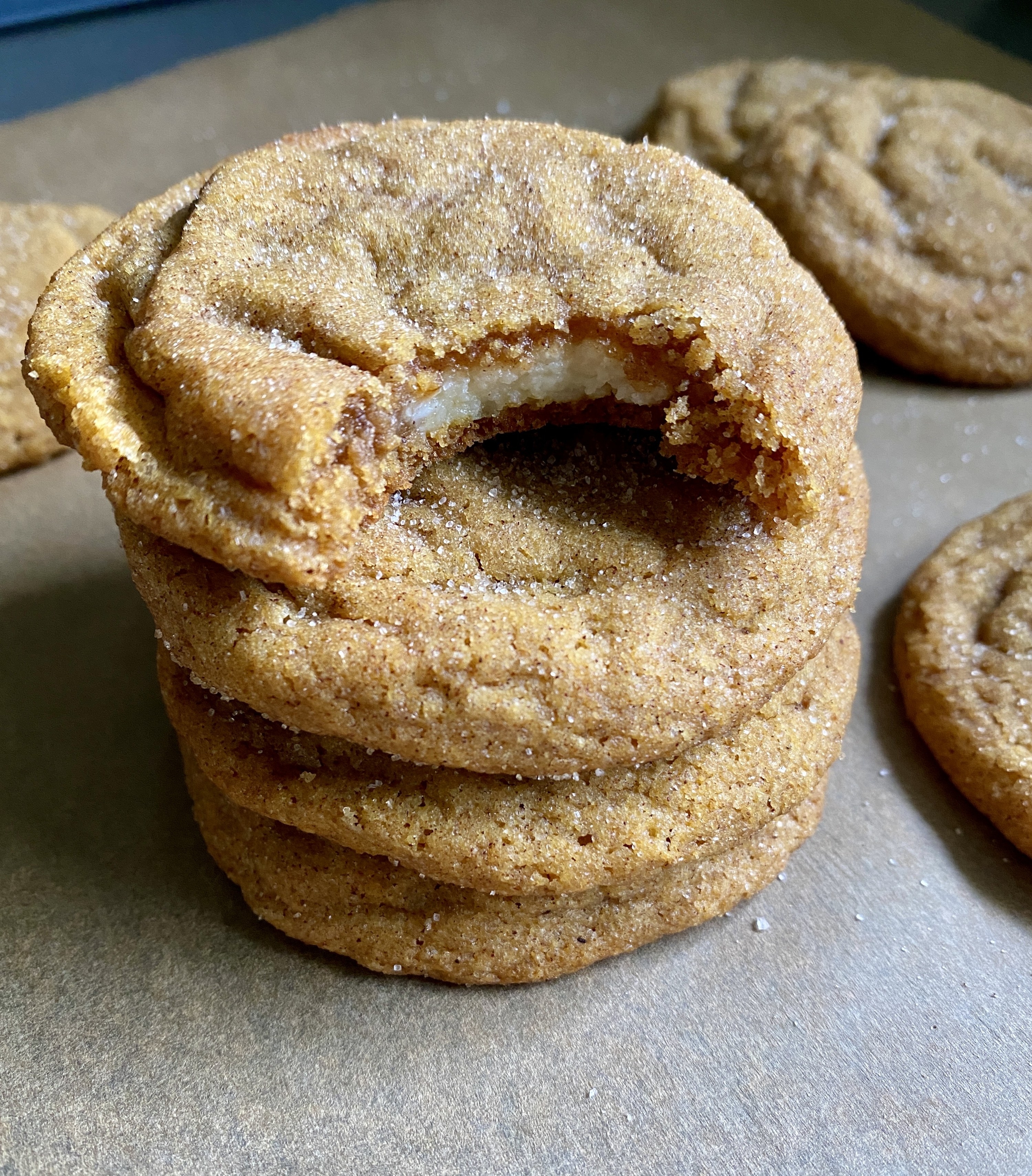 He agreed to let us share a few with a friend, who was similarly infatuated.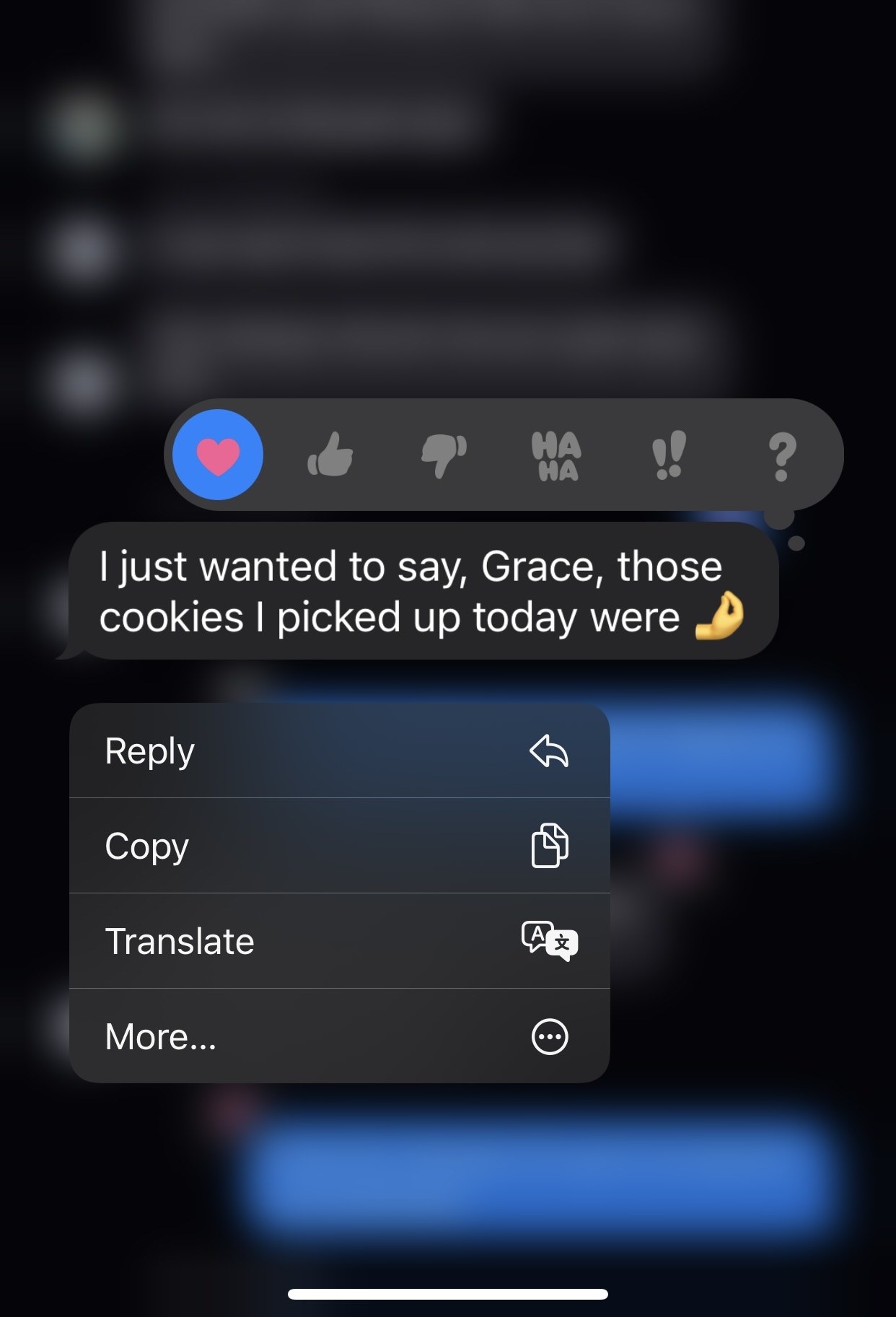 Ginny describes these cookies as a "20/10," and it's not hyperbole. They're everything she promises and more. For comparison's sake, I made a batch using pumpkin straight from the can, and the dough was so wet I couldn't even roll it. So, follow her advice — weigh the flour, let the cookies cool completely, and most importantly, dry the pumpkin!! — and you're well on your way to pumpkin cookie perfection.
Have you tried these — or do you have another favorite pumpkin cookie recipe? Let me know in the comments!