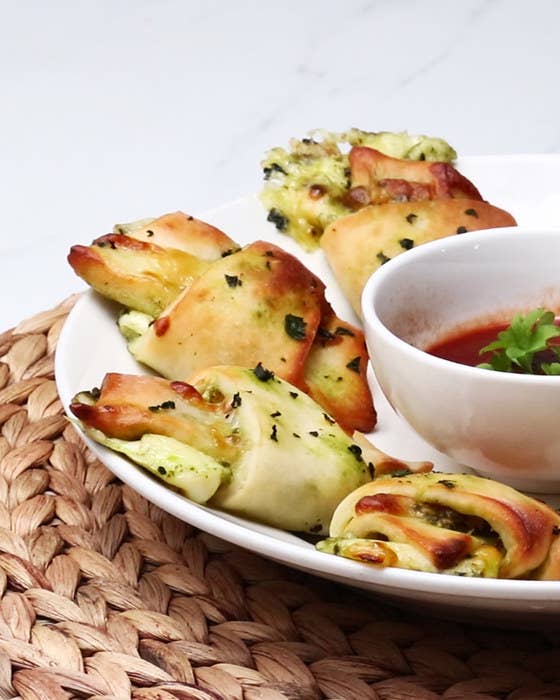 INGREDIENTS
Makes 10
For the dough:
2 cups self-raising flour
1 ½ cups Greek yoghurt
For the pesto filling:
2 tbsp Gourmet Garden Lightly Dried Basil
3 tbsp olive oil
2 tbsp parmesan cheese grated
1 tbsp pine nuts
½ cup spinach leaves
1 garlic clove
½ lemon juiced
1 tsp pepper
Other Ingredients
300g halloumi cheese cut into 5mm slices
100g mozzarella grated
PREPERATION
STEP 1: For the pesto filling: combine Gourmet Garden Lightly Dried Basil, olive oil, parmesan cheese, pine nuts, spinach, garlic, lemon and pepper in a food processor and blitz until it forms a smooth consistency.
STEP 2: For the dough: using the dough attachment of a food processor, combine flour and Greek yoghurt, and process until the mixture forms a ball.
STEP 3: With your hands, knead the dough on a lightly floured surface for 1 minute. Cut the dough in half.
STEP 4: Using a rolling pin, roll one half of the dough into a rectangle, about 4mm thick. Trim the edges with a sharp knife.
STEP 5: Cut the rectangle into four even triangles.
STEP 6: Evenly spread 1tsp of pesto on the base of each triangle.
STEP 7: Lay sliced halloumi in the middle of each triangle, then sprinkle mozzarella evenly on top.
STEP 8: To make the bites: fold the bottom of the triangle dough up over the halloumi until it's covered, and then continue to roll the dough until the tip of the triangle is reached.
STEP 9: Repeat steps 4 to 8 for the remaining half of dough.
STEP 10: Brush the top of each bite with olive oil, then lightly sprinkle Gourmet Garden Lightly Dried Basil to garnish.
STEP 11: Bake in a fan-forced oven at 180C for 15-18 minutes until dough turns lightly golden.
STEP 12: Remove from the oven and serve hot.
STEP 13: Enjoy!