Southwest Burrito Bowl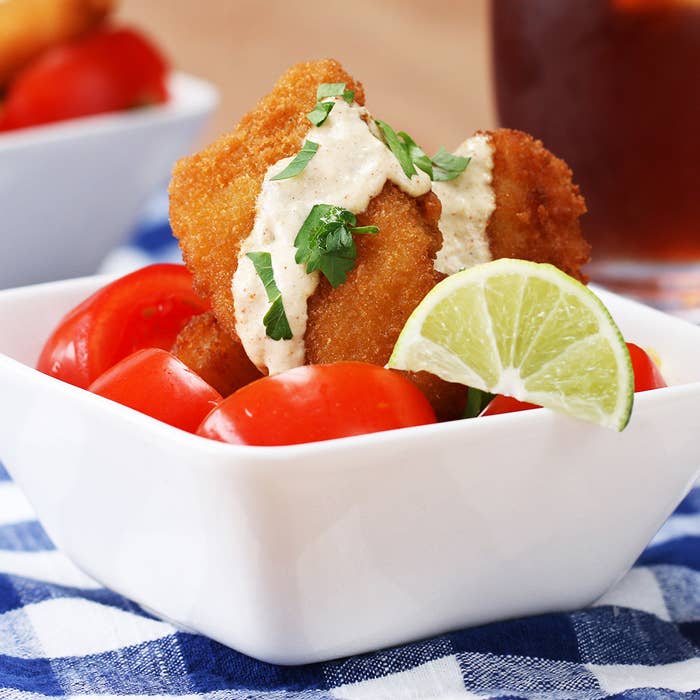 INGREDIENTS
8 Gorton's Classic Crunchy Fish Fillets
1 can black beans, drained
1 cup cooked white rice
1 ripe avocado
1/4 small can green chillies, chopped
1 cup cooked frozen corn
1 tablespoon chopped red onion
4 small fresh tomatoes, chopped
3/4 cup mayonnaise
6 teaspoons fresh lime juice, divided (2 teaspoons, 4 teaspoons)
1 tablespoon olive oil
1/2 teaspoon cayenne (divided into 1/4 teaspoons and 1/4 teaspoons)
1/2 teaspoon honey
1/2 garlic clove
Salt and pepper
Optional Garnish:
Fresh cilantro
Fresh lime wedges
PREPARATION
1. Preheat oven to 425°F/220°C

2. Bake fish fillets for 17-19 minutes (be sure to turn over after 12 minutes). 

3. Heat black beans with a little water and salt, allow to simmer and warm through.

4. Combine mayo, garlic, 2-3 green chillies, ¼ cayenne, 2 teaspoons lime juice and pinch of salt in a blender, blend until creamy. Set aside.

5. In a small bowl, make vinaigrette by combining olive oil, 2 tsp lime juice, ½ teaspoon honey, ¼ teaspoon cayenne, and a pinch of salt. Set aside.

6. Combine corn, red onion, avocado, tomatoes, vinaigrette, and salt and pepper.
7. In a bowl, layer remaining ingredients, starting with rice, black beans, corn salsa, and (2) fish fillets, garnish with creamy sauce, cilantro, and additional lime wedges.