Strawberry and Rose Gordon's Pink Spritz
Strawberries, fizz, and Gordon's Pink – a match made in heaven!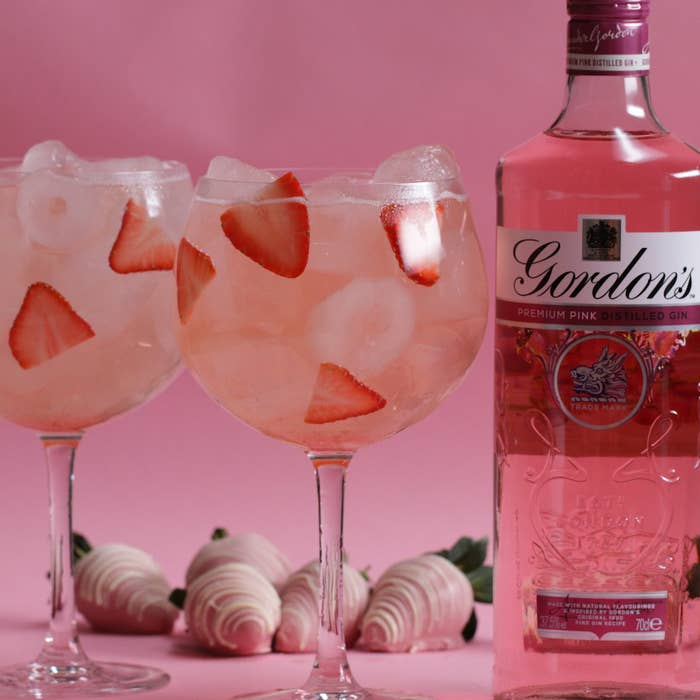 Serves: 1 (3.5 unit pers serving)
Ingredients
Strawberry Coulis
250 grams strawberries, hulled and roughly chopped
30 grams caster sugar
50 millilitres water
½ teaspoon rose water
200 millilitres prosecco (2.5 units per serving)
25 millilitres Gordon's Premium Pink Distilled Gin (1 unit per serving)
Preparations
Place a small saucepan over a medium heat and add the strawberries, caster sugar, and water. Stir to combine. Once the liquid comes to a boil turn down the heat and simmer for five minutes stirring occasionally.

Remove from the heat and pass through a sieve to remove any fibrous parts of the strawberries so you are left with a smooth red liquid. (You should have around 150 millilitres of coulis.)

Add the rose water to the coulis and stir to combine. Set aside for when you are ready to make your drink.

Next, it's time to make your fabulous drink! Take a Copa glass, fill with ice, and pour over around 200 millilitres of prosecco. Add your Gordon's Pink Gin and 25 millilitres of strawberry coulis. Give it a gentle stir and serve!