"Start it with something like 'Ahhh, [blank].' You know?"
"No... Tell me."
I'm sitting in the car next to my co-worker and friend Ben, who's dictating notes to me as he drives. We're heading back home to Los Angeles from Vegas after doing the Google Maps #MapsRoadTrip. It was a day of great food, desert heat, and some other surprise stops we found along the way by clicking the magnifying glass in Google Maps navigation — but the story Ben's telling is a lot different from the story I remember. What follows is our conversation about the trip, with some of my own notes in italics.

Ben: Ahhh, Las Vegas. Sin City. Land of milk and honey. My only memory of Las Vegas is from when I was 11 years old and the family piled into our old station wagon and trekked from Long Beach, California, out into the unforgiving desert. Boy, it was hot. And miserable. And exhausting. We listened to oldies, and my brothers and I fought for who had to sit in the dreaded middle seat. My turn seemed to last longer than theirs, but I digress…

Ben glances at me, pleased with how this is all sounding. My eyes roll right back into my head.
Ben: Needless to say, that road trip was terrible. And Vegas…well, not much to do if you're a little boy who can't even throw five dollars at a blackjack table and has to place all his bets through his unwilling mother. I did well for myself, and my mom got her 20% cut... (I'm kidding. It was 15%.)
Ayla: Where is this going?
Ben: As a kid, any road trip tends to feel long and miserable — and as an adult, I was looking forward to this road trip being anything but.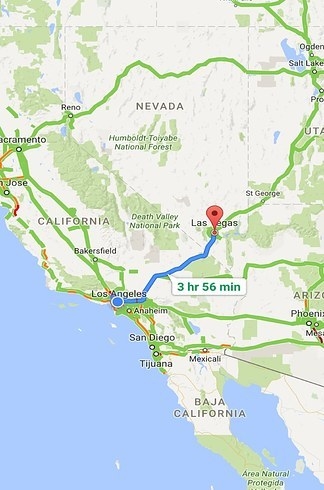 Los Angeles, 2016: Our road trip begins.


Ben: We started our trip in beautiful Griffith Park. The sun was shining upon us, and the morning birds provided a soothing soundtrack, setting the tone for what would surely be a fun-fun-fun drive through the desert.

Ayla: You are really enjoying this.

Ben: We rented a convertible, because there's no way in heck anyone in their right mind would do a road trip in a boring old sedan or a minivan or truck or camper.
"Well, campers are useful because they have bathrooms," Ben says. Not to me this time, but to himself, or perhaps a passing truck. And it's true — we made three bathroom stops before we even left LA. Eventually, we got on the road — Ben driving, and me in charge of directions, a task I would gladly accept because I wanted to also be in control of the music.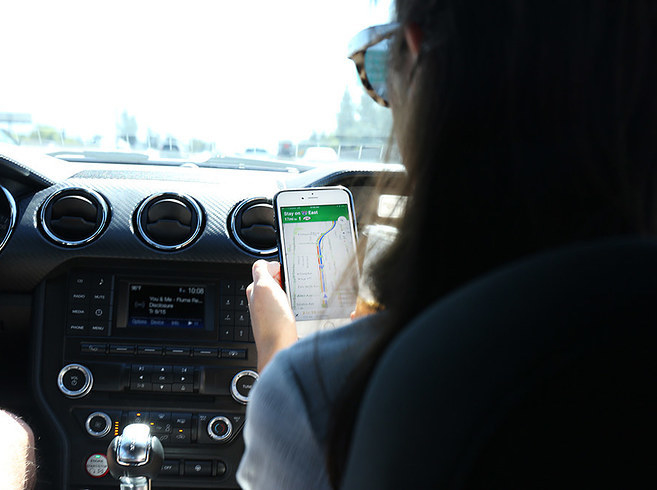 Ben: We were off to a great start. There was minimal traffic leaving the City of Angels, and we had plenty of cool sparkling water to keep ourselves refreshed along the way. And they called me crazy for bringing a 12-pack.

Ayla: Nobody called you crazy. It was a good idea.

Our first hour of driving was pain-free. We used the handy magnifying glass feature to search along our route within navigation to find some *special* stops, the first one being a 1950s diner. We found it with ease, and Google Maps showed us it was only going to be a quick detour. We hoped Peggy Sue would be there waiting for us.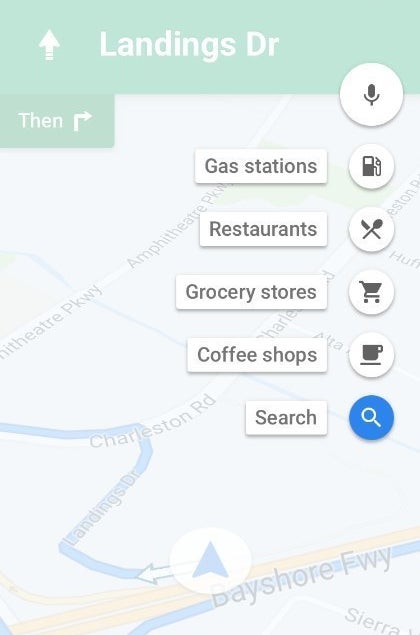 First Surprise: Google Maps transforms a 1950s roadside diner in Yermo, California, into a burger and ice cream extravaganza.
Ben: Before we knew it, we came upon our first stop, Peggy Sue's '50s Diner, and we were literally met with burgers. The burgers were tasty, and not just because they were free. The folks at Google really know how to BBQ a burger in the desert. We sat outside in the picnic area, where koi fish and turtles lived in harmony in the little pond.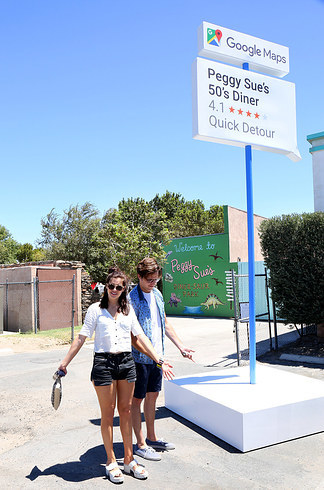 Ayla: Tell them about the ducks.
Ben: Oh, these four ducks were strutting around with their little chins held high as if they owned the place. They weren't begging for food or anything; they just wanted people to know they were the ones in charge.
After the burgers, we learned some Google Maps tricks and got some free ice cream from the Google folks. I got a chocolate and a vanilla because I believe in variety. I enjoyed my free ice cream in front of the high-powered mist cooling fans Google was gracious enough to provide. I'm already a cool guy, but those puppies kept me ice cold. Satisfied, we bid farewell to Peggy Sue's and set out for the next stop, excited to see where Google Maps would take us next.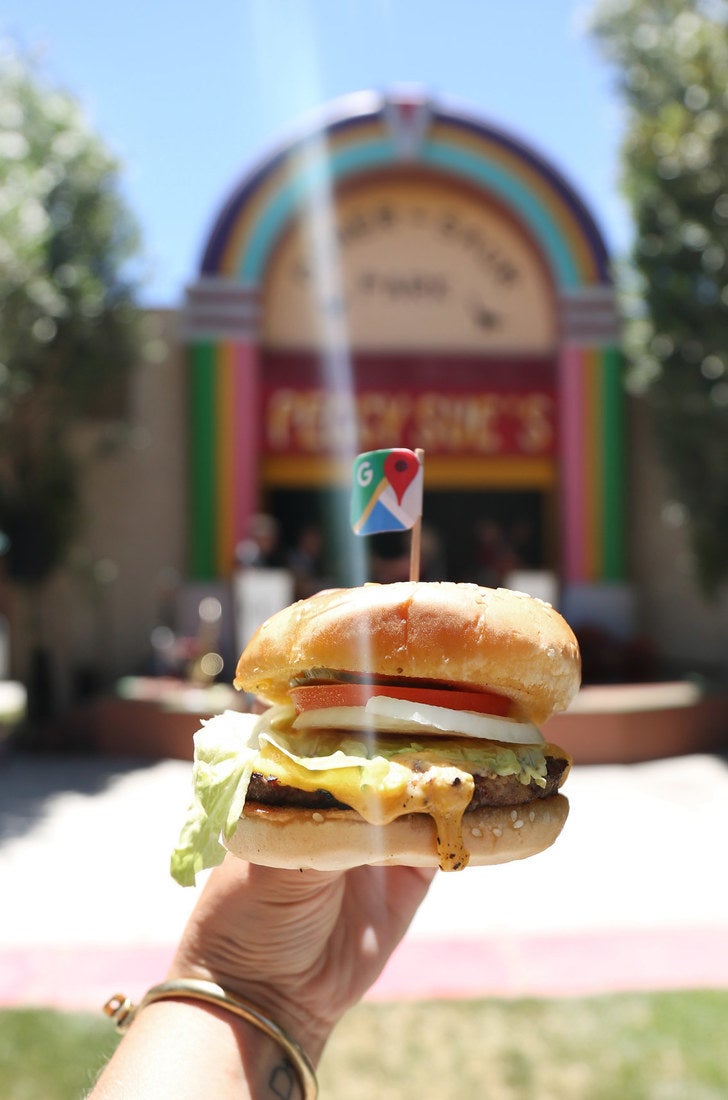 At this point, Ben begins to dictate notes for me as well.

Ben (as Ayla): Ben insisted we put the top down on the car because why get a convertible if you're not going to convert? So we took the top down and endured the oppressive heat for an excruciating mile and a half. Ben was on a sugar high and reveled in the sunlight, shouting, "Vitamin D, baby! I'm going to live forever!" He wouldn't stop blowing kisses at cars that passed while singing along to Fleetwood Mac. It was as if he were drawing energy directly from the desert sun.
Ayla: OK, but none of that actually happened.
Ben didn't actually want to put the top down, but our photographer — Aubree — and I convinced him to so we could take a photo.
The part about him having a sugar high is true. He had eaten two servings of ice cream. Imagine being stuck in the car with a 7-year-old who's eaten two servings of ice cream, then multiply that stress by seven. Now imagine the 7-year-old is also driving the car.
Quick Detour: Zzyzx Road.
Ben: Next, we stopped off of Zzyzx Road to check it out because we heard it was pretty. And boy, howdy! Was it ever. Google Maps took us down a lonely road for a couple miles with all sorts of beautiful plants and rocks surrounding us. We felt totally alone...and it was pretty cool.
The rocks were indeed beautiful. They were good rocks. There were also a lot of palm trees down here. One rogue palm was growing in a loop rather than straight up — a phenomenon that occurs, according to Ben, when palm trees are alone and don't have others around to show them what direction to grow in.
I wanted Aubree to take a photo, but she wouldn't, saying she didn't want to participate in our palm tree shaming. So you will just have to imagine.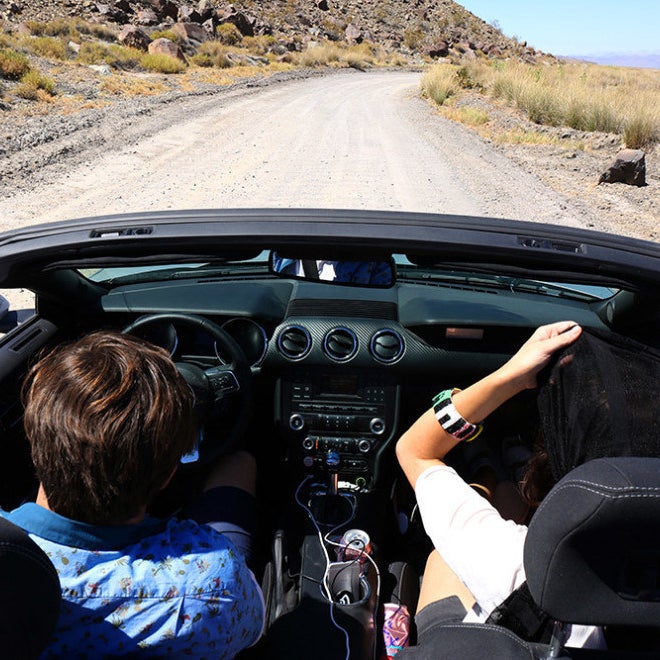 Ben: We got to the end of the road, to a lot, where I suddenly became giddy — I was gonna do some doughnuts, baby! With the top down, I did what anyone would do: put a bonnet on my head, blasted some Shania Twain, and tore up that gravel parking lot like nobody's business.

Ayla: Again, not quite true.
Ben made me take several videos of him as he slowly drove in circles around a gravel parking lot with one of my scarves wrapped around his head. I don't know much about doughnuts, but these didn't seem like doughnuts to me. Later, as we were driving back toward the interstate, he noticed a "traction control" button on the dash he had forgotten to disengage and was filled with regret.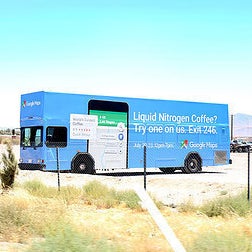 Second Surprise: Google Maps treats us to some liquid nitrogen coffee under a giant thermometer in Baker, California.
Ben: I had expelled so much energy, I was in desperate need of a pick-me-up. I was teased by a painted bus that promised ice-cold coffee was nearby. It wasn't a mirage — wouldn't you know it, my old friend Google Maps informed us we could treat ourselves to the World's Coldest Coffee at the World's Tallest Thermometer just a few miles ahead. We eagerly made the slight detour, our bodies thirsting for caffeine…and restrooms.
The thermometer in question is 134 feet tall, in honor of 134°F, the world's highest temperature ever recorded (Death Valley, 1913). The owner told me her story: Her dad built it in the '90s but was forced to sell when he became ill. After he died, her mother invested everything she had to buy it back, restore it, and reopen it.
Unfortunately, Ben wasn't there for the story.
Ben: Gazing up at that hundred-and-fifty-foot thermometer, displaying a temperature of 115°F, I couldn't help but wonder, What if some enterprising young man or woman decided to build a rival thermometer across the street, a foot higher? Maybe I should take out a loan.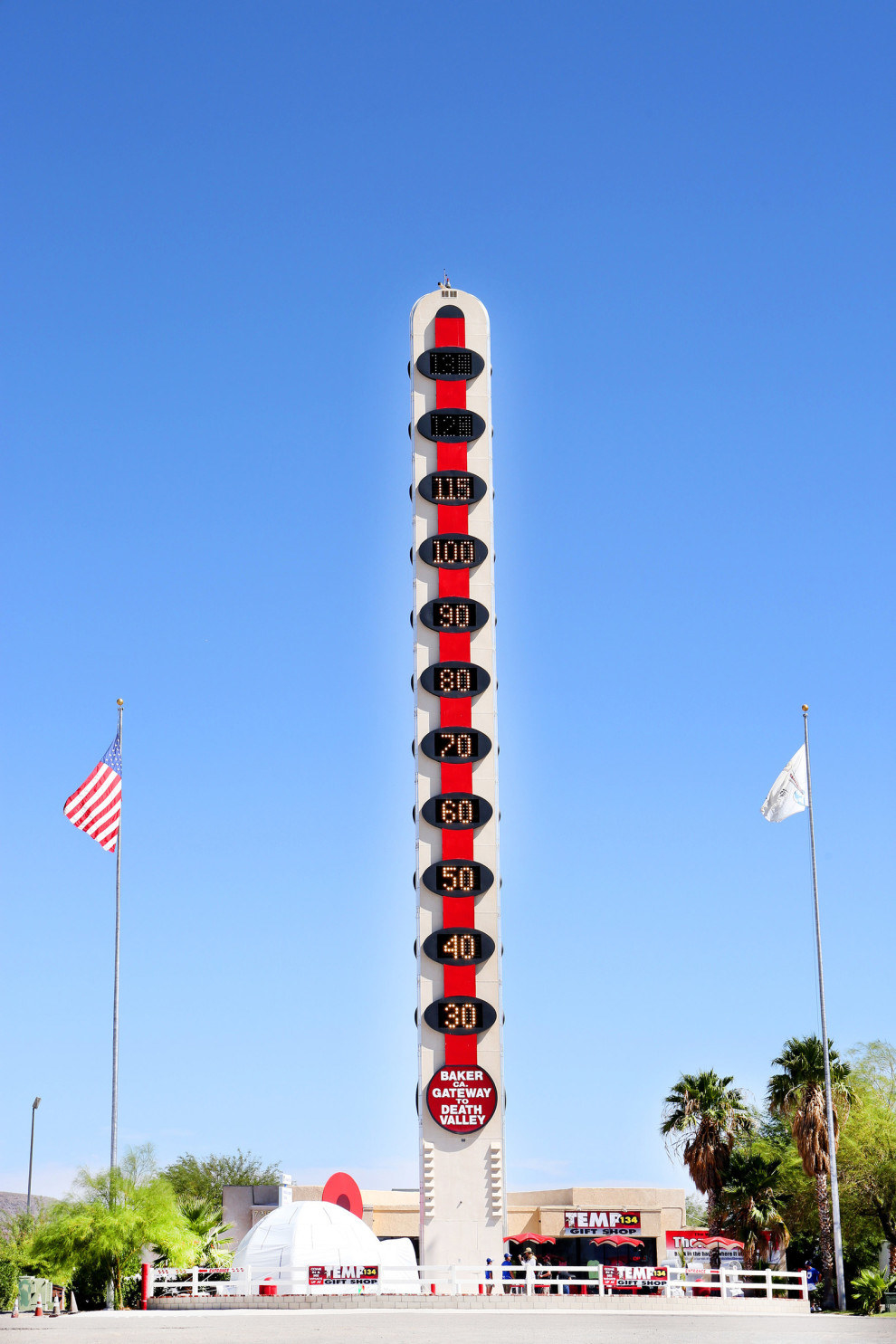 Ben (cont'd): The folks at Google served us the coffee in a blow-up igloo, which is the only appropriate way to serve coffee so cold in a desert so hot.
He laughs, pleased at this joke.
Ben: Watching them make the coffee with the cold liquid nitrogen was pretty cool. I kept thinking of the end of Terminator 2, when the T-1000 gets covered in liquid nitrogen and he freezes.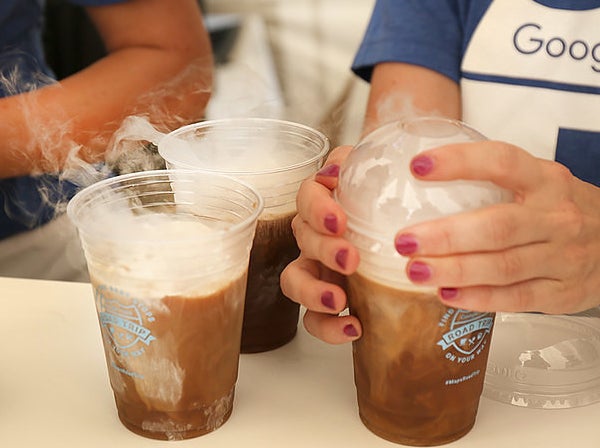 Ben (cont'd): Thoroughly jacked on ice-cold caffeine, we once again hit the road. I didn't know what Ayla and Google Maps had in store for me. But with an open mind (and an open heart), I asked Ayla every two minutes where we were headed next. You've got to keep people on their toes on a road trip. I would even quiz her with simple math questions and trivia to ensure she was still up for the job.
Ayla: You didn't ask me a single math or trivia question.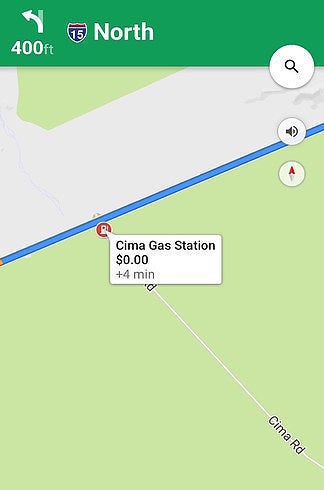 Third Surprise: Not only does Google Maps show gas prices in the app... they were also giving away free gas at a station in Cima, California.


By now addicted to this Google Maps navigation magnifying glass thing, I was obsessively checking for surprises. About 30 miles outside of Vegas, I found the ultimate: free gas.
Ben: About 30 miles outside of Vegas, I realized we needed something. And that "something" was gas…for the car.
Ben specifically requested I type that ellipsis after "gas."
Ben: Excuse me, the convertible. So with the top down...
Ayla: The top was up.
Ben: ...and the warm desert air blowing in our hair...
Ayla: Filtered through the A/C.
Ben: ...we were lured into Cima Gas Station by a pin that promised gas at the nearly unbeatable price of zero dollars per gallon. I couldn't help but wonder what their profit margins were at such a competitive rate. I topped off the car with free gas, and I just couldn't stop saying "Wow." In fact, the only thing that came out of my mouth when a gentleman said hello was "Wow, free gas." When he asked us where we were headed, I said, "Wow…free gas." When he said, "Well, good luck!" I said, "Wow… Free gas."
Ayla: I don't remember you saying this.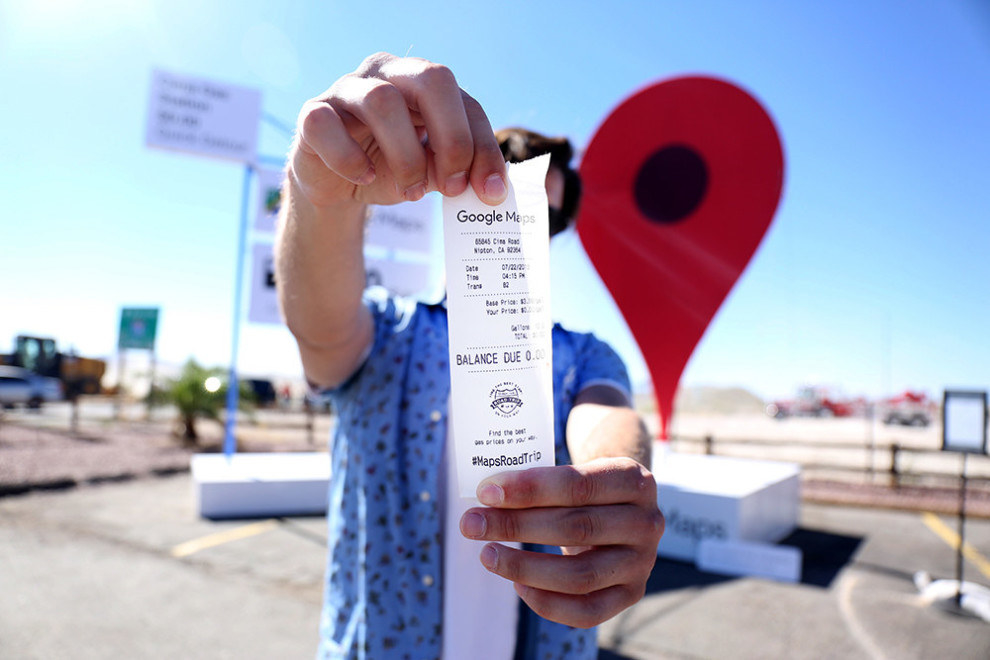 Ben: As we left the gas station, I said to Ayla, "Free gas is cool, but you know what's even cooler? A billion dollars."
He absolutely didn't say this.
Ben: I don't think she heard me, because she didn't laugh.
Vegas, here we come!
Ben: The home stretch. As we drove through the gorgeous Nevada desert, getting closer and closer to Las Vegas, I began to count my millions in my head. How would I win it? I thought. Blackjack? Craps? Maybe one of those fun, oversize slot machines? I knew there was a reason I was picked to go on this road trip: not to enjoy the amenities provided along the way but to become a millionaire. I had Kenny Rogers in my head on repeat — just the soundtrack I needed to rev me up for what was sure to be a wild night of success and riches beyond my wildest imagination.
Ben was displeased because I wasn't paying attention to the map on my phone and forgot to tell him to make a turn. But Google Maps rerouted us to the next best way. Phew!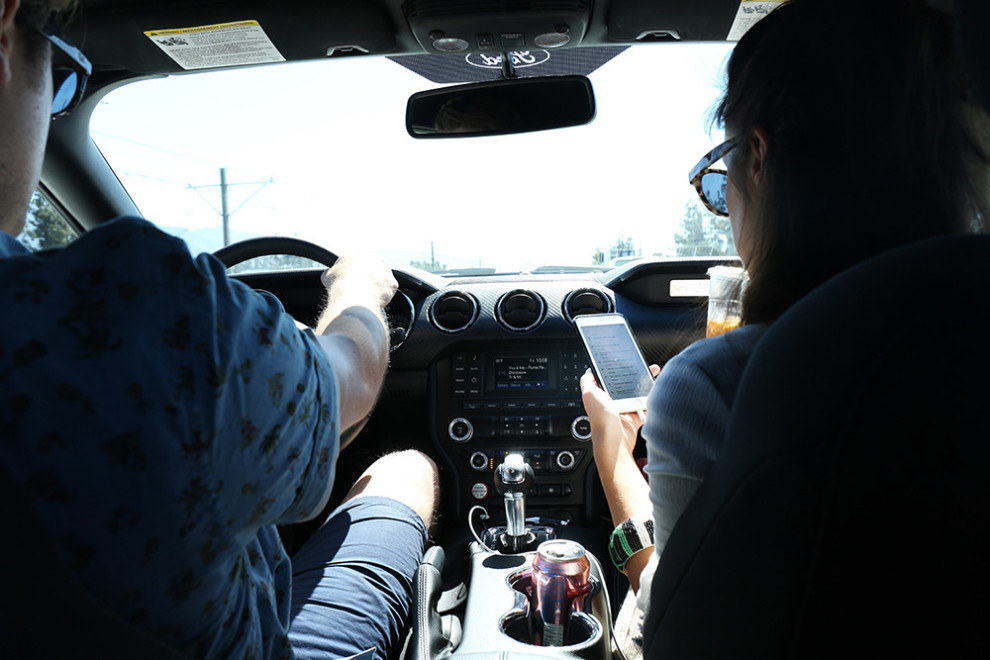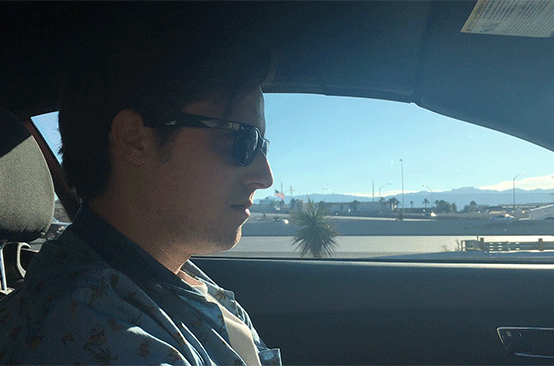 Ben: Somewhere late in the afternoon, we finally saw that iconic sign: "Welcome to Las Vegas." At long last, we had arrived. We pulled over to take a photo, and you couldn't have asked for a more Vegas scene. There were tourists of all backgrounds taking photos by the sign, and a couple was getting married by a 60-something-year-old Elvis impersonator with a microphone and a portable speaker. As he began to croon the King's classic "It's Now or Never" to the happy couple as they danced, I couldn't help but believe the song was meant for me.
This is actually all accurate.
Ben: It truly was now or never — and it was time to fulfill my destiny. I got chills as I walked away and felt like everything was moving in slow motion.
Ben: After we checked in to our hotel and hit the buffet, I took my cash and went straight to where the casino high rollers were with a thousand-dollar buy-in minimum. After three hours of playing cards with semi-pros and tourists, I tipped my fedora, collected my winnings, and bid them all adieu. It wasn't quite the millions I expected, but at least I would saunter out of there with $2,300.
After we checked in to our hotel and hit the buffet, Ben took $200 out of an ATM and lost it all within 45 minutes at a video poker machine. He mumbled "This thing is rigged" and something about government conspiracies and walked off with a $0.06 cash-out ticket. He was not wearing a fedora.
We left in the morning.
And with that, we learned that a Google Maps road trip — with all of its stops along the way — is three times more fulfilling (and surprising!) than the destination itself.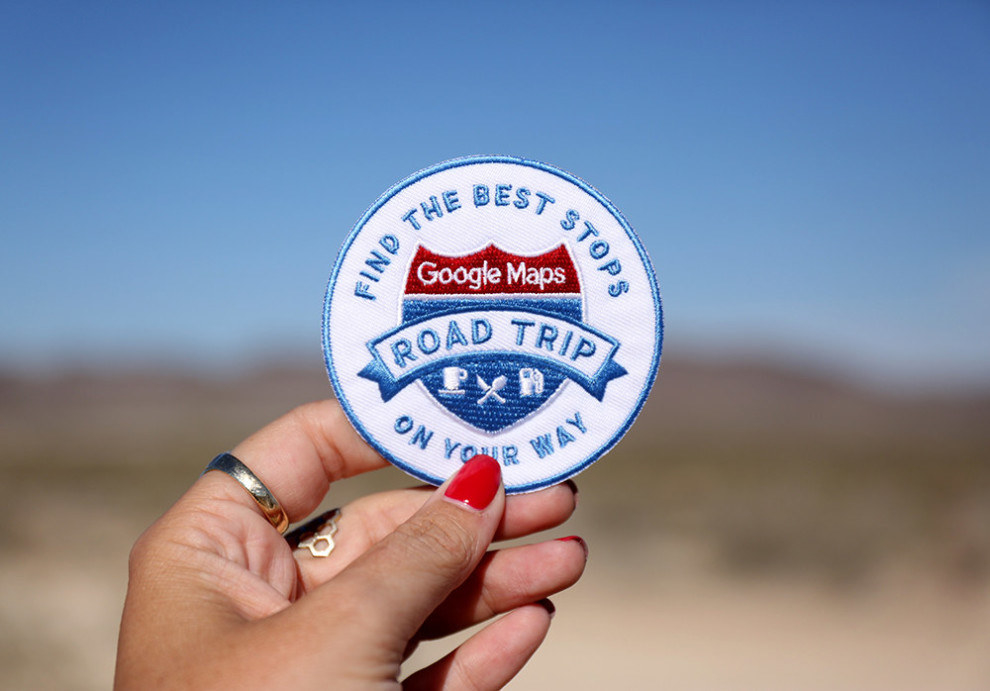 All images © BuzzFeed unless otherwise noted // Header illustration by Kirby Darland

Google Maps screenshots courtesy of Google