Slow Cooker Chicken and Broccoli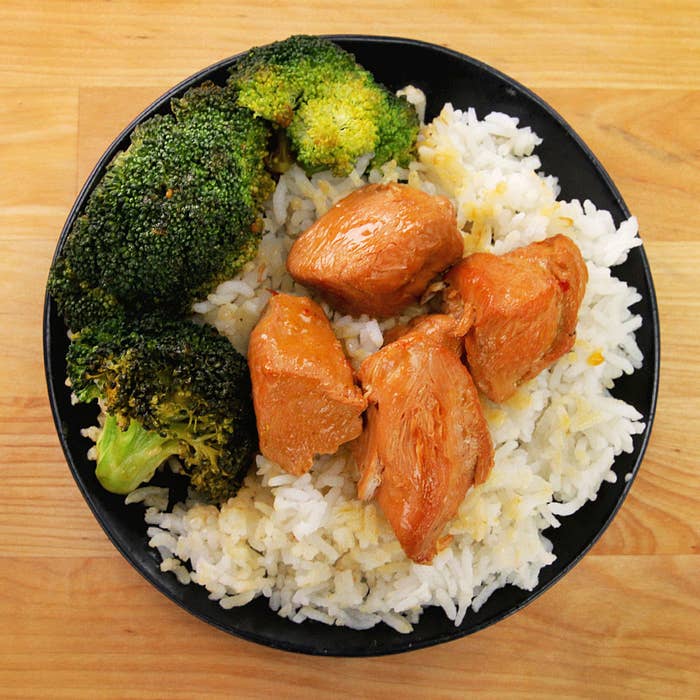 INGREDIENTS
Servings: 4
Sauce
2 cups orange juice
¼ cup soy sauce
2 teaspoons sesame oil
1 tablespoon fresh ginger, finely minced
3 cloves garlic, finely minced
½ teaspoon red chili flakes
2 tablespoons brown sugar
3 tablespoons water
3 tablespoons cornstarch
2-2½ pounds chicken breast
PREPARATION
1. Combine the orange juice, soy sauce, sesame oil, ginger, garlic, chili flakes, and brown sugar in the slow cooker and set to high heat. 

2. Whisk together the cornstarch and water in a small bowl to make a slurry. Pour into the slow cooker with the other sauce ingredients and cover. Turn slow cooker to high and cook the sauce 30 minutes or until it begins to thicken.

3. Heat a large nonstick skillet over high heat and add about a tablespoon of oil to lightly coat. Brown the chicken on all sides.

4. Add the chicken pieces to the slow cooker and cook on high heat for 45 minutes. 

5. Place broccoli pieces on top of chicken and cook an additional 15 minutes.

6. ENJOY!