One-Pan Asian Salmon & Veggies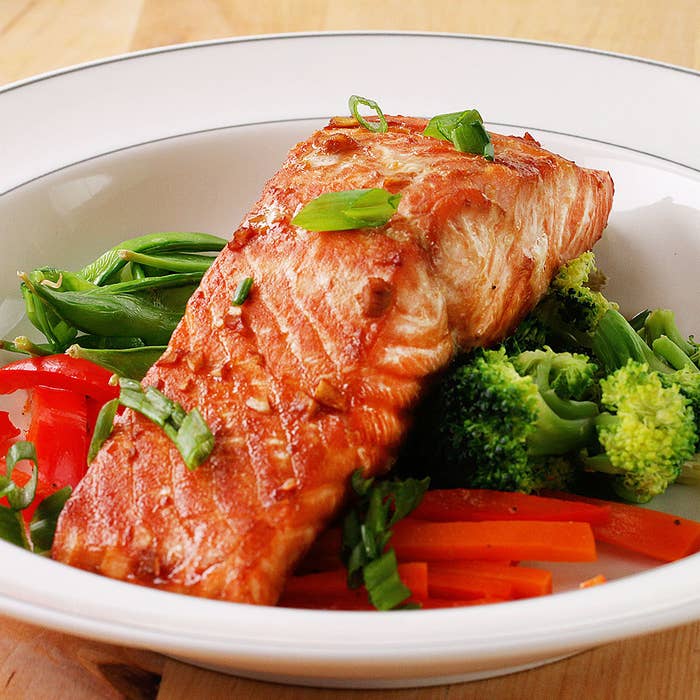 INGREDIENTS
Servings: 2
Sauce
2 tablespoons brown sugar
2 cloves minced garlic
1 tablespoon finely diced ginger
½ cup soy sauce
2 teaspoons Dijon mustard
1 pound salmon, cut into two fillets (8 ounces each)
Veggies
2 large carrots, cut into thin matchsticks
½ red bell pepper, cut into strips
1 cup broccoli florets
1 cup snow peas
Salt
Pepper
Olive oil
2 thinly sliced scallions, for garnish
PREPARATION
1. Preheat oven to 400℉/200°C.

2. Stir together the soy sauce, brown sugar, Dijon mustard, ginger, and garlic. 

3. Season the salmon filets with salt on both sides and place in a shallow dish or food storage bag. Pour the sauce over the salmon to marinate while the vegetables are prepped. Marinate 15 minutes.

4. Cut a square of foil and place all the vegetables in the center. Add a few teaspoons of olive oil and season with salt and pepper. Seal the foil around the edges and place on a large sheet pan.

5. Place another square of foil on the other side of the sheet pan and lightly oil. Remove salmon filets from the marinade and place on the sheet pan.

6. Bake 8-10 minutes until salmon is cooked to desired temperature. 

7. Serve salmon with veggies (optional side of rice).

8. ENJOY!