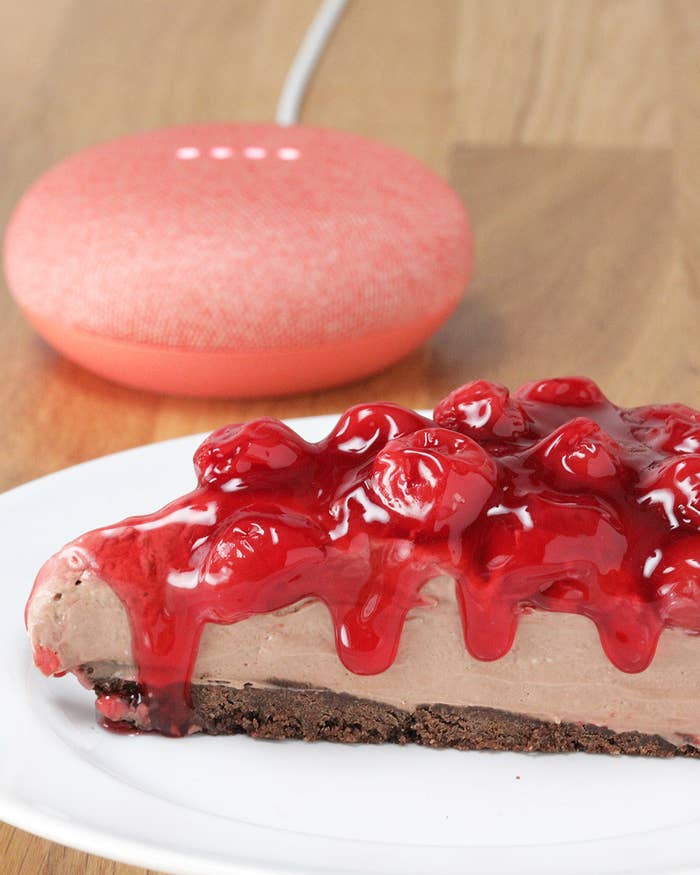 Makes one 8" cheesecake

INGREDIENTS
CRUST
1 1/2 cups chocolate graham cracker crumbs
1/8 cup packed brown sugar
1/3 cup butter, melted
Pinch of salt
CHEESECAKE FILLING
2 (8-ounce) packages cream cheese
2 teaspoons vanilla extract
1 pint heavy whipping cream
½ cup white sugar
⅓ cup cocoa powder
½ teaspoon salt

1 (21-ounce) can cherry pie filling
PREPARATION:
In a bowl, thoroughly mix graham cracker crumbs, brown sugar, salt, and butter. Press evenly into a springform pan. Chill.

In a medium bowl, place cream cheese and beat with hand beaters until smooth. Gently pour in cream, adding gradually while stirring, until it's fully incorporated.

Add sugar, vanilla, and salt, then beat until very smooth. Don't forget to scrape the sides. Gradually add cocoa powder into the smooth cream-cheese mixture and beat on medium speed until it's fully incorporated.

Pour onto chilled crust and smooth out the top. Freeze for 3 hours or refrigerate overnight. Before serving, pour pie filling over the cheesecake.

Enjoy!