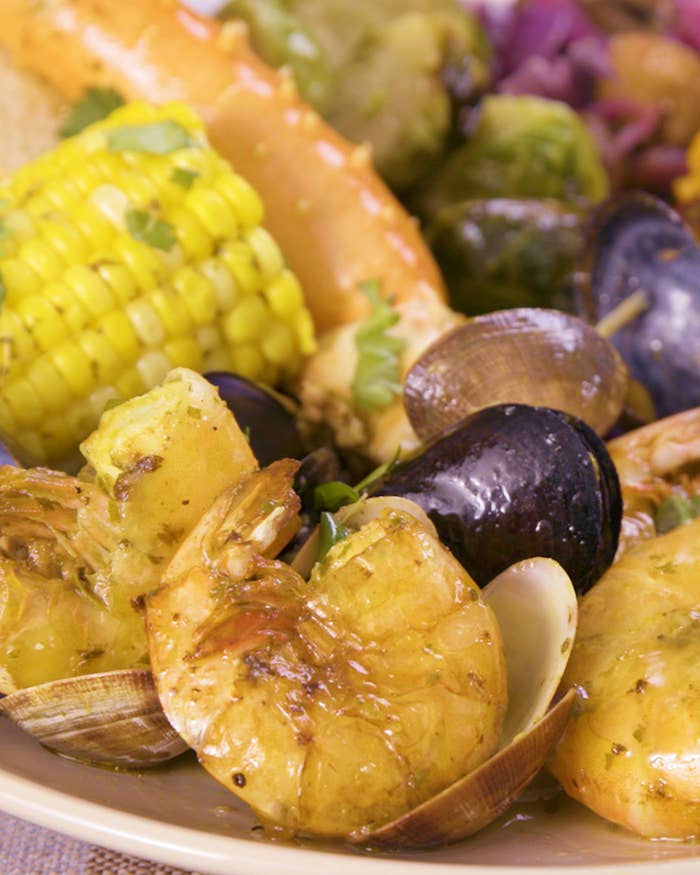 Serves 4–6

INGREDIENTS
Shrimp Marinade
2 lemons, zested and juiced
½ cup serrano peppers, chopped
1 clove garlic
1 cup parsley
½ cup olive oil
½ cup canola oil mix
Salt
10–12 large shrimp, shells on, deveined
Herb Paste
1 clove garlic
1 shallot
1 tablespoon ginger
½ teaspoon turmeric
1 teaspoon fresh lemongrass
½ cup cilantro
2 serrano peppers
1 teaspoon lemon zest
1 tablespoon sugar
Seafood Pot
1½ pounds clams
1 pound mussels
1–2 pounds King Crab legs
4 ears corn, halved
1 bottle light beer
3 cups chicken stock
½ pound ground chorizo
¼ cup lemon juice
1 cup cilantro sprigs
Olive oil
Salt to taste

PREPARATIONS
1. To make the shrimp marinade, combine all ingredients in a food processor and blend
until chopped and well combined.

2. Pour over the shrimp, cover, and place in the refrigerator to marinate for 30 minutes.

3. To make herb paste, place all ingredients in a food processor and blend until finely
chopped.

4. Clean all the shellfish. Discard any dead mussels or clams. Soak the clams in cold water
for 30 minutes and then scrub clean, then remove the beard of the mussels and scrub
clean. Rinse the crab legs and break apart at the joint for smaller pieces.

5. In a large pot, heat a drizzle of olive oil and then add chorizo and cook until browned.

6. Add the herb paste and cook for 2 minutes.

7. Add beer to the pan and bring to a simmer. Cook until the liquid is reduced by half. Then
add chicken stock and bring back to a simmer. Add lemon juice and season to taste with
salt.

8. Add the mussels, clams, and crab legs to the broth, then place the corn on top. Cook
until mussels and clams have opened and crab legs are steamed through, about 10
minutes.

9. While the seafood cooks, heat a large pan and fry the shrimp until pink and cooked
through.

10. Serve the shellfish and corn in a warmed cast-iron pot with some of the broth. Garnish
with cilantro sprigs.

11. Enjoy!