Easy Weekday Lunch Kit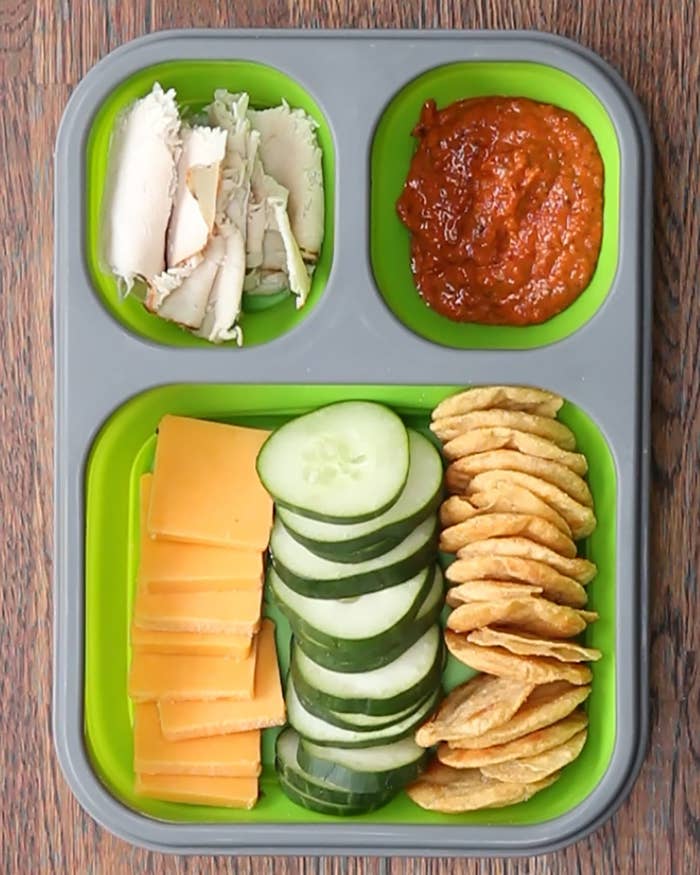 INGREDIENTS
4 ounces sliced deli turkey
1/2 cucumber, sliced
2 ounces cheddar cheese, sliced
Good Thins Sweet Potato crackers
3 tablespoons roasted red pepper garlic spread (see below)
Roasted Red Pepper Garlic Spread:
2 red peppers, rough chopped
1 head of garlic
3 tablespoons of olive oil, divided
2 tablespoons of flat-leaf parsley, chopped
2 tablespoons of fresh oregano, chopped
Juice of ½ lemon
Salt and pepper to taste
PREPARATION
1. Preheat oven to 325˚F/160˚C.

2. To prepare red pepper spread, cut the top quarter off a head of garlic and place in a baking dish or oven-safe skillet with the chopped peppers. Drizzle with 1 tablespoon of the olive oil and season with salt and pepper. Roast in oven for 1 hour.

3. Once cooled, combine peppers and garlic, parsley, oregano, and lemon juice in a food processor or blender. Puree, slowly drizzling in remaining 2 tablespoons of olive oil.

4. Chill for at least 1 hour, or up to overnight.

5. Arrange turkey, cucumber, cheddar cheese, red pepper spread and Good Thins Sweet Potato crackers as desired in a resealable food container. Refrigerate until ready to eat.

6. ENJOY!