Servings: 4 (8-ounce) jars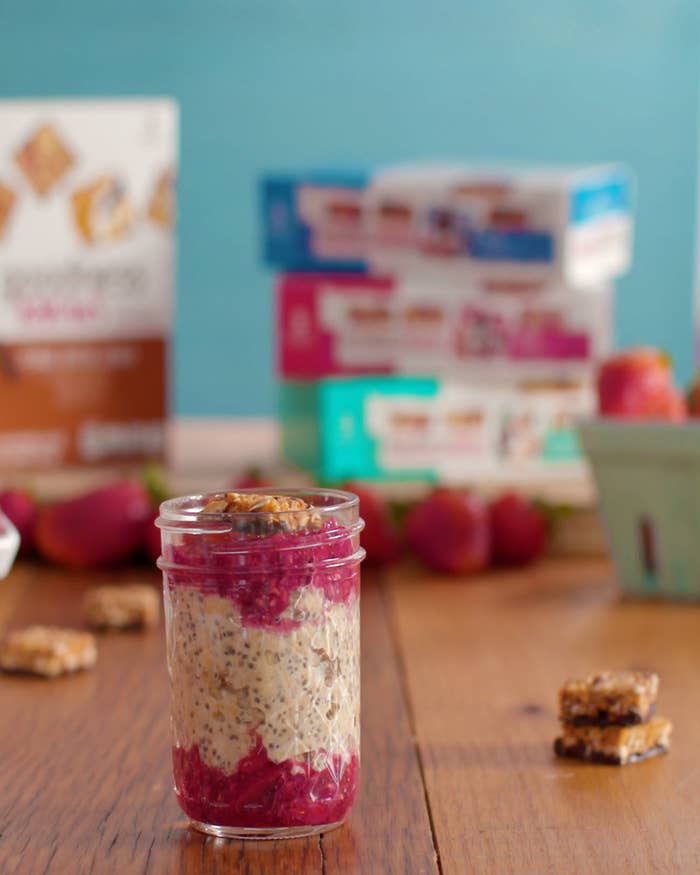 INGREDIENTS
Chia Jam
1 ½ cups strawberries and raspberries, mixed
2 tablespoons chia seeds
Oats
2 bars (4 pieces each)
goodnessKNOWS®
Peanut Butter Crunch Snack Squares
1 ½ cups rolled oats
2 tablespoons powdered peanut butter
¼ cup chia seeds
Pinch of salt
1 ½ cups milk or non-dairy alternative
½ cup sliced bananas
½ cup sliced strawberries
PREPARATION

Make chia jam by mashing berries together, then stirring in chia. Let sit for 10 minutes to thicken. Stir to combine, then set aside until ready to use.

Chop 1 pack of goodnessKNOWS® snack squares into small pieces.

In a mixing bowl, stir together chopped goodnessKNOWS® snack squares, oats, powdered peanut butter, chia seeds, and salt.

Set out four 8-ounce jars. In the bottom of each jar, place a few spoonfuls of jam. Add ⅓ cup of the oat mixture to each jar, then pour ⅓ cup of milk over each mixture.

On top of the oats, add another layer of jam. Add a few banana and strawberry slices. Top each jar with one whole square of goodnessKNOWS® Peanut Butter Crunch. Screw on the lids and refrigerate the jars overnight.

Enjoy!