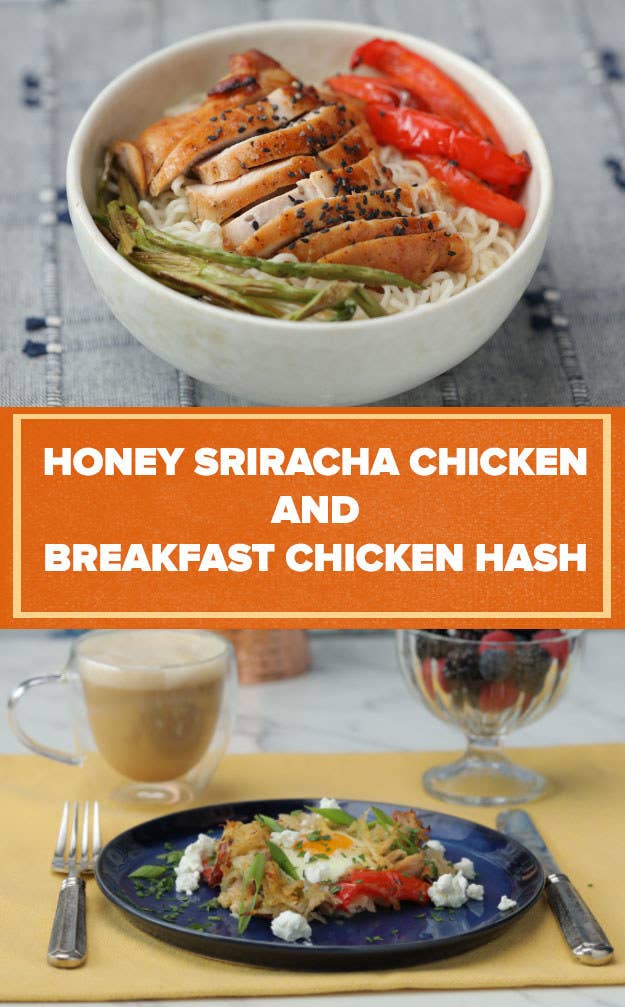 Honey Sriracha Roasted Chicken
Servings: 8-10
INGREDIENTS:
2 tablespoons Sriracha

5 tablespoons honey

2 tablespoons butter

1 teaspoon garlic powder

2 tablespoons soy sauce

2 teaspoons apple cider vinegar

2 teaspoons salt

1 teaspoon pepper

3 lbs boneless skinless chicken thighs

1 bunch scallions

2 red peppers, thinly sliced

PREPARATION:
Preheat oven to 400ºF/200˚C.In a small saucepan, whisk together the Sriracha, honey, butter, garlic powder, soy sauce, apple cider vinegar, and remaining salt and pepper. Heat and let simmer for 1-2 minutes.Place chicken thighs in a 9 x 13" glass casserole dish and spread out evenly. Pour sauce over chicken and toss together until chicken is evenly coated. Place scallions on a pan and place in the oven with the chicken.After 10 minutes add sliced peppers to the pan with the scallions.Roast chicken thighs for 25 minutes or until internal temperature reaches 165º.Remove from oven and pour the pan juices into a small saucepan. Simmer until juices have been reduced to a glaze, then pour over chicken. Chop ½ of the peppers and scallions and add to chicken.Serve with starch and enjoy!Save leftovers easily with Glad® Press'n Seal® to be used in your next meal!
BREAKFAST CHICKEN HASH
Servings: 4-6
INGREDIENTS:
3 tablespoons olive oil

(leftover red bell pepper from honey Sriracha chicken)

(leftover scallions from honey Sriracha chicken)

2 russet potatoes

1 teaspoon salt

¼ teaspoon pepper

2 cups leftover honey Sriracha chicken, shredded

4 eggs

Goat cheese, crumbled

Scallions, thinly sliced

Parsley, chopped

PREPARATION:
Preheat oven to 350ºF/180˚C.

Peel the potatoes, then shred on the largest holes of a box grater. Squeeze excess liquid from the shredded potatoes and press between paper towels to dry.

In a large enamel skillet, heat the olive oil. Add the peppers and scallions and saute for 5 minutes. Add the shredded potatoes, salt and pepper and saute for 10 minutes, stirring every couple minutes. Add an extra drizzle of olive oil if the potatoes are sticking too much. When potatoes have crisped a little, fold in the leftover shredded chicken.

Make 4 pockets in the hash mixture. Drizzle olive oil in each pocket and crack an egg in each one. Top each egg with a sprinkle of salt. Bake for 10-15 minutes, or until whites are set.

Remove from oven and garnish with the goat cheese, scallions, and parsley.

Serve and enjoy!