Women Dressed As Handmaids Are Protesting To Get Politicians To Take A Pro-Choice Pledge
"The person you vote for could determine whether or not abortion remains in the Criminal Code in Queensland."
Women dressed in striking red robes and white winged bonnets will protest around Queensland ahead of the state election next Saturday, to remind voters that whether or not abortion remains a crime under state law will be decided by whoever wins at the polls.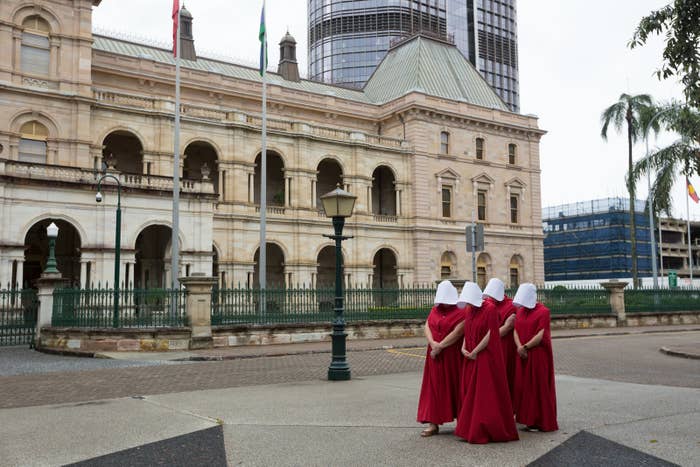 The protesters are dressed like the handmaids in TV show The Handmaid's Tale, an adaptation of the Margaret Atwood classic in which fertile women are denied bodily autonomy and forced to carry pregnancies against their will.

They will call for those running in the election to join more than 140 candidates who have signed a pro-choice pledge, which is run by independent lobby group Fair Agenda and backed by The Human Rights Law Centre, Women's Legal Service Queensland, White Ribbon and the Queensland Council of Unions.
Abortion is still a crime in Queensland and is currently only lawful to "prevent serious danger to the woman's physical or mental health".
"Many Queenslanders don't know that abortion access is effectively on the ballot at this election... that the person you vote for could determine whether or not abortion remains in the Criminal Code in Queensland," Fair Agenda's executive director Renee Carr told BuzzFeed News.
"Right now there aren't enough pro-choice champions in parliament to end these cruel and degrading laws. But at this election we can change that."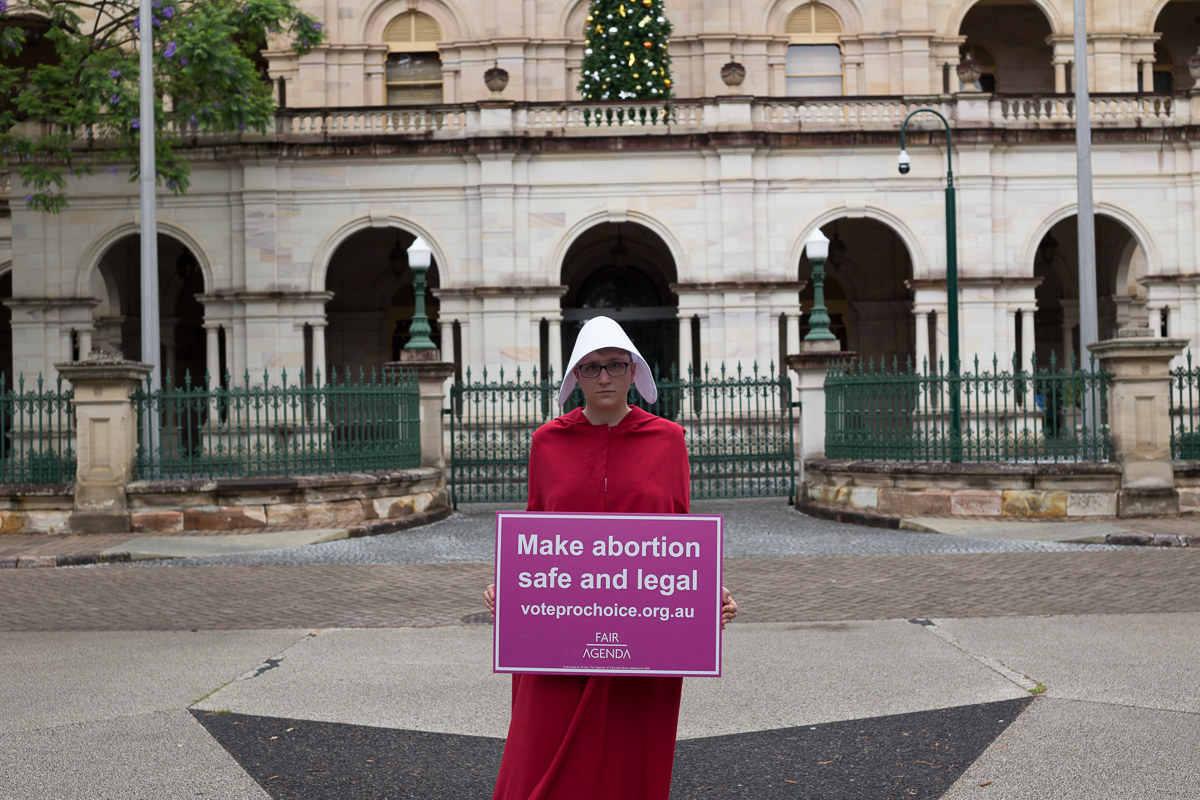 In February independent Cairns MP Rob Pyne withdrew bills to decriminalise abortion in Queensland a day before they were due to be debated in parliament, after Liberal National Party opposition leader Tim Nicholls vowed that "every single member" of his party would vote down the legislation.

The legislation would have failed, as Labor MPs had been given a conscience vote on the issue, and other independents had indicated their opposition to abortion.

The bills have been referred to the Queensland Law Reform Commission — which is expected to report early next year — and the Labor government has vowed to "modernise" the state's abortion laws if re-elected.
The candidates who took the pro-choice pledge committed, if elected, to "vote to remove abortion from the criminal code, and support laws to ensure all Queenslanders can safely and legally access full reproductive healthcare, without being harassed or intimidated."
Women experiencing unplanned pregnancies across the Sunshine State have been turned away from hospitals and obstructed by their GPs; had to buy plane tickets to procure an abortion; and experienced harassment outside clinics, as there is no law stopping protestors from gathering.
"We're out here to make voters aware of this problem, and to remind pro-choice voters to find out where their local candidates stand on this issue, so they can cast a vote in line with their values," handmaid Susan Harris-Rimmer said.
"Queensland's laws in this area are absolutely archaic. They mean women in need are frequently refused help at public hospitals. It's horrifying."