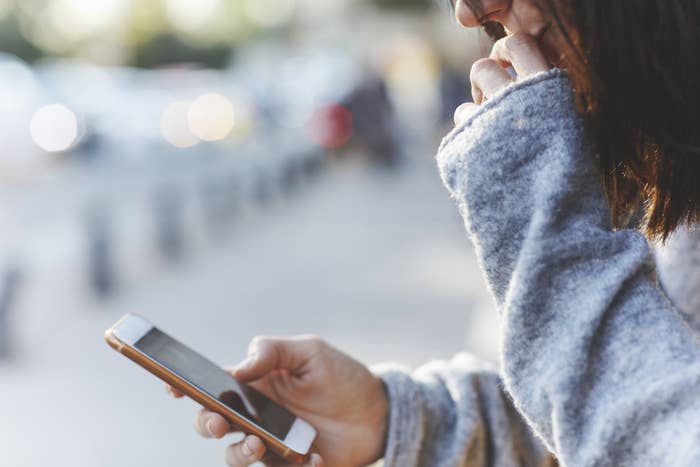 "Jail near miss for dildo act."
That was the headline on a story about how Northern Territory woman S. was violently assaulted in 2015 by her ex-boyfriend, who narrowly avoided jail time.
Years on, she still remembers how it felt to have her assault reported in that way.
"I was 21 and traumatised and the sensationalist chuckles and jokes of irresponsible media reporting made me feel humiliated and furious," the now 25-year-old told BuzzFeed News.
"Once the anger faded I just felt exhausted and violated, and that's still what I feel years later. That helplessness and voicelessness is crushing, and really took a toll on my recovery from the abuse... it is still something I carry with me."
S. gave a "full and honest statement" to police hours after the assault, and didn't think twice about telling an officer that her attacker had broken her vibrator as well as closing his hands around her throat and punching her three times, leaving her with a bleeding ear and swollen face.
She said many cases of domestic violence and assault went through Darwin Magistrates Court the day her ex-boyfriend was sentenced.

"Mine was the only one that was newsworthy because my report to police about the incident two months prior honestly and candidly discussed destruction of property in an assault that happened to be a sex toy," she said.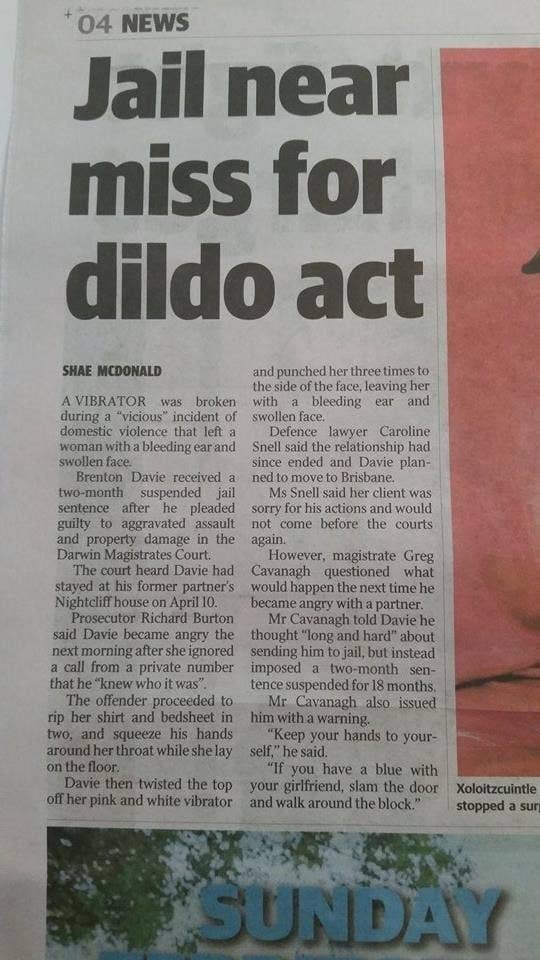 "Like that was it... in an hour of violence, degradation and humiliation, an ex-partner destroying a lot of my personal property, including breaking a vibrator to shame and deprive me, became a joke."
None of the articles covered other aspects of the case that were heard in court, S. said, including that the assault happened in front of her three-year-old son.
"It was such a harrowing experience and I cannot fucking fathom how these journalists can call it a 'vicious incident of domestic violence' and then use joke headlines and stock images that make light of or sensationalise my assault," she said. "It is irresponsible at best."
S. said she has lived in the Northern Territory her whole live and was "used to" the NT News' trademark irreverent headlines.
"I was not exactly surprised," she said. "But I never thought it would happen to me."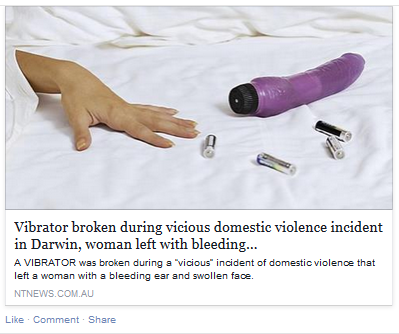 S. said the NT News editor at the time, Rachel Hancock, called and apologised, but that there was no public acknowledgement of the harm caused, and nothing ever came from the Australian Press Club complaint she lodged.
"Initially I was heartened that it seemed like some people in journalism wanted to make amends for their handling of it and like, maintain journalistic integrity but ultimately it was toothless," S. said. "I would have really liked and felt vindicated by a public printed apology... something written so that other survivors of abuse could see it and know that their truth mattered and there was a push for responsible reporting."
When approached by Crikey for comment about the coverage in 2015, then NT News editor Rachel Hancock said the article was an "accurate report of court proceedings" and was "in no way meant to trivialise the action of domestic violence".

"Their choice of stock image for the online article featured a hand reaching from under a sheet for a vibrator," S. said. "No indication of violence, of fear, it was just sexualised."
S. wrote a post on Facebook at the time because she said she had an "urge" to defend herself.
"Even though I spoke out, I felt so powerless to actually do or change anything," she said.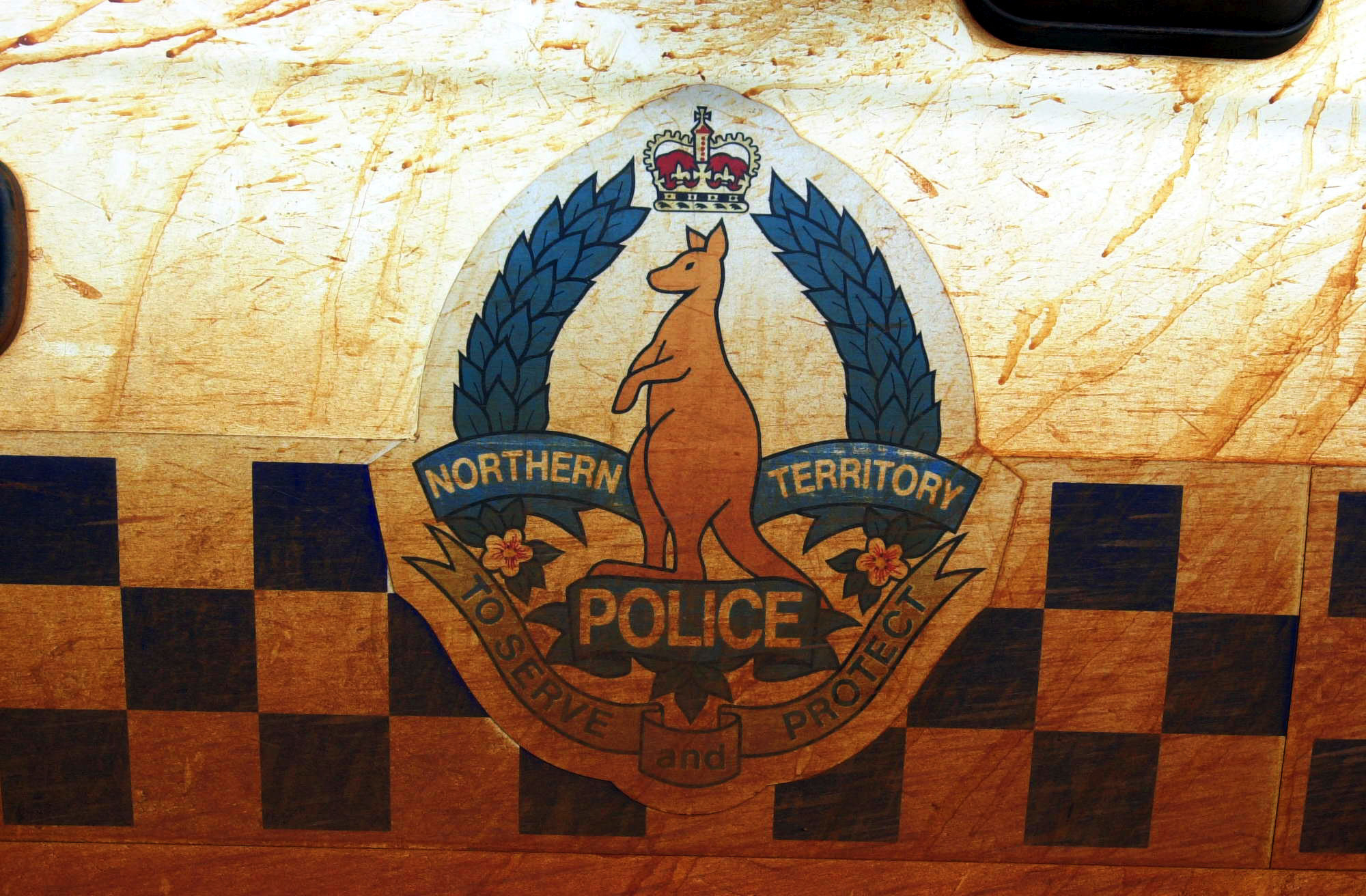 S. said the coverage also compromised her safety.

"My abuser even broke the [apprehended violence order] to talk to me and was furious at me for mentioning the vibrator in my statement because it was embarrassing for him," she said.
If S. was assaulted again she said she would reconsider even calling the police or giving a full police statement "even for justice", as the details could end up in print.
"We can be desensitised to the things we hear happen, we can see it as just another domestic violence story in a whole day of domestic violence stories in court, but every domestic violence story is attached to real victims, real survivors, it's their trauma.
"We cannot allow ourselves to sacrifice the humans attached to the stories for more interesting or salacious reporting."
For help or information on domestic violence, visit 1800RESPECT or call them on 1800 737 732. The Men's Referral Service is aimed at men who need help to stop violent or controlling behaviour, but it also supports victims and families. You can call on 1300 766 491.