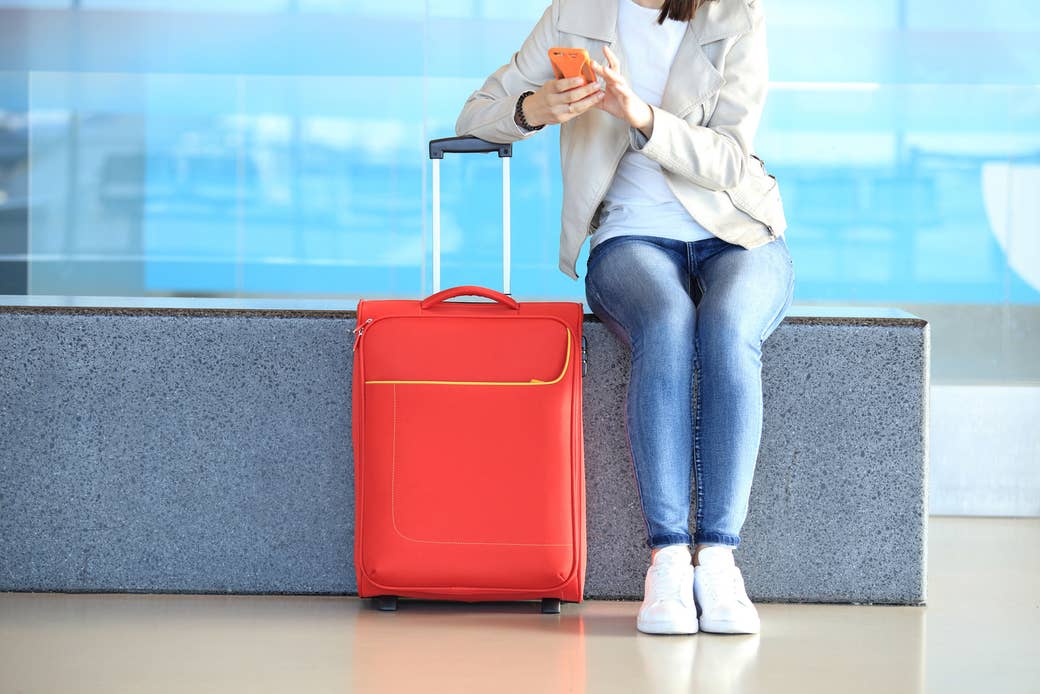 Toby* had to wait in Tasmania with his kids while his partner flew to Melbourne for a termination. He describes the experience as "ridiculously stressful".

"There is no circumstance where having an abortion is stress-free, but for us it meant at this really important time we were in different states and there was this ridiculous amount of logistical stress to have to go through," he told BuzzFeed News.

Toby's partner Bianca* travelled to Victoria for the procedure at Marie Stopes Australia, a provider which has reported a dramatic increase in the number of Tasmanian women presenting for surgical abortions since the main of surgical abortion service for 17 years in Tasmania shut up shop in January.
Marie Stopes Australia says that since January the number of Tasmanian women presenting each month in Victoria has risen from one or two to 10.
The couple spent more than $4,000 on flights, accommodation and medical bills so Bianca could travel to Victoria for a termination in February. They had spent weeks trying to access the procedure in Tasmania at a public hospital and the single remaining private provider.

"I didn't really understand logistically what the [closure of the clinic] meant until Bianca and I were properly exploring our options and constantly coming up against road blocks," Toby said.
Bianca was turned away from the Royal Hobart Hospital and the single remaining surgical provider in the state's south, private obstetrician-gynecologist Dr Brett Daniels.
The procedure was decriminalised in Tasmania in 2013 but the issue of surgical abortion access in Tasmania was this year debated by state and federal politicians, drawing in the federal health minister and prime minister, and eliciting an election promise from federal Labor.
But within a month Tasmania's health minister Michael Ferguson had dusted off his hands and declared "surgical abortion services have been restored in Tasmania," in a statement to BuzzFeed News. "The situation is now exactly the same as it was prior to the recent closure."
Federal health minister Greg Hunt echoed Ferguson that day in an interview with Sky News when he repeated that services had been "restored" in the state: "I can confirm that there are private services that will now be available."
"There was a huge disconnect between what [the politicians] were saying and what we were living through and that was immensely frustrating and disrespectful," Toby said.
"It just seemed like a ridiculous amount of logistic stress to have to go through for a procedure that we had already established was common and legal."
He said he felt "lucky" that Bianca had a family member in Melbourne to drive her back to her hotel after the procedure as clinics won't let surgical patients leave without a support person.
"I can't imagine how much more difficult this is for people for whom the financial cost isn't a surmountable one," he said.
"Once you make this diabolically hard decision that you're not going to keep your baby and you're going to access a termination, the system should then support you all the way, not put up hurdles."
The couple looked into the Patient Travel Assistance Scheme (PTAS), which provides financial help with travel and/or accommodation to Tasmanian residents who need to go interstate for a medical procedure, but ultimately decided against applying for assistance.

PTAS does not cover the full cost of flights and accommodation, leaving women with significant out-of-pocket expenses.

"Having a scheme where you get reimbursed for some things is completely inadequate and is not a substitute for proper access at all," Toby said.
Marie Stopes Australia head counsellor Sophie Keramidopoulos said patients who had to travel interstate might require more counselling.
"It also means that when she arrives at the clinic, she can be exhausted mentally, physically and emotionally," Keramidopoulos told BuzzFeed News.
"We know that some patients are also reluctant to access the Patient Travel Assistance Scheme because it means disclosing a private medical matter to another person and given the stigma that abortion still carries, that can be very difficult for them."
"This can also place additional financial stress on them, particularly as they may not be able to borrow money from their friends or family."
Around 200 people rallied in Hobart on Saturday to call for improved access to surgical terminations.

Shadow health minister Catherine King, who promised in February that a Shorten Labor government would build a $1 million Reproductive Health Hub to fix the access issue in Tasmania, said the state government "basically lied to Tasmanian women" during the election campaign in January, "as did [federal health minister] Greg Hunt".

"It seems to me that the Tasmanian government, despite telling us that this is fixed, clearly has not fixed it," King told BuzzFeed News.
"This is a very common medical procedure and the fact that it is not available to women in an entire state doesn't make any sense.
"Abortion is one of the hardest decisions that anyone can make during the course of their lives, and to be told that you can't have it near your home in an affordable and accessible way, where you can access support from family and friends and childcare when you need it ... just seems completely out of touch with the reality of women having to make these decisions."

Labor has claimed it's promise to provide reproductive health services in the state's public system would benefit up to 250 women a year and run alongside the public provision of abortion.
*Names have been changed for privacy reasons.