If you're going to gatecrash your opposition's visit to a medical centre with huge posters of your own face, make sure you know your own party's healthcare policy.
Liberal candidate Chris Jermyn showed up at a Sunbury medical centre north of Melbourne yesterday where opposition leader Bill Shorten was spruiking Labor's plan to lift the freeze on Medicare rebates, which the Turnbull government wants to extend for four more years.
But when he was questioned by journalists, the candidate for the seat of McEwan, which Labor holds by just 0.2%, was unable to explain his own party's Medicare policy.
"Look, I'm just here to listen to what the leader of the opposition has to say today and obviously on the other side of that we might have some more to say ourselves," he said.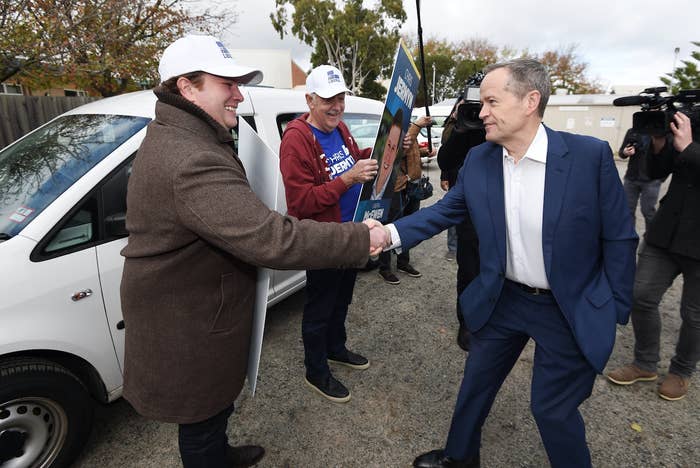 Later he said: "Look, clearly my position is that of the government," but was again unable to explain what that was, before vanishing from the event.
When he was tracked down by a pack of journalists in a nearby street, Jermyn reportedly muttered, "This is why I hate journalists".
Fairfax media revealed on Sunday that Jermyn was once caught on camera at a student politics conference where Young Liberals proudly chanted: "we're racist, we're sexist, we're homophobic".
In an episode of ABC's Lateline, Jermyn, then a Melbourne University student, is captured in footage of the 2005 National Union of Students conference in Ballarat, as his fellow Young Liberals interrupt the conference.
He told Fairfax he didn't participate in the protests or chants.
The indisputable trainwreck interview of the 2013 election campaign was with Liberal candidate for Greenway, Jaymes Diaz, who was unable to explain the Liberal party's "six-point plan" to stop the boats when asked multiple times by a journalist.
The then opposition leader Tony Abbott said at the time he called Diaz "to commiserate with him".