Tanya Plibersek Just Declared That "For Labor To Be Pro-Women It Must Be Pro-Choice"
"The reality is that for many women who have decided they want an abortion, it's still unaffordable and unattainable."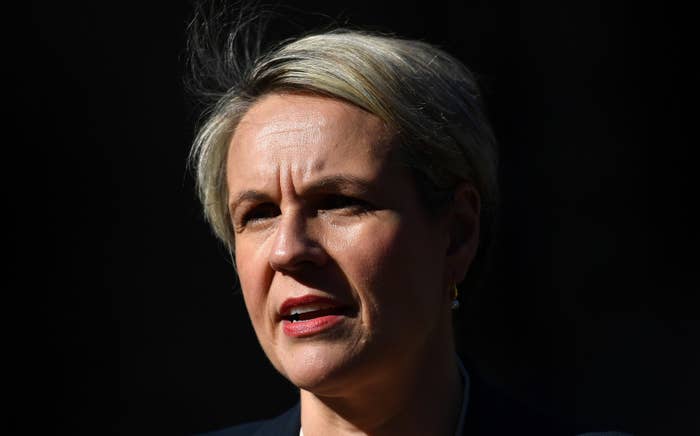 For the Labor party to be pro-women it must be pro-choice, the party's deputy leader Tanya Plibersek said on Wednesday night in a passionate speech about how far Australia still has to come to ensure women have reproductive freedoms.
"We need to make sure that women have autonomy over their bodies," Plibersek told those gathered at a Canberra event organised by Emily's List, a financial and support network for progressive Labor women candidates.
"Reproductive freedom is intimately tied to gender equality. For Labor to be pro-women, we must be pro-choice.
"Australia still has unfinished business on reproductive health."
Plibersek, who approved listing abortion drug RU486 in 2013 on the nation's Pharmaceutical Benefits Scheme when she was health minister, described the disjointed legal situation across Australia: For example, in Queensland and New South Wales abortion is still written into 100-year-old criminal law.
"Half the women in Australia can legally access an abortion. For the other half, it's a crime you can be gaoled for," Plibersek said.
"Our outdated laws are a serious barrier to the provision of health care.
"The differences between legality and access between states had created an 'abortion tourism' industry.
"One in 25 women who has an abortion has to travel interstate to have it.

"I've been told about clients living in remote areas of Queensland who have travelled over 1,300km to get a termination."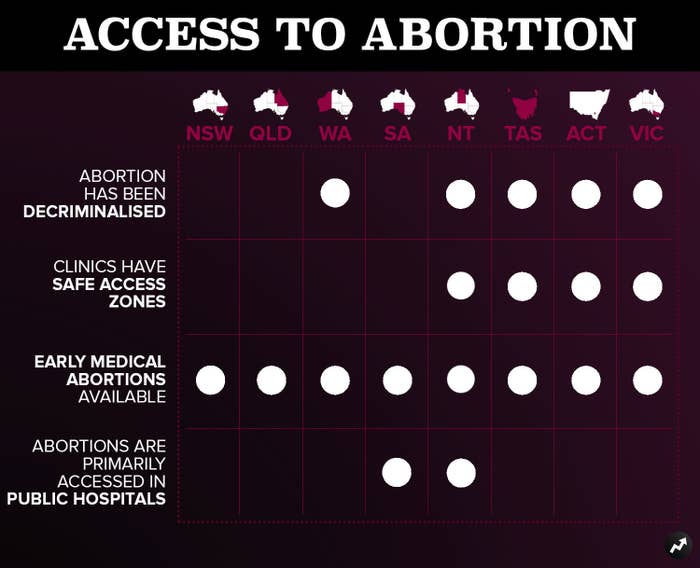 Even in states where abortion is legal, there was a "huge gap between the law and the reality on the ground", she said.

Plibersek said 1 in 3 pregnancies were unplanned and 1 in 5 were terminated in Australia but reproductive health care was still "prohibitively expensive".

"For many women abortions are unaffordable and unattainable," she said.
"The legal right to access a termination isn't much use to a homeless teenager when the upfront cost of an abortion is more than $500."
Plibersek described listing RU486 on the PBS as "one of the more important things" she did as health minister but said medical termination uptake was still low in Australia due to access issues around cost.
"The cost for medical terminations can rise to almost $800 in some parts of the country," she said.
But access to safe, legal, and affordable abortion was "absolutely not the beginning and end of the fight for reproductive rights in Australia", she said.
"Real reproductive freedoms mean the freedom to say yes or no to sex, access to appropriate contraception, and also to have children without experiencing discrimination."
Plibersek spoke about the issue of reproductive coercion, in which partners could "exercise power" over their partner's contraception and ability to fall pregnant, continue a pregnancy, or end one.
"It happens when your partner controls or sabotages your birth control; when they make threats or are violent if you insist on using a condom; when they take off the condom without telling you. It's disturbing that this is so common it has a name – 'stealthing'. It should be known as rape.
"Having a child creates a legal tie with your abuser that can last a lifetime and makes it far harder to leave a violent relationship."
The Australian Labor Party's federal abortion platform, dating back to 1984, states: "The matter of abortion can be freely debated at any state or federal forum of the Australian Labor Party, but any decision reached is not binding on any member of the Party".
But state and territory Labor branches have moved towards a binding vote for elected members such – in the ACT, Tasmania, and Queensland.
Earlier this year, Queensland's Labor government referred legislation – introduced by independent Cairns MP Rob Pyne – that would decriminalize the procedure and enact safe-access zones to the state's Law Reform Commission.
A law that decriminalised abortion and legalised the medical termination of pregnancy was passed through the Northern Territory parliament in March by a majority female Labor government.
Labor MPs in WA – where abortion was decriminalized in 1999 – are reportedly divided over the issue of safe-access zones.