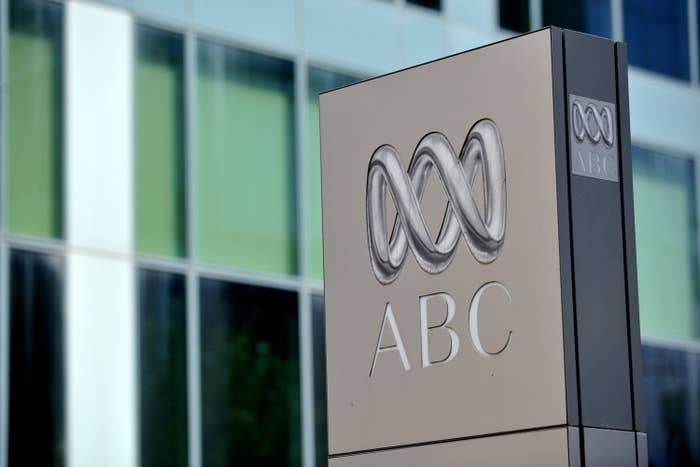 Australia's public broadcaster has been forced to apologise after it distributed to journalists a documentary about the #MeToo movement that identified survivors of rape and assault without their consent.

The names, images and harrowing stories of two women were clearly visible in a preview copy of Silent No More, a three-part documentary series produced for the ABC by Southern Pictures, and presented by journalist and author Tracey Spicer.
But the women never agreed to be identified or have their stories included in the documentary and had no idea their details had been shared, a joint investigation from BuzzFeed News and News.com.au has found.
Hours after learning of the privacy breach on Monday, the ABC axed a private screening of the documentary scheduled for that evening in a Sydney cinema. It has also pulled the YouTube trailer from public view and vowed to cut the scenes portraying these women's stories.
A third woman, who has since died, was also identified by name. Southern Pictures said she had consented to sharing her story prior to her death but that her name will be blurred in the version that goes to air.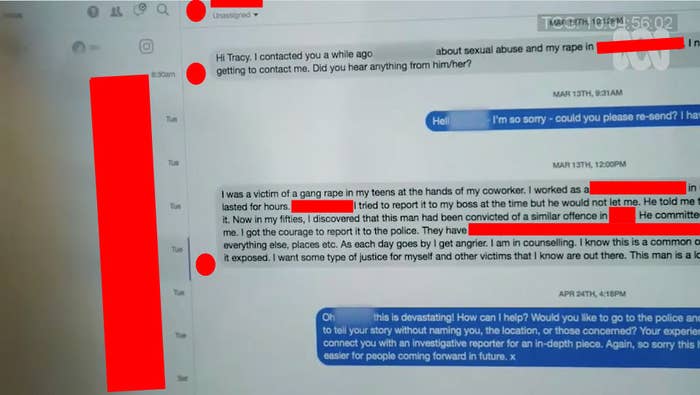 Mary — a pseudonym to protect her privacy — sent Spicer a Facebook message disclosing that she had been the victim of a gang rape involving her coworker.

Her real name, Facebook profile photo and story could be seen in a shot in Silent No More where Spicer scrolls through the many #MeToo stories she received. Other details shown in the message were blurred.
"This is the first I've heard about the documentary," 59-year-old Mary said when contacted by BuzzFeed News and News.com.au. "I didn't consent to [my name] being on the screen."
Silent No More, made with $80,000 funding from Screen NSW and $15,000 from Screen Australia, is scheduled to air from Nov. 25 in the Monday evening timeslot usually occupied by investigative program Four Corners. The series depicts Spicer travelling around Australia to talk to survivors, professionals and children about #MeToo.
The ABC said the version sent to media outlets was not the final cut and declined to say how many people had watched the preview copy, which was hosted on a password-protected website and has since been pulled down.
"Due to human error, an early version of Silent No More was provided to a small number of accredited media under embargo," the ABC said in a statement. "Significant steps were taken to de-identify names and details in the broadcast version and it has always been our intention that these names and details be blurred before broadcast."
Mary's message to Spicer shown in the documentary identified her industry, occupation, and states the year her rapist was convicted of a similar offence. Spicer replied six weeks after Mary sent the Facebook message, promising to connect her with an "investigative reporter for an in-depth piece", and later put her in touch with a journalist.
Mary said she wanted to tell her story, which is why she contacted Spicer in the first place, but on her own terms.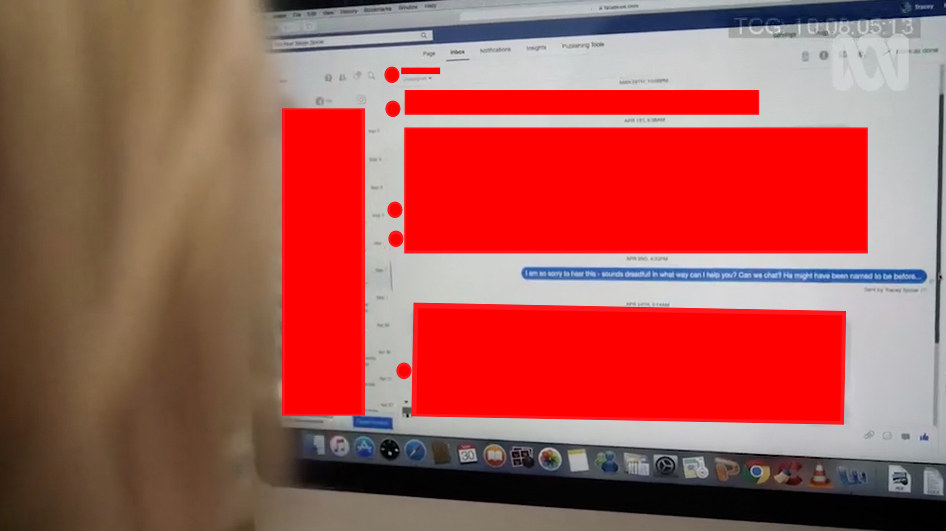 Tiffany — a pseudonym to protect her privacy — is an award-winning performer who wrote to Spicer on Facebook with her story and was "aghast" to learn her name, image and disclosure appeared in the documentary.

"I sent a private DM to an individual woman," Tiffany said. "I didn't expect my comments to end up in a documentary to be broadcast publicly."
In the message shown in the documentary, Tiffany outlines the sub-genre of the film industry in which her alleged perpetrator worked as a director. She described him to Spicer as "a well practised and highly manipulative predator".
Tiffany is anxious the man may have seen the documentary, as his profession means he would be "well placed" to get his hands on a copy of the media preview.
"I am really concerned that ... people around [the alleged offender] could tell him," she said. "I'd like to tell my story but you need control, this feels like losing control."
Tiffany also disclosed in her message that she was experiencing domestic violence at the hands of her partner, and said she would not be safe if her details had gone to air.
"I would like the ABC to acknowledge what they have done. There has clearly been harm done and I'd like that on the record," she said. "There is a duty of care if you're using people's stories … We need ethical standards in journalism to protect people like ourselves, who share stories."
Tiffany said that she does not blame Spicer — "I imagined she was swamped and that she had a lot on her plate" — but that she assumed her story was only going to be read by one person, not a national audience.
The ABC and Southern Pictures will cut entirely the footage showing Mary and Tiffany's stories from Silent No More.
The name and photo of a third woman, who has since died, is visible at another point in the documentary. In her message to Spicer shown in the documentary, she alleged that she was raped by her first boss soon after migrating to Australia at age 15, adding that she was now in her seventies but had "never had the courage to talk about it".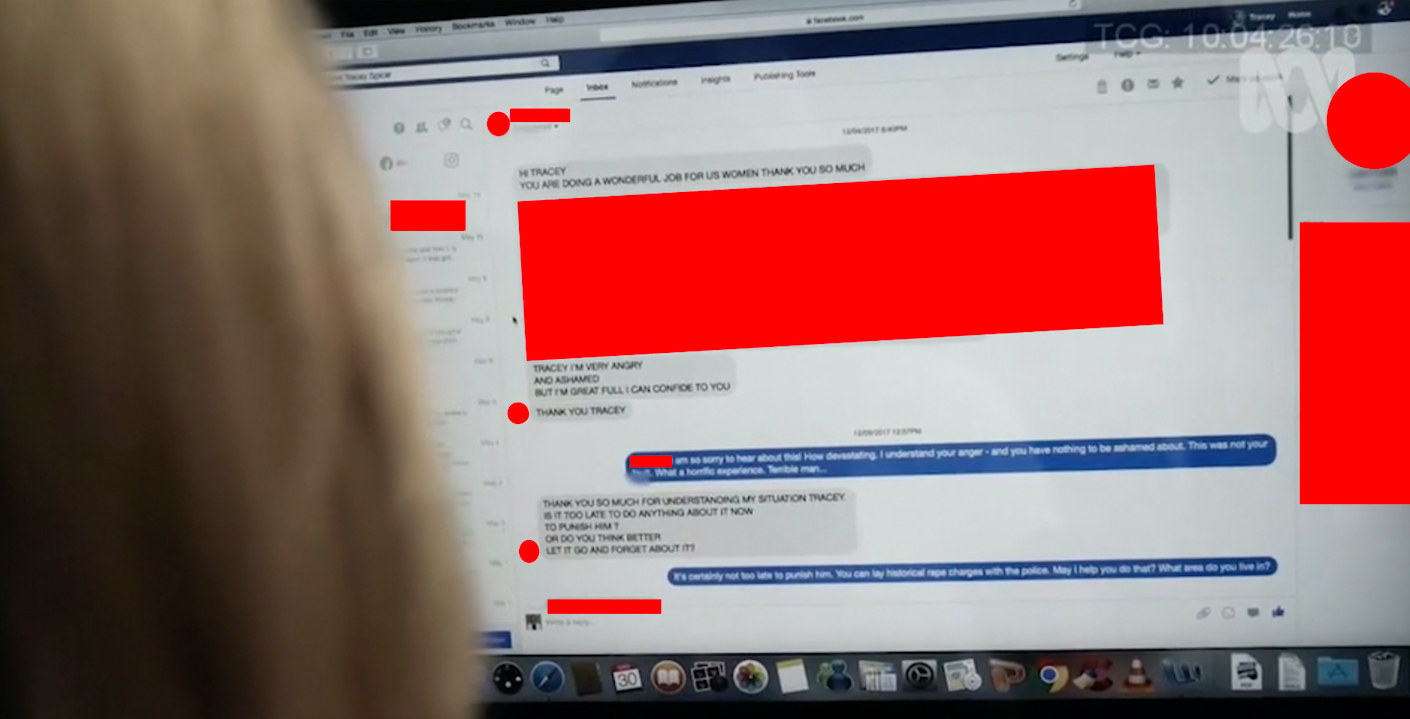 Spicer responded: "It is certainly not too late to punish him. You can try historical rape charges with the police. May I help you do that? What area do you live in?"

Southern Pictures said Spicer and a member of the production team obtained consent from the third woman to share "details of her story" in the program. Her name has been blurred in the final version.
The three women contacted Spicer after she sent a widely publicised tweet, calling for stories about sexual offenders.
The revelations come the week Spicer is set to accept the Sydney Peace Prize alongside Tarana Burke, the grassroots founder of #MeToo, on behalf of the movement.
On Tuesday morning, Spicer pulled out of a #MeToo panel event scheduled to take place that evening at Sydney University's United States Studies Centre due to "unforeseen circumstances".
A BuzzFeed News investigation last month revealed broken promises and tensions behind the scenes of NOW Australia, the #MeToo organisation cofounded by Spicer in March 2018.
In an email seen by BuzzFeed News in the course of that investigation, Spicer reassured an advocate concerned about her handling of women's stories, saying: "I have now received close to 2000 disclosures and not one of those disclosures has been shared with anyone, unless I have the person's express consent."
Spicer said she was "gutted" about the privacy breach in Silent No More.
"As a participant in this documentary, I was assured survivors' identities would be fully protected," she said in a statement. "I apologise deeply and unreservedly to those whose names were visible in that initial version of the program. I'm relieved that the ABC has swiftly moved to take it down and that no one is identified in the broadcast version."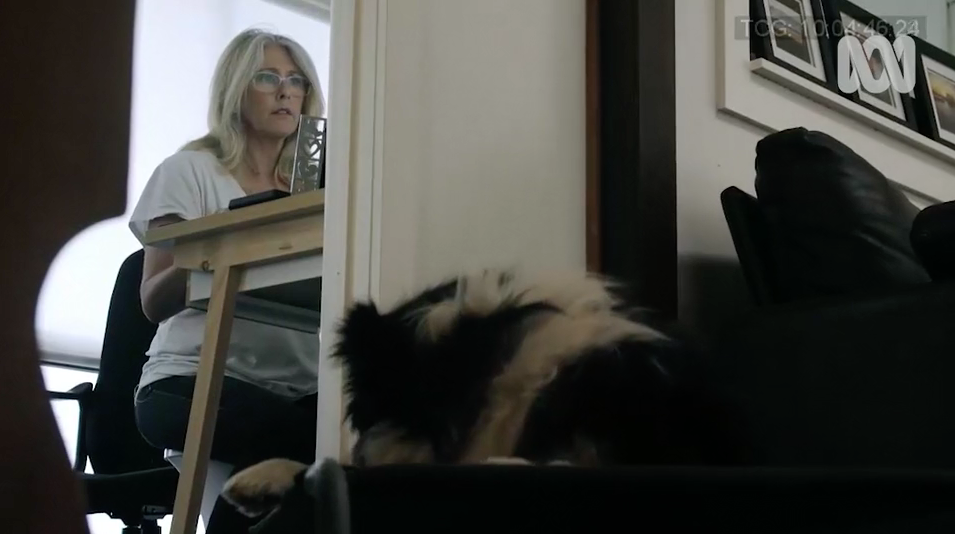 The ABC offered an apology for "any harm or upset" caused to the three women and said that the welfare of sexual abuse and harassment survivors was of "utmost importance".
"We wish to assure them that Silent No More will treat these issues with respect and care while shining a light on the need for positive change in this area," it said in a statement.
Southern Pictures said it was "devastated" by the error and also issued an apology for any distress caused. "We wish to assure everyone that the final version of the program will not identify anyone without their explicit consent, which was always our intention."
It is understood that everyone involved in the production of the documentary signed strict confidentiality agreements.
Hayley Foster, the chief executive of Women's Safety NSW, said perpetrators are more likely than the average person to scan a documentary detailing disclosures of violence and harassment for their names or that of their victim.
"We see a high degree of monitoring and surveillance associated with intimate partner and sexual violence," she said.
Foster said safety is the number one consideration for survivors who want to tell their stories, and that a breach of privacy can be "shattering".
It can take survivors years, sometimes decades, before a "small, hopeful, yet fragile window" opens up in which they feel safe enough to disclose what happened to them, she said.
"If it is missed or squandered it may be some time again before she feels safe to reach out for help, if at all," she said. "I imagine other survivors in such a situation would experience anxiety in relation to their own information, notwithstanding the fact that their information was not involved in the particular breach."
The breach could also have exposed the ABC to potential legal action for breach of confidence.
Professor David Rolph, a media law expert at the University of Sydney, said that if someone discloses that they've been the victim of a sexual assault and the disclosure is clearly confidential, then the person who receives the disclosure could be bound by an obligation of confidence and unable to disclose it to a third party without consent.
NOW Australia wrote to the producer of Silent No More in September, requesting that any NOW branding appearing in the documentary be removed.
"We are not willing to become linked with a project when we have no idea of either the focus or content," wrote NOW chair LJ Loch.
This is a joint investigation from BuzzFeed News and news.com.au.
If you or someone you know is experiencing violence and needs help or support, there are national and state-based agencies that can assist you 24 hours a day, seven days a week. Call 1800 RESPECT (1800 737 732).