Three decades after Queensland's Fitzgerald Inquiry into police corruption suggested sex work be decriminalised in the state, sex workers are still being arrested and fined.
Queensland police last week raided an alleged illegal escort agency on the Gold Coast and charged 25 people with prostitution offences. They included owner Shawn Moy whose home was raided before he was charged with knowingly carrying on the business of providing unlawful prostitution.
"I had family calling me assuming [I had been arrested] and they were really concerned about my safety," 26-year-old Gold Coast sex worker Stephanie told BuzzFeed News. "I work in the same suburb as the raid."
Queensland currently has something akin to a licensing model that regulates the state's 20 licensed brothels, but escort agencies, massage parlours and other sex industry business models are effectively criminalised.
According to Respect Inc, a non-profit peer-based organisation that promotes the rights and wellbeing of Queensland's sex workers, around 80% of the industry operates outside of this licensing model.
Sex workers like Stephanie are able to work lawfully outside of licensed brothels provided they don't use safety strategies, for which they can be arrested and charged. A safety strategy might be using a receptionist or working in pairs, but these actions can warrant a charge as they involve participating in any "service, action or matter" that enables another person to engage in sex work.
Stephanie said it is safer to run the risk of being arrested.
"I have to work illegally in order to stay safe," she said. "I know workers who have been arrested just for texting each other and being charged with knowingly participating in the provision of prostitution."
All of Stephanie's safety strategies are criminalised: "Messaging other workers when my clients leave or arrive", "booking into hotels that other workers are booked into so I know there is someone close by", "using drivers that other workers use".
In May, BuzzFeed News spoke to Brisbane sex worker Nikki who successfully brought aggravated sexual assault charges against a client. She said if sex work was decriminalised in Queensland she could have had a receptionist, or made it clear someone else was in the house on the day of her assault.
Stephanie said fear of arrest discourages sex workers from reporting violence or robbery to the police.
"It is really isolating to know that people who are meant to keep you safe are the ones who are watching you work and trawling through your ads," she said.
One sex worker, aged 19, arrested last week was placed on a $600 six-month good behaviour bond after pleading guilty to engaging in prostitution, the Gold Coast Bulletin reported. Her lawyer told Seven News she had initially signed up as a night driver.
Another arrested sex worker, interviewed with her face turned away from the camera, said she repeatedly asked whether what they were doing was "legal" and was told "yes yes yes".
One of the women told the ABC, on the condition of anonymity, that she was arrested by an undercover police officer posing as a client. The 27-year-old said she had only been working for the agency for a few weeks and had been assured the business was legal.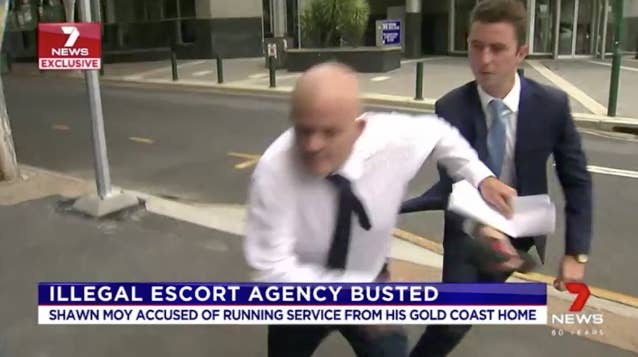 Candi Forrest watched news reports of women who said they thought what they were doing was legal and thought: "This is exactly what happened to me years ago."
Forrest was a sex worker in the 1980s and remembers police officers coming in and "charging girls on a rotational basis".
"It was my turn so the police officer just said 'this is the routine, girly'," the now 57-year-old told BuzzFeed News. "They would come in full of swagger and never had to pay for their bookings."
Forrest was charged and fined about $150.
"We were earning a couple of thousand dollars a week and we weren't paying any tax so they just said 'think of it like it is your tax' and I was quite intimidated," she said.
Even though this kind of corruption ran rampant in the 1980s, Forrest believes sex workers may be less safe now.
"Pre-Fitzgerald, I knew a few sex workers would get into little jams and problems with clients and there was this attitude that the police were sort of okay because they were being paid off, so there was a feeling that they protected the industry," she said. "But as soon as the Fitzgerald report came through it seemed like they were trying to prove they were cracking down on the sex industry and that all went out the window."
After the Fitzgerald report, parlours like the one where Forrest worked started shutting down and she began operating alone in a flat she rented with a fellow sex worker.
"The things we did to look after ourselves were illegal," she said. "We were running the gauntlet and it created a lot of pressure you didn't need because you're already trying to keep yourself safe, and the last thing you wanted to do is have to hide from authorities — but the only people we trusted were other sex workers."
In 1999 the Prostitution Act passed, allowing for applications for a brothel licence.
"It was doomed from the start because most sex workers I worked with, myself included, weren't about to go put down thousands of dollars to get a licence, fit out and all the probity checks, which we couldn't get anyway because we all had prostitution charges," Forrest said.
When brothels did pop up, there weren't enough positions for all the sex workers.
"There are only so many shifts per week and they can only have eight sex workers on site per shift, so all of those positions go to the younger, less marginalised, less vulnerable sex workers," she said.
The state's Law Reform Commission was last month tasked with formulating a new framework for the sex work industry and Forrest hopes it will result in decriminalisation.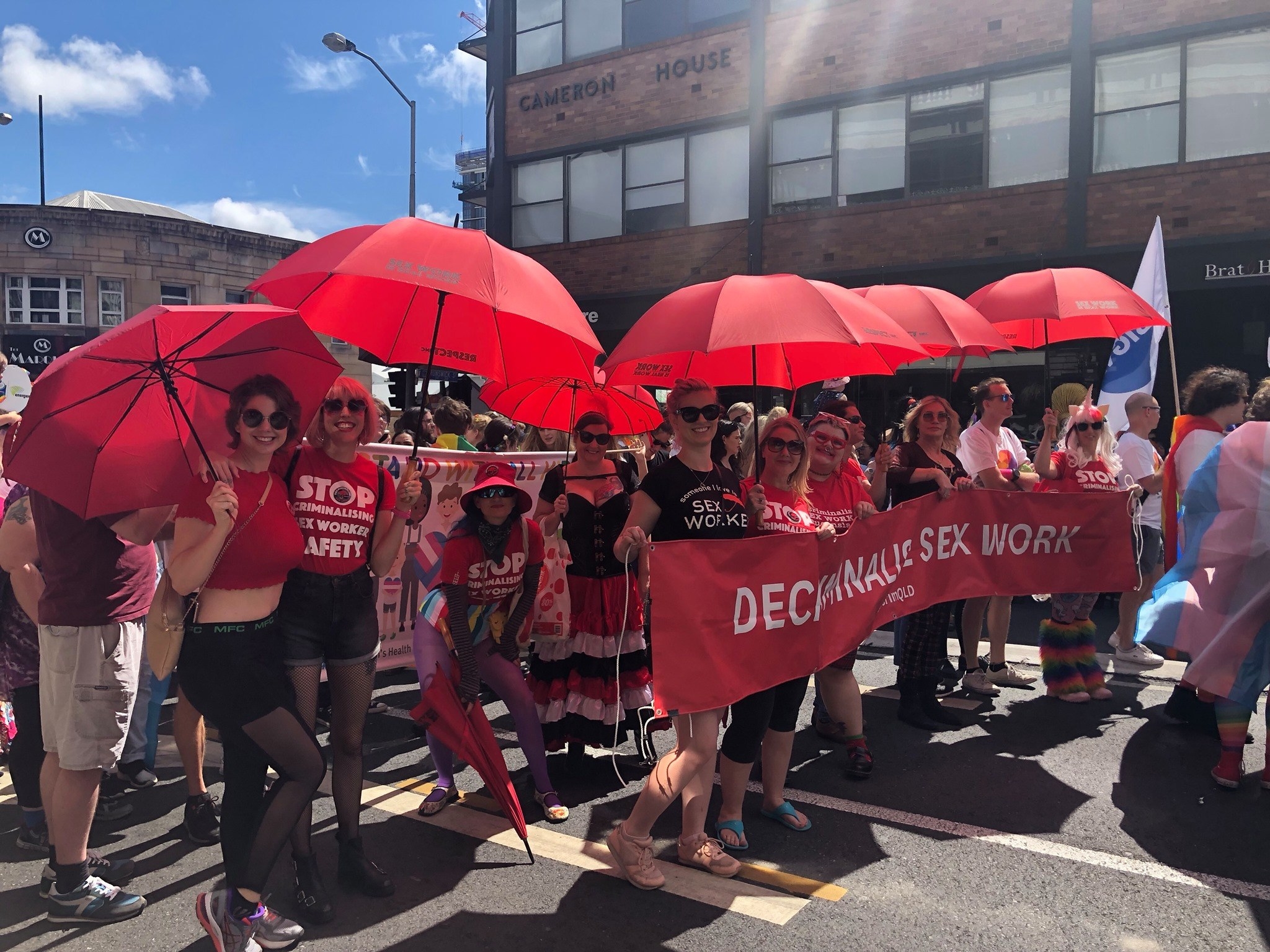 Professor John Scott of Queensland University of Technology's School of Justice said the ongoing arrests and fines can impact some of the most marginalised groups in the sex work industry, who operate outside of the licensing model.
"You get in a bit of a vicious cycle because the way to pay the fine of course is to do more work so it isn't a solution to the issue," Scott told BuzzFeed News.
Scott said most of the licensed venues were clustered around Brisbane, with a handful in Townsville or Cairns, but that many sex workers were currently working in regional areas where it is harder to get a brothel licence.
"There is a stereotype that most sex work happens in highly urbanised settings when it doesn't," he said. "There are these big regional centres outside of Brisbane where sex workers are clearly operating but they are more likely to do so illegally."
In 1995 the sex industry in NSW was effectively decriminalised and since then, Scott noted, the health of sex workers in that state has only improved.
"There is a ton of evidence from NSW and also New Zealand that decriminalising sex work improves the health and safety of sex workers."
Dr Elena Jeffreys, Respect Queensland's co-ordinator, said the Fitzgerald Inquiry recommended the discontinuation of specialised sex work police units, yet the Prostitution Enforcement Taskforce "aims to arrest sex workers and sex industry businesses".
"Recent arrests in an alleged escort agency on the Gold Coast and massage parlours in Brisbane suburbs are a prime example of wasted police resources," Jeffreys told BuzzFeed News. "Except for the 20 boutique brothels, every business model is criminalised."
Jeffreys hopes the Law Reform Commission recommends decriminalising sex work in Queensland.
"Every day of delay, sex worker safety is compromised and sex workers risk arrest."